On the grassy shoreline of Wagonga Inlet in the coastal town of Narooma, New South Wales, people sit on retro bamboo chairs or beneath colourful cabanas and palm-fringed 1970s-style umbrellas, ready to tuck into some of the finest Sydney rock oysters in town. Nearby is the oyster shed of local operators BJ & HD Coxon Oyster Farm, who have been trading oysters in the area for more than 30 years.
Just two days before Christmas in 2020, Natasha Clutterbuck, the daughter of oyster farmer Brian Coxon, opened her boutique food trailer and oyster bar, aptly naming it The Oyster Farmers Daughter, on the site of her dad's oyster farm — just three kilometres from Narooma Bridge. Launching it on a budget and with modest expectations, she took Christmas Day off, but has been steadily busy ever since.
Natasha and her husband, Laurie, had moved back to Narooma, their home town on the Sapphire Coast, a few years ago to start their family. Named after an Aboriginal word meaning "clear blue waters", Narooma is indeed a picturesque and pristine place. They had lived in Sydney for years, where Natasha was a professional showjumper, but they say it was a "no brainer" to return to the coastal town they love, having both ruminated over the idea of opening an oyster bar for several years. "We thought it would be good for us as a family, but it's also diving into the unknown. So when we did set it up, we made it so that everything was fairly portable and a minimal investment that we could sell off really quickly if it didn't work out," she says.
And so far, the gamble is paying off. Without any large-scale advertising surrounding open day, Natasha started trading with her mum helping her out in the van. The business has grown significantly and Natasha is loving the sense of community and working with local suppliers.
Not surprisingly, her oysters are sourced from her father's business. The region is renowned for its oysters thanks to a clean inlet where oysters are frequently washed naturally by tidal waters. "It's a beautiful, clean river and that's why we get some of the best oysters around," Natasha says. "Dad is also so pedantic — everything has to be perfect and because he has been doing it for so long, he knows everything like the back of his hand. I put all my trust in him to know and produce oysters to the highest quality."
From her custom-built food trailer, Natasha prepares oysters in various styles, all with an unrelenting commitment to freshness. "My main focus is that the oysters remain front and centre, all the time," she says. "They really can't get any fresher as they are picked up early in the morning out of the river, opened that morning and then straight over to our bar."
Purists can order oysters "natural" with lemon; with a Thai or cucumber dressing; Kilpatrick style, using smoky bacon from the local butcher, Rapley's Midtown Quality Meats; as shooters straight from the shell; and peated whisky oysters. Other dishes include lightly battered fish and chips; prawns; and lobster. Nothing is processed or frozen, and Natasha will ditch items from the menu if she can't secure them fresh. "I use a lot of local suppliers and I try and support everyone — we're all in the same boat," she says.
Drinks are also sourced locally where possible and are a variation on what you'd expect to find in a large chain bottle shop. Beers are supplied by Shark Island Brewing Company in Kirrawee, in Sutherland Shire, and coming soon to the bar will be Big Niles beer from nearby Dalmeny, the suburb where Natasha and family live. Wines are procured through independent bottle shops in Narooma and Bermagui, with a leaning towards organic and preservative-light wines that are lighter in style and easier to drink. "I get so excited as there's so many cool places popping up now," Natasha says. "Down in Eden there's a gin distillery called North of Eden that's only been open since 2019. Their gin has already won multiple awards. It's a husband and wife set-up like us and it's the most incredible gin. Everyone who drinks it always asks what it is and where it's from. I'm finding all these cool little operators and it's really exciting."
Visitors are drawn to the oyster bar not only for the seafood but also for the retro-style ambience. It's something Natasha's family is used to, but she understands the novelty for out-of-towners, who are often amazed at the ability to eat in such a relaxed setting, watching oyster farmers at work while they sip cocktails in vintage-style glassware and listen to local musicians performing on weekends.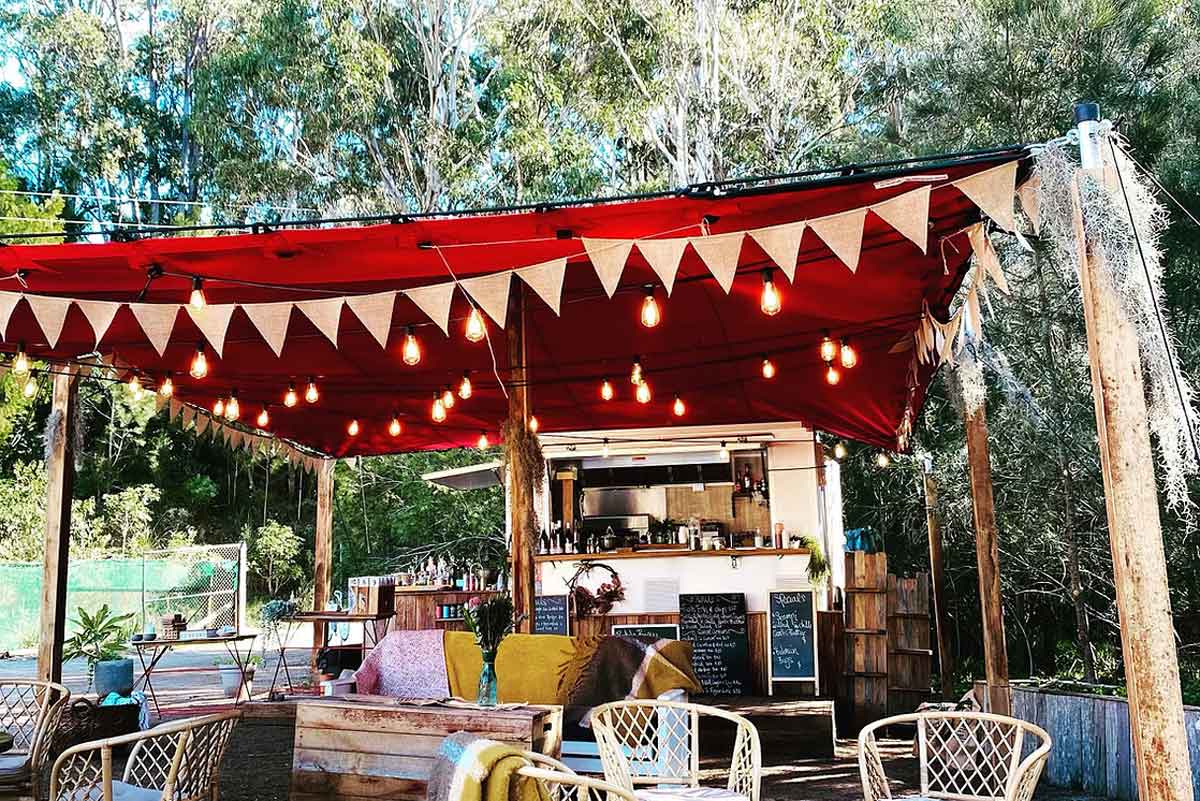 "When people come and sit down for lunch, it's not like going to a cafe or a restaurant where it's very formal. I think it's just like being at home or sitting in someone's backyard — it's just comfortable," Natasha says. "Looking into the future, I don't really want to change too much. I think people like it for what it is. It's pretty modest, simple and I don't want to put any big permanent fixtures in there."
This venture is not one driven by the owner's ego. Natasha is honouring the legacy of her family's work in Narooma and building something her whole family, including her two children, Beau, six, and Ivy, two, can be proud of. She feels at home here partly because her great-grandfather owned a little island called Lewis Island (his surname was Lewis), as well as the majority of the riverfront land known as Ringlands.
One year on and Natasha admits that launching during a pandemic and on the back of a horrendous bushfire season seemed "ridiculous", but the realisation that people were not going to be travelling overseas like they used to for a long time hinted at an opportunity, especially to support her father, whose business had suffered during Covid.
"It's a big wake-up call for people to stay local and support local wherever they are," Natasha says. "I don't even know how Dad managed to get through [last year], but he did, and hopefully this is a good thing for both us — starting a new business and for Dad to be able to keep kicking along himself.
"Like all farming businesses in general, with rain and drought, Dad's been through some real lows and highs, but he's in his late sixties, standing strong and still doing what he loves."
 The Oyster Farmer's Daughter can be found at 279 Riverview Road, Narooma, NSW. www.theoysterfarmersdaughter.com.au