As our most recent issue of T Australia hits newsstands this week, local style setters will be gathering in Sydney for Australian Fashion Week. The event has a special resonance this year as it celebrates the resilience of an industry hit particularly hard by the pandemic. Last year's Australian Fashion Week preceded extended lockdowns across the country that caused many manufacturing, wholesale and retail businesses to either downsize or permanently close.
The fashion industry is an integral part of the country's economy, generating $27.2 billion per year and employing 489,000 Australian workers, 77 per cent of whom are women, according to a 2021 report by the Australian Fashion Council. While data on the effects of the pandemic on profits is scarce, an April 2020 Business of Fashion report estimated that the global fashion industry would suffer a 30 per cent year-on-year loss that year.
"Maintaining production in Australia is integral to our industry's growth and development," said Bianca Spender in an interview with The Guardian last August. (Her mother, the acclaimed designer Carla Zampatti, died tragically last year at the age of 78.) Spender will be leading the triumphant return of the industry, with her namesake label (now in its 13th year) awarded the prestigious opening slot on the fashion week runway. After two years of uncertainty and disruption, the key message of 2022 is that Australian fashion is back, and it's stronger than ever.
One of the most surprising takeaways from those two years is how adept designers are at thriving amid chaos. Several new and emerging labels, such as All Is a Gentle Spring (set to debut at fashion week this year), Emma Pills and Erik Yvon, found international audiences with their Gen Z-friendly, highly TikTokable designs. Meanwhile, Jordan Dalah, who graduated from the esteemed British design school Central Saint Martins in 2017, made his runway debut to much industry fanfare at last year's fashion week, and counts Lara Worthington, Georgia Fowler and the music sensation Benee as fans. Commas, the resort line started by the Sydneysider Richard Jarman in 2017 and co-run by his wife, Emma Jarman, was invited to appear on the official 2020 Milan Fashion Week menswear schedule. The label subsequently won Australia's National Designer Award in 2021.
More established names enjoyed big wins, too — Michael Lo Sordo saw a huge international push when the Bond girl Ana de Armas wore his floor-skimming silk gown in "No Time to Die" (2021). Christopher Esber exploded onto the global fashion scene after Zendaya, Hailey Bieber and Lorde stepped out in his ruched and cut-out creations. Zimmermann opened multiple flagship stores in Europe and the United States during the pandemic and, in December 2021, 70 per cent of the company was sold to the Italian investment firm Style Capital for a rumoured $400 million.
Coming from a country located a day's flight away from the world's design capitals, Australians have long punched above their weight on the international fashion stage. "I think Australians as a whole are very hardworking," says the director of special projects at Marc Jacobs Ava Nirui. "It's a cultural thing that makes us much better at being open-minded and collaborative. Every Australian I meet [overseas] is lovely and non-competitive."
Raised in Lane Cove, Sydney, and now based in New York City, 29-year-old Nirui burst onto the fashion scene in 2015 when she began uploading pictures of her bootleg fashion creations to Instagram. Dubbed the "queen of fashion hijacking", Nirui created rhinestoned asthma inhalers with fake Dior logos and Louis Vuitton-clad Barbie dolls, and soon amassed more than 200,000 Instagram followers (her handle is @avanope). Marc Jacobs hired Nirui in 2019 to co-create his Gen Z offshoot label, Heaven by Marc Jacobs. The brand specialises in the '90s and early noughties staples that Nirui grew up obsessing over — shrunken baby-doll T-shirts, acid-wash denim jackets, raver-style platform boots — and has quickly won a cult following among "It" girls such as Bella Hadid, Olivia Rodrigo and Iris Law.
Although the label has a decidedly American feel (Nirui has collaborated with the alternative '90s/noughties filmmakers Sofia Coppola and Gregg Araki on capsule collections), there are nods to Nirui's Australian roots. She cites "lad and lass" culture — a once-prevalent Sydney fashion trend typified by oversized Champion jumpers and counterfeit designer handbags sourced at Paddy's Markets — as a key influence on her aesthetic. And in 2019, she organised a creative partnership between Marc Jacobs and the Sydney-based artist Kyle Montgomery, in which a special selection of Montgomery's artworks were sold at Jacobs' Madison Avenue flagship store.
For Nirui, being Australian is intrinsic to her success, both directly and indirectly. Many local designers cite the physical distance between Australia and creative hubs such as London, Paris and New York as a source of inspiration and creativity, and Nirui is no different. "Growing up, I romanticised New York so much," she says, referencing weekends spent hunched over back issues of Dazed & Confused magazine at the Borders bookstore in Sydney's Macquarie Centre. "I often wonder if I'd had all this at my fingertips, would I have been less hungry for it?"
There is also a growing number of young Australian fashion school graduates making a name for themselves in Europe. Tyrone Dylan Susman graduated from RMIT in 2013, then spent months applying for design jobs at international houses, to no avail. In 2017 he decided to move to Paris, where a chance encounter at a museum with his idol, the avant-garde fashion designer Rick Owens, transformed Susman's life overnight. The story, as 32-year-old Susman tells it, is that he walked straight up to Owens and asked him for a job. Owens, overwhelmed by the young man's easy confidence, invited him to join the Rick Owens label as a fit model. Susman quickly became both a muse and protégé to the designer, opening his runway shows as a model, assisting him in the design process and eventually joining the tight-knit four-strong central team of Owenscorp, the company that Owens established in 2004. Susman now travels the world with Owens (the Melburnian's Instagram account is filled with images of luxury hotels, cruises and snapshots with celebs). He's also planning to launch his own brand under the Owenscorp umbrella. "It's a dream come true for a boy from the other side of the world," he told Harper's Bazaar earlier this year.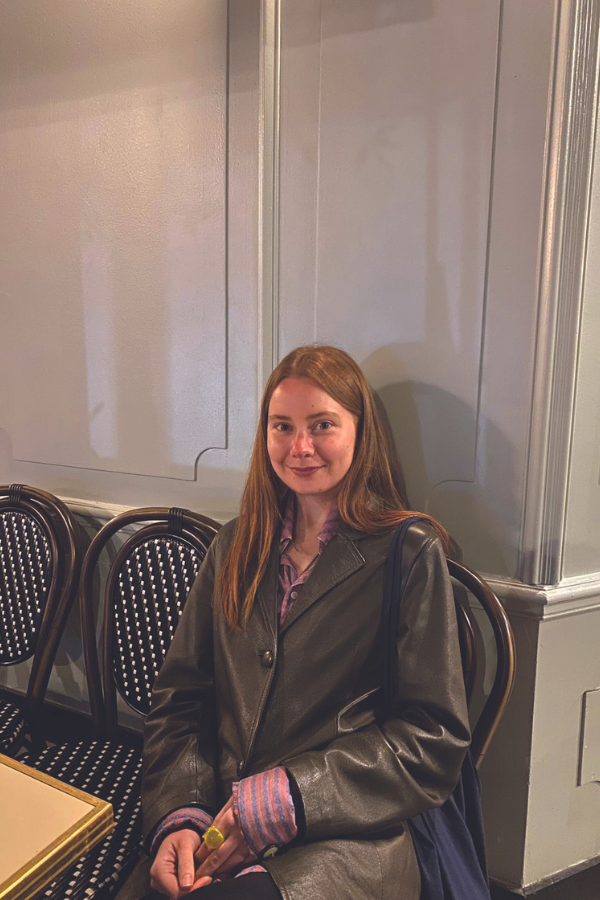 Shannon Lewis is another Australian who beat the odds, finding a job in Paris' elite world of high fashion. "It's just not an expected thing when you're studying fashion in Australia that you're going to end up working in Europe," says the junior knitwear designer at Maison Margiela. "In some ways I think you're always over-performing, because you're so aware and appreciative of how unlikely your situation is."
Lewis, 28, graduated from the Queensland University of Technology in 2016 and was accepted to do her master's at the illustrious École nationale supérieure des Arts Décoratifs fashion school in Paris. "I was definitely the only Australian at the school," she says. "My instructors said there was something that stood out as unique about my student designs because they were inspired by the Australian natural landscape." Following a stint in the couture house of Schiaparelli, Lewis landed at Maison Margiela, the label headed up by the iconic designer John Galliano.
For a kid who grew up sketching Comme des Garçons runway looks from the pages of magazines, it's nothing short of a dream come true. It's a sentiment echoed by Isabella Jacuzzi, a fellow QUT student: "I didn't even think working in fashion was possible. You just didn't hear about people in Brisbane becoming designers." Jacuzzi is now based in Amsterdam, where she is a designer at the fashion house Viktor & Rolf.
While studying in Brisbane, Lewis and Jacuzzi would stay up late crafting their student collections and discussing their dreams of eventually working in Europe. Among the students they shared studio space with was Michaela Stark, who was a couple of years above them at QUT. Yet another Australian powerhouse, Stark moved to London in 2017 and, through a fortuitous turn of events, found herself working for Beyoncé's stylist, Zerina Akers. Stark created costumes for Beyoncé's various projects, including her 2020 fashion and music extravaganza "Black Is King", and now runs an eponymous label, producing couture undergarments crafted to accentuate the body in unexpected, often extreme ways. Stark's fascination with the so-called "grotesque body" began while she was a student at QUT: her final-year collection featured pieces such as the Saggy Skin Dress and Fatroll Jumpsuit. Last year, one of Stark's corsets featured on the March cover of Russian Vogue and she collaborated with Jean Paul Gaultier as part of a performance in Paris.
"It's crazy, to me, to think about us as students working from the same little studio room at Kelvin Grove, dreaming about being able to work with these European brands," says Jacuzzi. "QUT wasn't considered one of the big fashion schools, and yet you have all of these designers who have carried the aesthetics they found at school in Queensland and have perfected and amplified them around the world."
Lewis and Jacuzzi agree they were fortunate to begin their careers at a time when Australians were, to borrow a popular phrase, "killing it" overseas. In 2021, mass shake-ups at Condé Nast saw two millennial Australians take up illustrious roles: Margaret Zhang was appointed the editor in chief of Vogue China, and Megha Kapoor became the head of editorial content at Vogue India.
In the past decade, several other Australians have taken up plum jobs, including the London-based fashion consultant Yasmin Sewell; the former editor in chief of American InStyle Laura Brown; and Christine Centenera, the fashion director at Vogue Australia who founded the brand Wardrobe.NYC and has collaborated with the likes of Kanye West and the late Virgil Abloh (Centenera, in particular, has had a profound impact on the way modern women dress, with everyone from Kim Kardashian to Bella Hadid citing her as a style influence).
Then there's the cohort of Australian brands such as Christopher Esber, Zimmermann, Ellery, Dion Lee and Alex Perry that have formed a kind of Australian new wave, finding mass popularity across the globe. Zimmermann and Dion Lee are now part of the New York Fashion Week schedule, while Kym Ellery has permanently moved her operations to Paris.
Multiple reasons have been given for this phenomenon: the quality of Australian textiles, above-average government funding and geographic isolation, which some believe breeds a signature creative energy. There's certainly no doubt that the globalisation of fashion has helped get word of talented young Aussies out there in a way that was once far more difficult. The proliferation of social media and e-tail behemoths including Net-a-Porter and Matchesfashion.com means a new designer can be unearthed and sell out a collection within 24 hours. Plus, the "elevated casual" look that Australian designers tend to excel at — whether it's the understated-yet-sexy glamour of Esber's creations, or Ellery's pared-back interpretation of structured Parisian chic — is becoming increasingly relevant in a world where the lines of work and play are bleeding into each other. But there's something less tangible, too.
A sentiment expressed by everyone interviewed for this story is that Australians possess a tenacity that is unique and noticeable. "When I booked my one-way ticket, I'd never even been to New York," says Nirui. "I had no job, it was totally impulsive. But I'm very much of the mindset that if you want to do something, you'll find a way to do it. I was always busying myself with new projects and teaching myself new things. I do think there is something uniquely Australian about that."
Lewis shares the same conviction — she landed in Paris to study her master's without being able to speak French. "There's so much that's challenging when you arrive somewhere new that you tend to develop a part of you that can adapt to anything," she says. "I've talked to many Australian friends who agree that we are very good at adapting in that way."
Jacuzzi concurs: "I think we just inherently understand that no-one is going to give it to you on a platter, you've got to find a way to make it work." She was in Paris when she was offered an interview for a Viktor & Rolf internship. She flew to Amsterdam the same day, then permanently moved to the city a week later. "I'm proud that [Australians] have this reputation as go-getters," she says, "because it's true."
This is an edited extract from Issue 6. To read the full story, pick up a copy of our new issue in newsagents nationally, order online or subscribe to receive T Australia straight to your letterbox. You will find it on Page 80, named "Rags to Riches".