Growing up in Florence, Italy, the curator Valentina Guidi Ottobri was surrounded by architectural wonders. Here was the striking 12th-century black-and-white Baptistery of St. John the Baptist; there was the ornate 15th-century Florence Cathedral. She was struck by the patience, vision and spiritual devotion it took to erect these ambitious buildings — projects that often took more than three generations to complete. "I have always loved the idea that patrons like Cosimo de' Medici invested in work that they knew they would never see in their lifetime," she says.
Later, as a student at the University of Siena, Ottobri studied communications and semiotics with the Italian author and medievalist Umberto Eco. She earned a masters in brand management and another in curatorial studies, worked at Bottega Veneta in public relations and briefly took a job in India as a fashion stylist for Marie Claire magazine. She returned to Florence in 2012 at the age of 23 and joined the city's exclusive concept store, Luisa Via Roma, first as an assistant jewelry buyer and, eventually, as director of the boutique's homewares department. Every six months, she would completely reimagine the store's interior in collaboration with different creatives. In 2018, she constructed a house within the shop with the help of the Milan-based designer and architect Cristina Celestino; in 2019, she called on the Italian production designer and artist Sara Ricciardi to transform the space into a modern-day Garden of Eden. "I was never interested in working for money," Ottobri says. "It was always about how to turn my visual fantasies into something real."
Today, Ottobri is doing just that. The 32-year-old has remade a rural Provençal estate into both a home for herself and a display space for her company, VGO Associates. The art, craft and design collective uses the grounds — with its orchards, olive tree grove, tangled gardens and outbuildings — as a living gallery space. At the entrance to the estate, "The Gate of Light," by Ricciardi, is a free-standing archway made of aluminum and stained glass and topped with a multicoloured eye that is illuminated in the evenings so that, as Ottobri says, "it appears to float in the dark at night." Nearby, a giant bronze pod by the Italian artist and leather goods designer Serena Cancellier dangles from an olive tree branch, exploding with streams of crystal seeds that sparkle in the fading afternoon light. Standing on a patch of grass is a collection of knee-high ceramic vessels, decorated with the detachable sculpted faces of mythic beasts that Ottobri designed with the Pugliese terra-cotta masters Fratelli Colì — part of a network of skilled Italian makers she employs to produce the ideas artists and designers conceive of for VGO Associates. The works are then exhibited at the estate and sold on the collective's website. "You can use them as a waste bin or take the faces off and hang them as masks on your wall," she says. "I'm fascinated by talismans and objects that are useful but cross the line of being art."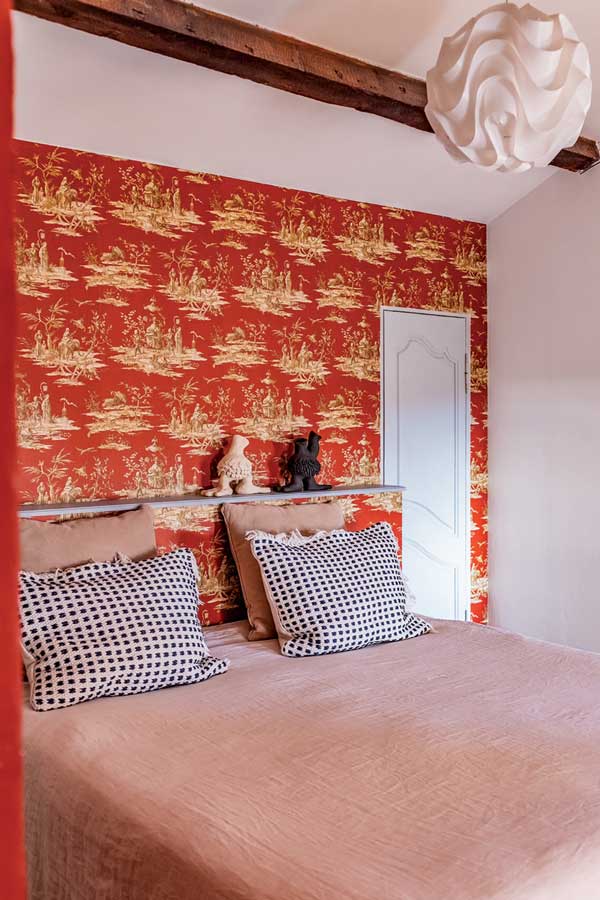 Ottobri's Home, which she shares with her boyfriend, Lapo Becherini, an athletic performance coach, is a modest stone farmhouse built in 1852, with two bedrooms, wood-beam ceilings, terra-cotta tile floors and whitewashed stucco walls. There, her vision of integrating the spirit of a rustic estate with cutting-edge modern art, craft and European design comes together. The space is filled with an ever-changing selection of avant-garde furniture and decorative objects — a stone-and-Plexiglas side table by the Milan-based designer Thanos Zakopoulos; a glazed ceramic table lamp that suggests an alienlike creature by the British artist Hannah Simpson — designed by VGO Associates collaborators. These are tempered by quirky pieces of her own making (papier-mâché masks, medieval-inspired ceramic sculptures) and the elegant mainstays of a French country house: Roche Bobois furniture, blue-and-white Delftware, sisal rugs, toile wallpaper.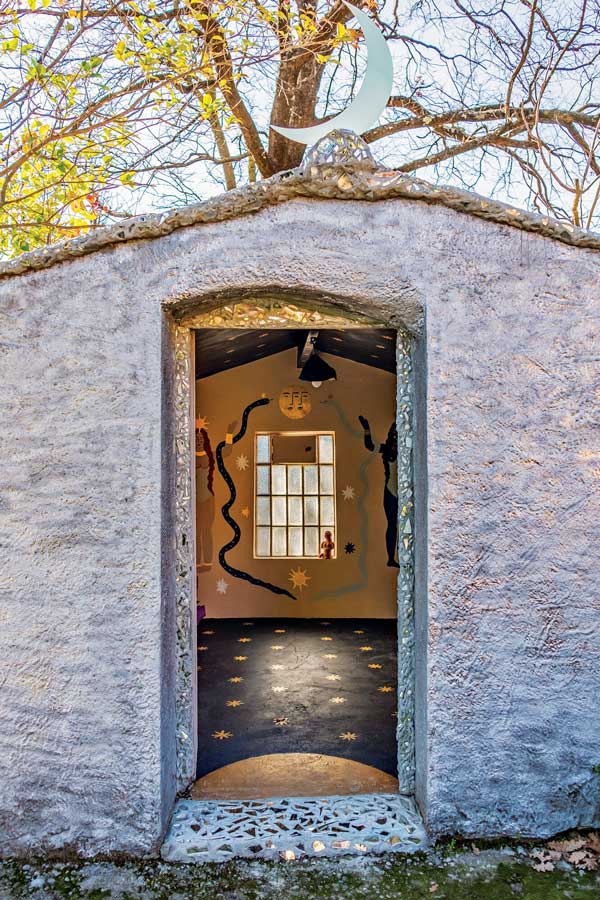 In the living room, work by recent collaborators is everywhere. An abstract two-metre tall bull-shaped cabinet (the horns double as incense holders) made of blackened ash wood by the Italian transmedia designer Matteo Cibic sits next to a mirrored glass coffee table etched with ancient-looking symbols by the Moroccan multimedia artist Mo Baala and a russet-coloured leather chaise longue embellished with hundreds of hand-tied leather flowers by the Italian designer Tal Lancman and the couturier Maurizio Galante. Today, they're inside her house, but next week they might be outside, in the artist's residency or the Chapel of the Moon — an abandoned shed that Ottobri converted into a meditation space painted with stars and goddess figures by the Italian illustrator and designer Ludovica Basso, who goes by the name Clorophilla. In an era of thoughtless consumption, Ottobri believes that anything that requires the energy to create should serve more than one purpose, challenging us not only to use an object but to contemplate its meaning as well. "The objects in your space should be as purposeful as talismans," she says. "If we have learned anything over the past year, it is that our homes are our chapels."
A version of this article appears in print in our second edition, Page 72 of T Australia with the headline:
'The Home is a Gallery'
Order a copy | Subscribe