Among many writers, there's a commonly held belief that a desk must be organised, an office must be tidy, an entire home must be cleaned, before one can finally sit down and fill the empty pages before them. One can't help but think of such habits — the physical manifestation of routine and discipline — when visiting the completely preserved home of the midcentury French American eroticist Anaïs Nin, who died at 73 in 1977 in Los Angeles. Here, hidden among pines overlooking the Silver Lake neighbourhood's reservoir, Nin envisioned a low, single-storey aerie, which she called her "one large studio, no separate, small partitions." This description appeared in the first edition of her diary (originally published in 1966), which she began writing at 11 as a child traveling to America from the Parisian suburb of Neuilly-sur-Seine and continued until her death. Today, there are 18 volumes — with a final one left unpublished — comprising an oeuvre that also includes frank, feminist, sexually explicit, oft-censored essays about her various lovers; literary criticism (the English writer D.H. Lawrence was a favourite); and beloved works of fiction like "House of Incest" (1936) and "Delta of Venus" (1977), many of which she initially printed herself.
It's easy to see why this house, completed in 1962, was where she got much of this work done: There are hardly any distractions, visual or otherwise. Approached from the end of a long driveway off a steep, winding road, it resembles a pavilion clad entirely in rich, dark Douglas fir. Inside, the original 120-square-metre interior incorporates lots of wire-brushed plywood in the form of heavily striated boards and built-ins, alongside two other materials: concrete blocks and plate glass. Massive windows front one side of the house, providing views of a rock garden, a small pool, scruffy cliffside brush and the city beyond. Aside from the narrow kitchen, there are few well-defined rooms: The living area connects with a sleeping space that's separated only by an accordion-style, floor-to-ceiling wooden partition that usually remained open; Nin didn't have children and preferred not to have any guests staying overnight. Next to the bedroom is her small private study, about nine square metres, in the building's back corner.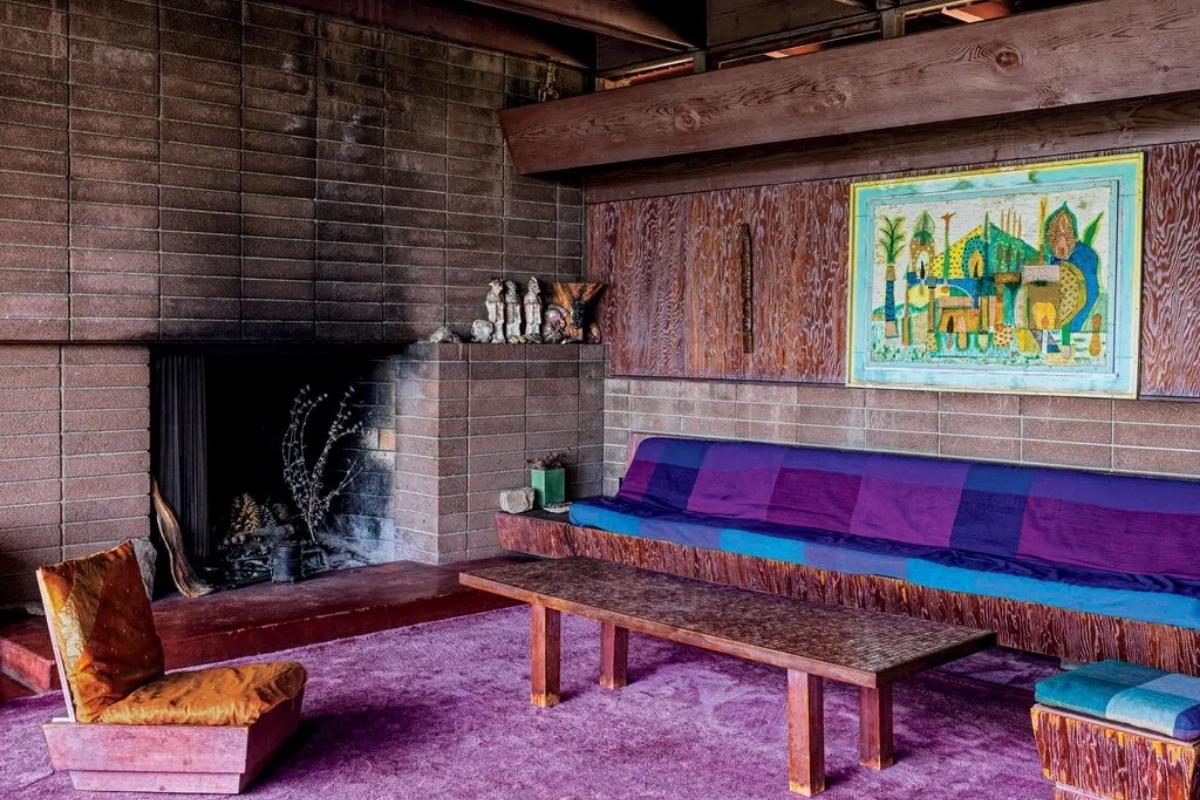 The few furnishings — a built-in floating desk; a long, low sofa; a few squat chairs and an ottoman; the kitchen cabinets — that fill the compact three-metre-tall rooms are made largely from the same wood as the walls, its purplish-brown hue complementing the mauve carpeting and the pinkish-grey concrete bricks to create a distinctive, unlikely palette that makes one feel as if they're hibernating inside a dusty, cracked-open geode — or better, in the spirit of Nin, a womb. That sensation, of being enveloped, is punctuated only by a few statuettes, artefacts and books picked up during her travels throughout America, Europe and Asia; paintings and letters given to her over the years by lovers and artist friends such as Henry Miller, Jean Varda and Eyvind Earle; and the bold turquoise of the upholstery, as well as the teal rotary telephone and typewriter that still haunt Nin's writing nook and which allude to her adopted homeland's bright blue vistas. "It had the sense of space of Japanese houses … all sky, mountains, lake, as if one lived out of doors," Nin wrote in her diary of her home. "Yet the roof, held by its heavy beams, gave a feeling of protection."
If Nin's home was built for a specific artist, it took a few others to execute her vision. When she moved in, the writer was married to Rupert Pole, a musician whose mother's decades-old weathered ebony wood baby grand piano still claims one corner of the sitting room. Pole's half brother was Eric Lloyd Wright, a grandson of Frank Lloyd Wright and the son of the landscape architect Lloyd Wright, both of whom young Eric apprenticed for, assisting on projects like New York's 1959 Solomon R. Guggenheim Museum. Eric, now 92 and living in nearby Malibu, spent his life restoring his grandfather's buildings and becoming a residential architect in his own right, designing spaces that often shared his elders' interest in geometric forms, organic materials and natural landscapes. As the lore goes, Nin herself was somewhat in awe of the Wrights — those "giants of the West," she called them — and was worried her own creativity might be subsumed by theirs. Despite that fear, the couple asked Eric to build the house because he grasped how they wanted to live: In Nin's study, for instance, the architect built a bank of corner windows above her desk, so that she might stare out at the small back garden's pittosporum, rather than at the walls, when she was writing.
Pole, who died in 2006, had his own motives for giving Nin this retreat. In those years, she travelled often to her home in New York City where, unbeknown to many of her West Coast intimates, she was keeping another husband, the filmmaker Hugh Parker Guiler, whom she'd previously married and then lied about divorcing. Pole admitted in a 1984 interview that he "really built the house to persuade her to dig some roots, and she was very much against it, saying that she had 'portable roots.' Nevertheless, it worked … she always looked forward to coming back here after she had been away." Nin referred to the place as her "house of mirrors" and was particularly entranced by the way the golden light bounced between the large windows and the pool below, where she'd swim whenever she felt stuck.
She spent most of her later life in Silver Lake. Four years after she died, Pole and his new partner, Kazuko Sugisaki, commissioned Eric to build a 50-square-metre addition — all with the same plywood shelving, lilac carpeting and corner windows as the adjacent study — that now functions as a library displaying first editions of Nin's books alongside those of Miller and other peers. Since 2007, the Nin-Pole Residence, as it's come to be known to both literary and architectural fans who want (and mostly fail) to get a peek inside, has been owned and inhabited by Eric's son Devon and his wife, Tree. Devon, 59, often attended gatherings at the house as a child, and living here in recent years has brought back certain memories: of the building's resonant acoustics, for instance, and of the fact that Pole and Nin only seemed to use their lavender-tiled iridescent dining table (and kitchen, for that matter) when they were giving parties.
One of the first things the latest generation did upon moving in was to have the house designated a historic-cultural monument, with the idea of preventing any future design interventions. They've refused to add a microwave or modernise the dated kitchen appliances; when a section of the carpet needs replacing, the colour is painstakingly matched; and they've hunted down LED bulbs that lend the same lanternlike light as the original incandescent overheads. But Devon and Tree have also left a few of their own imprints, installing things like blinds that block the mid-afternoon sun, and a wooden deck reminiscent of a Japanese teahouse's — both reminders, Devon says, that the dwelling "is still churning out new experiences, new ways to live."
And now it's someone else's turn to experience it. During the pandemic, as these once sedate hills became increasingly crowded with new arrivals, the couple decided to move to Ojai, California, but not before finding stewards who'll respect the Nin-Pole's lineage by not refurnishing or otherwise ruining it. They must understand that it's not just a house but a shrine to an artist's — well, several artists' — way of being. As Nin wrote, "Had I not created my whole world, I would certainly have died in other people's."