When Australian actor Angourie Rice, 20, first read the script of her upcoming HBO miniseries Mare of Easttown with Kate Winslet, she read the first two episodes in one sitting. "That's quite rare for me," she says. "I find it quite difficult to read scripts. Actually, I'm a big reader of books, but with scripts it's like reading a recipe… So, it's always a good sign when I can read a script in one sitting, it means it's exciting and I'm interested."
However, she wasn't just interested in working with one of Hollywood's A-listers (though Winslet took her under her wing, she says), she'd already worked with Ryan Gosling, Nicole Kidman and Kirsten Dunst, among others. For her, it was about the sense of community that the criminal drama encapsulates. "The writer, Brad Inglesby, grew up around Pennsylvania where the fictional Easttown is set, so I could really see how real this story was and I could understand the dynamics and the truth in that," she explains.
She also found herself relating to her "wild child" character more than she thought she would. "I found a lot more similarities between us than I initially thought," she remembers. "She is someone who has been thrown into an adult world with adult responsibilities at a young age; I really related to that, you know, growing up, working in film, having to be mature and working in a professional environment." Rice made her first film at just 11 years old, and since has been part of some of the biggest movies of the past decade, not least her role in the recent (and upcoming) Spiderman Marvel instalments. Yet, despite – or perhaps, because of – her impressive to date career, the past year with all of its upheaval has afforded Rice the time to concentrate on some new pursuits, namely knitting and mending (with her socks being in particular demand). She's also managed to create The Community Library, a podcast encouraging critical thought.
The Melbourne-based actor spoke to T Australia's digital editor Lucy E Cousins about working in Hollywood, shooting in the middle of a pandemic and why there is a need for her podcast right now.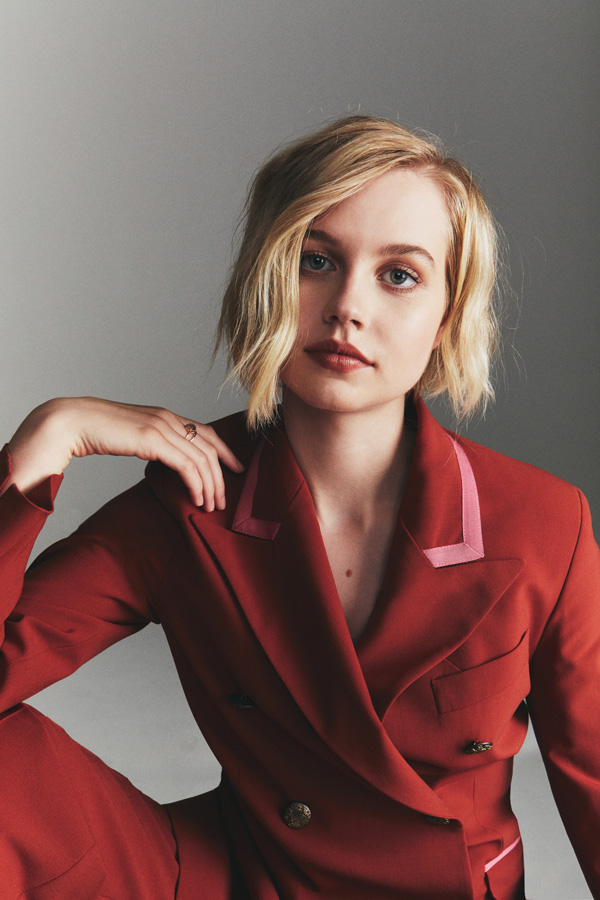 You started acting at such a young age, do you feel the same kind of excitement as you did back then?
"Yeah, my first feature I shot when I was 11. But I think the day I don't feel excited is the day that I should find a new career. I still get so excited, I still get super nervous, no matter what I'm working on. I still get first day jitters first week jitters even. I think that that shows that I care; I still deeply care about my work and I want to do the best that I possibly can."
When production on this paused on Mare of Easttown due to the pandemic and you returned to Melbourne during the lockdown, how did that feel?
"I mean, the world just changed in what felt like overnight and suddenly nobody had any plans. I think it was probably quite confronting for everyone to suddenly experience long bouts of nothing, especially for people in the arts industry."
 You've never moved permanently to America for your work, why is that?
"Well, I love living in Melbourne, I love living close to my family and I like having that distinction between work and home, especially when I was in high school, that was really important to me. And now, even though those two worlds merging, I really like having somewhere I can come back to that feels like home and where I don't feel pressure to be 'on' all the time, which I sometimes do if I traveled to LA for work, for example."
When production first began you were 18 years old, yet you finished the series as a 20-year old. How did you change during the filming process?
"I think it changed a lot actually. When I started shooting, I had never lived by myself before, so I was living alone in Philadelphia and it was quite a shock! I knew in my head, 'Oh yeah, this means I'm going to have to do everything', but I didn't realise that in practice. For example, I accidentally cut my finger and I didn't have any plasters because I hadn't bought any. So I fashioned a makeshift plaster; I wrapped paper towel around my finger and secured it with rubber bands. That was my first 'crisis'. And the Melbourne lockdown definitely changed me; just the way that I balance my life now."
Production resumed in September last year, what was happening in America then and was that a scary world to go into?
"It was different… we travelled from Stage Four lockdown in Melbourne into America where they didn't really have a full on national or even statewide lockdown. My mom and I brought Stage Four with us, though! We decided to implement all of the same rules for ourselves over there. So, there was an element of risk that hadn't existed before."
You're passionate about sustainable fashion, how did that come about?
"Well, I was very much inspired by Emma Watson. She did a whole press tour where she only wore sustainable garments. I also changed the way I thought about clothes during lockdown. Suddenly I didn't have anywhere to go, and as I'm not a huge online shopper, I just wasn't buying things anymore. I really had to assess my wardrobe and think, what is actually serving me? What actually works? What is functional? What can I wear? What is still surviving? Lockdown changed the way I look at fashion and what I need in my life as garments and clothing. I got into knitting as well, and I got into mending; I had the time to actually knit my own things. Well, I started knitting for myself and now I have a huge list of people who want something! I have thought about turning it into a small business, but I also want to resist the idea that every hobby must be monetised."
You've got a huge number of Instagram followers and  you are regularly photographed on red carpets, do you feel the pressure to have new clothes all the time?
"Yes, I do think that comes into it. The clothes that I wear a lot of the time on red carpets are borrowed. In fact, most of the time they're all borrowed, so I know that I'll wear it once, it'll go back to them and then they'll lend it to other people or use it in fashion shoots. But I do think there is this idea [in the industry] that everything you wear has to be new. I was recently featured in Vogue Australia and and I did the photo shoot at home with a photographer friend. I just invited her over and I wore all my own clothes. Some of the things I've had for years, but they still look nice and I feel good in them."
Can you tell me about your podcast and some of the themes behind it?
"It's called "The Community Library" and it's a podcast about books and pop culture and movies… but mostly about books. I guess my aim with it is to make critical analysis accessible for everyone and to reclaim it from how we learn about it in school. I want to show that you can apply critical thinking tools to any form of media, whether it's considered highbrow, lowbrow, whatever. I don't think those labels are helpful or should exist, but the point is, I think critical analysis tools are really important for analysing every aspect of our pop culture because it informs the way we behave and the stories we tell and how we think."
Do you feel critical thinking is something we have lost or aren't developing anymore?
"I don't know. I guess I'm not sure I know the answer to that. But one of the reasons for starting the podcast was I didn't want to lose the skill of critical analaysis. I didn't want to lose those tools because I knew I wasn't going to university straight away. And so I wanted to keep it up as a form of self-education. I also think that young people get quite overwhelmed with the idea of critical analysis being this 'chore' that you get graded on rather than something you can apply to life in lots of different ways."
Mare of Easttown is screening now on FoxtelNow and Binge.