Ask any after-work CBD drinker to describe Jacksons on George as of five years ago, and you'd hear about its infamously sticky floors, modest pub feeds, and late-night license. How times have changed. It shut up shop in 2018, prior to demolishment, to make way for Lendlease's Circular Quay development, Sydney Place.
This month, Jacksons on George welcomes patrons back – but don't expect the same grungy dive bar aesthetic of years past. Helmed by DTL Entertainment (the hospitality group led by Icebergs' Maurice Terzini and publican Michael Broome), Jacksons on George is split into three distinct spaces – a ground level public bar, level one restaurant Bistro George, and rooftop bar.
Food and beverage offerings are curated for each level. Expect all-day pub classics like burgers and fish and chips at the public bar, alongside oysters, salmon gravlax and banoffee sundaes. The rooftop shares a similar snack menu, bolstered by cocktails and a compact Italian leaning wine list.
Bistro George is the venue's dining jewel. Overseen by head chef and Icebergs alum, Steven Sinclair. "I'm really excited to start this new chapter in my career and the challenge that comes with it," says Sinclair. "To be able to create my own menu and dishes for people is really exciting." The expansive food menu is shaped by "recognisable bistro classics, elegantly executed with quality ingredients," such as light and fresh clams casino, juiced up with guanciale and pangritata; beef tartare served with quails egg and potato crisps, and heritage beetroot with buffalo milk curd.
Vodka rigatoni – a TikTok sensation of late – is instead prepared with gin, beef from the grill is served with a selection of Café de Paris butter, sauce au poivre or Béarnaise sauce, and the dessert list is delightfully extensive.
To celebrate the venue launch, we sat down with Sinclair to talk about his start in the industry, the restaurants on his hit-list, and his recipe for charcoal grilled coral trout with spigarello and limoncello beurre blanc.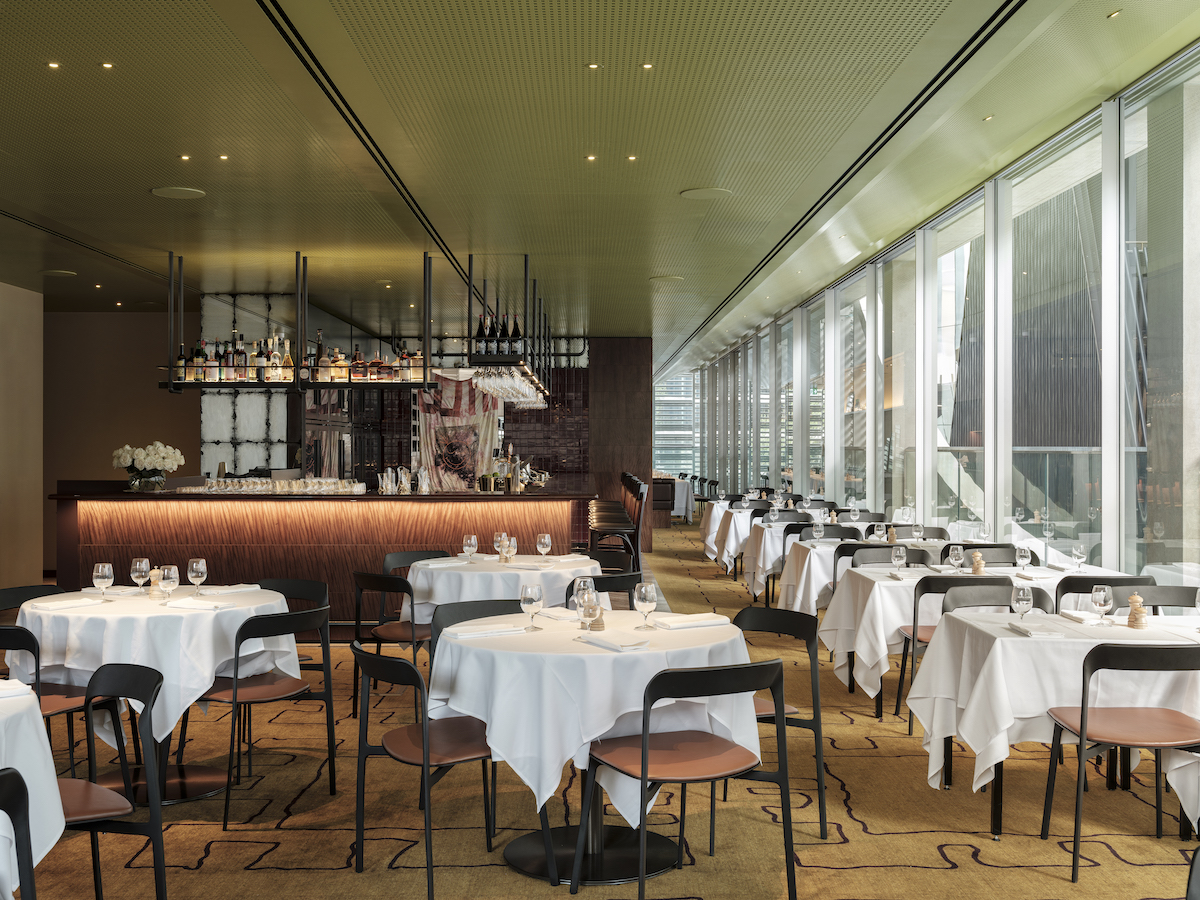 On becoming a chef…
I became a chef at the age of 20. Before, I studied in school with the idea that I was going to find a subject to study in university (however I had no idea what that was going to be) and felt quite lost at the time. One day, I came to realise how much I actually enjoyed cooking for my family, and friends when they came over to visit. They all seemed to love it, which gave me a great sense of satisfaction, so I decided to try my luck and pursue a job as a chef. Shortly after I went knocking on a few doors but without any previous or professional cooking experience I landed a job as a dishwasher. I'll never forget those first few moments of walking into a kitchen for the first time how terrifying it was, but I knew instantly that this was where I wanted to be. I stuck by the chefs there and quickly worked my way up and have never looked back.
On maintaining drive…
The energy and the drive from my team working together helps me keep motivated every day. My team is a big inspiration, we get through each service together and that's what drives me. Not only that, but you will always learn something new in a kitchen, whether it's from a book or from one of your chefs.
On unwinding after service…
I like to go home and spend time with my partner as much as I can. However sometimes I do enjoy a few games of pool and a pint of Guinness to wind down. 
On cooking at home…
I love baking bread at home. During the pandemic I had all the time to learn and make sourdough. I've always had a love for bread making but sourdough in particular was a lot fun to make but came with a few failed attempts.
On the venues that excite him at the moment…
There are several restaurants on my list that I'm looking forward to trying. Petermen Dining Room and Bar being one. I think Josh and the team behind Fish Butchery are always doing some really exciting and innovative things. Another new venue would be Raja in Potts Point. Indian food is one of my all-time favourite cuisines, so this is another I'm looking forward to trying.
Charcoal Grilled Coral Trout, Spigarello and Limoncello Beurre Blanc
Serves 4
Ingredients for Coral Trout
1 whole fillet of coral trout, about 600g-650g (skin on)
60ml extra virgin olive oil
Half a lemon
Sea salt flakes
Ingredients for Spigarello
1 bunch of spigarello leaves (broccoli rabe, broccolini or chard are other good alternatives)
10ml extra virgin olive oil
Sea salt flakes
Ingredients for Limoncello Beurre Blanc
2 peeled eshallots (finely sliced)
3 cloves garlic (finely chopped)
4 sprigs of lemon thyme
150ml chardonnay vinegar
1 bay leaf
1 lt cream
125g unsalted butter (diced into cubes)
35 ml lemon juice
70 ml limoncello
Sea salt
Method
Coral Trout
Start by preparing your fish fillet several hours in advance. Scrape the skin carefully using a knife or fish scalers to ensure there are no scales left on the skin and remove any bones from the flesh side.
Pat the skin using paper towels quite well to ensure the skin is totally dry.
Next, line a tray with a sheet of 'go between' or freezer film, place the coral trout fillet on top (skin side up) and leave in the fridge uncovered to help dry out the skin. This process will help ensure that when cooking, the skin will not stick to the grill or barbeque and the skin crisps up nicely.
Limoncello Beurre Blanc
Pour cream into a saucepan and bring up to the boil carefully over a medium to high heat (be careful the cream doesn't spill over). Turn the heat down and reduce by half, then set aside.
Next, gently heat up a large saucepan and add a drizzle of olive oil. Sweat off the eshallots for 1 minute until they start to soften, then add the garlic lemon thyme, bay leaf and sweat off for a further 3 minutes until soft and translucent.
Add 40ml of the limoncello and flambe to burn off the alcohol.
Add in the chardonnay vinegar and reduce it down by two thirds.
Once reduced, add the cream and stir well. Whisking continuously on low heat gradually add the diced butter until fully combined then remove from the heat.
Pass the sauce through a fine sieve into a clean pan and discard the herbs and shallots, etc. Stir in the lemon juice and the remaining limoncello and adjust the seasoning to taste. Set aside.
Method
Remove the fish fillet from the fridge and leave it out to bring it up to temperature (approximately 30 minutes).
Meanwhile, dress the spigarello leaves in olive oil and salt.
Brush the skin and flesh of the fish with olive oil and season with salt flakes.
Making sure your grill or barbeque is hot, carefully place the fillet on the grill skin side down and cook for 4-5 minutes. (During this time, check by lifting the fillet up from the tail end using tongs to ensure it's not sticking to the grill.)
Once the skin is nice and evenly charred, carefully flip the fish and cook for a further 1-2 minutes.
At this stage you want to add the spigarello to the grill and cook for 1-2 minutes also.
Once ready, remove from the grill, set the fish fillet aside to rest for 1 minute.
To serve
To serve, gently heat up the beurre blanc until warm.
Spoon the spigarello evenly onto each plate.
Carve the fish fillet evenly into 4 (skin-side down), flip and place on top of the cooked greens. Alternatively you can serve the fillet whole in the middle to share.
Pour the limoncello butter sauce or squeeze fresh lemon on top to finish, and enjoy.
More mouthwatering coverage from T Australia: