There's an undeniable buzz around the car industry at the moment. Manufacturers are releasing cars in debut segments, internal combustion engines are standing side by side with electrified powertrains and technology is so plentiful it's hard to know what to do with it all. With so many options available to prospective buyers, it's also one of the most confusing times to select a noble steed. 
The American psychologist Barry Schwartz calls this conundrum "The Paradox of Choice", wherein presenting people with more choices has the unintended effect of paralysing their decision-making ability. But, rather than being overwhelmed by the current automotive smorgasbord, now is an excellent time to take stock of tried-and-tested marques that have been honed over decades. For sports cars, there's the Porsche 911; for four-wheel-drives, there's the Toyota LandCruiser; and for sedans, there's the BMW 3 Series. 
BMW has produced this car for nearly 50 years, blending build quality with luxury, utility and performance in a package that many have tried to emulate. And, having driven the new 2023 BMW M340i xDrive, which launched late last year and is now selling at dealerships, I can assure you that no-one at the Munich-based outfit is resting on their laurels. 
at BMW has chosen evolution over revolution. The sleek, athletic silhouette is perfectly proportioned, combining understated executive polish with progressive details in an overall design language that's subtle without ever being subdued. The front kidney grille is more modest than the pronounced (and controversial) grille sported by its M3 sibling, while the M Performance side mirrors and large rear diffuser communicate the M340i's potential.
The cabin evokes a visceral appreciation of just how exceptional BMW's build quality is. The Vernasca Cognac leather is impeccably pulled and stitched over the heated seats, the curved glass display could hold its own in a museum and all materials used are meticulously finished. Some may feel there's a little too much functionality fed through the iDrive system (no physical climate-control buttons, for example), but few will doubt the refinement and ambience of the interior. 
Legroom is plentiful across four of the five passenger seats, thanks to an impressive wheelbase, but the middle rear seat is best reserved for short trips or housing coffees in the pull-out armrest. Adding further fuel to the M340i's functional fire is its 480-litre boot capacity, which can be extended by folding the rear seat into a 40/20/40 formation.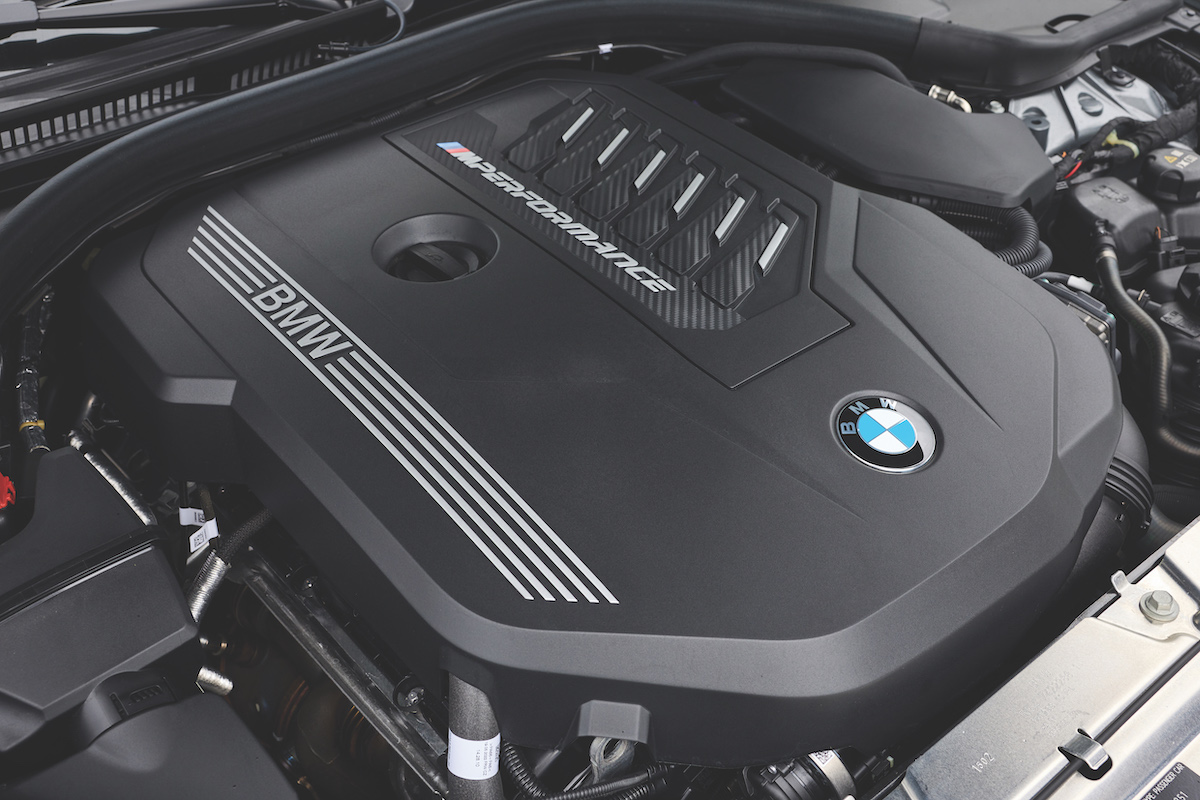 It is by driving the M340i, however, that it really becomes clear how the 3 Series achieved its iconic status. Whether it's cruising on the highway or tackling twisty backroads, the M340i is nothing less than chameleonic, allowing the driver to adapt the suspension, steering, throttle response and transmission. 
Put the car in "Comfort" mode and it will slip into its business suit, quietly gliding over freeways and sipping about 7.0 litres of fuel per 100 kilometres. Engage "Sport" and the M340i becomes a wolf in sheep(ish) clothing. The 3.0-litre turbocharged six-cylinder engine is a colossus that excites right through the rev range, propelling the rear-biased xDrive (all-wheel drive) chassis from 0 to 100 kilometres per hour in just 4.4 seconds. 
Sitting behind the wheel of a BMW 3 Series is often likened to wearing your favourite shoes, but that's doing it a slight disservice. The 2023 BMW M340i is all of your favourite shoes and then some. It goes from a Crockett & Jones loafer to a Kith trainer at the flick of a switch, with many options in between. Its looks are enough to tempt you, its build quality gets you to stay, and the driving experience will have you clinging on.
Like Einstein's theory of general relativity, the M340i will handle everything you throw at it. Building on BMW's decades of sedan sagacity, and a model that set the standard for sports luxury sedans, its design is striking, power immense and handling dynamic. It is a standout choice in its segment. In short, it's the perfect car to pull you out of any decision paralysis. 
The hits
Class-leading build quality; Exceptional performance and handling; Adaptability; Thoughtfully designed interior with a blend of luxury and sportiness; 7L/100km highway fuel consumption
(as tested); Five-year unlimited-kilometre warranty.
The misses
Physical buttons could help with a clunky climate menu; Purists will miss analogue instruments; No touring (wagon) option in Australia.
The Price
$106,200 plus on-road costs 
Carpark credentials
Plenty of sensors and cameras, plus an auto-adjusting side mirror, make for stress-free parking.
The second glance
A few telling nods from BMW aficionados, but it flies under the radar of most civilians.

If this car were a person
Toni Kroos at the Ballon d'Or awards night. Unassuming, looks good in a suit and cuts a shape on the dance floor. Some wonder why he was invited — and then his 31 major trophies fall out of his suit pocket.
See more expert Motoring coverage from T Australia: