One of the first things UK stylist David Bradshaw tells me is that he's never had a problem talking about himself (and with a CV like his, that's understandable) but that he can "easily become a bore" when he does, which is something that's extraordinarily hard to believe.
Not only is Bradshaw one of the UK's most experienced and renowned stylists, but throughout his career he's also acted as a designer, a fashion editor, and a creative consultant. He's worked with iconic brands such as Prada, Jil Sander, Tom Ford and Alexander McQueen, he was GQ Style UK launch Creative Director, and has styled everyone from Madonna to Nick Cave.
It's a breadth of career that few could boast, so Bradshaw could be forgiven for namedropping a slew of celebrities and talented muses he's worked with, but he's famously tight lipped on much of his experiences. What he will tell you however is the influence Miuccia Prada had on him ("It was Miuccia who really encouraged me to see something in everything."), and how much he enjoyed styling the now-famous 1995 short film "Scream" with Michael and Janet Jackson. In fact, he still has the original fax requesting him for the job framed in his London home.
However, one celebrity he has no problems talking about is Formula One racing driver, Daniel Ricciardo, who he styled for T Australia's current issue. Working within the tight constraints of Ricciardo's micro-managed schedule, the creative team behind our cover (including photographer Yvan Fabing) had a small window of time at the famous McLaren Technology Centre in Surrey, England, to capture the perfect set of images. "The shoot was pretty intense but a pleasure all the same," he says. "It's hard not to be impressed by the level of professionalism that goes into everything about Formula One, so going about this shoot in a similar way was the very least Yvan and I could do."
With such tight timings, a star who can handle G-force as skilfully as an astronaut, and a new model McLaren worth millions as a prop, Bradshaw admits he had to pull from his years of experience to get the look he wanted in time. "My skill as a stylist has developed over many years and has always been driven by the seductive power of imagery. But it was my experience I think that proved most useful in this instance, in how to make the very most out of the short time we had with Daniel," he explains.
David Bradshaw spoke to T Australia from his London home about his career highlights, how celebrity culture has changed over the past few decades and what he really thought of Daniel Ricciardo.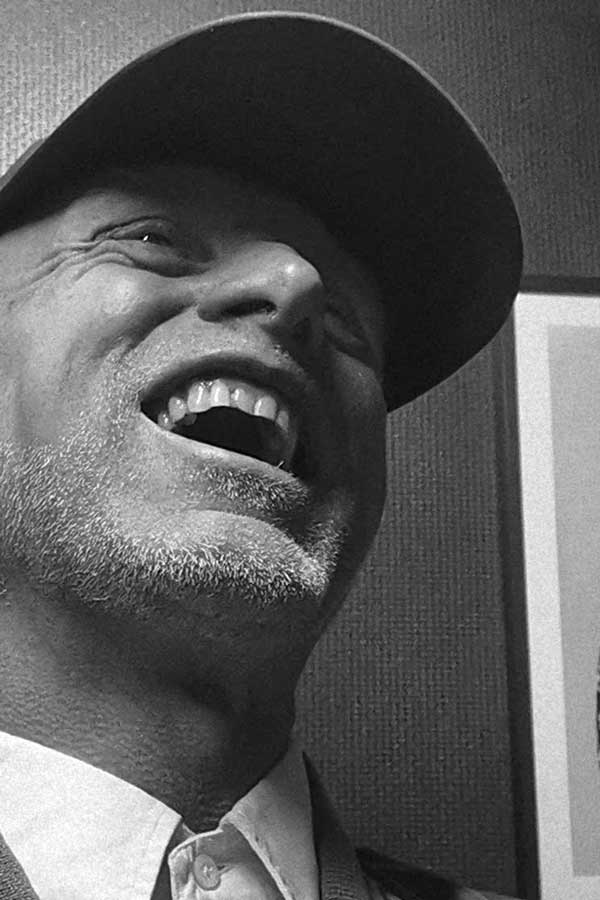 Looking back at your career, what would you say are some of the highlight shoots you've been a part of or experiences you had?
"I lecture these days and when, as is often the case, I'm asked this question for some reason I always think of Rutger Hauer's tears in rain monologue from "Blade Runner" [where he says] "I watched C-beams glitter in the dark near the Tannhäuser Gate…". For the experiences I've had, the things I've seen, [they are] are almost too incredible to describe. I watched Michael Jackson moonwalk across the set of the Scream video and would like to think that's similarly out of this world."
Over the past decade or so, how do you feel that celebrity photoshoots have changed?
"Celebrity culture has changed profoundly during this timeframe and subsequently everything associated with it has too. Also, I feel that celebrity and fashion cultures have become merged almost completely into one image driven entity. Celebrities are models and models are celebrities, but the image is King ultimately."
You've styled many talented people, who is the one person (living or dead) that you would love to style?
"Well, that's a tough one because I've worked with a lot of truly great people, many of them heroes of mine for one reason or other. You can never really anticipate such experiences, only but try to relish them all. I wasn't an INXS fan until I worked with Michael Hutchence, and I only got to work with Michael because I was asked to. But after doing styling for so long, l'm more interested nowadays in the meaning, rather than process of it all. If any meaning does exist, of course."
You've helped shape some of the most iconic brands, which was the most satisfying or creatively fulfilling to work on?
"Fashion brands are like the flip side of the same coin, the coin in the slot of the great fashion machine. Timing makes all the difference here. I first worked at Calvin Klein when Calvin was still there, I worked with Miuccia during the early days of Prada, with Lee at the height of Alexander McQueen's pomp and with Donatella throughout the recent resurgence of Versace. Each and every one a kind of deep infiltration into very precious domains, and a privilege I'll be forever grateful to these great houses for."
What was your vision for the T Australia Daniel Ricciardo cover shoot?
"To me, Daniel, like all other Formula One drivers, is a nobleman, or a knight, someone sent by us to do things almost impossible, for our honour and glory. And I believe Formula One in its relentless pursuit of perfection has a nobility. This and some abstract sense of speed was my vision for the piece with Daniel."
How did you find Daniel on the day? What surprised you about him?
"Daniel was the perfect gentleman and very knightly indeed. Was I surprised by this? No, not really, I've been watching him on Netflix and was already a fan of the way he goes about his business, but now I'm an avid one. He's very cool and handsome, and he's a statesman that represents his team, his sport and his great nation superbly."
Lastly, how has covid affect you personally and your career?
"Covid has sucked big time, but I got a few things done that I'm proud of. Things can only get better in 2022, for all of us, I very much hope."
See Bradshaw's work in our current issue, featuring Formula One racing driver Daniel Ricciardo, on sale nationally and via our T Australia Shop.