A few years ago, I interviewed a charming man whose job it was to provide bespoke experiences for the customers of a high-end jewellery brand. His coups included wrangling a private tour of Catherine the Great's bedroom for a history buff holidaying in St Petersburg, renting a vintage speedboat to take an art collector gallery-hopping in Venice and, most breathtakingly, shutting down the Tower of London so a client could spend an afternoon one-on-one with the Crown Jewels. At the time, these exploits sounded otherwordly in their extravagance. But in the years since that interview, what constitutes a truly one-off experience has only become more rarefied. Luxury brands have now fully embraced the idea that simply crafting beautiful handbags, shoes, clothing and jewellery will no longer cut it in a world where money-can't-buy experiences are seen as the ultimate indulgence.
There is perhaps no greater example of this phenomenon than Dior's newly reopened retail space at 30 Avenue Montaigne in Paris, a shopping experience so remarkably opulent, it makes shutting down tourist attractions and renting million-dollar boats feel quaint by comparison. Having opened this March after a renovation that took just over two years, the new boutique is outfitted with a patisserie and restaurant (La Pâtisserie Dior and Monsieur Dior, respectively, both run by the French chef Jean Imbert), as well as the brand's haute couture salons, exclusive jewellery ateliers and a sprawling exhibition space.
Most impressive is the single hotel suite that sits amid the splendour, a multiroom space accessed by private lift. The suite includes 12 full- time staff, a large dining room and all-hours access to private chefs, bespoke monogrammed Dior bathrobes and countless other idiosyncratic details designed to immerse guests in the world of Dior. Perhaps most importantly, the suite offers guests 24-hour access to the entirety of 30 Montaigne, meaning you can treat yourself to midnight shopping sprees, early morning appointments with Dior couturiers and private gallery tours whenever the mood takes you.
"The 30 Montaigne project is a journey through the inner essence of the brand, expressed through the architecture, interior design and experience of each space," explains Peter Marino, the famed architect who was tapped by Dior to redesign the boutique. "It's about creating environments that allow the customer to explore the brand in an immersive, delightful way." Marino cut his teeth doing drawings for Andy Warhol in the 1970s before training formally as an architect, and those early years continue to bleed into his approach to projects like the Dior renovation. "I'm an artisan architect," he explains. "Just like a couturier, I seek to awaken emotions using 3D creations. I design all my projects by hand, which seems ridiculously old-fashioned to some of my collaborators, but I really believe that hand designs are the only way to truly crystallise a thought process."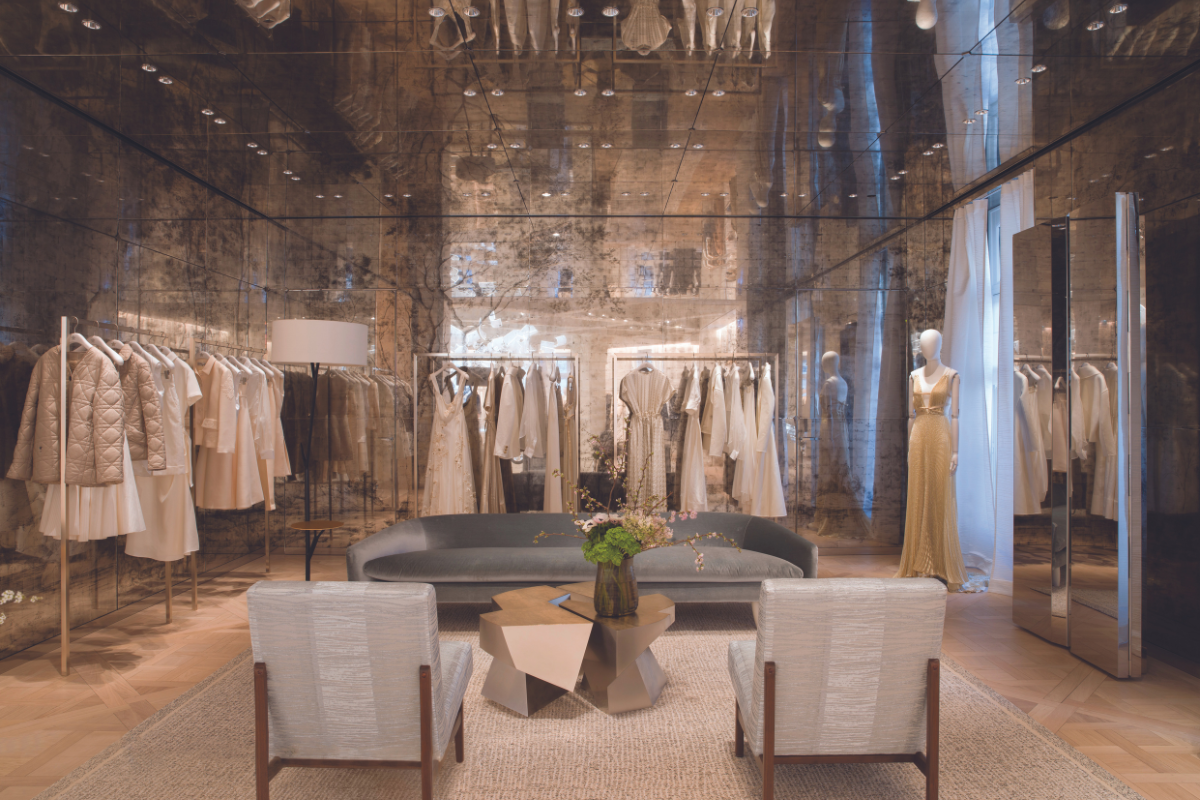 Marino's deft hand is evident in every element of the Dior suite, which was designed to have the feel of an intimate (if exceedingly glamorous) Parisian apartment, rather than a traditional hotel room. The bathroom is fitted with white marble onyx and a mini-fridge designed to house beauty products. There is a library with a large Yves Klein coffee table at its centre, flanked by plush bespoke armchairs made by Marino's design studio. The minibar is stocked with champagne, including vintage Dom Pérignon and a 2000 Château Cheval Blanc that typically sells for more than $2,000 a bottle. The walls of the suite are filled with artworks, many of which were commissioned by Marino for the project, including an installation by Paul Cocksedge, mirrors with leaves engraved by the artist Anne Peabody and a triptych by the French sculptor Guy de Rougement.
Christian Dior moved the operations of his namesake fashion house to 30 Avenue Montaigne in 1946, remarking at the time that he was "going to settle here and nowhere else". Dubbed a refuge du merveilleux, or a "refuge for the marvellous", the space was likened to a beehive by Monsieur Dior as it buzzed with activity, from his legendary salon presentations through to dinners with the artistic elite of the era, including Jean Cocteau and Marlene Dietrich. It was at this location that Dior finessed the New Look, which went on to define the 1950s, where he created the Miss Dior fragrance and, later, opened his first boutique, a space for gifts and homewares called Colifichets, or "Ornaments", which ultimately paved the way for the brand's thriving Maison line.
A commitment to the maison's heritage is evident throughout the entire renovation, from the aforementioned new gallery space, La Galerie Dior, the largest fashion-focused exhibition space in Paris, through to the opening of the Salon Historique, the previously off-limits dining room where Dior once threw his dinner parties. Those staying at Suite Dior 30 Montaigne have the option of hosting dinner for up to 14 guests in the salon. "In my head, I wanted to create what Christian Dior would have done if he was still alive," says Marino, who is one of the fashion industry's most in-demand architects, having worked on countless retail stores for the LVMH group.
This homage to Dior's founder is perhaps nowhere more obvious — or heartfelt — than in Marino's multiple allusions to nature and, more specifically, flowers. "We commissioned the great American artist Jennifer Steinkamp to do a flower mural, because the main theme of this Dior boutique is gardens and flowers," Marino says. "When [Dior] began in 1947 he had the idea of putting flowers on dresses again after the war. Wearing cheerful flowers during the war would make you look ridiculous, but the fact that he brought out roses and painted them on dresses after the war is, for me, very touching."
Marino's research led him to the company archives, where he discovered old photographs of Dior's garden at Granville, a small town in Normandy where the designer had a country home. "It was bursting with the most beautiful roses and hortensias, which happen to be my favourite flowers, too," says Marino. "This shared passion inspired the two immense winter gardens at the heart of the new boutique. I often picture this idyllic scene of a woman strolling through a luxurious rose garden to reach the bag of her dreams." Marino approached Peter Wirtz, a longtime friend and landscape architect, to craft the "flourishing gardens" that include tropical plants and apple trees.
Luxury brands entering the hospitality space is nothing new — names like Armani, Bulgari and, most recently, Fendi have opened five-star stays around the world. Dior already has a few dedicated suites and spas at hotels, including the Dior Spa at the new Cheval Blanc in Paris and the Suite Christian Dior at the Hôtel Barrière Le Majestic in Cannes. But Suite Dior 30 Montaigne represents a new frontier in luxury experience- making. Brands can no longer simply offer consumers beautiful products to own and wear; they are now expected to create immersive universes in which their customers can entirely lose themselves.
This demand is doubtlessly tied to the growing number of people who can afford luxury goods. The past two years have seen a widening of the wealth gap, as a certain subset of the world's population has seen its personal wealth explode. In 2020, more than five million people became millionaires for the first time, and for a period during the pandemic, a new billionaire was minted every 30 hours. For a one per cent that is ever ballooning in both size and disposable income, the definition of what constitutes luxury is being forever pushed.
With a single night at Suite Dior 30 Montaigne reportedly costing $37,000, the house of Dior is rising to the challenge admirably. What could be more fabulously opulent than sipping chilled champagne while perusing couture at midnight, the proverbial key to the epicentre of a Parisian fashion empire nestled in your pocket? A refuge for the marvellous, indeed.