"Inspiration is a combination of ongoing process and commitment to being open," says Mika Utzon Popov. The NSW-based artist – whose grandfather is Sydney Opera House designer Jørn Utzon – says he is unable to separate himself from his work: "My work is how I live, so I try to make everything I do something that feeds me."
"A swim in the ocean, a conversation with a friend, making love, sharing a meal, good music, painting are all part of the same continuous conversation that feeds into the same space," he says. "The fluidity of that space allows inspiration to evolve instinctually. An idea today is the result of 50 years of learning and thinking, of being me."
A chance encounter with Eco Outdoor's CEO and founder Ben Kerr resulted in a collaboration between Utzon Popov and the Australian lifestyle brand, who were in the process of refurbishing their Melbourne flagship showroom. "Once in the space we committed to a concept within hours," says Utzon Popov. "It was a very fluid and trusting dialogue between us, really a dream scenario for an artist working on a commission."
"We wanted to create an artwork for a place and a building that has a purpose, creating a visceral experience for anyone who visits and spends time in the space."
Here, Utzon Popov shares with T Australia the inspiration for his sculpture, reading the natural intention of a space, and what drew him to work with bronze.
What compelled you to work with bronze? What are the benefits (or limitations) of the medium?
 I came across bronze some years ago by chance as an emergency solution for a failed process. In the Eco Outdoor showroom I saw a potential to use bronze in its most beautiful extremes – in patinaed texture and polished light. 
Bronze is like working alchemy, from liquid light into solidified time, held by its ability to reflect its surrounding space. It is both delicate and weighted at the same time and it seemed the best way to create a narrative of holding space and light from the ground up. 
The limitation is of course that it never stops absorbing its surroundings, changing and ageing but once you surrender to that, it becomes part of the uniqueness of a particular work. It has its own fingerprint in time.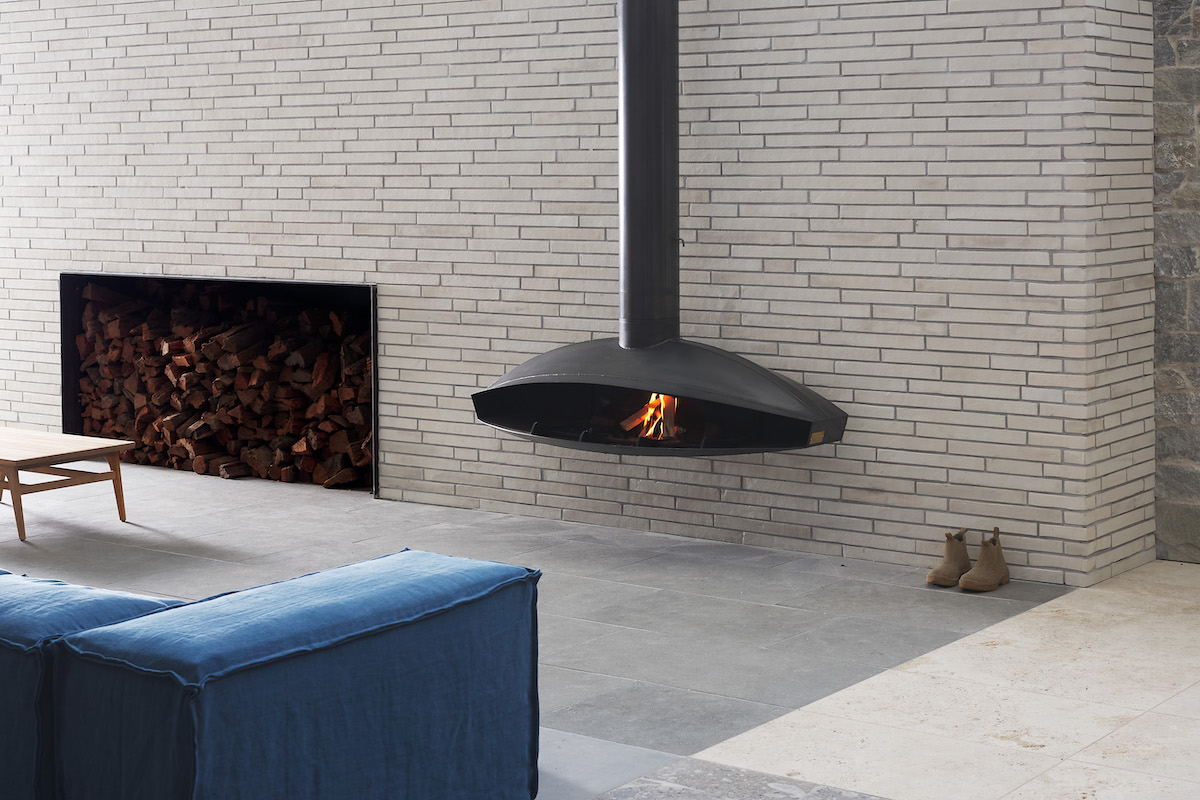 What was your initial inspiration for the sculpture? What feeling or message were you hoping to convey?
When I walked into the space, I felt a strong pull to create a work which would grab people's attention as they moved from the foyer to the main hall, marking a point of transition and reflection. It reminded me of approaching the opening in a forest; entering through an aperture that opens up to a larger space beyond, then using natural light to emphasise that transition. 
Like the showroom behind it, which is filled with natural textures of stone, rock and wood, I wanted to create a naturally textured work which by way of contrast pulls you in. With the emphasis on nature, because nature is what we build on, whether it's a timber deck or a bronze sculpture, it all starts with nature. 
With two giant semicircular panels facing each other, their contrasting surfaces create a circular void which absorbs the light from above and illuminates the opposing elements. The idea is that these panels hold each other's light, creating a space of suspended light.
You've said previously your intent is to create an artwork that "speaks together and with the building". How do you facilitate this dialogue? What elements do you draw upon to ensure the conversation is organic between your creation and the existing space?
It is about reading the natural intention of the space. The movement through the space and how that movement is perceived from within. This way I try to enhance the natural qualities of the space rather than work separately to it. 
This often takes time and reflection but sometimes I am lucky and the space itself gives me something, a reveal or an invitation. In this case it was almost immediate, the work revealed itself while I was sketching the space out in my sketchbook. I remember saying to Ben, 'I think I have it already'. The beauty of it was that Ben's response was 'great let's start'. Complete trust.