During her childhood in Bangkok, the chef Rose Chalalai Singh recently recalled, the city seemed to be teeming with exotic blooms: there was the bounty of the flower market near the Chao Phraya River, the garlands of saffron-coloured marigolds at the city's Buddhist temples. Later, as a teenager, she spent three years living on her great-uncle's orchid farm in the canal-lined Thonburi neighbourhood. "Flowers have always been a part of my life," she said. "After all, my name is Rose."
When she moved to Europe and opened her first cafe in Paris, Ya Lamai, in 2009, flowers were harder to find, especially in winter. But still, she found them. For several years, she split her time between France and Majorca, where she fell in love with the blood red wild poppies that grow on the island; and on trips to Germany, she grew fond of the bright yellow fields of rapeseed that bloom there in the spring. Now based in Paris, Singh, 42, will often make a detour on spring walks from her apartment near the Jardin du Palais Royal to Rose Kitchen — the lively, intimate Thai restaurant she opened in the Marais in 2021 — to observe the progress of two flowering magnolia trees in the small square behind the Hôtel de Ville.
In early July, she was on a floral pilgrimage of a different sort, to Güldenhof, the farm outside of Berlin owned by her friend, the artist Danh Vo, 47. Her aim: to combine her love of flowers with her love of food by creating a meal for a group of friends using edible blossoms not as a garnish but as the main course. Since buying the 7.5-acre property — a former G.D.R. agricultural cooperative that includes four large dilapidated farm buildings — in 2016, Vo has transformed it into a commune meets Gesamtkunstwerk, installing bright red Isamu Noguchi "Play Sculptures" on the grounds and working with his collaborator Christine Schulz to establish vibrant gardens, including one devoted to flowers, which were in full bloom when Singh arrived. "It's like a garden of fireworks," she said, carrying a handwoven basket in which she was collecting a variety of brightly coloured blossoms, darting from bush to bush along with the bees.
Singh came to cooking through the art world. As a 17-year-old model in Bangkok, she met the Thai artist Rirkrit Tiravanija at a party and they connected over their shared passion for food. Tiravanija's grandmother was a popular caterer and cookbook author, and he is known for incorporating food into his work, sometimes serving curry to guests at his exhibitions. Over the years, as Singh developed her repertoire, honing her take on elevated Thai home cooking, Tiravanija introduced her to his artist friends, including Vo. It was Tiravanija, too, who suggested that Vo buy a property outside of Berlin to use as a space for storage and an archive. And Singh is now one of a network of friends, family, chefs and art world figures who visit the farm on weekends to wander the gardens, talk over meals in the open kitchen and, occasionally, dance in the attic of one of the outbuildings.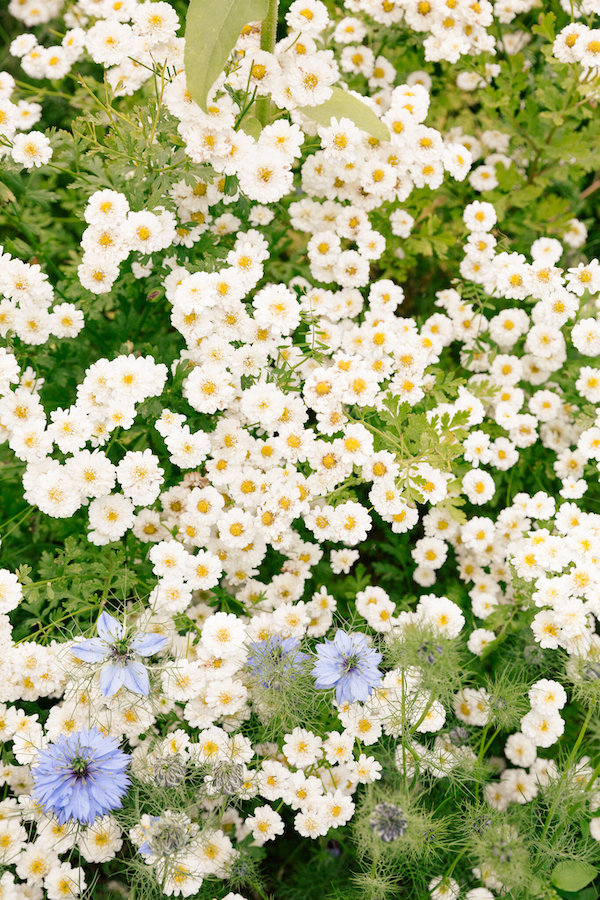 Vo designed the property to be, in part, a place for creative collaboration — there are wood workshops and a large kiln — and he encourages friends to engage with its bounty in new ways. When Singh stays, she likes to harvest and conserve whatever is in season, foraging for mushrooms, making jam from the fruit she collects or drying herbs for tea. But eating flowers was a relatively new idea that had been born one evening this past spring. Singh was cooking with the Basque chef Dani Lasa in San Sebastián, Spain, and noticed that one of the dishes was garnished with a fried acacia flower. Her friend the French perfumer Barnabé Fillion mentioned that he knew someone who had used acacia blossoms in a tempura dish. And then a month later Singh went to visit Vo's farm and saw that the road to the property was lined with blooming acacia trees. "I opened the window and the car was filled with the scent of them," she recalled. Once she arrived, she and Vo immediately started collecting the flowers. "I wanted to make jam and try eating them," she said. "Then I decided to make tempura." It ended up being so delicious — "It tastes a little like popcorn," she said — that when Singh's friend the photographer Juergen Teller had an exhibition in Berlin recently, she served the dish at the opening. Since that evening, Singh has continued to experiment with flowers as food, recording the dried blooms she uses in a journal.
After filling her basket, Singh made her way to the kitchen and started to dip each blossom carefully into a mixture of eggs, flour and water before placing it into a large wok spitting with oil. First, she fried a bunch of acacia flowers, then some zucchini blossoms and coriander flowers with the stems attached. She finished with green borage leaves, brilliant orange nasturtiums and deep purple pansies. She explained that each has a different texture and flavour (borage tastes something like oysters, calendula is peppery). She noted, as she arranged the flowers in clusters on a large white ceramic platter, that she wouldn't cook with blooms that haven't been grown by Vo or other friends. The flower industry is not known for its environmental consciousness. Plus at Güldenhof, she said, "all your senses are activated in such a pleasurable way all the time. Somehow that energy manifests in the flowers and vegetables this land produces."
An hour later, the flower tempura was served family style on a wooden table outside the main farmhouse, along with steamed rice and a freshly picked salad of mixed greens. The Berlin-based artist and classical musician Ayumi Paul, the godmother of Singh's son, Gabriel, was seated on a bench next to the German ceramist and restaurateur Oliver Prestel. (The evening before, Paul had played her violin accompanied by the chirping of Prestel's pet Japanese bell crickets, which he had let loose in one of the outbuildings.) Singh was seated on the other side of the table between Fillion and Philip Adler, a farmer who works nearby and is a friend of Vo's. He was taking a rare pause from the backbreaking summer schedule of harvesting vegetables. "Eating flowers is like going on vacation," he said, explaining that the act of consuming blossoms was so fanciful it felt like being transported to an imaginary place. Singh, too, was on a high. "This project is making me feel so much happiness and excitement," she said. "I feel like I am achieving something I'm meant to achieve." Near the end of the meal, the guests raised a glass to her and toasted, "To the flower queen!"
More expert food and wine coverage from T Australia: