From Australian fashion awards to a new collection from Lee Mathews, here's what's on T Australia editors' local fashion radar this week.
The Australian Fashion Laureate Winners Announced
On the heels of his Paris Fashion Week calendar debut, the designer Christopher Esber has been awarded this year's Fashion Laureate Designer of the Year. Hosted by IMG at the Sydney Opera House's harbourside restaurant, Bennelong, the Fashion Laureate was established in 2008 to celebrate excellence in fashion. Alongside Esber, fellow winners included Alix Higgins, who earned Emerging Designer of the Year, Denni Francisco claimed Indigenous Designer of the Year, Kit Willow won Sustainable Designer of the Year, Lisa Havilah received the Carla Zampatti Award for Leadership, and Rodney Levis of Cue was honoured with the Lifetime Achievement award.
Maggie Marilyn Dives Into Swimwear with Fella
The celebrated New Zealand fashion brand Maggie Marilyn makes a splash in the swimwear realm by launching an exclusive capsule collection in collaboration with renowned Australian swimwear brand, Fella Swim. This capsule, part of Maggie Marilyn's "The Best of It" collection, features separates and one-pieces in nautical-inspired fabrics, emphasising fit and celebrating the female form. "When designing a collection I'm always thinking about the various MM women we dress, and making sure that there is something for everyone – and I applied these same considerations to our Fella capsule; making sure there were a range of styles to support the female figure and cater to both our youngest and oldest customer," says Maggie Marilyn's founder and designer, Maggie Hewitt. The Maggie Marilyn x Fella swimwear capsule comprises 16 styles and can be purchased online or at select retail locations in New Zealand and Australia. maggiemarilyn.com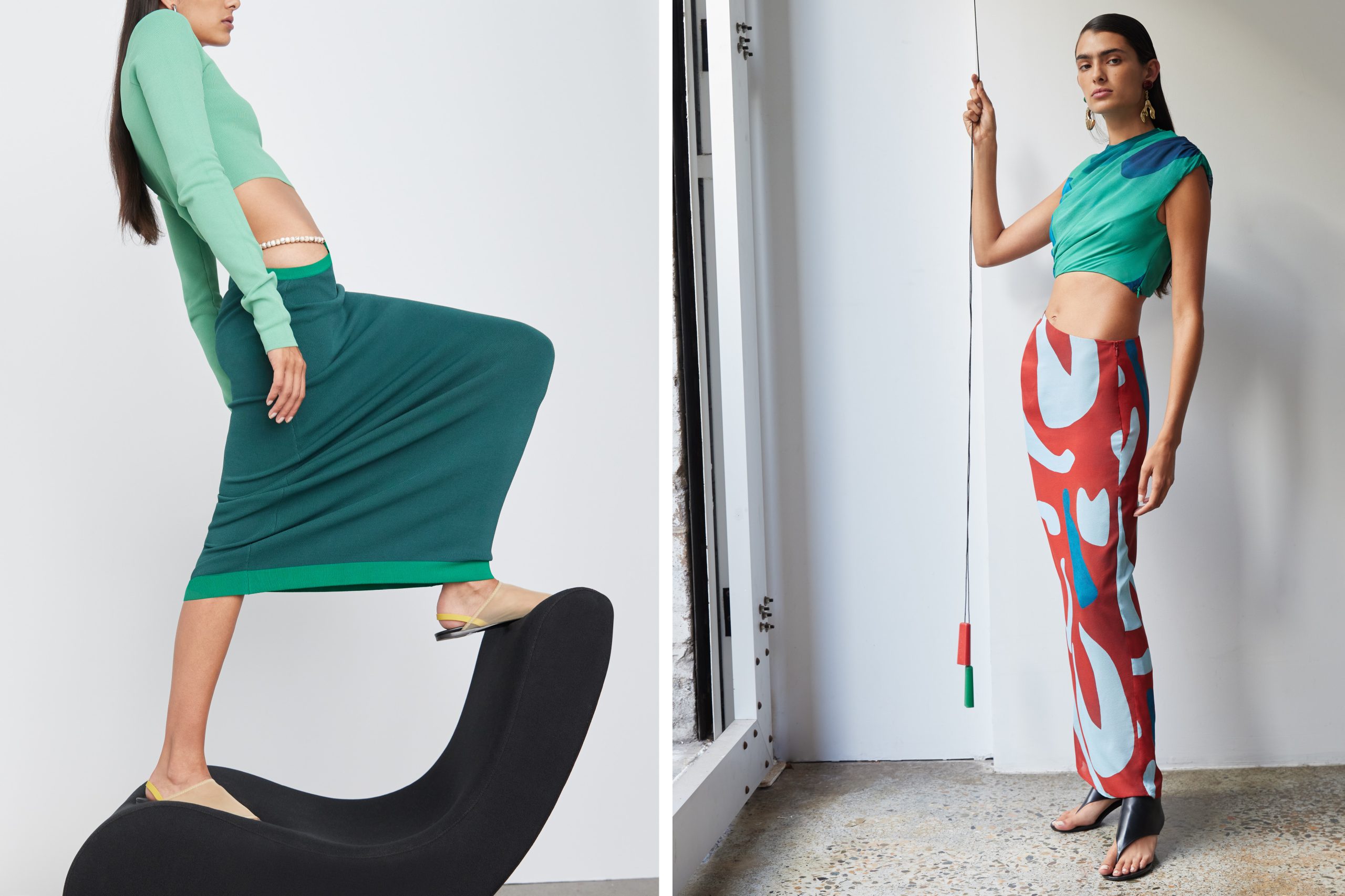 SIR. and the Artist Frankie Tobin Release Reflective Collaboration
Sydney-based fashion label SIR. unveils an artistic collaboration with Frankie Tobin, a multidisciplinary artist based in the United States. Inspired by her abstract paintings and the concept of simple composition, the brand's Resort 24′ collection, Reflexiòn, features organic shapes adorning swim and silk ready-to-wear pieces. Two collection drops pay homage to classic SIR. summer aesthetics. Additionally, the partnership introduces the inaugural SIR. jewellery line, inspired by Tobin's artwork, featuring Brass Nano Plate earrings and resin beads. Resort 24′ launches online and in boutiques from October 10. sirthelabel.com
Lee Mathews' Resort Collection is an Ode to Lee Miller and 1920s Surrealism
The Australian designer Lee Mathews introduces Resort '24 this week – an ode to self-expression inspired by Lee Miller and 1920s-30s Parisian Surrealist circles. The collection draws from dreamlike and symbolic elements, challenging traditional perspectives with unexpected pairings. This Surrealist vision, akin to Miller's collaborations with Man Ray, promotes a more liberated approach to dressing. Nomadic and vintage styles harmonise, blending whimsy with practicality. Le Corbusier's Architectural Polychromy influences the colour palette, featuring dusty greys, lemon yellow, subdued cinnamon, and ecru for a captivating yet grounding effect. Resort '24 embodies the multifaceted nature of the Lee Mathews woman, pushing the boundaries of creativity. leemathews.com.au
More fashion coverage from T Australia: