Adelaide institution Mercato is celebrating 50 years of offering one of South Australia's most unique food and wine experiences. Both the retail space and the bistro, Bar Mercato, offer an outstanding selection of unique and hard-to-find Italian, Australian and European food and wine options of true provenance.
We asked Head Chef Nick Bergin to share his recipe for this indulgent lobster dish, perfect for celebrating Dad with. See our full interview with Bergin here.
Mercato's Roasted Southern Rock Lobster with Vermouth Cream
Serves 2 | Recipe by Nick Bergin
1 Southern Rock Lobster, spilt in half and cleaned
2 shallots, finely chopped
10 peppercorns
1 bay leaf
300ml vermouth
500ml fish Stock
300ml cream
½ bunch finely chopped chives
30gm cold butter
Extra virgin olive oil (Bergin loves Elisi Grove's)
Sea salt
In a small pan combine the shallots, peppercorns, bay leaf and vermouth. Reduce by half until you achieve a syrupy consistency. Now add the fish stock and reduce by half again. Now add the cream and reduce until thickened and set aside (make sure it isn't reduced too much at this point; you don't want the sauce to split).
For the lobster, preheat an oven to 220C. Place the lobster on a tray and give a good drizzle of extra virgin olive oil and a sprinkle of sea salt. Place the lobster in the preheated oven and cook until the lobster is still slightly opaque in the middle – approximately 5-10 minutes depending on the size. Remove from the oven and allow to rest. Meanwhile, place the sauce back over the heat and bring to the boil. Remove from the heat and whisk in the cold butter. Now add the chopped chives to the sauce.
Place the lobster on the plate and top with the vermouth cream. Finish with another sprinkle of sea salt a good drizzle of olive oil.
Channelling the buzzy metropolitan restaurants of Milan, Rome and Florence, Matteo Downtown, on Sydney CBD's Bond Street, feels informal yet refined, serving lunch, aperitivo, dinner, and drinks late into the night. This filetto is the perfect example of the elevated yet simple menu. Read our full interview with Matteo Downtown's Head Chef Adam Szymankiewicz here.
Matteo Downtown's Filetto with Green Peppercorn Sauce
Serves 2 | Recipe by Adam Szymankiewicz
2 beef tenderloin steaks (250g each)
20ml olive oil
30g butter
30g black peppercorns, freshly cracked
10g green peppercorns, freshly cracked
50ml cream
1 shallot, diced
2 garlic cloves, minced
1 whole garlic clove, smashed
30ml veal or chicken stock
2 thyme springs
30ml red wine
Pat dry the steaks with paper towel, then coat them with a little bit of olive oil and season with salt. Spread half the cracked black peppercorns on a flat plate and firmly press the steak on it, making sure one whole flat side of the steak is covered with pepper.
Using a smoking hot pan, add a little bit of olive oil to it and then place steak in the pan, peppercorn side down. If the meat is smoking too much, reduce the heat. After approximately 2-3 minutes, turn your steak, add butter, the smashed whole garlic clove and thyme.
Now it's time for my favourite part; basting the meat. Using a tablespoon, pour the melted butter over the steak and repeat continuously for five minutes, ensuring the whole smashed garlic clove and thyme remain in the melted butter. After basting the steak, remove it from the pan to rest for approximately 10 minutes. After the meat is cooked, it can become very tough, tense and chewy, which is why the meat needs to rest. If you slice the steak straight away, without allowing the meat to rest, the juice will leave the steak and remain on the chopping board and we don't want that.
Whilst your meat is resting you can begin preparing your sauce. First, discard around half of the liquid from the pan as well as the smashed garlic clove and thyme. Next, caramelise the diced garlic and shallots. Both of these aromatics contain a lot of sugar but to extract it from the root vegetable you have to caramelise them. After the diced garlic and shallots are golden brown, deglaze the pan with the red wine. Once the red wine has cooked out (alcohol has evaporated) you can add the green and remaining black peppercorns, cream and veal stock. At Matteo Downtown, we take 48 hours to cook our veal stock. However, you can simply buy ready-made stock in your local market. Once the sauce has reduced to a thicker consistency, it is ready.
To reheat the steak, you can either put it into the sauce for a few seconds or "flash" it in a preheated oven on 210C. Slice it into four pieces and serve with the sauce.
Opening first in Byron Bay in 2017, Light Years was all about bringing a fun, modern Asian dining experience to the east coast of Australia. Now known for its flavour-packed dishes, bold cocktails, friendly wait staff and upbeat soundtrack, Light Years has quickly become a beachside favourite. Byron Bay was closely followed by the opening of Light Years Noosa in late 2018, Burleigh Heads in 2019, and most recently, Newcastle in 2022.
Executive chef Robbie Oijvall's Asian-fusion menu is designed to share, and these vegetarian wontons are the perfect way to spend the early evening together, folding and chatting. Read our full interview with Oijvall here.
Light Years' Mushroom and Ginger Wontons
Makes 25 | Recipe by Robbie Oijvall
25 wonton wrappers
Dipping sauce (see below)
Filling
250g fresh shiitake mushrooms (halved and sliced)
250g button mushroom (halved and sliced)
1 red onion
40g garlic
60g fresh ginger, grated
50g water chestnut
Soy sauce, salt and pepper to taste
The best dumplings dipping sauce ever
10g dried chilli flakes
100ml vegetable oil
100g chopped garlic
20g sliced coriander stalks (keep leaves for garnish)
250ml black vinegar
100ml sesame oil
300ml soy sauce
100g sugar
150g white toasted sesame seeds
To make the dipping sauce, fry sliced garlic, chilli flakes and coriander stalks in the oil until fragrant. Add the rest of wet ingredients and simmer for 10 minutes. Add sesame seeds, and chill in the fridge until ready.
Finely chop the onion and garlic, and fry in a little bit of oil until fragrant. Add the sliced mushrooms and a splash of water. Turn down the heat and slowly cook out all the moisture out of the mushrooms for about 30 minutes.
Season to taste, then fold through the grated ginger and the finely chopped chestnut. Place in the fridge until ready.
Place a tablespoon of mushrooms mixture in the middle of a wonton skin. Wet the edges and fold to the best of your abilities.
Boil the dumplings in a large pot of water for three minutes. Drain and serve with the dipping sauce and some coriander leaves sprinkled on top.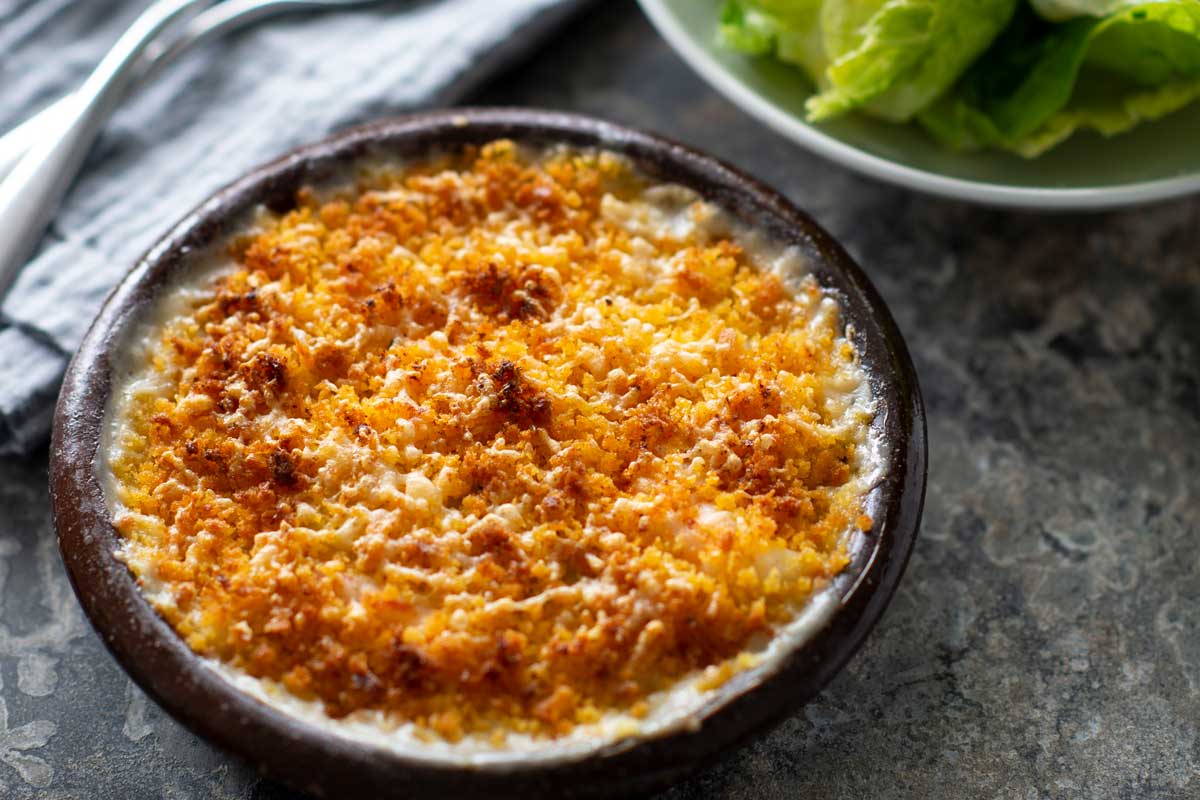 "[This fish pie] is a one-dish wonder! I think when you come to the restaurant you want the opportunity to try as much of the great seafood we have on offer and with the pie, it ticks all the boxes! Local fish, scallops, mussels, and prawns. What more could you want? This pie is always among one of the best-selling dishes in the restaurant, you can bet on that." – Rick Stein
Read our full interview with Stein here.
Rick Stein's Famous Fish Pie
Serves 4-6 | Recipe by Rick Stain
200g finely chopped onion
60g butter
1 quantity velouté made with 2 bay leaves, 1 crushed clove, 1 pinch freshly grated nutmeg (see below for recipe)
30g parmesan cheese, grated
50ml double cream
Juice of ½ lemon
Salt
500g mixed seafood: aim for ¾ fish fillet and ¼ shellfish or crustaceans, such as salmon, blue eye, snapper, prawns, scallops and mussels
50g flour
30ml vegetable oil
10g butter
100g button mushrooms, thinly sliced
1tsp French mustard
1tsp truffle oil
For the crust
50g Japanese panko breadcrumbs or fresh breadcrumbs dried out for 10 minutes in a hot oven
30g melted butter
For the velouté
600ml fish stock
300ml milk
50g butter
50g flour
To make the velouté: Boil the stock and milk together. Melt the butter in a saucepan, add the flour and cook for about 2 minutes without colouring, stirring constantly. When it starts to smell nutty, add a third of the stock and milk texture, and keep stirring until it thickens and is completely smooth. Add another third and stir as before, then add the final third and when smooth, leave to simmer gently for about half an hour. If not using immediately, transfer to a lidded container and refrigerate when cool. You can keep it indefinitely in the fridge if you re-boil it every five days. It doesn't freeze well.
To make the pie: Preheat the oven to 180'C/gas. Slow-cook the onion in the butter in a saucepan for 10 minutes.
Make the velouté, adding the bay leaves, clove, and nutmeg. Pour the velouté through a sieve into the sauteed onions and add the parmesan cheese, double cream, and lemon juice, add a little salt if necessary.
Cut the fish fillet into bite-size pieces, 3-4 cm long. Season with a little salt and turn over in the flour. Fry for 2-3 minutes in a frying pan over medium heat using the vegetable oil and butter.
Remove the fish to your pie dish. Fry the mushrooms in the same pan adding a little salt; stir in the mustard and add to the pie dish. Now add the shellfish or crustaceans to the pie dish. They can be raw or cooked, but if raw scallops or prawns are large, slice them in half. Drizzle the truffle oil over.
Pour the sauce over the fish. Mix the breadcrumbs with the melted butter, spread over the top. Bake for 10 minutes.
"These bite-sized tarts are inspired by the chocolate tart at L'Ambroisie, the 3 Michelin-starred restaurant in Paris and have been featured in my restaurant Core in London since we opened in 2017. It is the simplest tart, but they must be eaten a few minutes after baking and served slightly soft in the middle." – Clare Smyth
Oncore's Warm Chocolate and Lavender Tart
Serves 12 | Recipe by Clare Smyth
Shortcut Pastry
150g Icing sugar
90g Egg yolks
375g Plain flour
188g Unsalted butter
5g Sea salt
Mix the butter, flour and salt together until it becomes a crumbly texture. Cream the egg yolks and icing sugar together using a hand blender. Add the wet ingredients to dry ingredients and mix until it comes together as a dough. Between parchment paper roll the dough to 5mm thick. Cut 6cm diameter discs from the dough. Then, using round shaped moulds of 5 x 2cm, position 1 disc in between 2 moulds and press down. Trim any excess dough with a small knife.) Bake at 160° C for 6 minutes.  
Chocolate Filling
108g Udzungwa 70% dark chocolate
125g double cream
1g dry lavender
2 whole eggs
52g pasteurised egg yolks
50g caster sugar
Break-up chocolate into small pieces. In a small saucepan, heat the cream to 80°C, add the lavender and let it infuse for 4 minutes. Remove from heat and strain the cream through a sieve into a bowl. Add the chocolate and mix to create a ganache.Keep this at room temperature. Then mix the eggs and sugar with an electric whisk until they are light and fluffy, creating a sabayon consistency.
Slowly pour and fold-in the ganache into the egg mixture using a spatula, until it forms a light brown mousse. Place into pipping bags.
Tart Preparation
Pipe 30g chocolate mix into the tart case until it is levelled with the rim. Bake at 180°C for 4 minutes. The tart should have a very slight wobble. If it is too liquid, cook for a further 30 seconds then remove from the oven and allow to rest.