It may be the world's most-awarded single malt Scotch whisky, but Glenfiddich isn't resting on its laurels. Instead, the globally renowned whisky brand is challenging conventions of the whisky tradition with the long-awaited release of Grand Cru.
Designed to reimagine the way we celebrate, this exclusive expression has been highly anticipated for 23 years of maturation and carefully finished in rare French cuvée oak casks. It's an elegant fusion of the best of Scottish and French flavours and the result is a luxurious drop that's best enjoyed in the company of good friends.
Somehow both refined and daring, the unexpected nature of Grand Cru captures the spirit of luxury and craftsmanship Glenfiddich is known for, while also upending the conventions of single malt whisky. Grand Cru encapsulates moments of celebration and occasions of note in an extraordinary drinking experience that won't be soon forgotten.
Master Distillers at Glenfiddich, in Scotland's famous Speyside region, experimented with the label's smooth and rich whisky to create this new iteration of their classic. Already intensely flavoured thanks to its long maturation in American and European oak casks, Grand Cru has been finished in French cuvée casks for a beautifully finessed spirit that stands apart. Up to six months finishing time adds new layers of complexity and depth, with aromas and tasting notes of florals, fruits and warmth.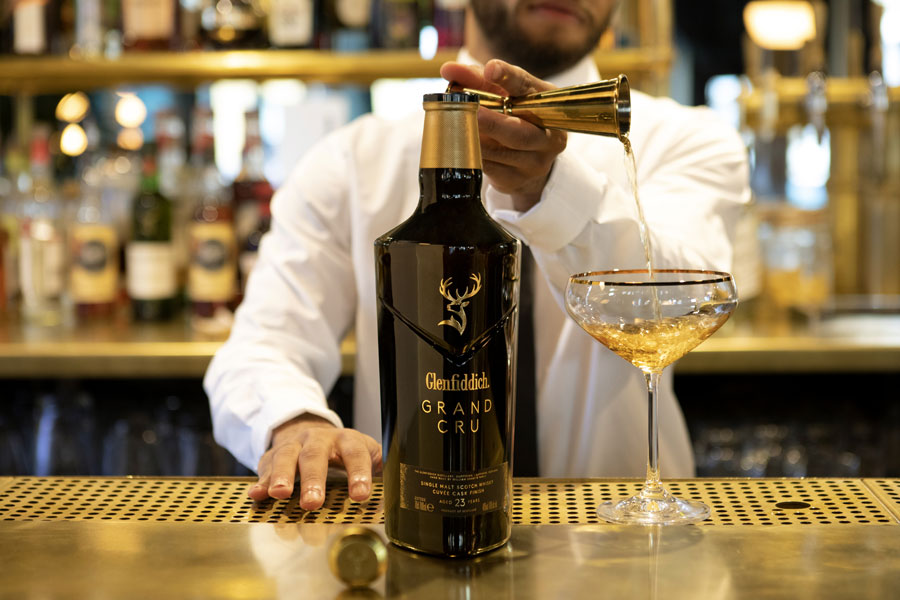 In the glass, the dark gold colour hints at the rich depth of the whisky, and it offers an intense and surprising aroma of apple blossom, freshly baked bread and candied lemon. On the palate, the subtle harmony of rich vanilla, sweet brioche, sandalwood, pear sorbet and white grape creates an unforgettable opulence, with a nuanced sweetness and a long, elegant finish.
Whether you're presenting this special-release Glenfiddich as a gift or unveiling it at a moment of celebration, the bottle, in sleek black glass featuring the gold Grand Cru print and an evocative gold stopper, is bound to make an impression. The bottle is encased in an indulgent black box adorned with a sparkling golden firework design, which helps intensify the feeling of celebration, and the iconic Glenfiddich stag rendered in gold foil nods to the label's storied history.
It's been 23 years in the making, but Glenfiddich Grand Cru is available now from luxury whisky retail outlets and premium establishments. Ensure your next celebration is one you'll never forget with a bottle of Grand Cru.