"Do you know about the project we tried to build called 'Cloud Arch'?"
I do not, I say (although it rings a bell).
"It would've been the most ambitious public art built in Australia, perhaps in the world," says Bridget Smyth, the city architect and design director at City of Sydney. The 58-metre-high white arch was to loop over George Street's new pedestrian zone near Town Hall. "It would've been amazing to come into the city and stand beneath this arch, like a ribbon," she says. "You know that beautiful Anish Kapoor work in Chicago? It would have been like that."
Junya Ishigami's "Cloud Arch" was close to being realised, but no dice. The artwork succumbed to construction hurdles and cost blowouts — not uncommon for public art. Now it remains in the serene space of an artist's impression: one of those utopian-looking place holders used while the real work is hauled through a quagmire of blood, sweat and stakeholder management.
Public art is expensive and it takes a long time to make. Lots of the good spots are already taken by war memorials or statues of colonial-era men with nefarious biographies. The art must withstand weather, bird poop, defacement, nicknames and the public's casually brutal gaze. Make it too pleasing and it risks being "as ignorable as it is interesting", as Brian Eno wrote in his manifesto on ambient music when he released the album "Music For Airports" in 1978.
"Public artworks can't be just ordinary, they have to be extraordinary," says the director of the National Gallery of Australia, Nick Mitzevich. Last year, Mitzevich commissioned "Ouroboros", a polished stainless-steel sculpture by Lindy Lee, due in 2024. Inspired by the ancient symbol of a snake eating its tail, "Ouroboros" will be sited on a shallow reflective pond; those enticed to walk inside the sculpture will experience darkness dappled by thin beams of natural light.
"I said [to Lee], 'We want you to propose the most ambitious work you've ever undertaken,'"says Mitzevich."The engineering is a great challenge because it's completely self-supporting. You'll experience the form without any internal structures, which will feel magical. It'll suspend your reality as you enter." Magic doesn't come cheap. At a cost of $14 million, Mitzevich's first sculpture garden commission is the gallery's most expensive work to date. "There has been commentary, 'For that much money, you could buy this international artist,' and I want to push against that provincialism," he says. "In NGA's 40th year, for me, it had to be an Australian artist, and our priorities are to really elevate the role of Australian women artists."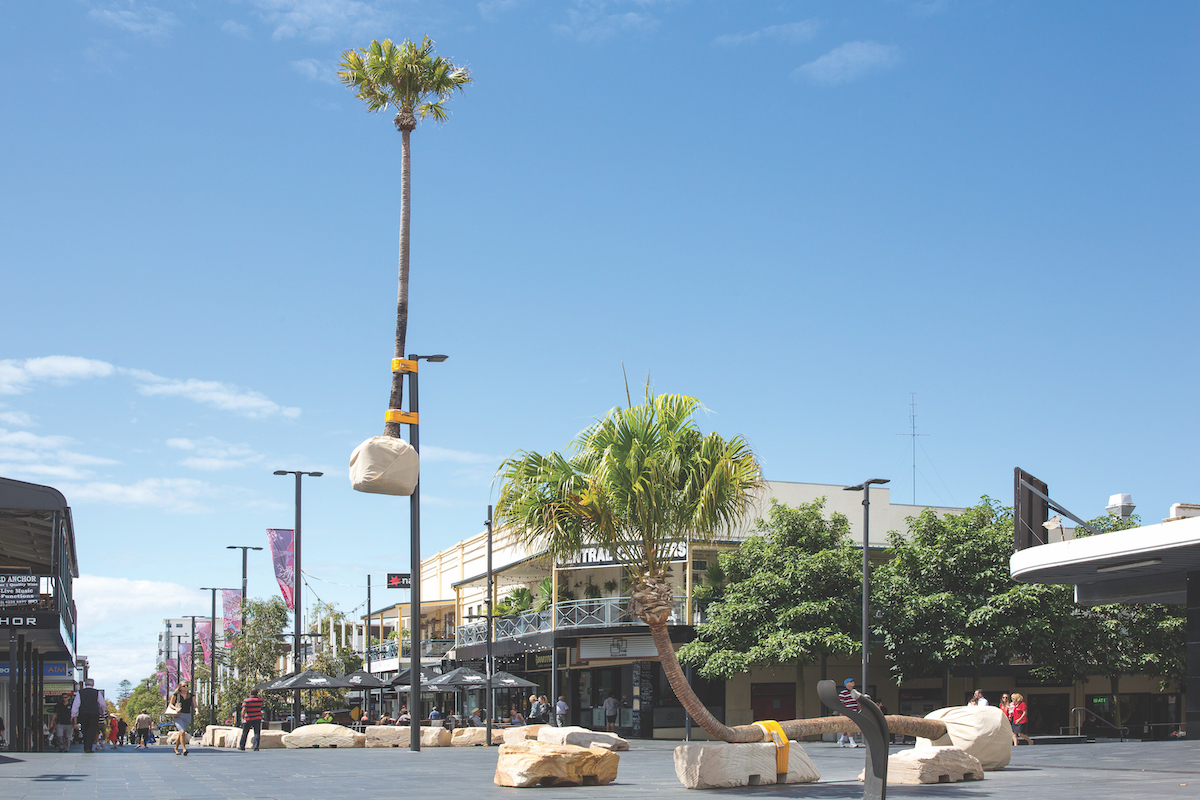 When a public art piece hits you, it can hit hard. Outdoors, there is none of the more stifling or performative aspects of art appreciation. There are no invigilators giving you side eye. And if you get truly struck, as I did in Lyon, France, when I stum- bled upon Christiane Guillaubey's statue of the author Antoine de Saint-Exupéry and his Little Prince character, you can put on your sunglasses and sit on a park bench.
My other great loves are Louise Bourgeois's spider "Maman" (1999) at the Tate Modern in London, James Turrell's skyspace "Within without" (2010) at the NGA in Canberra, Katie Paterson's "Future Library" (2014–2114) in a forest outside Oslo, Norway, and two works in (or near) Marfa, Texas: Elmgreen & Dragset's humorous installation "Prada Marfa" (2005) and Donald Judd's exercise in minimalism "15 untitled works in concrete" (1980–1984). The world's tallest "performing" fountain in Downtown Dubai — a choreographed spectacle of music, lights and spouts of water shooting 150 metres high — brought me tremendous joy, too.
As a canvas for street art, Port Kembla is well primed. Ten minutes south of Wollongong's CBD, on New South Wales's south coast, the painted walls of Port Kembla are topped by acres of sky, showcasing the art in a way that a Melbourne laneway never could. A backdrop of industrial boom and bust — once home to a copper smelter, now the site of a coal terminal and smoke-belching steelworks — is the cherry on top. I meet Simon Grant, the director of Wonderwalls street art festival, in a graveyard of rusty machinery. "Most people would take their lunch break at a picnic spot on the beach, but I'd come and have my lunch here," he says.
The three-day festival began in Wollongong in 2012. One of the artists involved, Rone, painted the largest mural he'd ever done for that event. "Now look at what that dude is doing," Grant says of the Melbourne painter who has since exhibited around the world, had work acquired by the NGA and collaborated with Jean Paul Gaultier. Grant tries to preserve previous years' artworks, rather than paint over them. "To me, these are like owning 'Blue Poles'," he says, referring to the Jackson Pollock painting bought by the NGA in 1973 for $1.3 million, the most paid for an American painting at the time. "When Whitlam bought that, everyone was like, 'You're off your head.' But what an investment." The artwork is now estimated to be worth between $100 million and $350 million.
In 2019 Wonderwalls switched to Port Kembla, where the artists loved the industrial decay. "You're near the railway lines, you're near industry, textures and grime," says Grant. He's now an expert at dealing with councils and funding bodies, but it wasn't always so. "Place making, cultural mapping, place identity — I was completely ignorant of all these buzzwords back then. We didn't do this, thinking, 'Let's work on an urban renewal strategy.' We were, like, 'Let's find as many walls as we can and paint on them.' "
The council's cultural development coordinator, Sam Crosby, follows public art with interest. "What would Barcelona be without Antoni Gaudí?" she says. "The tourists that come to enjoy Barcelona now come because of Gaudí and his vision. You have to take risks and, once a work is there, you have to stand by it."
Four years ago, Wollongong took a risk with Mike Hewson's "Illawarra Placed Landscape". Running the length of Crown Street Mall, the work juxtaposes sandstone blocks with four cabbage tree palms — a species endemic to the area. The palms emanate both catastrophe and calm. One is partially encased by rock, another grows horizontally, strapped crudely to a block. A 100-year-old palm is suspended from a light pole. All the palms are alive; uncannily so.
When the work was installed, the reaction online was "swift and brutal", according to the Illawarra Mercury. "It was really polarising," says Sofia Gibson, the culture and activation manager at Wollongong council. "But what I noticed most is that we had a really diverse community suddenly engaged in a conversation about art."
If you saw Hewson's work in a contemporary museum forecourt, you might pause but it wouldn't take you by surprise. In Wollongong's ultra-quotidian mall, however, it retains an evergreen oddness. "It's pretty wild," I say. Crosby and Gibson both nod. "You look at the tree going sideways through that boulder. …" says Crosby, trailing off. "I still can't comprehend it," Gibson adds, "even though I stood with Mike when he explained it".
If "place making" is the buzzword of public art practice (and it is), what places are being made? There must be a thread. But there is no thread. Thinking about public art just cracks open bigger and more confounding thoughts about public space. Gentrification is a big one, and how art is often its involuntary vanguard.
In my home town of Marrickville in Sydney's Inner West, iconic buildings are being replaced by high-rise apartments. A few metres from the Cooks River cycleway, in a place of mangroves and she-oaks, a Victorian-era building that was the area's only cafe has been demolished to make way for a block so high it casts a shadow across the river.
When art is funded for public spaces, scrutiny is intense. But when our shared sky and water is blighted by an ill-advised development, we don't say much at all. Is it about public versus private money? Or is art just an easier target?
Although I don't especially seek out art trends, somehow they find me. Light art is one. "About 15 or 20 years ago almost nobody was using it, and now it's hard to find an artwork where light is not an element," says the artist Warren Langley, a pioneer in the medium. "A lot of the briefs are prescribing it. Precincts with a day and night presence want artworks to function after dark."
It's a hot day when I go to the National Gallery of Victoria garden to see "pond[er]" (2021), a rectangular pink pond created by the architecture firm Taylor Knights and the artist James Carey. Parents take adoring photos of their toddlers splashing around in it. A few metres away on the lawn, a blobby-looking sculpture sulks, ignobly ignored. It's not Instagrammable, it's not immersive and it offers no way to cool down. So it goes.
The big trend, though, is not about what's going up but what's coming down. Last year, the Trawlwoolway artist Julie Gough built a plywood crate around a statue of Sir William Lodewyk Crowther, a premier of Hobart in the 1870s, in a work called "Breathing Space" (2021), initiated by the City of Hobart council. Gough says it demonstrated that "the sky didn't fall down" when Crowther — a known snatcher and trafficker of the bodies of Aboriginal people — was temporarily unseen. "If you plan on looking into the face of evil, it would be Crowther's," says Gough. "He shouldn't be amongst the people he tormented."
The history is different in each country, but the contested monument movement is global and picked up heat and speed when Black Lives Matter rebooted in 2020. A huge number of slave trader statues came down in the United States after George Floyd's death. While in Bristol, for example, a statue of the 17th-century slave trader and politician Edward Colston was toppled during a protest march. In the vacated spaces, great things can grow. London's Fourth Plinth commission has blossomed into one of the most high-stakes spots for public art after a statue of King William IV was delayed, leaving a plinth in Trafalgar Square empty for 150 years. The first modern statue was displayed in 1999, sparking a revolving door of works.
"This presumption that things should be permanent is a big problem," says Gough. "I can't see how the Crowther statue is meant to be forever because some people funded it in the late 1880s. How can that be? What is the end date for this statute and why isn't it now?"
The Western Distributor motorway thunders overhead. I'm walking along a ribbon- thin pavement to see Warren Langley's "Aspire" (2010) in Pyrmont, Sydney. The pavement is a crumb tossed to an idea that never took hold: that people would venture here on foot. The sound of passing cars is deafening, but I admire the sepia shades of sheer rippled rock patchworked by ferns and algae. Up ahead, where the vehicles pour into the Cross City Tunnel, a forest of tree sculptures glows a ghostly orange-yellow. "That overpass wasn't meant to be there," says Langley. "The freeway was meant to go through this suburb, but there was a community uprising in the '70s, which forced a redesign." The freeway was lifted up and the housing stayed. "Aspire" celebrates a rare community win against developers.
So much art is placed where something — or someone — has been lost. Sometimes it's a neighbourhood that's been lost, such as The Block in Redfern, Sydney, or the Sirius apartment complex in The Rocks, where a battle was fought to retain the units as legacy social housing. In 2017, Sirius was sold to a developer, who has begun transforming the block into luxury apartments.
For the artist Reko Rennie, the missing thing is an awareness that urban places are Aboriginal land, too. His mural "Always was always will be" (2012– 2017) covered the T2 building at Sydney's Taylor Square, the diamond pattern reflecting the iconography of his Kamilaroi heritage. "Here we have a major part of Sydney that's so well-known and utilised that people forget it is Aboriginal land," he told the ABC.
Meanwhile, change is coming to Sydney's foreshore. "Yananurala" is a nine-kilometre walk that will pass through Woolloomooloo and Pirrama (Pyrmont), highlighting the area's Aboriginal his- tory and culture. "As you walk the shoreline, interact with public art and stories, hear whispers of language and place your feet in the water, you are introducing yourself to this Country so that it will remember you," says the curator Emily McDaniel, a Wiradjuri woman.
Back in Canberra, where Lee's "Ouroboros" will feature, locals agree that Bruce Armstrong's sculpture "The Big Powerful Owl" (2011) looks like a penis. Tara Cheyne, the Australian Capital Territory's arts minister, says the owl's reputation is Canberra folklore. "I love it," she says. "[The owl] is a guardian, but it's also a symbol of Canberra: we are bold and a bit quirky, and that's a great thing."
But, wait. If the penis owl is a symbol of Canberra, where does that leave Tom Bass's nearby statue, "Ethos" (1961)? I'm told the winged female form symbolises the city's civic pride, but to me it reflects an era that exalted archetypes of women — saint, goddess or virgin — rather than any actual woman. If anyone's going to shake up Canberra's statue scene, it's Minister Cheyne. (When we speak about an article I wrote on Santa Fe, New Mexico, she tells me she is inspired by the city. "That concept of art everywhere, all the time, in your face," she says, "my role is making that happen here.") Last year saw April Pine's "Windswept" go up, a sculpture that depicts Andrew Inglis Clark, a co-author of the Australian constitution. He's a bona fide colossus, rendered in pre-rusted metal strips for a holographic effect. He is both here and disappearing at the same time — genius.
"Having this very large man in a very prominent position focused people's attention on how many women are subjects of artwork in the ACT and how much work is by women," says Cheyne. An audit tallied 117 works in ArtsACT's collection, 70 per cent of them by men. Of the 25 artworks depicting people, 68 per cent were men. "We need to start correcting this," Cheyne says. In 2021, she released a statement of ambition for the arts in Canberra. One of the goals is striving for gender balance. Mainly, though, it out- lines an ambition to become Australia's arts capital. "It's a really bold thing to say, but I think we can do it," she says.
Melbourne might disagree. The city burst out of lockdown's gates of hell with the Flash Forward creative project, for which the City of Melbourne funded 40 new street artworks, 40 new albums and 40 gigs. Jenny Branagan of the electronic duo Vacuum says she's still pinching herself. "A city council that says, 'Here, let me fund your debut album, you have full creative control and we won't encroach on any creative decision'? We were really given free rein."
I go to Finlay Alley to see a work by the graffiti artist and muralist Ling, but the laneway is so dank I retreat. Then I spy painted feet and raise my eyes to behold an 18-metre-high mural inspired by a "Simpsons"-themed doom metal band, Dr Colossus. Finlay Alley suddenly opens up to the sky. Rather than permanent public art, the city's commissioning bodies are favouring looser, more provocative temporary works. Last year, the Australian Centre for Contemporary Art in Melbourne launched its public art and culture program, "Who's Afraid of Public Space?" The artistic director and CEO, Max Delany, says, "It was conceived in response to the contested nature of public space, private incursions into the public realm and, of course, gentrification." He takes me on a whip-around to some of his favourite artworks in the program. When he gestures towards St Kilda Road, I admire Julian Opie's "Australian Birds", a series of LED screens on the median strip depicting birds peacefully grazing. Delany is actually pointing to something behind it, but if you gesture in any direction around here, some intervention, interaction or activation of public space is bound to be at the end of your finger.
The Southbank precinct is so packed with public art and architectural features, it's refreshing to come across Laresa Kosloff's "Public Announcements" because it's not visual at all.
"It's not good thinking like that."
"Ninety-seven per cent of people would not wear what you are wearing."
"Is everyone OK?"
The statements issue from speakers between the Theatres Building and Hamer Hall. The voice is calm and official, like a newsreader's, which initially masks the absurdity of the statements. I watch the reactions of passers-by for so long that I eventually sit. I think about how rewarding it's been, as a traveller in cities I know well, to look at them anew and to ask questions about our built environments, with their fascinating and sometimes deeply troubled layers. Finally, I find the thread: it was never about the art. It was about finding new ways of seeing.
This is an extract from an article that appears in print in our sixth edition, Page 72 of T Australia with the headline:
"Ways of Seeing"
Order a copy | Subscribe