When I ask Jordan Staniford what makes Byron Bay such a great place to work, I expected him to say the lifestyle. But instead, the Executive Chef of Forest, previously known as The Byron at Byron, starts telling me about the people in the region: how passionate they are, the privilege of visiting their farms, and how their values shine through every aspect of their farming practice.
"It really is the people: what they're doing, why they're here and how they're doing it," he explains. "The suppliers we work with really care about the product. They're not doing it to scale up and make money, but because they want to have happy livestock and produce this epic product."
A champion of sustainable practice and an alumnus of Sydney's much-loved Longrain, Staniford took over as Executive Chef at Forest, Crystalbrook Byron's flagship restaurant in July 2021. It's a prestigious gig, The five-star property's on-site restaurant has been an established part of the fine dining scene in Byron for decades.
Today, most of the produce used in the kitchen comes from within a three-hour drive of the property. There are four honeybee colonies and seven worm pods to process and divert up to 90 kilogrammes of food waste from landfill each day. The wine list focuses on sustainable, biodynamic and organic wines, and even the uniforms worn by staff are designed by local Byron Bay sustainable fashion label, St Agni.
While much of the sustainability movement in restaurants focuses on reducing waste and finding innovative ways to use fruit and vegetables, Stanifords's approach extends to the proteins – all the proteins are free range and all the seafood sustainable. His recipe below for Salt Belly made form local fish focuses on using a protein normally overlooked: the belly of fish.
The movement towards using the whole fish has been growing in recent years. Chefs like Josh Niland's award-winning Fish Butchery in Sydney have demonstrated not only the curiosity, but the appetite of the public for new ways to consume seafood.
For Staniford, sustainability at a smaller, more regional level involves two key factors: community and collaboration. Using produce grown by local suppliers in the mineral-rich volcanic soil around Byron is a key part of what makes Forest special.
"I want the menu to taste like the flavours of the region," he says. "The quality of the product is so good that we just have to not mess with it too much."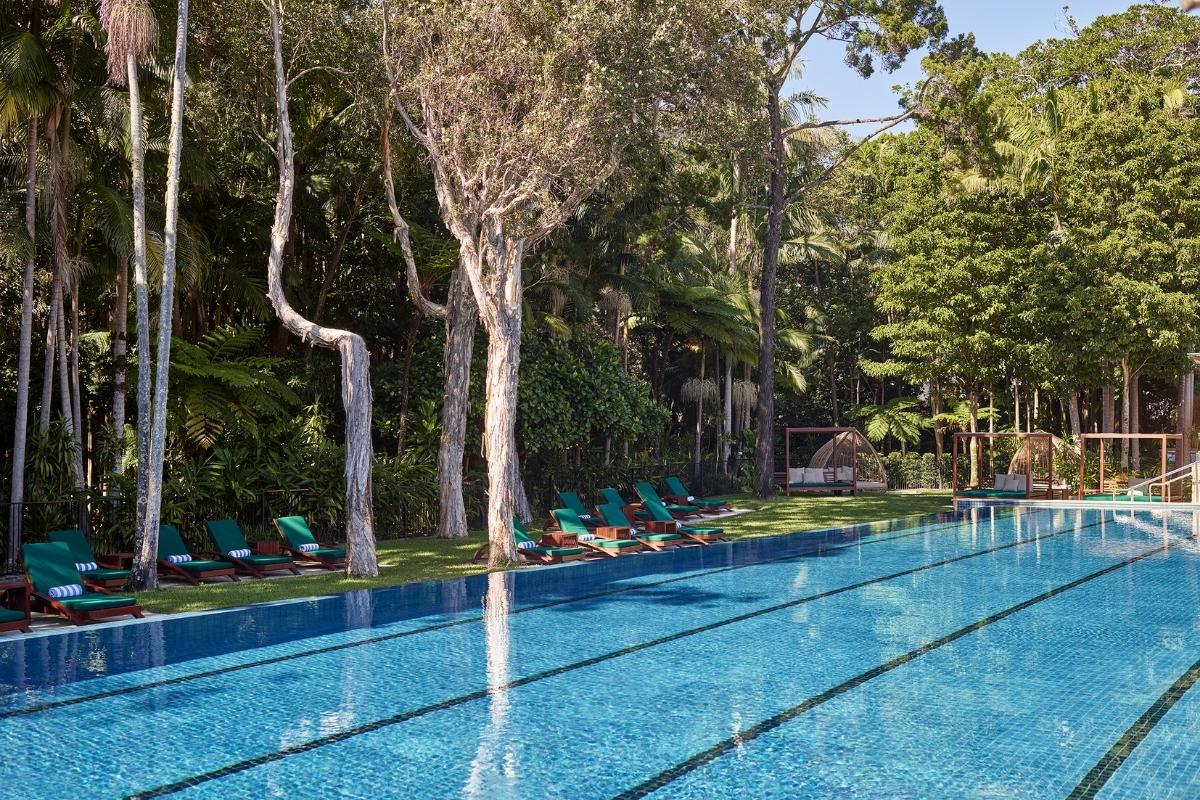 How important is it to connect and cultivate relationships with local suppliers?
"For us here at Forest, it's really important. Relationships are something that happen over time. I've been in the area for four years, and it's still something that's an ongoing slow burn. We reach out to people and go and visit their farm and see what they've got to work with. As chefs, we're able to tap into these people that are doing these really cool things because they want to be sustainable and they want happy creatures, or they want plants that are grown without pesticides. They want you to come out to the property and have a look at what they're doing, and see if you can use their custard apples or jackfruit or native Davidson plums.
The trick is finding who's doing what and who's doing really well, because of the scale of what we need for the menu. Sometimes someone will come to us and say, "What would you like us to grow?" And it's just working out what they're going to grow. Is it going to be just bespoke for us? Or will they grow on scale for a few different restaurants in town, which involves reaching out to other chefs and maybe making a bit of a plan and what we're going to have on the menu through a season."
How important is it to have the right people in the kitchen to be sustainable?
"A lot of people do want to come here, because of what we're doing around sustainability, and a lot of the collaborators that are higher up in the kitchen at Forest have found their way to Byron Bay because of their values. They'll come in with ideas about sustainability. As a chef, I believe in being open to somebody who's got a better way to do something – in empowering people to find fun and purpose to come to work. If they have that, then they'll be joyful in what they're doing."
Can you tell us what inspired the recipe that you are sharing?
"This recipe was literally spun out of a conversation with another chef in the region about sustainability and not wanting to throw things away mindlessly. At restaurants we pay for the weight of the whole fish and prioritise the premium pieces for customers. But then we have this piece of belly, full of beautiful fats and omega threes; it's a good piece of fish."
What are your tips for cooking it?
"A key tip would be to buy the whole fish, use the premium fillet and at the same time, salt the belly overnight and use it the next day. We tried it as a po'boy sandwich with pickled veggies. Use a liberal salting of good quality salt, and remember, we're salting, not curing – the reason that salting works so well is it does draw out a portion of the fat so the fish isn't greasy and imparts all the flavour. You just have to let it sit for for about four hours. It's also nice if you do it overnight, because the herbs infuse more. You can use raw garlic, but I recommend going to the extra effort with the confit – just warm up some oil and just as it starts to boil take it off the heat and let it cool down until the garlic is tender."
Jordan Staniford's Salt Belly of Local Fish
Belly
400g local white fish belly (such as snapper, swordfish, or Queensland barramundi)
8g Maldon sea salt flakes
1 lemon zest
3 sprigs fresh lemon thyme
2 tbsp fresh parsley chopped
10g confit garlic and oil
4g cracked black pepper
Pickle
1L red wine vinegar
800ml filtered water
500g sugar
125g salt
Yellow mustard seeds, bay leaves, peppercorns, garlic, thyme
Remove the belly from the fish when preparing portions. Instead of discarding, season liberally with sea salt and cracked pepper, fresh lemon zest, fresh herbs, and confit garlic and oil. Allow to marinate overnight or for at least four hours.
Simmer all pickle ingredients until infused and approximately reduced slightly. Cool this pickling bring. Wash and add any "ugly" vegetables you may have lying around – celery, carrots, radishes, tops and all!
Pat fish dry and sear in a hot, lightly oiled pan. Dress the plate with dabs of your favourite sauce*, and then plate your fish. Garnish with pickles and coriander leaves, and sprinkle with sumac.
* Jordan uses a house made harissa tahini sauce, which is tahini with garlic, lemon juice, smoked chillies, water and salt.