It seems Lake Como is having a moment once more. Like most destinations with a long history of tourism, the great lakes of northern Italy have drifted in and out of favour over the decades. With its Belle Époque maximalism and timeless romance, Como, which lies about 80 kilometres north of Milan's Malpensa Airport, is sometimes passed over for more cutting-edge destinations, but it has been experiencing something of a renaissance over the past year.
The woman behind this revival, at least in part, is Valentina De Santis. Since 1975, her family has owned and managed the magnificent Grand Hotel Tremezzo, which was established in 1910 and was one of the first purpose-built luxury lakeside hotels. Over the past 10 years, De Santis has overseen every detail at this inimitable stay, from the vast displays of fresh roses in the lobby, whose fragrance hits you on arrival (and inspired the hotel's Sense of Lake fragrance range), to the resplendent breakfast buffet that contains more silver cloches, Champagne buckets and chocolate fountains than you'd expect to see in a lifetime, and, of course, the unfailing service, which strikes just the right note for this grande dame of Como hotels. 
In 2018, De Santis and her parents, Paolo and Antonella, branched out from the Grand Hotel Tremezzo and purchased a crumbling palazzo dating back to 1787. Passalacqua, which takes its name from the property's first owner, Count Andrea Lucini-Passalacqua, is a true passion project. The three-year renovation cost north of $30 million and saw a team of restorers decorate many of the 24 suites by hand, using an almost-forgotten stencilling fresco technique. The walls of the main villa are filled with original prints from the 18th and 19th centuries, and, says De Santis, "every piece of furniture is a cherrypicked antique by my family".
If the Grand Hotel Tremezzo is the embodiment of old-world charm, Passalacqua represents the ultimate villa experience. Despite the family's involvement in both properties, each offers a very different approach to luxury. At one end, you have the super-boutique service that defines this new era of Italian hospitality, following in the footsteps of Umbria's Reschio and Tuscany's Borgo Santo Pietro. At the other end — and no less magnificent — is the unerring splendour of the Grand Hotel Tremezzo, with its three swimming pools, five dining options (yes, really) and army of florists that decks out the whole place with the aforementioned red roses.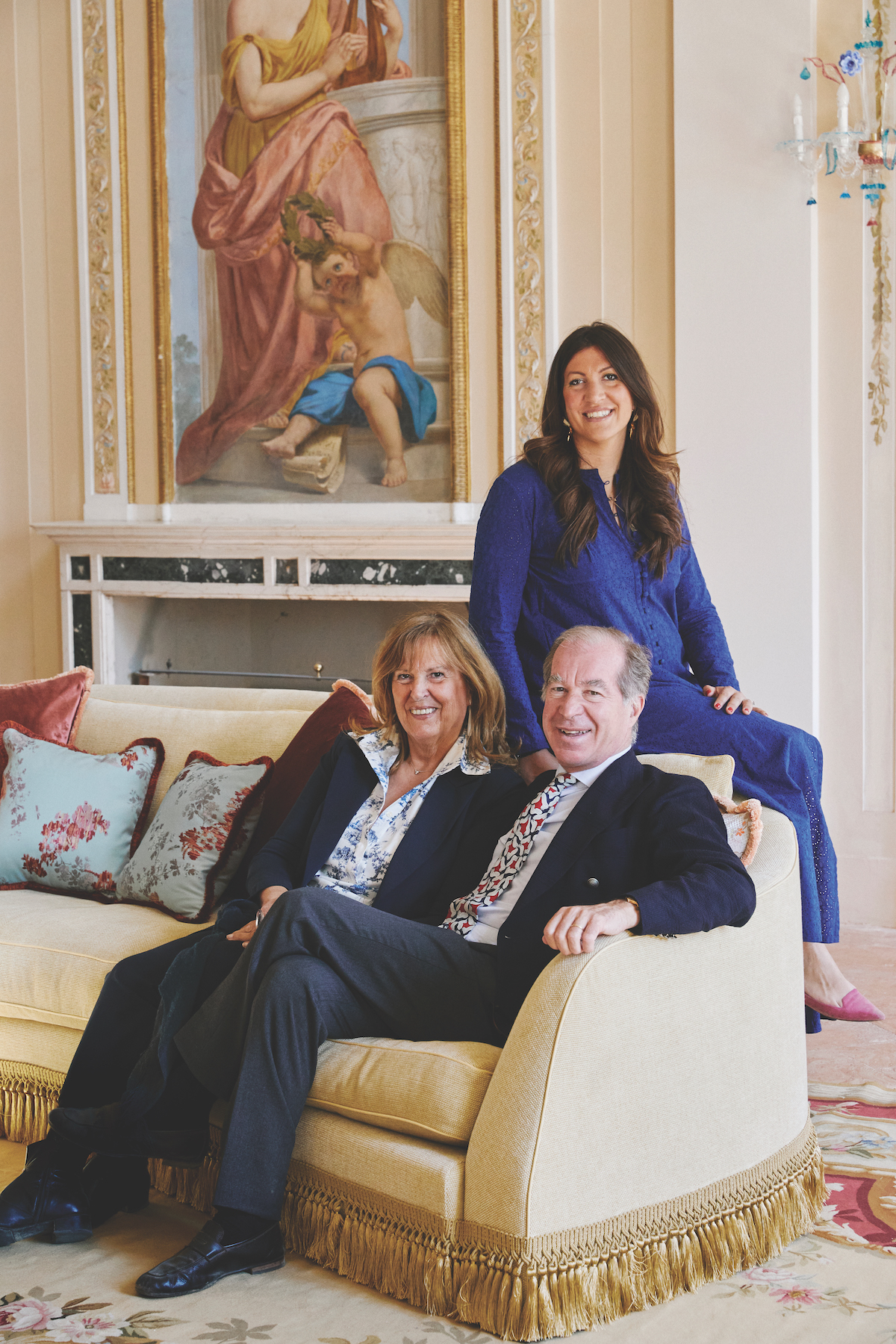 With her usual flair for the poetic, De Santis uses these fresh-cut flowers to exemplify the difference between the two offerings. Unlike the Grand Hotel Tremezzo's formal gardens and dramatic displays, at Passalacqua, she says, "you can wander around and pick seasonal flowers to create a DIY bouquet for your bedroom, like they might have done in an 18th-century villa". 
Passalacqua's most photographed spot is the 20-metre oval-shaped outdoor swimming pool lined with custom floral parasols from the Milan-based fashion designer JJ Martin. Set back from the pool is an impossibly aesthetic greenhouse known as the Winter Garden, also Martin's work. In the shoulder seasons (March to mid-May and late September to November), tables in the Winter Garden are laid with colourful mismatched platters and fabulous floral prints for a lunch service of Italian classics (a riff on spaghetti al pomodoro, topped with lemon zest, is a favourite). Passalacqua is one of the few lakeside hotels that remain open during Christmas and the new year, during which it becomes a cosy hideaway where guests can play board games
in the library, take a baking masterclass with the head pastry chef, or simply wander into the kitchen in search of a tasty snack. (Note that Passalacqua is currently closed, due to reopen on March 10; the Grand Hotel Tremezzo reopens on March 26.) 
The three hectares of terraced gardens are pecked at by free-range chickens and an "orto" (vegetable garden) keeps the kitchen stocked with tomatoes, pumpkin, zucchinis, eggplants, watermelon, strawberries and endless herbs, depending on the season. As we wander the property's different layers, De Santis explains that each one is like a "salotto" (living room). On the top level, gazebos have been erected for private lunches and dinners; further down, a clay tennis court overlooks the water. Close to the lake are centuries-old magnolia and cedar trees, which may be the same ones Vincenzo Bellini, a former resident, gazed upon while composing "Norma" in 1829 and, later, "La Sonnambula". There's also a secret tunnel, formed within the foundations of an ancient monastery, which was part of a network of underground passageways that connected the villa to the lake in the 18th century and now contains the spa's sauna and steam room. 
You only have to pop into a piano recital at the neo-Classical Teatro Sociale Como opera house, about 10 kilometres south of Passalacqua — almost completely sold out, even on a drizzly October evening — to understand how much music and art have seeped into the way of life here. Passalacqua's general manager, Silvio Vettorello, points out that it was during Bellini's stint at the villa that he pursued his relationship with his soprano muse, Giuditta Pasta. Legend has it that he'd play the piano and she'd sing back to him from the other side of the lake, on grounds that now house another glittering five-star hotel, the Mandarin Oriental, Lago di Como. 
Set on Lake Como's southeastern shore, just outside the charming village of Blevio, Pasta's 18th-century Villa Roda was replaced in the early 20th century by Villa Roccabruna, which was eventually incorporated into a hotel. Here, a pool sits atop the lake, matching that of the Grand Hotel Tremezzo, and is accompanied by a sweeping indoor/outdoor spa and a fine-dining waterside restaurant, L'Aria, where the head chef, Massimiliano Blasone, serves cosmopolitan crowd-pleasers with an occasional nod to pan-Asian cuisine. The design here is less "The Grand Budapest Hotel" (which could plausibly have been inspired by Como's stalwarts) and decidedly more international. In the main villa, for example, vibrant wallpaper and giant bouquets juxtapose dark wooden details and antique furniture. Another lakeside stay is Il Sereno hotel, a  similarly decadent offering that includes a dedicated helipad, plus a spa with a recently updated program of wellness treatments, many of which utilise Valmont products.
Como's 17 kilometres of shoreline offers endless discoveries, which are made all the more memorable when explored by boat or classic convertible. One such spot is the quaint, cobbled town of Bellagio, which sits on a promontory and splices the lake in two. It's a short hop across the water from here to the Grand Hotel Tremezzo, which is itself adjacent to the fabled Villa Carlotta, home to a world-class collection of azaleas and rhododendrons.
The gardens of nearby Villa Melzi and Villa del Balbianello are well worth a visit, too. The latter, located on the lake's western shore and best approached by Venetian-style water taxi, is a perfectly proportioned 18th-century mansion perched on a peninsula that looks as if it has come straight out of a film set. Indeed, Star Wars fans will recognise the garlanded terrace as the site of Anakin and Padmé's first kiss, while sharp-eyed fans of 2004's "Casino Royale" will recall a steamy scene between James Bond and Vesper that took place on these luscious grounds.  
Playing on this Bond connection, the bespoke travel agency Black Tomato is set to launch a series of 007-inspired trips around Lake Como and other filming locations throughout Europe. Full details of the adventures, which mark the 60th anniversary of the first film, will be announced in March, however guests can expect to waterski on the shoreline of Moltrasio (inspired by 1989's "Licence to Kill") before boarding a waiting seaplane for a Bond-esque getaway over Villa La Gaeta, the lakeside home of the Spectre agent Mr White in "Casino Royale" (2006).
Looking ahead to the Italian summer, there's little doubt Lake Como will be back on the map for those seeking all-out luxury and effortless splendour. On a tour of the gardens at Passalacqua, De Santis described the terraced landscape as "a delightful conversation between formality and freedom" — a metaphor that can be extended to the whole region. Since the days of the European grand tour, when Lake Como was a stopover for wealthy travellers, the opulent waterside villas have lured painters and composers, opera singers and movie stars to its shores. After so many years of travel restrictions, it seems this timeless, maximalist magic is once again what holidaymakers are after.