This gourmet food bowl of a region is home to some of the most spectacular natural wonders in the world – Freycinet National Park, Wineglass Bay and Bay of Fires – as well as stunning seaside vineyards and vibrant towns. This long weekend itinerary up the East Coast of Tasmania is filled to the brim with wine, food and views – exactly what you want from a few days in one of the cleanest, greenest parts of the country.
A particularly energetic time to visit will be during the Great Eastern Wine Week from 9 -18 September, where over 60 food and wine events will showcase the region's best producers. Tickets are now on sale. Find the full program at greateasternwineweek.com.au
Getting There
There are regular flights to Hobart from most other capital city airports. A direct flight on Virgin from Sydney will get you into Hobart at 9.05am on a Friday morning, which is perfect for giving you as much time as possible to explore.
The East Coast is not serviced with transport options, so you will need your own. Hire a car at the airport if you've secured accommodation, or consider renting an RV from family-owned Cruisin' Motorhomes. There are plenty of places to park an RV along the way.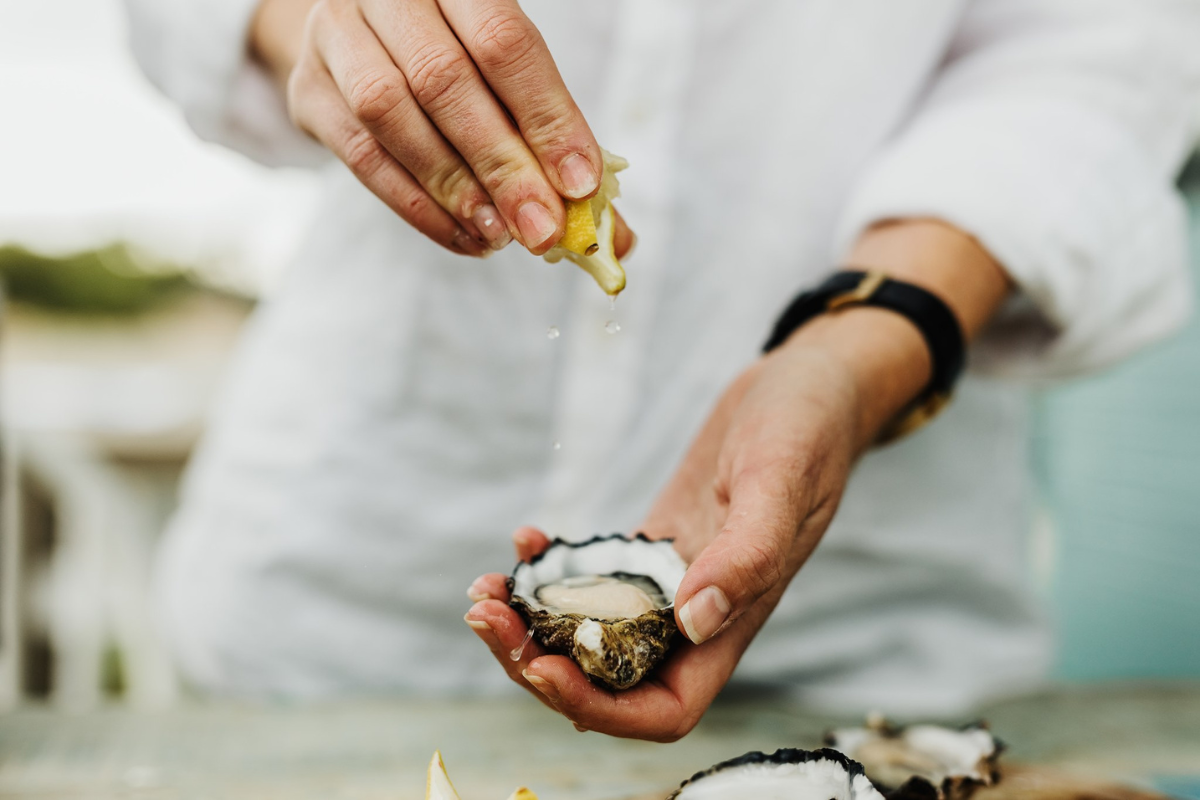 Friday
10.30AM
About an hour outside Hobart is the beautiful seaside town of Orford. Take a slight detour and stretch your legs along the two kilometre cliff-side walk that connects East Shelley and Spring Beach.
Continue your walk a little further to Spring Bay Distillery's Spring Beach distillery for a tasting and tour. Their VIP experience includes a personalised tour and flight of three whiskies, including one tasting straight from the barrel ($50/person). Basic tours and gin tastings are free. Booking ahead is recommended.
12.30PM
In Little Swanport, stop for lunch and coffee at Me & Mum's, a local sandwich bar. There's plenty of gourmet wraps, sandwiches and pies to choose from, but we can't recommend the homemade pork and apple sausage rolls enough.
1.00PM
After lunch, drive five minutes to Boomer Creek Vineyard, a single site three hectare block overlooking Schouten Island and the Little Swanport estuary. Current varieties grown are Riesling, Pinot Noir and Chardonnay, with all fruit handpicked. At the cellar door, enjoy a platter of local Tasmanian delicacies.
2.00PM
Visit Tasman Sea Salt for their Salt Sommelier experience ($75/person): a tour of their innovative clean energy saltworks, followed by tastings of their sea salts and mixes.
The immersive tour provides an introduction to this innovative Australian company. Learn how they use naturally occurring energy to harvest pure sea salt flakes, through a production process that is the only one of its kind in the world. Afterwards, dive into the world of sea salt – find out about the importance of sea salt, how it impacts flavour and the way we taste food, and why this humble mineral has been responsible for the rise and fall of empires.
4.30PM
An hour's drive from Tasman Sea Salt, check into your room at Freycinet Lodge. Nestled into Freycinet National Park and overlooking the blue waters of Great Oyster Bay with the Hazards mountain range as your backdrop, there's a full range of accommodation options to suit most budgets – from the Coastal Pavillion ($959/night) with its outdoor bathtub and sensational ocean views to the Bushland Cabin ($389/night) with its private balcony.
7.00PM
Book into a private dinner by the bay ($430), where your waiter will escort you to your table for an exclusive dining experience, nestled among the native bushland and overlooking Great Oyster Bay. As the sun sets, relax into a candle-lit evening filled with four mouth-watering courses of locally sourced produce and a bottle of fine Tasmanian wine.
Alternatively, do dinner yourself with an early evening takeaway seafood hamper from Freycinet Marine Farm, or one of the three restaurant options at Freycinet Lodge.
Saturday
8.30AM
Rooms at Freycinet Lodge include a complimentary a la carte breakfast.
9.30AM
Wineglass Bay Cruises offers a 4.5 hour cruise of the waterways surrounding Freycinet National Park, from Coles Bay to Wineglass Bay. Check-in is by 9.30am with the cruise itself from 9.45am until 2.30pm. Tickets for the Vista Lounge ($175) include a ploughman's lunch alongside floor-to-ceiling views of the bay and a spacious outdoor deck. Tickets for the Sky Lounge ($290) include morning tea, lunch and beverages. Enjoy local oysters, cheese and wines with direct access to the Captain's bridge and private viewing deck.
10.30AM
Alternatively, have a bit more of a sleep-in and enjoy some vineyard hopping.
Milton Vineyard's cellar door includes a wider variety of wines than is commonly found in this region. As well as Riesling, Chardonnay and Pinot Noir, you can find handmade Syrah, Pinot Gris, Tempranillo and Gewurztraminer.
Spring Vale Vineyard is a small fifth generation family-owned vineyard. The small and intimate cellar door is housed in an old stable, which was built by convict labour in 1842 and is now heritage-listed.
Proudly a Halliday Five Star winery, Gala Estate Vineyard is another small family-run estate. The cellar door is open by appointment only, and offers three tastings: white label ($10/person) with five new releases, black label ($15/person) with five rare Estate wines, and The Reds ($15/person), a vertical Pinot Noir tasting.
Craigie Knowe is the oldest vineyard on the East Coast. As well as a cellar door, there are two vineyard tours on offer – one is a longer tour of the vineyards, lunch and a tasting of all current releases. The "mini" tour is shorter, and includes a tasting platter instead of lunch. Bookings are essential for tours.
12.30PM
Aim to arrive at the architectural award-winning Devil's Corner cellar door in time to enjoy lunch with a spectacular view. As well as the immersive wine experiences, guided tastings and takeaway wine sales, Devil's Corner plays host to Tombolo Freycinet (renowned for their woodfired pizzas) and Fishers of Freycinet (for farm fresh seafood dishes). Find a seat on the sun-drenched deck, and consider how great it would be if they offered accommodation too.
2.00PM
Claudio Radenti had worked in wine both on the mainland and in Europe for a decade before he met Lindy Bull, and moved back to Tasmania to run the family-owned Freycinet Vineyard.
2.30PM
Take a break from the wine and explore something else unique to this part of the world. East Coast Natureworld sits amongst 150 acres of natural parkland and lagoons, and is a strange but wonderful experience of Tasmania's unique animals, birds and reptiles – from a stroppy wombat named Brutus, to Tasmanian Devils (surely one of the strangest animals to exist), Forester kangaroos and Spotted Quolls.
4.00PM
Check into your accommodation at White Sands Estate. The relaxed lodging betrays the real gem here: access to a secluded beach that for all intents and purposes is private, as it's only accessible through the Estate. There's also a tennis court, a lake for canoeing, a 15 acre trout lake, and a cinema.
6.30PM
On-site is also Ironhouse Brewery, with four handcrafted brews, Ironhouse Distillery, known for its whisky, brandy and gins, and Ironhouse Vineyard. Enjoy dinner in the restaurant, or a beachside picnic of cheeses, wines and breads you've collected throughout your day.
Sunday
9.30AM
Enjoy brunch at Raida, a modern Australian restaurant with an unexpected Japanese influence. Open for breakfast, lunch and dinner, the menu showcases Tasmania's amazing seasonal produce in dishes such as tamagoyaki (a Japanese rolled omelette with pan-fried mushrooms, bacon, pickled vegetables, salsa and kewpie) and avocado on Sugar Ant Ridge's sourdough, served with a poached egg and finished with furikake and pickles.
11.00AM
Visit the Pyengana Farmgate Café, home of one of Australia's most famous heritage farmhouse cheeses. Relax on the scenic deck with a gourmet platter and matching Tasmanian wine or beer (or at this point, maybe just a coffee) while soaking up the picturesque farm setting. Watch the cows come and go from the dairy and savour this idyllic country paradise. See the cheese maturing on the shelves in the cellar below the café where it develops flavour.
Pyengana is a two hour drive to Launceston Airport, or three and a half hours back to Hobart.