The imposing palazzo that sits at Via della Moscova 33 in Milan's well-heeled Brera district was once a nexus of the local silk trade. Industrialists and artisans would travel from across Italy to the building, constructed in the late 19th century and known as the Cortile della Seta, to meet, trade and vote on industry matters. During World War II, the structure was destroyed by bombs; it was later rebuilt and used as a bank. As of this year, though, when it became the headquarters for Loro Piana, as well as the site of the 98-year-old brand's second store devoted to interiors, the palazzo is once again home to high-end textiles.
Originally from Trivero, in the northern Italian region of Piedmont, the Loro Piana family has been working in wool, an economic staple of the mountainous province, since the early 1800s. Building on what he'd learned from his relatives, Pietro Loro Piana founded the namesake brand, which quickly became known for producing some of the finest fabrics in Italy, in 1924. During the postwar years, the label developed a robust business selling to upscale tailors across Europe, the United States and Japan, but it wasn't until the 1970s, when two of Pietro's great-nephews, brothers Pier Luigi and Sergio Loro Piana, followed in the footsteps of their father, Franco, and took the helm that it began to resemble its current shape.
The pair introduced garments and accessories — simple fringed scarves and stoles at first — and looked beyond Piedmont for materials, including baby cashmere from Mongolia, obtained from the under-fleece of a baby Capra hircus goat that can only be combed out once in the kid's lifetime, before it turns one, and vicuña (first sourced for the brand by Franco), which is derived from a relative of the llama from the Andes. By the late 1990s, Loro Piana was selling smart tailored jackets, wool overcoats and finely woven cashmere sweaters in its shops in Milan and New York. In 2013, LVMH purchased an 80 percent stake in the brand (it purchased another 5 percent a few years later), though Pier Luigi remains as vice president (Sergio died in 2013). And it's retained its reputation for exceptional and often exclusive materials, as well as for its dedication to craftsmanship: All stages of production, from the processing of fibres to the weaving of textiles to the sewing and finishing of garments and other goods, take place entirely in-house between nine factories or mills, all in Italy and most in Piedmont.
With its new location, Loro Piana seems to be turning the page to yet another new chapter. Previously, its offices were scattered throughout the city, but as the brand continued to grow, the decision was made to bring its design, marketing, administrative and other teams together to facilitate communication between them. When Via della Moscova 33 became available following a lengthy structural renovation led by the local firm Asti Architetti, its central location, size (26,000 square metres) and rich past made it an obvious choice. Then came another decision: who should handle the interior design of the offices? The company commissioned Vincent Van Duysen, the Belgian architect known for such clean-lined projects as Casa M, his own minimalist concrete retreat that sits among the dunes in the seaside town of Comporta, Portugal, and Antwerp's elegant August hotel, set in a former convent. "He has very pure taste," says Francesco Pergamo, the director of Loro Piana Interiors. Indeed, both the architect and the brand trade in a disarming sort of simplicity, whether in the form of a spare travertine-lined home or that of an unembellished merino knit.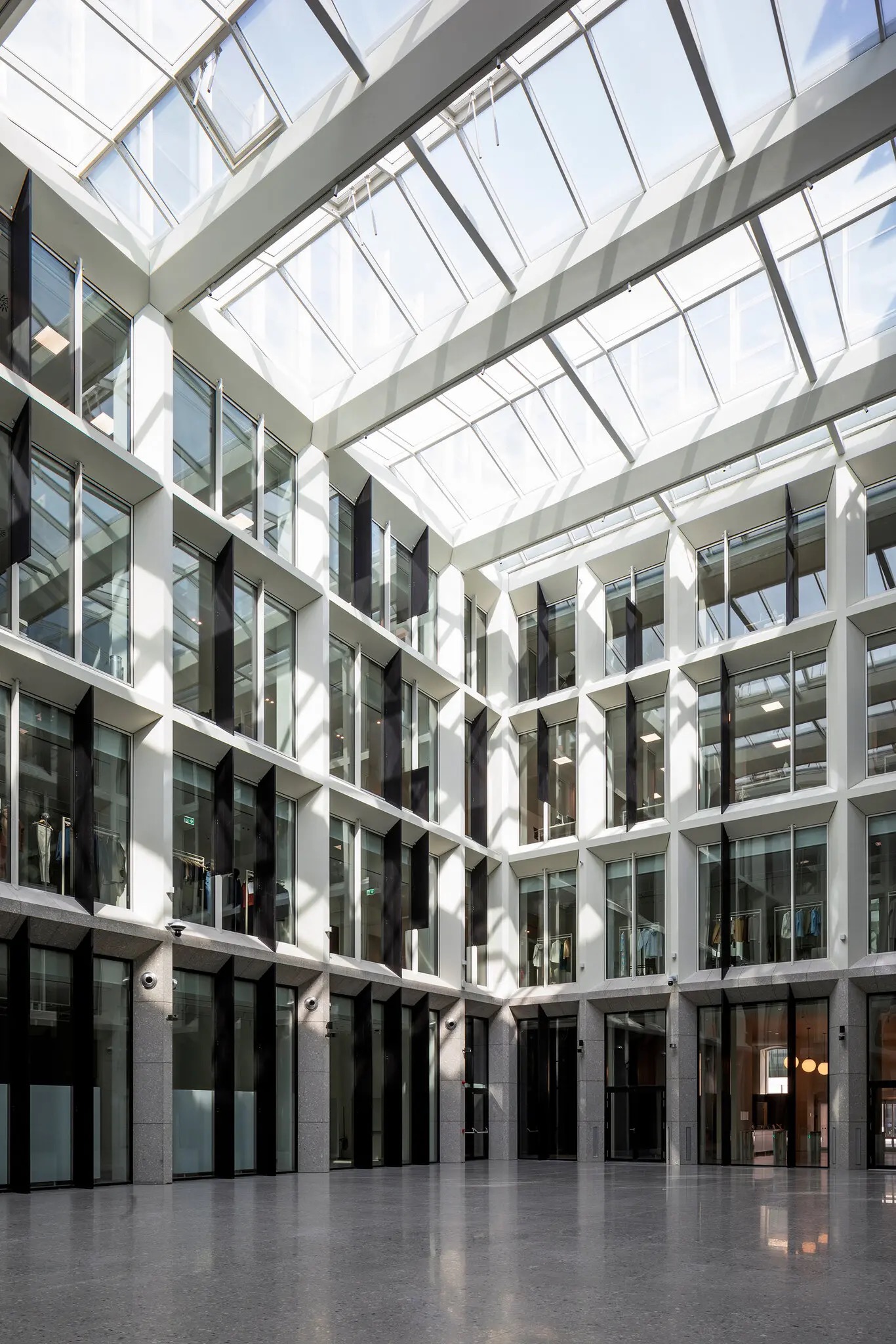 Via della Moscova 33's sun-drenched, glass-roofed internal courtyard, where tens of thousands of bundles of precious silkworm cocoons were once stored, now serves as a kind of town square for the brand. Standing at its centre, one can peer skyward through the wide stacked windows and into various showrooms, where racks of garments stand against pale cream walls, and into airy offices.
The architect's overall goal, he says, was to give the company's employees a fresh environment while also referencing the brand's DNA. The fluted walls on the second floor, for instance, are swathed in a cream-coloured fabric made of Trevira, a flame-resistant technical material, while within the otherwise open-plan offices he devised a system of Trevira-covered partitions. The same fabric in Kummel, or the brownish burgundy that features on the company's logo, was used for the pared-back desk chairs — not-quite-straight-backed seats with simple white steel bases on wheels — designed by Van Duysen for the Belgian company Bulo. They sit tucked into custom desks, with bone-coloured aluminium frames, pale oak drawers and dove grey felt privacy screens, that Van Duysen designed for Unifor. The flooring is made of recycled fishing nets. Van Duysen agrees that "there's a synergy between my aesthetics and theirs," adding, "It's all about having an eye for the details."
It's noteworthy that the new space is being inaugurated just as the company itself is beefing up its interiors division, which launched with decorative textiles, accessories and rugs in 2006. "They created a box with different fabrics that was sent to the most important decorators in the world," Pergamo says of its start. Next, the brand opened textile showrooms for design professionals in Milan, New York, Paris and Los Angeles. But when Pergamo moved into interiors in 2019 — he had previously been the director of women's and leather goods product development — he did so with the goal of making Loro Piana fabrics, and much else, more visible and accessible. "I wanted to go into furniture, finished products and design projects," he says.
In 2019, he and the rest of the Loro Piana Interiors team redecorated one of the private pavilions located in the park of the storied Lake Como hotel Villa d'Este, dressing its rooms in complementary shades of coral and robin's-egg blue that appear on velvet headboards, cashmere sofas, wool carpets and silk drapes. They followed that with several limited-edition furniture collaborations, including a chaise longue in Cashfur done with Raphael Navot and a series of mahogany director's chairs designed by Paola Navone and crafted by Exteta, before producing their own customisable furniture, such as that of the recently launched Ginza line, whose pieces are defined by high, squared armrests and, if desired, piping in contrasting colours. In 2020, the Paris showroom was converted into an interiors shop open to the public, though the new Milan store will be the flagship.
Set behind four grand arched windows on the building's street level, it was designed by the in-house team, and while the offices fully embrace Van Duysen's strain of minimalism, the shop feels more like someone's warm and well-appointed home. The brand's cashmere-upholstered furniture is arranged in several domestic mise-en-scènes (a dining and sitting area, a spa-like bathroom) accented with products ranging from woven horsehair place mats to silk-cashmere dressing gowns. Also on offer are carpets and wall-coverings, and in a small alcove at the store's rear, fabric samples hang on pegs in what is known as the textile library. They're organised according to colour and include Chesa, a blend of cashmere and yarn-dyed wool in a muted grey and amber madras pattern, and Ice, a pure cashmere whose undyed fibres coalesce in a natural mélange. Customers can simply select their favourite, or work with the in-house design team, located on the store's second floor, to decorate their house (or yacht).
Come June, which is when the city's annual Salone del Mobile design fair will next take place, the building's courtyard will be the site of an installation displaying a new furniture collaboration. Details are still under wraps, but Pergamo isn't shy about his enthusiasm for the space. "With this new building we have a real home in Milan," he says. "And having a home without the home business would have been a bit strange, no?"