Whether you're craving the summertime feeling of the Amalfi or the bustle of Milan on a weekday, there's a Matteo restaurant to suit you. The white-washed walls of Matteo in Double Bay is all about the lazy Sunday afternoon limoncello, whereas at Matteo Downtown, on Sydney CBD's Bond Street, you'll find the energy, flavours and theatre beloved of everyone who's recently returned from Salone del Mobile. Channelling the buzzy metropolitan restaurants of Milan, Rome and Florence, the inner-city restaurant feels informal yet refined, serving lunch, aperitivo, dinner, and drinks late into the night.
We sat down with Matteo Downtown's Head Chef Adam Szymankiewicz to find out what's inspiring him at the moment, how he unwinds after service, and what his experience working with his mentor, Wolfgang Puck.
On becoming a chef…
I was born in Poland and my "career" in hospitality started long before I went to culinary college. From a very early age I always helped my grandmother in the kitchen. It was the early '90s and in Poland it was very difficult to buy some ingredients; we had oranges only once a year for Christmas. I was raised in a very big family, so there was always something to do. My grandma taught me how to respect the products that we collected in our garden and that you can make a very nice meal out of basically everything.
On life before Matteo Downtown…
After finishing my degree in culinary art, I joined a five-star hotel in Poznan and stayed there for around three years. I always had this idea to move abroad to develop my chefs skills even further and try different cuisines, so when I got an offer from Austria and London, I didn't think long before deciding. In London I joined the team at The Landmark Hotel before moving to 45 Park Lane, which is part of the Dorchester Collection. During this time I also met my Italian wife. When my journey with 45 Park Lane was finished I joined Zuma in London, which was a completely different experience moving from a fine-dining American steakhouse to an izakaya Japanese restaurant concept! Zuma was the maddest (in a good way!) place I ever worked, with a team of 64 chefs and 600 covers a day. This experience opened my eyes to a completely different way of cooking.
On what drives him each day…
Coffee! I think it's my passion for cooking and my will to achieve something big.
On unwinding after service…
A beer and a long shower.
On what he's enjoying experimenting with…
Definitely seasonal ingredients. In summer I love rhubarb, in autumn it's mushrooms, in winter it's root vegetables and game, and then in spring it's all the novel vegetables that come through.
On cooking at home…
Lasagne – it's my wife's favourite.
On the chefs who inspire him…
Wolfgang Puck was my mentor in London and he has three very interesting restaurants, all called "Spago". All of them have their unique style. In the long run I would like to work with him again in Spago Maui.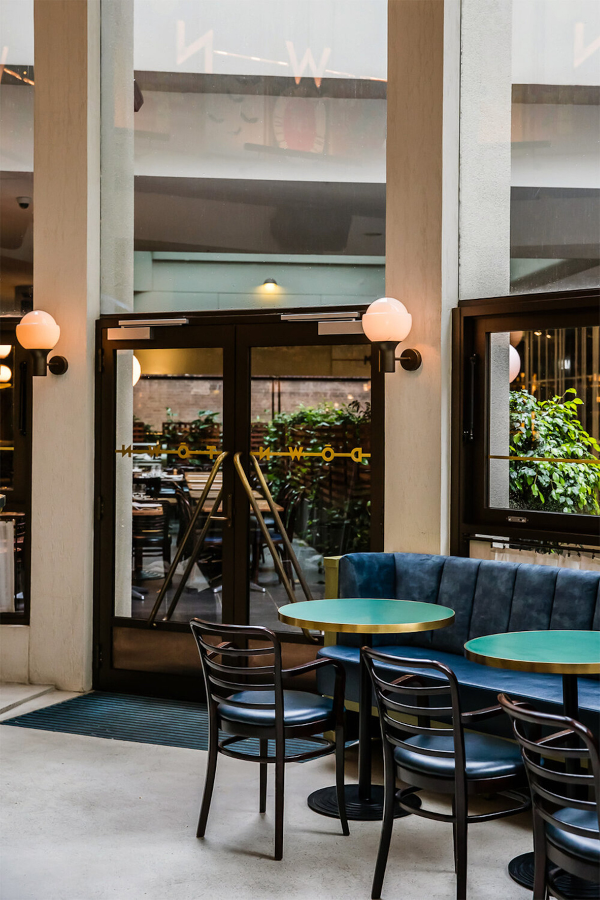 Adam Szymankiewicz's Filetto with Green Peppercorn Sauce
Serves 2
2 beef tenderloin steaks (250g each)
20ml olive oil
30g butter
30g black peppercorns, freshly cracked
10g green peppercorns, freshly cracked
50ml cream
1 shallot, diced
2 garlic cloves, minced
1 whole garlic clove, smashed
30ml veal or chicken stock
2 thyme springs
30ml red wine
Pat dry the steaks with paper towel, then coat them with a little bit of olive oil and season with salt. Spread half the cracked black peppercorns on a flat plate and firmly press the steak on it, making sure one whole flat side of the steak is covered with pepper.
Using a smoking hot pan, add a little bit of olive oil to it and then place steak in the pan, peppercorn side down. If the meat is smoking too much, reduce the heat. After approximately 2-3 minutes, turn your steak, add butter, the smashed whole garlic clove and thyme.
Now it's time for my favourite part; basting the meat. Using a tablespoon, pour the melted butter over the steak and repeat continuously for five minutes, ensuring the whole smashed garlic clove and thyme remain in the melted butter. After basting the steak, remove it from the pan to rest for approximately 10 minutes. After the meat is cooked, it can become very tough, tense and chewy, which is why the meat needs to rest. If you slice the steak straight away, without allowing the meat to rest, the juice will leave the steak and remain on the chopping board and we don't want that.
Whilst your meat is resting you can begin preparing your sauce. First, discard around half of the liquid from the pan as well as the smashed garlic clove and thyme. Next, caramelise the diced garlic and shallots. Both of these aromatics contain a lot of sugar but to extract it from the root vegetable you have to caramelise them. After the diced garlic and shallots are golden brown, deglaze the pan with the red wine. Once the red wine has cooked out (alcohol has evaporated) you can add the green and remaining black peppercorns, cream and veal stock. At Matteo Downtown, we take 48 hours to cook our veal stock. However, you can simply buy ready-made stock in your local market. Once the sauce has reduced to a thicker consistency, it is ready.
To reheat the steak, you can either put it into the sauce for a few seconds or "flash" it in a preheated oven on 210C. Slice it into four pieces and serve with the sauce.