As a child, the fashion designer Michelle Rhee was rather shy and fascinated by how, in lieu of spoken words, clothes could communicate on behalf of their wearer. "That always gave me a sense of confidence," says Rhee, who's drawn to minimal but evocative aesthetic objects of all kinds. No wonder that, when she studied art history in college, she was taken with German Expressionism, the early 20th-century movement whose practitioners dispensed with strict realism, leading instead with their emotions. "There's a classicness to those paintings, and yet they're charged with so much energy," says Rhee, 33. The same might be said of the 18 pieces that make up the inaugural collection of her namesake label, which launched earlier this month and stands to become a favourite of women who want to dress simply but not quietly.
That tension between subtlety and boldness exists within the designs alongside others: between soft and structured fabrics, flowing and fitted constructions and more and less formal elements. There's a shirtdress with epaulets that would look more utilitarian if the piece weren't made of double-faced satin. There's a double-breasted taupe wool-blend blazer that recalls tailored men's wear — and that can be paired with a delicate triangle bra and a wool-blend skirt with belt loops and a zip fly. A long-sleeved foiled jersey dress is knotted at the sternum and has a skirt with statuesque folds. "That's the glam moment," Rhee says. Another dress, available in black or fuchsia, features a voluminous ankle-length chiffon skirt with a ribbonlike hem that emerges from a boxy satin top with a deep U-neck. It's easy to imagine encountering a sophisticated woman in it at a cocktail party, which is to say that these are grown-up clothes that are more than merely pretty; Rhee has also imbued them with strength.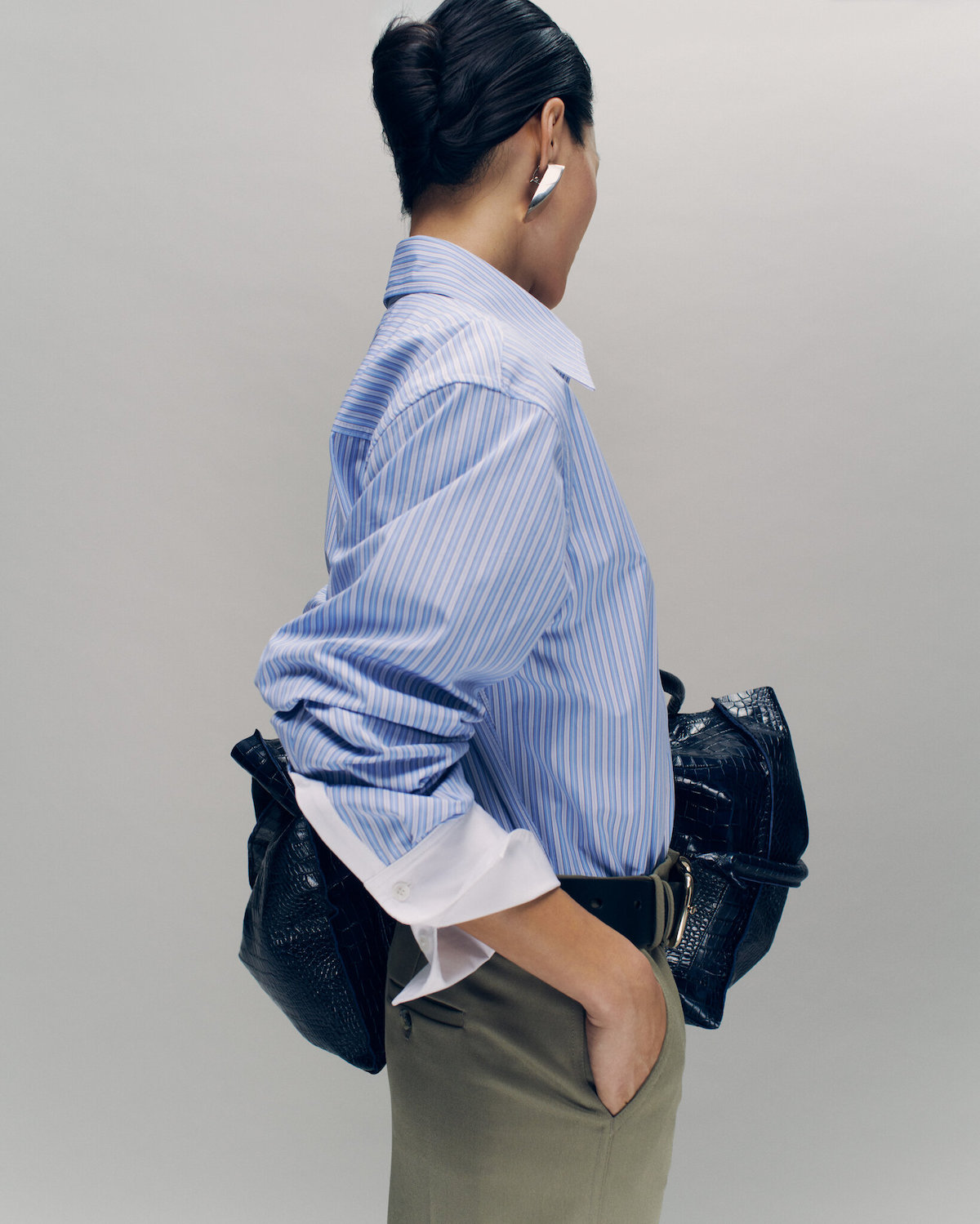 They're looks that have been forming in her mind, consciously or otherwise, for a long time. An internship at Harper's Bazaar during her sophomore year at N.Y.U. prompted Rhee, who in her teen years would drive from her Los Angeles suburb into the city to shop at vintage stores, and eagerly awaited her copy of Vogue each month, to consider a career in fashion. "I grew up in a community where the focus was on academic rigor, so even though I instinctively loved clothes, it just hadn't occurred to me," she says. "Then I realised it was a completely valid thing to pursue and held so much potential."
In 2012, Rhee enrolled in an associate's design program at Parsons and, before she graduated, she accepted a job at Marc Jacobs, which gave her a look at the inner workings of a major house, one helmed by a designer with, she says, "a huge imagination for what fashion can be." Her next post, at Derek Lam, taught her how to design clothes that women reach for daily, and then she went in-house at the New York line Area, which she admires for its range and technical daring. "It's about drawing out what part of you can connect," she says of designing for other brands but, by the beginning of last year, she felt ready to build her own.
After some self-reflection, she found that her personal philosophy of fashion isn't very different from what it was when she was young. "I want to give a new language for people to be able to express themselves," she says, "with the most special version of whatever it is they end up wearing." That's meant partnering with fabric mills, patternmakers and factories that she trusts and getting every piece just so. But Rhee wants to create more than an impeccable wardrobe — she's looking to establish, as the brand grows, a community. "It starts with the people I'm working with," she says. "Thinking big picture about my purpose in life, I want to be someone who cares and nurtures."
That doesn't mean she's naïve about the pace of fashion or New York, though. She's looking forward to expanding into knitwear and, when she talks about her client, which is often — Rhee is the kind of designer who never forgets that her designs will be worn — she describes her, first and foremost, as a woman in motion. Toward the end of the look book for this first offering, which is available for preorder on the brand's website, there is a four-panel grid of images that read like film stills: A woman in a suede and leather patchwork coat approaches a tree; then she passes behind it and less and less of her is visible behind its trunk until, in the last photo, she is gone. "She has to be able to imagine herself walking around the city and going places," says Rhee. In other words, she has to be able to imagine herself living, which happens to be the name of the collection.
See more expert fashion coverage from T Australia: