For celebrity chef Miguel Maestre, Australia seems like a "miracle land" full of a range and variety of produce, that even now still surprises him ten years after migrating from his native Spain. "In Australia, you can have ten different climates, and it's like different planets on the same island, but they all offer an amazing array of produce."
Whether he's filming a story on Channel 10's "The Living Room" or researching a recipe for his latest cookbook, "Feast" (Plum, $39.99), he admits he's still excited by the opportunities that his adopted country provides.
"I mean, you can visit a goat farm in the Grampians and see where they produce milk and yoghurt. Then you can go to Darwin and make lotus chips or eat kangaroo, or buy the best prawns in the Gulf of Carpentaria," he explains. "I'm just in awe every day – the chefs, the food, the landscape, the agriculture. I mean, you can even eat the best Chinese food outside of China, because we have the best chefs and the best ingredients!"
It's those ingredients, he says, which allow him to create the kinds of rich and creative dishes he is known for. Drawing on his Spanish roots, the exuberant chef combines fresh produce with traditional recipes to create thoroughly modern Australian cuisine. His famous porchetta-inspired pumpketta dish is a case in point.
"I love this recipe because it's so unique. I've never seen anything like it," he says. "It embodies one of my favourite elements of cooking: I love being genuine and creating food that doesn't come up with thousands of results on Google. It's a way of expressing myself and my food ethos."
Maestre sat down with T Australia to talk about his love of food, the one dish he could live on forever, and why he copyrighted his famous pumpketta recipe.
What does food mean to you?
"Food to me, pretty much is everything I stand for. Food has so many synergies with my life; food brings people together, food has an identity and I love that. The food I cook has soul, and I'm all about food with soul, with a story, with tradition. Food has allowed me to communicate with the world, not just in English or Spanish, in so many ways, the language of food."
What's your earliest memory of food? What sparked your passion for it?
"I remember being really little sitting at the kitchen table seeing my mum and dad over the kitchen sink, preparing us lunch. My dad would have gone to the grocer for seafood and spices and other ingredients, so he'd be cleaning it and both of them, with their backs to us, would prepare our lunch. Mum would make mayonnaise and  the paella is on the stove. That's one of the most amazing memories I have. Another early food memory is being in bed – again, [I'm] really little – on Sunday mornings my dad would go out and get churros and I could smell them from bed. Also, my grandfather had a farm, and I remember so vividly that there was always so many people around, eating fresh produce and being really loud, enjoying life. That memory always stays with me."
If you could only eat one of your recipes for the rest of your life, what would it be and why?
"OK, well, I would have churros every day for the rest of my life. You can have them for breakfast, lunch and dinner. They're so satisfying when they're freshly cooked – I just love them. Whether from Madrid, or the south [of Spain], or my own recipe that I've invented… I just love everything about them. They're crunchy on the outside, sugary and warm, and with ice cream and hot chocolate sauce. For me, they are everything! Everything I want from food, churros give to me: the pleasure, the execution, the enjoyment. I would eat them every day but… that means I may need to run a bit more!"
What do you hope your kids learn about food from you?
"The first thing I want them to understand is that we don't waste it, because food is hard to earn. Some people don't have any, that's what my mum and dad taught me, so I've always been very vocal about that with my kids. I try and teach them that the world is so versatile and different, but we are all, as humans, joined by food. Our kids eat everything – they are open-minded and enjoy all cuisines – I just hope they have fun and embrace all kinds of food."
Why do you love this pumpketta recipe and where did the idea come from?
"For the pumpketta, this came from a visit to Byron Bay. I went to a farm in Byron, where they have so many amazing ingredients at farmer's markets. And everything in the original recipe was sourced locally in Byron. So, I had to come up with something to please a vegetarian, and I wanted to do something like a Porchetta. So, I really had to squeeze my brain thinking, how am I gonna make this pumpkin look like a porchetta? I tried roasting, cutting it in half, a million different ways to do it, but…  I then thought, let's just get a PC pipe and hollow the pumpkin out. The first time I did it, the pumpkin was so beautifully cooked – the sweetness in the centre of the pumpkin is very special and the way the stuffing holds, the way the skin blisters, it's very special. It's fun, a bit different and just delicious and generous. Definitely one of my favourites!"
Can you give any tips for making this recipe?
"If you are a vegetarian or a lover of veggies, this recipe will really hit the mark by showing you a different side to butternut pumpkin. This is part recipe, part DIY project as you have to pop into a hardware store to get a PVC pipe and hammer. Yep, this is essential to keep the core of the pumpkin hollow without cutting it in half, giving the centre of the flesh direct contact with the heat to intensify its sweetness. Trust me, it makes it so different; it tastes like never before and every slice looks a million dollars. Just make sure the pumpkin isn't too green, otherwise it will be almost impossible to hollow it out. Be energetic with the hammer and use the flesh from the centre in the stuffing so nothing is wasted. You can roast the seeds as well to make pesto, so it is truly nose-to-tail pumpkin usage. Roasting the pumpketta on a bed of rock salt is essential, as the salt helps to remove extra moisture from the skin."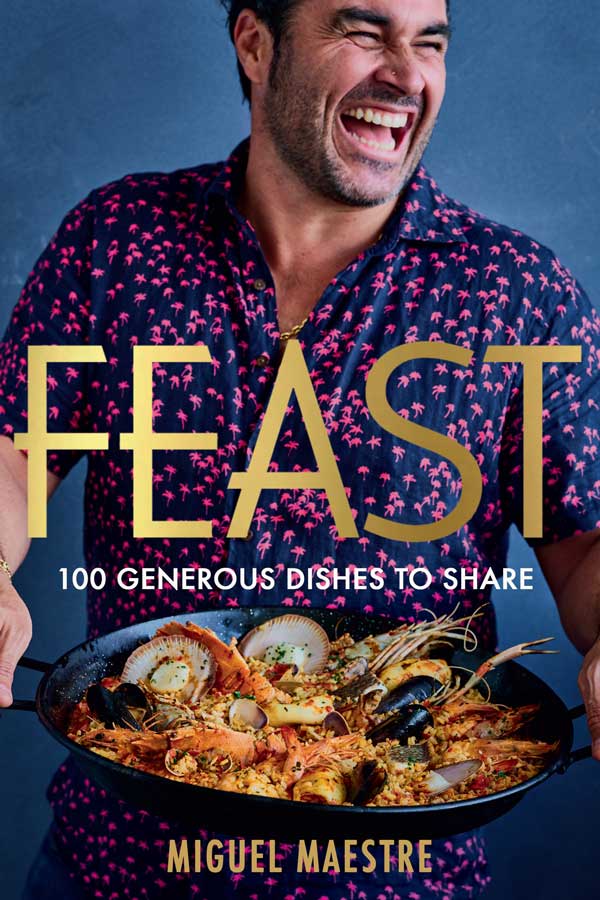 Miguel Maestre's Famous Pumpketta
1 small butternut pumpkin (about 1.2 kg)
1 egg
1 small red onion, finely chopped 1 garlic clove, crushed
small handful of flat-leaf parsley leaves, chopped, plus extra to serve
40 g (1⁄4 cup) salted macadamia nuts, roughly chopped
50 g soft Persian feta, crumbled
185 g (1 cup) cooked brown jasmine rice
1 tablespoon olive oil, plus extra for drizzling
salt flakes and freshly ground
black pepper
1 kg rock salt
hummus, pesto or baba ganoush to serve
1. Preheat the oven to 180°C (fan-forced).
2. Place the pumpkin upright on a chopping board (you may need to trim the base slightly so it sits straight). Using a piece of clean, hollow PVC pipe (about 25 cm long with a 4 cm diameter) and a hammer, hit the pipe through the centre of the pumpkin. Remove the pipe and the core of the pumpkin using the end of a wooden spoon. Grate the core and set aside.
3. Crack the egg into a medium bowl and whisk with a fork. Add the grated pumpkin, onion, garlic, parsley, macadamia, feta, rice and olive oil. Season with salt and pepper and mix to combine.
4. Spoon the mixture into the cavity of the pumpkin, using the end of a wooden spoon to pack it in tightly. Scoop any remaining filling onto a piece of greased foil and roll up to enclose.
5. Pour the rock salt into a small roasting tin. Rub the skin of the pumpkin with a little extra oil and salt flakes. Place the pumpkin and roll of filling on the rock salt and roast for 40 minutes, then turn over and roast for another 30–40 minutes or until just tender (the time will depend on the size of the pumpkin). Take care not to overcook it, otherwise it will be too soft to carve.
6. Remove the pumpkin from the oven and rest in the tin for 10 minutes. Transfer to a board and carve into slices. Serve with hummus, pesto or baba ganoush.
This recipe is featured in Feast by Miguel Maestre, Published by Plum, $39.99, Photography by Jeremy Simons