The epicentre of Italian commerce and the home of the Negroni, risotto alla Milanese and the Fondazione Prada, Milan is where furniture, lighting and accessories dreamed up by the industry's internationally celebrated are unveiled, making their mark at Milan Design Week 2023. It's where haute couture adds glamour to the country's rich history of furniture making in a meaningful way, supercharging an already adventurous design offering and offering insights into the current modus operandi of designers. 
Key messages at this year's exhibition, held in April, were the skills of makers and the nuances of materials, both powerful weapons in the war against fakes and fuelling the leap towards sustainable manufacturing and supply chain models. Experimentation with techniques, from age-old traditional crafts that require practice and time to highly technical innovations (or a novel hybrid of the two), provided a unifying theme for the latest collections by furniture brands and a swathe of fashion houses whose new homewares ranges express a deep knowledge of craft going back hundreds of years.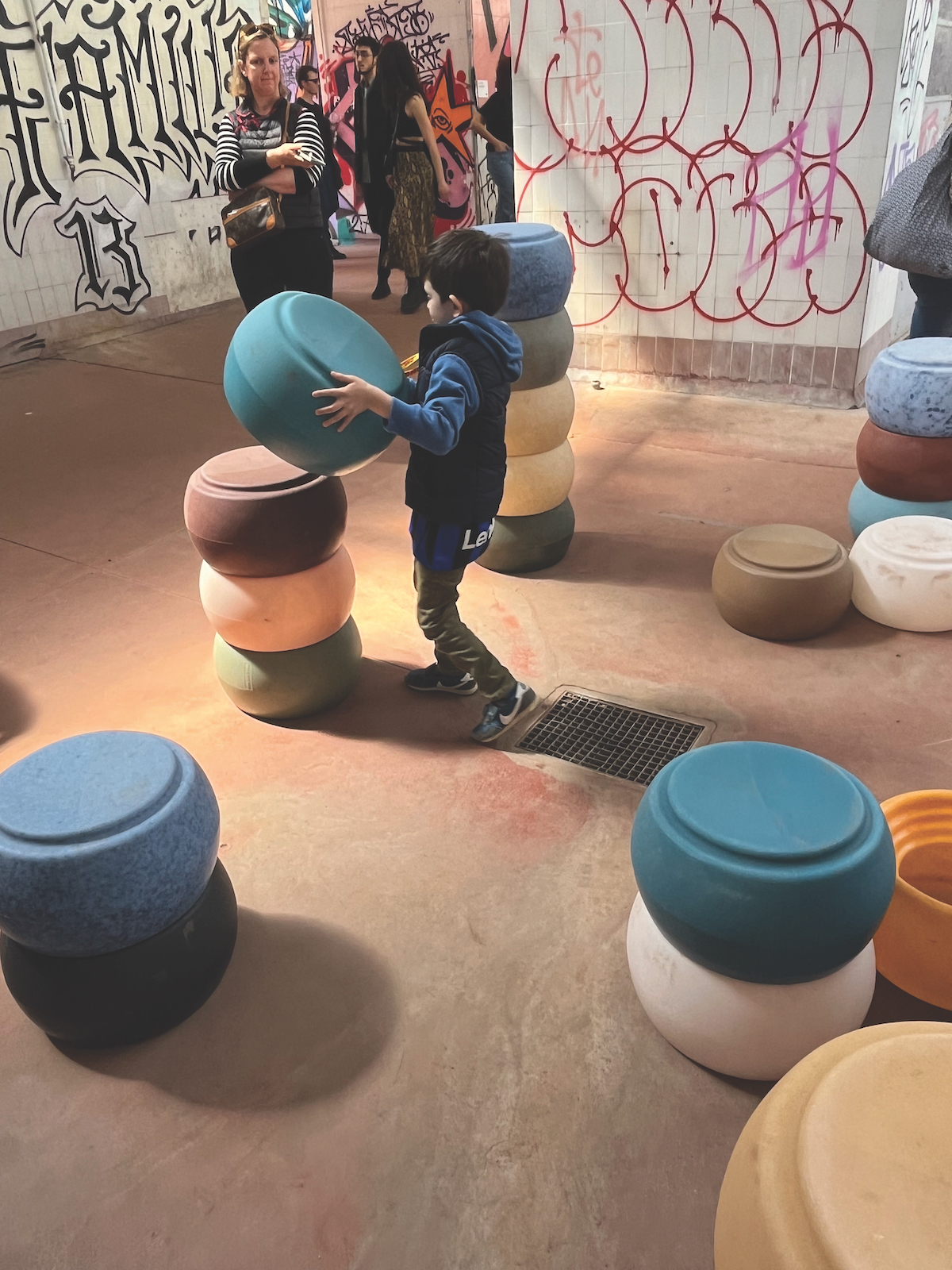 Hermès, a house synonymous with the skills of its artisans, operates 19 leather workshops as well as L'École Hermès des savoir-faire, an apprentice training centre accredited by the French Ministry of Education that ensures traditional craft skills live on. "We believe that this year, more than ever, the craftspeople have been at the heart of the matter," Hermès Maison's artistic directors, Charlotte Macaux Perelman and Alexis Fabry, said of the new collection in a statement
after the event. "Whether it was the glassblowers, who succeeded brilliantly in developing a nuanced palette of colours," they added, "or the embroiderers in India, who have brought out the substance of [Pierre] Charpin's designs, giving his geometrical compositions contour and relief, the virtuosity of our craftspeople is always conveyed silently and unobtrusively."
Staged at a former sports club, the installation foregrounded colour and intricate details, juxtaposing the natural beauty of leather, cotton, wood, bronze and glass with a raw skeletal frame, the rusty iron rods and concrete lifted by the play of light and shadow. Standouts of the collection, which includes collaborations with the designers Harri Koskinen, from Finland, and Cecilie Manz, from Denmark, are Charpin's Arçon and Oxer rugs. Made using the intricate
Cordélie technique, the graphic lines and emblematic colours are the result of the precise placement of cotton cord, which is then hand-embroidered onto linen. 
Concurrently, furniture companies including B&B Italia, Arflex, Porro, Glas Italia and FontanaArte are exploring innovative techniques in fabrication while paying tribute to the designers who first pushed the brands into the spotlight, among them Gaetano Pesce, Alessandro Mendini and Cini Boeri, who made their mark in the 1960s and '70s by experimenting with materials and new ways of living at a time of social change. Porro's limited-edition production of Mendini's three Linea storage units (only 50 have been made of each) blend characteristic Memphis colours with a patchwork of inlaid cellulose acetate. Their eye-popping optical motifs and decorative richness confirms a renewed fascination with detail.
At Arflex, Boeri's Botolo chair, which introduced "low-level living" back in 1973, when conversation pits were the epitome of cool, has been re-released in forest green to complement its caramel sheepskin seat. And at Glas Italia and FontanaArte, artisanal glassmakers are producing lighting and furniture with minimal silhouettes and maximum colour. In the hands of the Milan-
based Spanish designer Patricia Urquiola, colour and form become art, her CC tables for Glas Italia a mosaic of cast-glass tiles in poetically random colours and dynamic axonometric detail. 
B&B Italia revealed a golden version of the famous Up Series armchair designed by Pesce in 1969, reminding us of the designer's lifelong interest in materials. Its prototype, originally made from air-sensitive foam, was flat-packed and then slowly inflated to the amazement of a live audience. It appeared alongside the Tortello armchair and sofa (named after the pillowy pasta) by the British designers Edward Barber and Jay Osgerby. The form and classic "pinched" stitching of the Tortello are flashbacks to '60s silhouettes yet the designs also engage advanced technologies and structural elements (no adhesive or glues) as well as state-of-the-art materials and second-life polyethylene. It is the product of B&B Italia's research into circularity and recycling. 
At Prada, the focus is on the latest scientific research into the complex relationship between design and the environment. Curated by the Milan- and Rotterdam-based Italian design firm Formafantasma, founded by Simone Farresin and Andrea Trimarchi, Prada Frames: Materials in Flux unites academics and practitioners from around the world to provide insights into the ethical and aesthetic implications central to Prada's design processes. 
"We conceived Prada Frames as a transdisciplinary symposium looking at the relation between design, architecture and the environment," says Farresin. "The aim is to bring together designers, architects, artists, curators, producers, but also scientists, anthropologists, activists and legal and economic experts. The inclusion of voices and disciplines beyond design is not only a way to increase the scale and depth of research, but an ethical position that respects the expertise, lived experience and skills of individuals and institutions in other fields." 
Those perspectives come from the likes of Professor Veena Sahajwalla, a Sydney-based inventor, engineer and materials scientist, whose novel research on materials innovation at UNSW Sydney is turning the idea of waste on its head. Adds Trimarchi: "We are also thinking about the long-term role Prada Frames could have as an educational initiative, and exploring different options and ideas."
As with B&B Italia, Bottega Veneta has deepened its relationship with Pesce, an architect, designer and artist who, at 83, is in demand. The brand's tête-à-tête with Pesce following their first collaboration, on the summer 2023 show (he designed 400 resin-dipped cotton canvas chairs called Come Stai? with Bottega Veneta's creative director, Matthieu Blazy) now includes a limited series of two figurative and exquisitely detailed handbags. Realised by Bottega Veneta's internationally renowned leatherworkers and artisans, the bags — My Dear Mountains and My Dear Prairies — featured in Pesce's immersive exhibition "Vieni a Vedere" (Come and See) at the company's Montenapoleone store. 
Characteristically idiosyncratic both in terms of handcraft and creativity, the styles feature re-creations of Pesce's watercolours, his peaks and grasslands taking the form of nappa leather and a meticulous crochet technique (seven shades of green evoke his swirling prairie grasses). "There is a capacity to realise anything at Bottega Veneta and this bag opens up a way to express future design," says Pesce. "The design of the future has to be figurative and it has to communicate — such an object has to tell a story. 
"I want people to express something in what they do," he continues, "to express the self and their identity. We need to not only follow function and utility through design, but to explore the personal and unique rather than the purely practical." 
Milan Design Week is the city's biggest annual event (it beats Milan Fashion Week hands down) and almost every street from the Brera to Zona Tortona flies the trade fair's signature Fuorisalone flag. Designers, architects, buyers and the design cognoscenti are ushered in and out of shows by black-tie-wearing security, the pungent smell of oud fragrance is on every corner, taxis go into overdrive and scooters become the fastest way to get around as exhibitions and parties block off streets. Well turned out nonnas and nonnos queue patiently with the international design set in lines that snake around squares and down streets for a glimpse of exhibitions inside fresco-rich interiors, private gardens and crumbling ruins.
The creative mashup that reframes Milan's historical and significant buildings with contemporary design also brings fresh ideas and possibilities into vivid focus. With more than 300,000 sets of eyes on the city's feast of inspiration, Milan Design Week has become the ultimate live platform to open up conversations about how products are designed and made. 
This year, among the new releases, installations and talks — which now engage leading scientists — the event brought to the surface brands that are focusing on tradition and sustainable supply chains, as well as circular materials and manufacturing models that are on the way to reducing the industry's impact on the environment. It is this essential offering that reminds us why Milan continues its reign as the "city of design".  
More expert design coverage from T Australia: