In Milan, there's one unofficial but very important entertaining rule: Never throw a party on a Saturday night. Monday through Friday, the city is brimming with creative people — the quiet engines running the design and fashion industries — but, when the weekend rolls around, they tend to leave for the nearby Swiss Alps or the Mediterranean coast. Weekdays are when the Milanese gather and the aperitivo, a postwork, pre-dinner cocktail hour, defines the city's social life. "The Milanese are very busy," says the fashion designer Damir Doma, 42, a native of Croatia who was raised in Germany and has been living in the northern Italian city since 2016. "Aperitivo brings everyone together for a short moment to have a drink and a chat."
But for Doma, an aperitivo can also be a celebration. That was the case on a brisk Thursday evening earlier this year, when he invited friends and collaborators to his apartment in the vibrant Porta Nuova neighbourhood to toast the success of his two-year-old label, Diomene. Many of the 30 or so guests are also members of what he calls his "Aperto" group — a network who meet regularly for early evening events he organises in local bars with his friend Stephanie Barth, a creative director.
Eight years ago, when Doma moved to Milan, he never imagined his social and professional lives would be so closely intertwined. He'd made the decision to relocate from Paris — where he'd lived for nine years and founded his namesake brand in 2006 — strictly for work. In Paris, he'd become one of the youngest and most closely watched designers on the fashion week schedule and his concept-driven collections and deconstructed garments had won him a global following. Moving to Italy, he figured, would allow him to collaborate more closely with the people who actually produced his clothes — an aspect of the fashion industry he considered increasingly interesting. Today, his personal life is also firmly entrenched in Milan. He met his now-wife, Charlotte Rondeau-Doma, 37, in 2016 and the couple have two sons, Achilles, 5, and Balthus, 2. And he entered the next phase of his career in the city, launching Diomene in 2021, a year after closing his previous label amid the economic upheaval of the pandemic.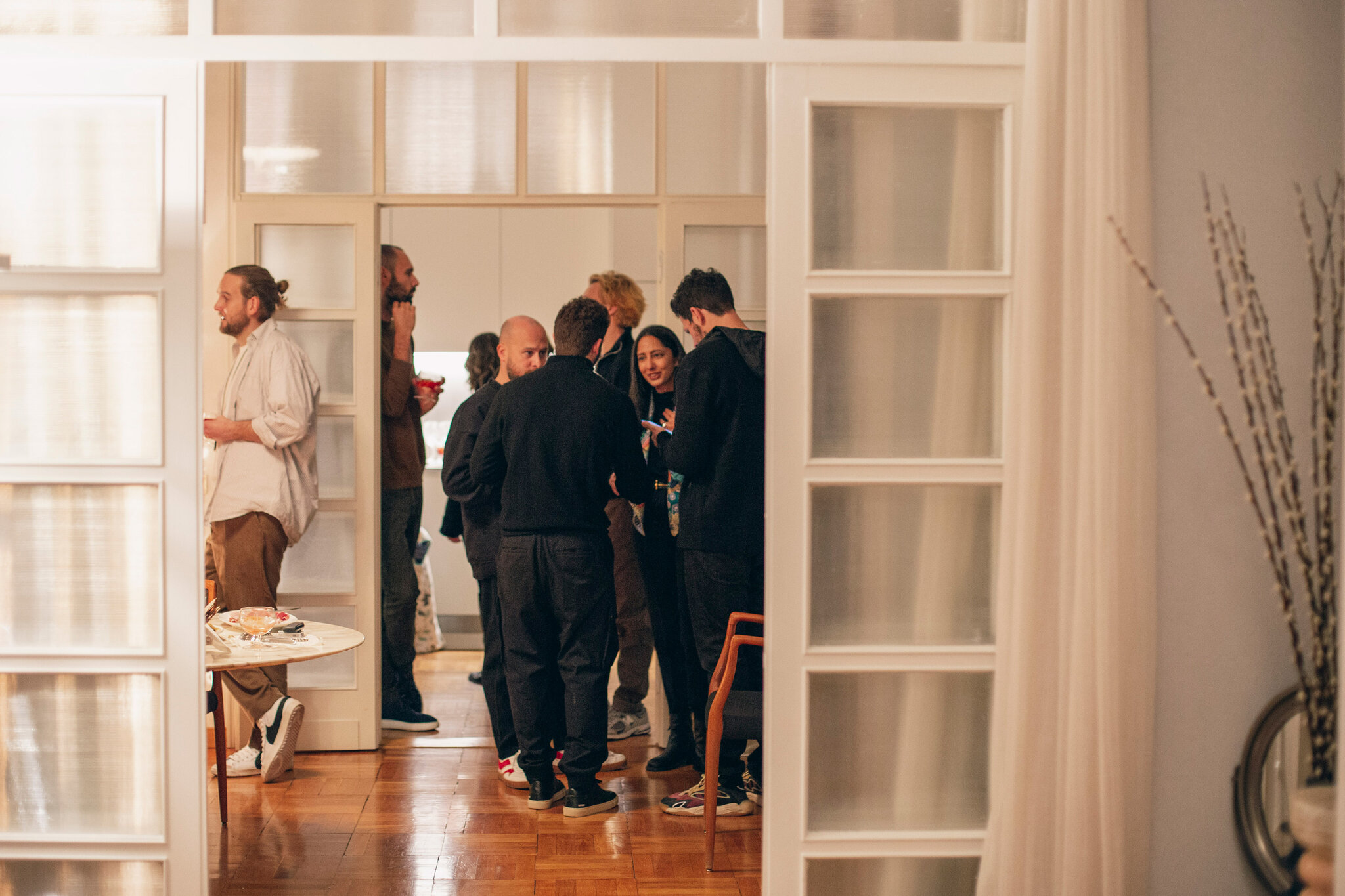 The new line is decidedly quieter and more considered than his first, made up of impeccably tailored shirting embellished with hand-stitched flowers inspired by traditional Croatian embroidery and boxy, padded jackets filled with recycled cashmere in lieu of goose down. "The goal is not to make something avant-garde, as I used to 15 years ago," he says. "Then, I really tried to push my own boundaries and the boundaries of what was actually wearable." Now, he says, he is more concerned with the quality and construction of a garment rather than how it might look on a runway.
In fact, when he first established the brand, he eschewed the runway completely. Instead, he'd invite friends and a few select buyers into his living room where, sipping prosecco, they'd thumb through racks of clothing, seeing the handsome craftsmanship up close and getting a feel for the technical fabrics that he and his team developed from scratch. This week, during Milan men's fashion week, Doma will finally inch back into the spotlight with a low-key presentation in an ex-industrial building close to Fondazione Prada, where he will launch the brand's third collection, as well as a collaboration with the Venetian footwear brand Marsèll. "The project is growing, and there's a limit to the amount of people I can invite to my house," he says.
Still, at this party, with just the inner circle on hand, there was plenty of room to spread out. Just before guests began to trickle in, the furniture designer Grace Prince arrived with a gift: a maple, soapstone and stainless-steel vase that Doma had commissioned for his wife's birthday and planned to surprise her with that night. Several others in attendance had befriended the couple through similar collaborations. The Jamaican-born artist Hugh Findletar, for instance, was in the process of making a Venetian-glass, wall-hung mask for the couple.
Early in the evening, guests mostly huddled in the dining room around the marble-topped Florence Knoll table, snacking on classic aperitivo fare — including springy balls of fresh mozzarella, thinly sliced prosciutto and raw vegetables — and sipping Negroni Sbagliatos that Maurizio Stochetto, the current owner of Bar Basso, where the Sbagliato was invented in the '70s, had swung by to mix for the group. Also on offer was a Ski Wasser cocktail, a tart mix of lemon juice, gin, seltzer and sweet raspberry syrup that the hosts often order après-ski while on holiday in the French alpine resort of Chamonix.
As the night wore on, the tapers flickering in splatter-painted candlesticks made by Doma's mother burned down, causing the half-filled cocktail glasses to shine with a rosy glow. Guests shifted between the living room, where they lounged on Doma's vintage Carlo Scarpa-designed sofa set, and the balcony, which overlooks the neighbourhood's dense grid of Rationalist-style high-rises. The guiding logic of an aperitivo is that it never carries on too late. Guests usually filter out around 9 or 10 on their way to dinner reservations, with perhaps a handful sticking around a little longer. And such was the case that evening, with just a few close friends lingering until 11 to help clear plates, and the rest heading off into the night. Here, Doma shares his tips for hosting a classic Milanese aperitivo.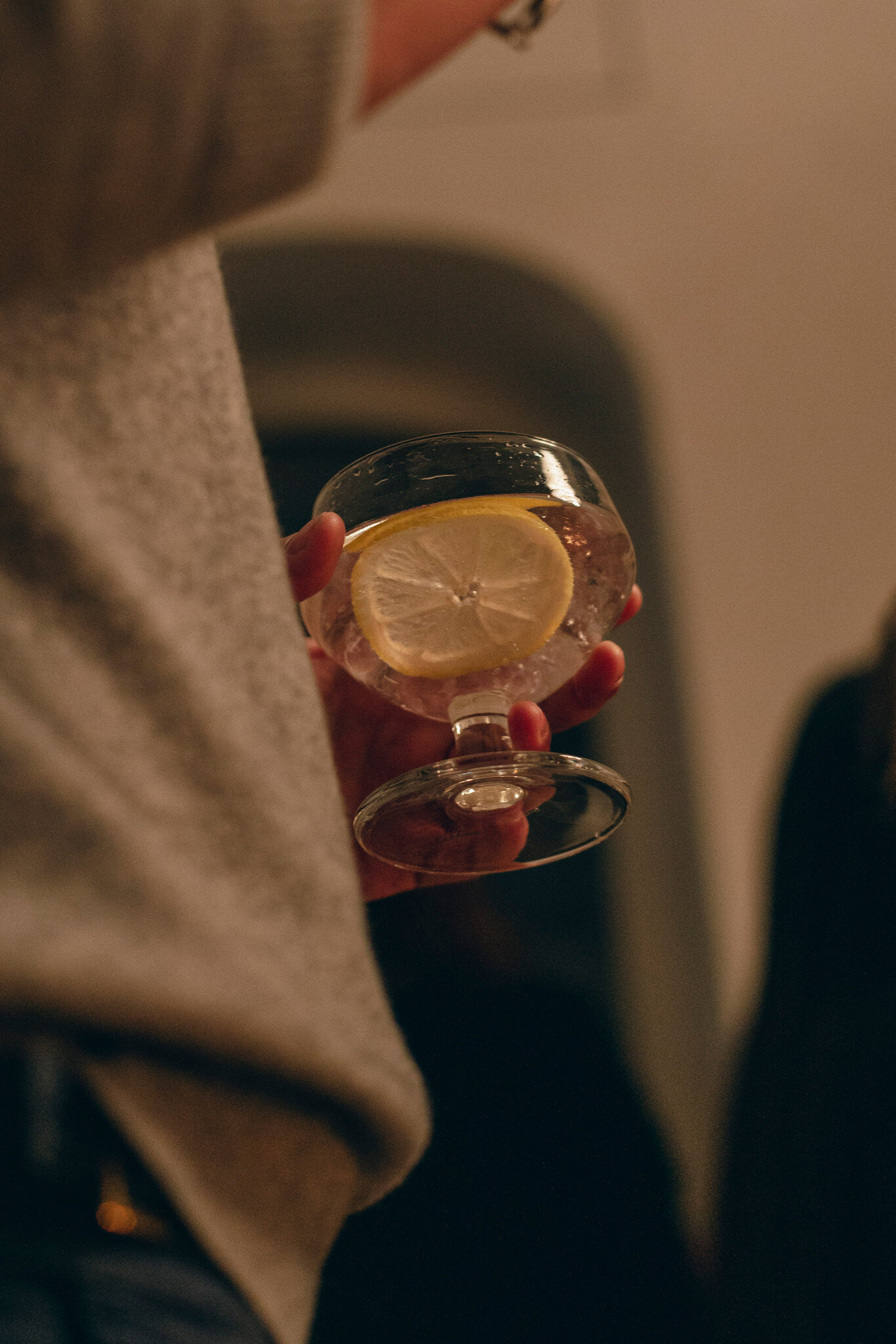 Send a No-Pressure Invite
To rally guests for their Aperto series, Doma and Barth simply notify the hundred-plus strong WhatsApp group dedicated to the event. "Everyone really enjoys the fact that it's so easy," he says. "You come, you don't come — it's not a big deal."
Enlist the Experts
For their 2019 wedding in Geneva, Doma and Rondeau-Doma hired the team at Bar Basso to provide cocktails at the reception. Now, years later, the couple count the owner, Maurizio Stochetto, as a close friend. When they organize an aperitivo, he's been known to show up with a stocked bar, just for fun.
Keep the Kids Up
At several points in the evening, Doma and Rondeau-Doma's sons sneaked out of their beds to run laps around the party. The younger of the two somehow managed to outpace his parents, despite being confined in an animal-print sleep sack.
Make Some Merch
When hosting his regular Aperto nights, Doma often chooses artists to create what he calls "little souvenirs" that guests can purchase as a memento of the party. Past items have included collaged key chains and printed T-shirts. "It doesn't have to be complicated and shouldn't cost more than 40 or 50 euros," he says. "Everyone should be able to afford it."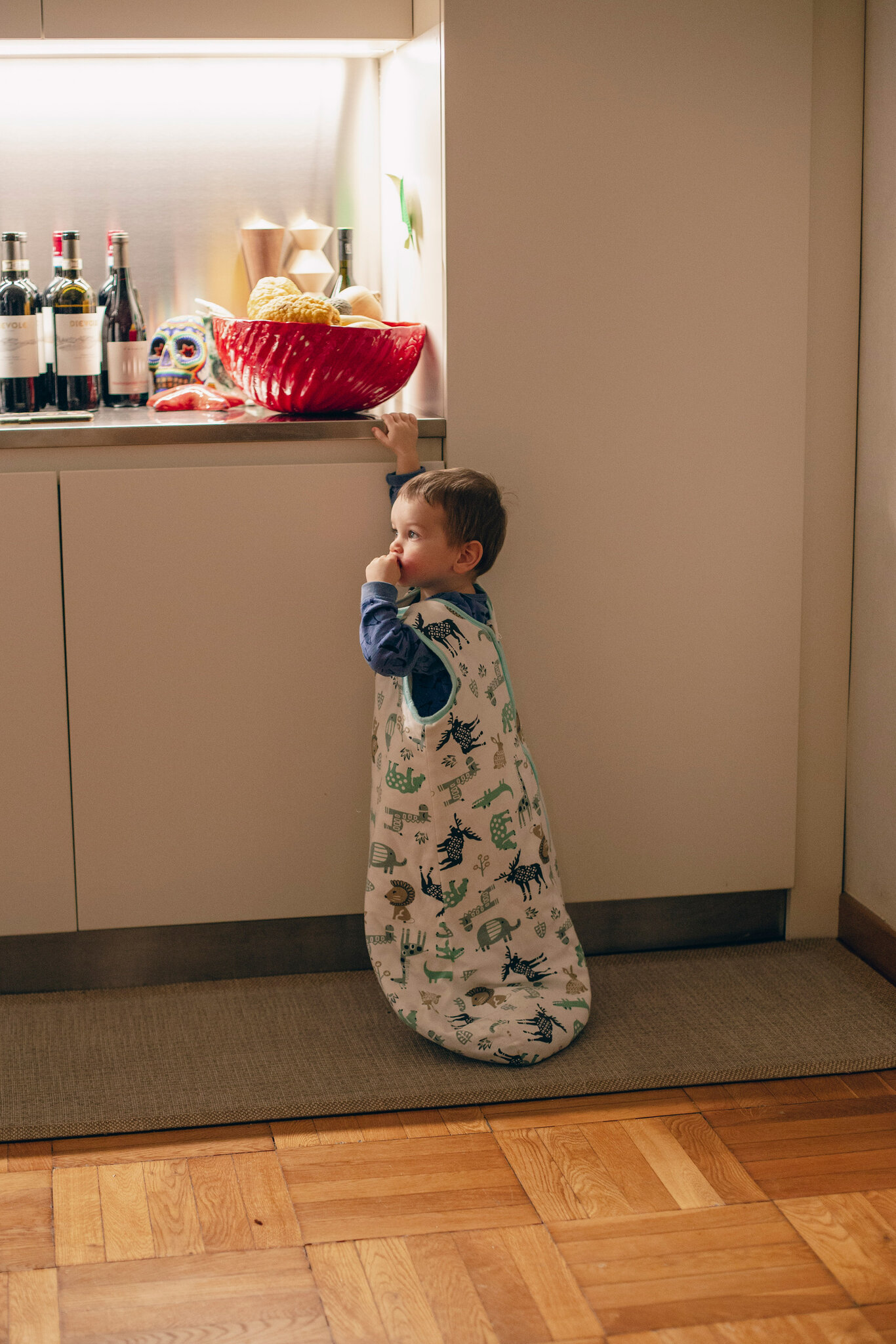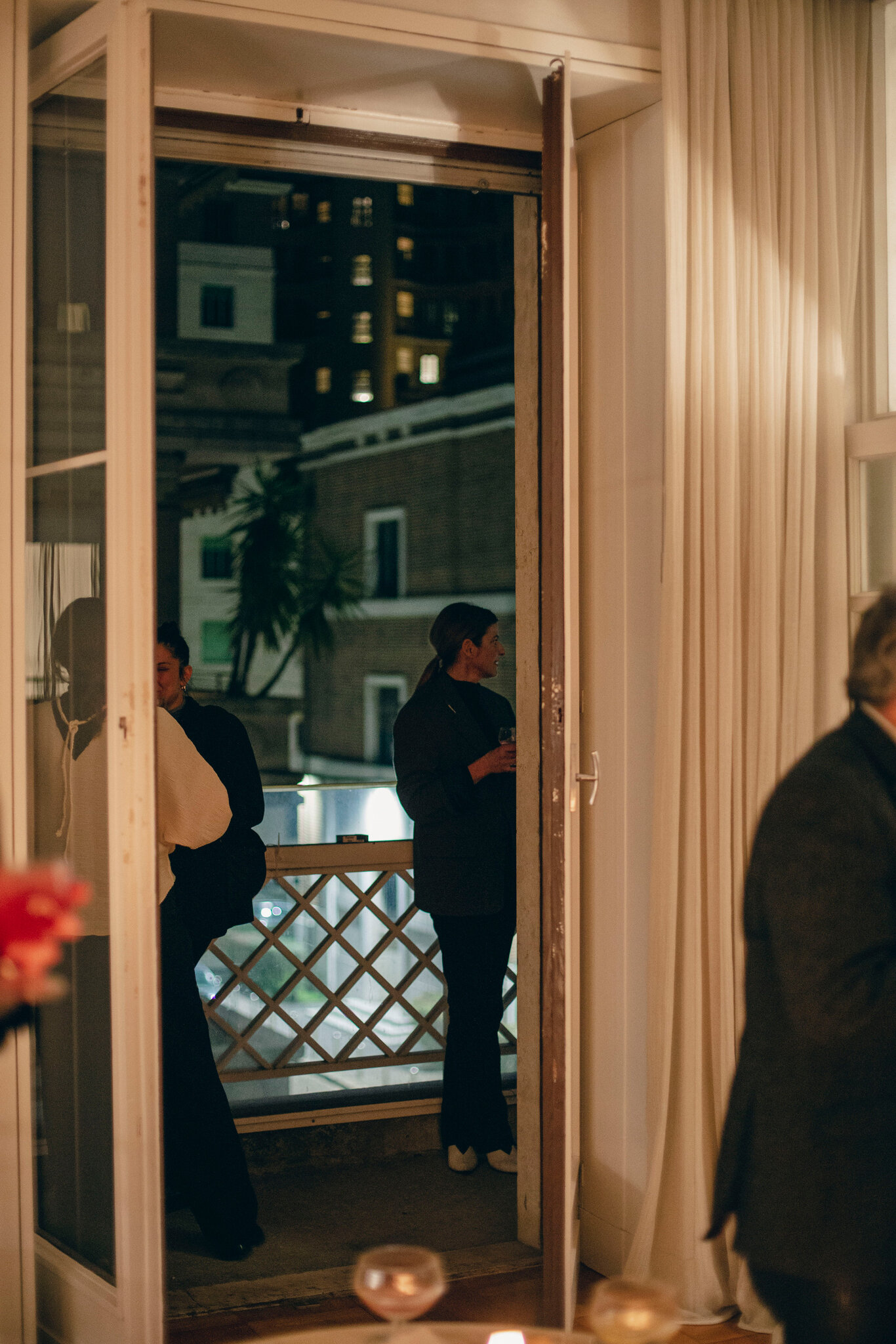 See more expert coverage from T Australia: