No-one did lockdown like the musician Nick Cave. Not the type to be content with using the isolation to perfect sourdough recipes or TikTok dances, he hurled himself into creative expression with a renewed intensity.
He filmed a solo concert, "Idiot Prayer" (2020), at an empty Alexandra Palace in London, elevating the oxymoronic — and very now — notion of a crowd-free show with elegant cinematography by Robbie Ryan (who shot Noah Baumbach's "Marriage Story") and a stripped-back performance at the piano that felt radically intimate.
He wrote a libretto for the composer Nicholas Lens' "lockdown opera", "L.I.T.A.N.I.E.S", and recorded and released a new studio album, "Carnage", with his Bad Seeds bandmate Warren Ellis. He somehow found the hours to collaborate on an upcoming book about his life, "Faith, Hope & Carnage", with the journalist Sean O'Hagan. Meanwhile, he nurtured his singular bond with his fans via his blog, The Red Hand Files, on which he fields a spectrum of no-holds-barred questions with thoughtful and candid essays. And he became a shopkeeper.
Cave Things, which launched online during those elastic months of 2020, is a boutique spanning the absurd, the obscure and the profound: obscene mugs, Elvis doodles, satanic milk jugs, devotional Polaroids, silk-screened artworks and spoken-word recordings about the human condition.
Collectively they're the "residue" of Cave's songwriting process, which he experiences as an uneasy state; if beloved songs such as "Into My Arms" are the butterflies, these are something like traces of the chrysalis from which they emerged, now given a strange life of their own.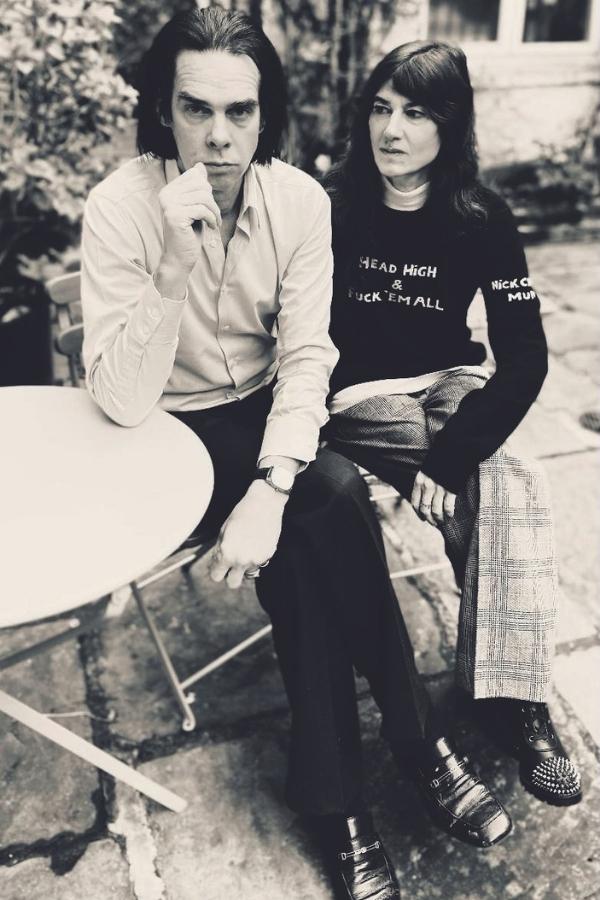 "During lockdown there was a good amount of idle time where I found I could action a whole bunch of ideas that had been running around in my head for years," Cave writes to T Australia in an email. "Cave Things was one of them. Like The Red Hand Files it began as a tiny idea, an impulse, really, and just grew from there."
Cave's thing about things predates his involvement with music. As a child growing up in country Victoria, he drew, painted, took photographs. "The songwriting started later, in the evil days of the Boys Next Door and The Birthday Party," he says, referring to the cyclonic years of his burgeoning career, in the 1970s and early '80s, when he fronted those formative post-punk bands in Melbourne, London and Berlin. His lyric notebooks are densely collaged and illustrated, palimpsests wriggling with doodles, tiny paintings and pastings from magazines, maps and art books. "I have always drawn my songs, amplified them visually, because they are primarily highly visual, disconnected, emotional images and lend themselves to that sort of thing," says Cave.
He adds that he is not a collector of objects, even as he is compelled to keep making them. "Cave Things is essentially my attempt to start up an online shop that deals in esoteric, subversive, funny and challenging [stuff] that you can buy," he says. "I wanted to create a shop that sold stuff I liked, that I was personally involved with — but that stepped clear of band merchandise." Cave Things, at its best, he says, "is a playful, insubordinate extension of the creative process".
For followers of the scowling high priest of murder ballads, items such as a Bunnykins-style child's bowl, printed with watercolour bunnies painted by Cave's own hand, can be a puzzle, as is a recent hint that he is busy crafting a collection of ceramic figurines — as in, those tchotchkes you might see arranged behind glass in a grandparent's living room.
"Actually, ceramics is an extremely difficult, dangerous and time-consuming business. It's serious stuff," he clarifies. "I am working on a large project that I will reveal when I think the world is ready. Ceramics is where it's at as far as I'm concerned. Seriously, ceramics has just swept me away. I am deeply committed to it." Cave has a pottery workshop in south London, but the bulk of the Things are born on a large desk in his office, which is decorated with a scattergunning of pictures, tear-outs and books — what he describes as a "big, self-absorbed 'artistic' space". Cave simply turns up in the morning and gets to work.
The online store and its Instagram account are natural channels for an artist who has confessed to creative impatience and a yen for aesthetic control. Asked if he intends to introduce new music via Cave Things, he responds, "Yes, I think so. I started releasing straight-to-vinyl things: a series of picture discs and a couple of very beautiful spoken-word singles, based on The Red Hand Files, of which I am immensely proud, one on 'Grief' and one on 'Shyness'. I have a very beautiful, bigger project coming up soon."
The words of the "Grief" single, "Letter to Cynthia", were written in answer to a fan's question on The Red Hand Files in 2018 about the death of Cave's son Arthur three years earlier, a catastrophe he has spoken about eloquently. "It seems to me, that if we love, we grieve," Cave intones to a backing track by Ellis. "That's the deal. That's the pact. Grief and love are forever intertwined." Shyness, he says on the single, "is the tentative sound of the orchestra tuning up before the symphony begins".
There are plans in motion to open a chain of bricks-and-mortar Cave Things stores, encapsulating, and perhaps wryly subverting, this particular cultural moment when lifestyle-as-brand meets a resurgence of artisanal crafts. Cave muses, "Well, it is no secret that Cave Things literally invented cottagecore and grannycore — the idea that the things we sell are made by my own hands and in small batches."
He dreams up the charms, constructs the Polaroid collages, paints the prayer cards. He makes the website videos, writes the (often hilarious) product blurbs and designs the silk-screened T-shirts. He conceived, wrote and illustrated the children's book "The Little Thing", which is printed by a group of monks in Copenhagen — and which is "going through the roof, by the way," he notes. "I even drew the Warren Ellis Pure Exploitation Egg Cup," he says of the breakfast crockery bearing a likeness of his bearded bandmate — because why not?
"With Cave Things I am creating an ever-expanding arena that is beyond merchandise but stops before art, where I can play, creatively, on my own terms — a place where I can generate a certain amount of dissonance, of noise, of general concern."
Together with The Red Hand Files and Cave's pre-Covid-19 tours, on which he encouraged an unfiltered dialogue with his audience, Cave Things signals a new era of connection, catharsis and creative unfurling for the artist. It is also a laboratory for freewheeling collaborative projects, such as the whimsical slogan cashmere jumpers he created with the fashion designer Bella Freud, a friend of Cave and his wife, Susie Cave. Also a designer, Susie is the founder of the celebrity-favourite label The Vampire's Wife, and Cave has said he runs every Things idea past her for creative feedback.
"I have been in constant collaboration with The Vampire's Wife since the beginning," he says. "The Vampire's Wife, Cave Things and much of the other stuff I do, even my lyrics, you know, is born from a kind of marital entanglement. Nothing is separate from the other. As far as I am concerned, they are all one and the same thing."
The current bestselling Thing? "I don't know," he says, "but I'll tell you what the worst-selling thing was: the pornographic Hyatt Girls Wallpaper," so named as the sketches were done by Cave on stationery in hotel rooms (any official association is even more unlikely than the notion of rock star as retailer). "That sold zero rolls for a while, mostly because it was so unbelievably expensive," says Cave, "but then an 'influencer' in America bought a couple of rolls and wallpapered her bathroom and now sales have picked up considerably."
Cave has called Cave Things both "overpriced" and "therapeutic", which is to say "expensive, but good for the soul". It's hard to imagine your local department store using either of those descriptors, but then only an auteur like Cave could dream up a children's range with a light profanity in the name, designed, he says, for "children who are feral, deranged, self-centred, chaotic and monstrous. There are a lot of them out there, I'm told." Just dropped: a comb featuring a sketch of Ellis' face, part of the relatively inexpensive Warren Ellis Pure Exploitation Series, which also includes a plectrum, "abusing Warren's high standing and respect in the music industry for commercial gain". That Ellis' likeness inhabits what Cave playfully calls the "bargain basement" of Cave Things clearly hasn't pushed the friendship: the two recently toured the United Kingdom together.
As live music makes a return and his store expands apace, you might wonder if Cave will struggle to so assiduously tend the garden of Things he sowed during lockdown. "Look, all I really want to do is make art, in whatever form that may be, and hang out with my family and friends. There is always time to do the things you want to do, if you really want to do them enough," he says. "Art makes its own time."
Cave Things is now part of the Nick Cave mythology, something like the gift shop in the museum of his fascinating mind. As one online commenter posted about Cave's music, he can "take you to that dark place and just hang out". We can now furnish that place with his dreams.
A version of this article appears in print in our fifth edition, Page 72 of T Australia with the headline:
"Nick Cave"
Order a copy | Subscribe