For Cathy Sparks, the commitment to sportswear giant Nike was forged as early as her teenage years.  "I had an aspiration in college, might even be back to high school, to always wear the brand," she says during a recent trip to Australia. "I wasn't a huge team sport athlete, but really into fitness and health and play tennis and from the south rode horses."
In college, Sparks studied marketing, taking note of Nike's strategy in the field. "I started paying attention to this brand that was talking to women in a way that I hadn't seen other brands do," she says. "It just struck me as emotional, and brilliant, and very different from what I was seeing other companies do." Sparks recalls flipping through a fashion magazine and tearing a full-page Nike ad from its pages. "I still have the ad, it's hanging in my office. And I said, 'I'm going to work for this company'."
When most students departed for Florida's beaches for spring break, Sparks took the advice of her mentors and started a retail position at a Nike store. "I loved it. I didn't actually think I'd have a career in retail for so much of my Nike career. But I truly loved being so close to the consumer."
Fast forward to 2023 and Sparks was recently appointed Nike's Asia Pacific Latin America Vice President and General Manager, a new chapter in a 25-year career with the brand. According to Sparks much remains the same – Nike's commitment to empowering female athletes – though a lot has also changed. The brand's financial investment in this year's FIFA Women's World Cup, for example, has increased by an undisclosed figure, and it's a bet that's paid off. Prior to the Matildas' first game in the championship, the Australian women's team reportedly sold more official jerseys than the men's team sold during (and since) their tournament last year.
Here, Sparks sits down with T Australia to discuss Nike's support of the Women's World Cup, the Athlete Think Tank, and the products designed to support the athlete in every woman.
How has the perception, or the appreciation of, women's sport and athletes changed during your tenure at Nike?
To start big, it's been incredible to watch the journey of women's sport and hero athletes that have really used their voice to take a stand for the promotion of women's sport and how it helps equity and mental health and physical wellness. And it's been really inspiring and amazing to be a part of a brand that's part of that larger story. And clearly, we're seeing women's sport leagues grow.
Within Nike, you know, I would say we've always been her biggest champion, always, and will never end that quest is to continue to be her biggest champion. And we've had a journey with women. We are the largest women's sport brand in the world, and we know there's so much more that we can do. And what I'm most excited about right now is just the pivot that I see us making to invest more deeply in our research to serve her with products that are specifically designed to meet her needs, to serve her really holistically.
Could you speak more to Nike's investments in women's sport?
Over the last couple of years, we've doubled our investment. We have the largest, we call it the Nike Sports Research Lab. But it is just incredible how what we are now putting into understanding all facets of how her body works, how she moves, how she sweats, how she recovers, and building product uniquely to that. We've got lots of new products that have just come out that are designed specifically for her.
Who are the athletes inspiring your world at the moment?
I have to start with our hometown hero with Sam Kerr. She's incredible. And you know, just to hear her personal story and how she's just, you know, I think a beacon of inspiration and hope for women in this part of the world is really incredible. But honestly, living now in the US and just having come from Europe, she her name is totally worldwide. Also Shelly-Ann Fraser-Pryce. Serena – just watching what she's going to do with the next phase of her life. One of the things that I really love that Nike is doing is taking all these incredible female athletes, we bring them together in something we call the Athlete Think Tank. We're on our third session of this right now. We bring them to campus and in our quest to serve women better, we're spending time in rooms like this, getting insights from them, co-developing product, thinking about ways to connect into communities in different ways. And the athletes I just mentioned have been with us on this journey. So, it's wonderful to see then what comes out of it and how we're using this you know, better model of collaboration to create the future of Nike but also the future of sport and the way that women you know, shape that.
Have you noticed an increase in women's jerseys being purchased during this world cup?
Absolutely. Since we started to launch the kits several weeks ago now. we have out-sold women's jerseys to the 2021 Men's World Cup.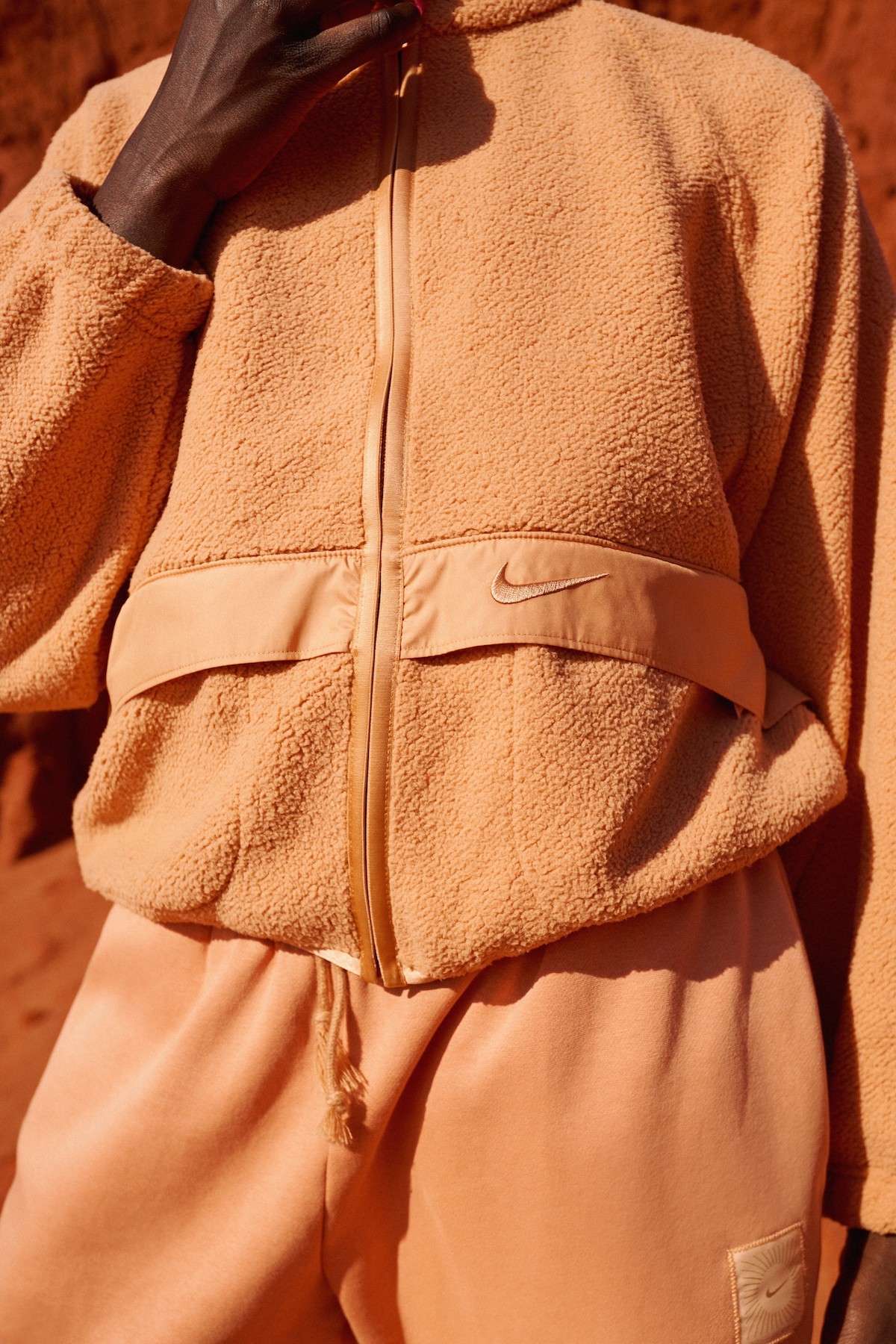 Nike's mission is to be the world's biggest champion for women and girls. What does that look like to you? How are you going to achieve this goal?
It's across several aspects. Obviously, we're going to continue to provide the world's best performance product for our athletes and making sure that the women that push all of us to reach new highs are going to be best served by the products and tools that we partner with them, so that they can play at their best. Equally as important is how we serve every athlete. Our vision is if you have it to bring inspiration and innovation to every athlete, and if you have a body, you are an athlete … As we look towards the future, our vision is to be the greatest champion for women in whatever way she experiences sport. Whether that's yoga or a marathon, we want to be with her on that journey.