When I first speak with Omar Musa, his head is still spinning with memories of the night before. Far from being in an alcohol-induced stupor (Musa doesn't drink), his mind is still clinging to the heady smells of Eid al-Fitr, an event that marks the end of Ramadan. Raised by a Bornean father and an Australian mother, Musa embraces the festivities. "We had a big Malaysian feast to celebrate the end of the fasting months; I was ready for it," he says, laughing. "All the aunties were out in full force. I was not going to escape without performing for them, so I ended up doing some raps about laksa, which felt appropriate."
A rapper, poet, author and visual artist, Musa is arguably one of most exciting creators in Australia right now. Drifting seamlessly between mediums throughout his career, he has released three poetry books, one novel and four hip-hop records, and has staged a one-man play, "Since Ali Died". His debut novel, "Here Come the Dogs" (2014), was longlisted for the Dublin Literary Award and the Miles Franklin Literary Award, and he was named one of The Sydney Morning Herald's Best Young Australian Novelists of 2015. Musa has spoken at TEDxSydney (and received a standing ovation) and, having recently taken up woodcutting, he's held several solo art shows.
Now, the 38-year-old is about to embark on a three-continent tour to launch his latest book, "Killernova", a collection of poems and woodcut illustrations that explore his heritage. "This book comes from a joyous, euphoric place, even though it deals with heavy issues," he says. "It was part of a process of personal regeneration after hitting the very low lows that I explored in my first novel, in my play and my album [also called] 'Since Ali Died'." 
In his early work, Musa focused on the darker sides of masculinity, as well as violence and death, earning him a reputation for speaking for the disempowered. It's a projection he "leaned into" at first but now rejects. "I look back and see that label was not representative of the privilege that I have had in my life," he says. "Really, I was a nerdy Muslim kid with glasses who liked writing poetry and drawing. And that's what I still am, just minus the glasses. I wear contacts now."
Musa relishes ambiguity but with so many mediums and concepts at play, his work tends to confuse critics. "People always want to be able to categorise everything," he says. "I even heard in the literary industry that as soon as the words 'genre defining' are applied to a work, it's like poison to a publicist. But when you break down the perceived barriers or walls between different genres and art forms, that's when you come up with fresh forms and fresh ideas."
He tells me about the time he appeared on ABC TV's "Q+A" , when one of the real-time tweets featured onscreen read: "Oh, this guy could be the young, hot, moderate face of Islam." That made him laugh. "I don't think I'm young, hot or moderate!" he says. Which begs the question: how does the genre-defying Musa see himself?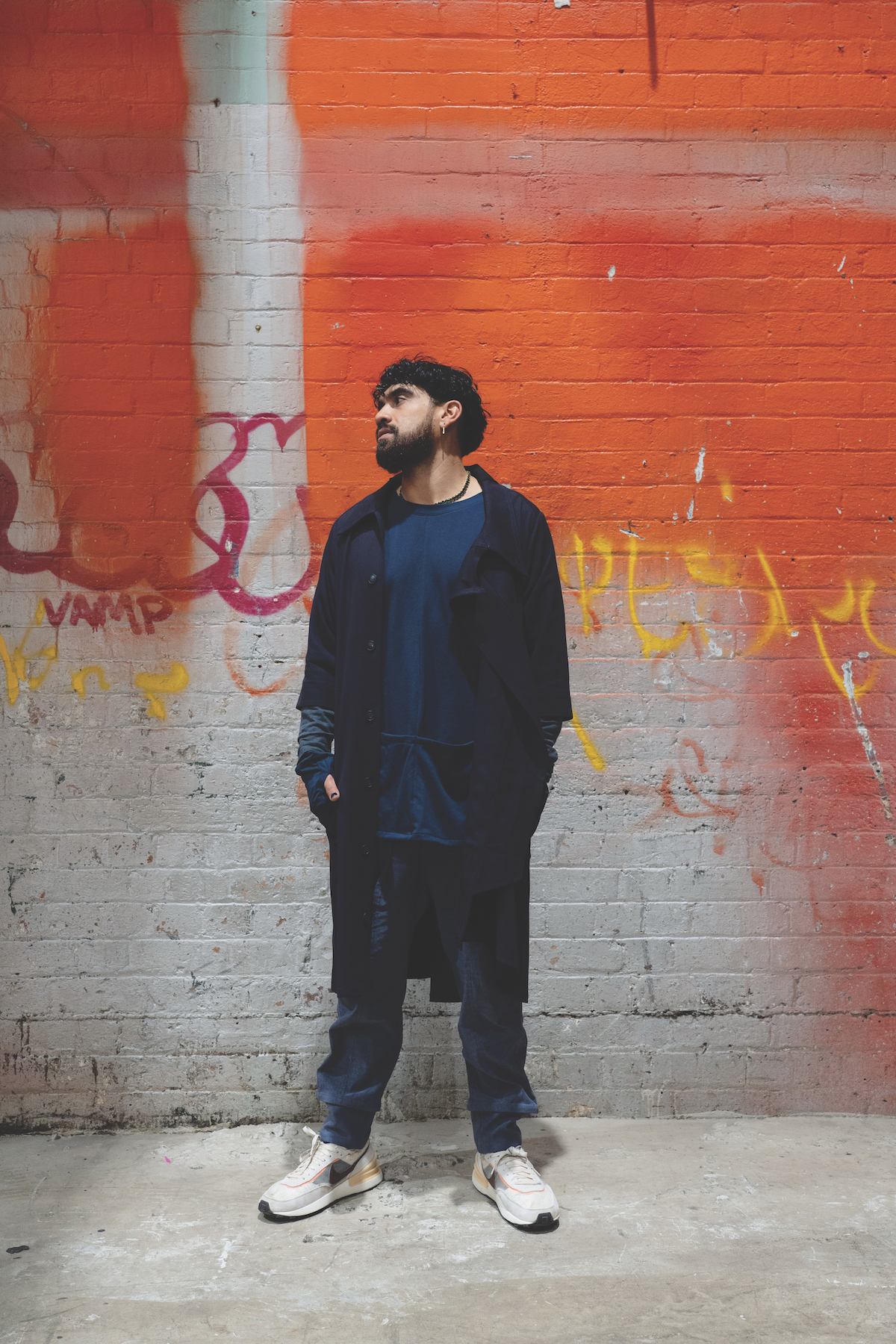 You're often described as a Malaysian Australian author and poet from Queanbeyan, New South Wales. Is that how you see yourself?
I'm just a dude who makes things. I've always loathed being categorised because I realised early on that it is disempowering; boxes diminish you as soon as you get put in them.
Where do you see yourself within the country's art scene?
I don't really think about it too much. I'm a force of nature, the likes of which has never been seen! [laughs] In terms of identity, it's such a complex matrix. I'm Asian Australian, Muslim Australian, Malaysian Australian.
Which work are you most proud of?
"Here Come the Dogs" makes me very uneasy because it was a different me that made it. I was in a really dark phase of my life and it's been a long time since I wrote it, but I've noticed that, eventually, all roads lead back to it and people want to know about it. I'm proud of it because I dedicated four years of my life to doing it and I used to have problems with discipline; I never thought I'd have the endurance to write a novel. But I think this new book is the best piece of work I've ever made because it comes from such a different place.
Have you always loved poetry?
Yes. Words, for me, are almost like a pressure relief valve. If I am feeling down or sad or frustrated, I can express myself through poetry and it somehow converts those feelings into something lighter. I constantly scratch down little images or phrases because we're surrounded by poetry. I might hear someone use slang that I find arresting or overhear a scrap of conversation. I'm visual in the way I take things in; oftentimes I will reverse-engineer a poem, story or song from an image, or even from a vision or hallucination. Then it's a matter of transferring that image into words — painting with words.
Has that passion ever waned?
Before I found woodcuts, poetry was this thing that was supposed to be my joy, but it suddenly felt like it was eroding me. When you are young, you think that the dream is to turn your passion into a profession, then when you actually do it — and you have to pay your bills and there's pressure from yourself and expectations from the outside — you start to maybe take yourself too seriously and forget that playfulness you had when you were a kid.
How did you overcome that?
Back in 2018, I was on this amazing arts residency that I was very privileged to have, in this thousand-year-old castle in Umbria, Italy. It should have been the most productive, creative experience of my life, but I was having a bit of a dark night of the soul. It was terrible. I felt more and more guilty that I'd been afforded this huge opportunity, but I just wasn't able to write anything. So after that, I decided to go on a river journey into the jungle in Malaysia to get in touch with my homeland. Soon afterwards, I started doing woodcuts, where there was no expectation for me to be any good. I just made work because I felt like it — because it brought me joy.
Who was it that introduced you to woodcutting?
It was a Malaysian punk rocker called Aerick LostControl from my dad's home town, who I met when I went to visit my family. One day I was performing at this arts residency and they were running a woodcut workshop. Aerick was there — he's this amazing guy with a big impish grin, tattoos and scars — and he taught me how to use the two different woodcut tools. For my first artwork, I carved a silly little leopard with its tongue poking out. And from that moment, I was addicted. 
You spoke at the Sydney Writers' Festival and the 2021 Byron Writers Festival. What do you think about the scene today, is it becoming more inclusive?
In the last few years, I've noticed a much more successful attempt to diversify the different types of writers they have, especially compared to when I first appeared on the scene. But at the same time, I don't think it's a good thing to get too complacent or to ever think that the job is done and dusted. Until there's more representation and diversity in the people who make decisions — the editors, the festival directors, the curators — it's not true diversity.
How do you approach your writing?
Right now, above my writing desk, there's a quote from the great American poet Elizabeth Bishop, who said that in her writing she aspired to balance three things: spontaneity, accuracy and mystery. I really like this because spontaneity speaks to that immediate visceral reaction that you might want to elicit in someone or that might spark you to write something. Accuracy is a bit more about form and structure, and then there's mystery. To me, that word hints at something sublime, maybe almost religiously ecstatic. And while I'm not a religious man, I was raised quite religiously and I do think that plays a part in the way I think of art-making.
Would you say there's a recurring theme in your art?
The idea of "borderless" is something I try to reflect in my artwork. Southeast Asia itself is this place of thousands of islands where there's all these manmade borders, but because it's ocean in between all these islands, the borders melt and dissipate as soon as they're drawn. I don't know if I'm drawn to that because I see it as reflective of me or if, over the years, I have chosen to reflect that with my practice and identity.
This is an extract from an article that appears in print in our seventh edition, Page 20 of T Australia with the headline: "At The Margins"