A canape is an opportunity for a chef to pack as much punch, flair, craftsmanship and balance as they can into a single bite. The word originates in France in the 1800s, where chefs and home cooks putt a savoury toppings on small pieces of bread. The result was said to resemble a person sitting on a sofa, or canape, in French.
In today's restaurants, the canape, hor d'ouevre or amuse bouche are like an elevator pitch that seeks to make the maximum impact in the minimum amount of time. They lean into big flavours such as anchovies that can be seen everywhere from Movida's famous one-bite wonder (with smoked tomato sorbet) to newcomers like Nick and Nora's lightly curried egg take.
"The best snacks should always pique the appetite, but not ruin it," says Melbourne chef and restaurateur Andrew McConnell, whose Trader House group of companies includes Marion Wine Bar, Cutler and Co and Cumulus Inc. "And of course, they always taste better with a glass of something cold and delicious in the other hand."
There have been a few bumps in the road of the canape from the 1800s to now – think 70s creations like vol au vents full of soupy mushroom filling and Fanny Craddock's terrifying boiled egg "swans" with pipe cleaners for necks and heads. Here, T Australia asks some of the country's best chefs for their favourite recipes for the canape season.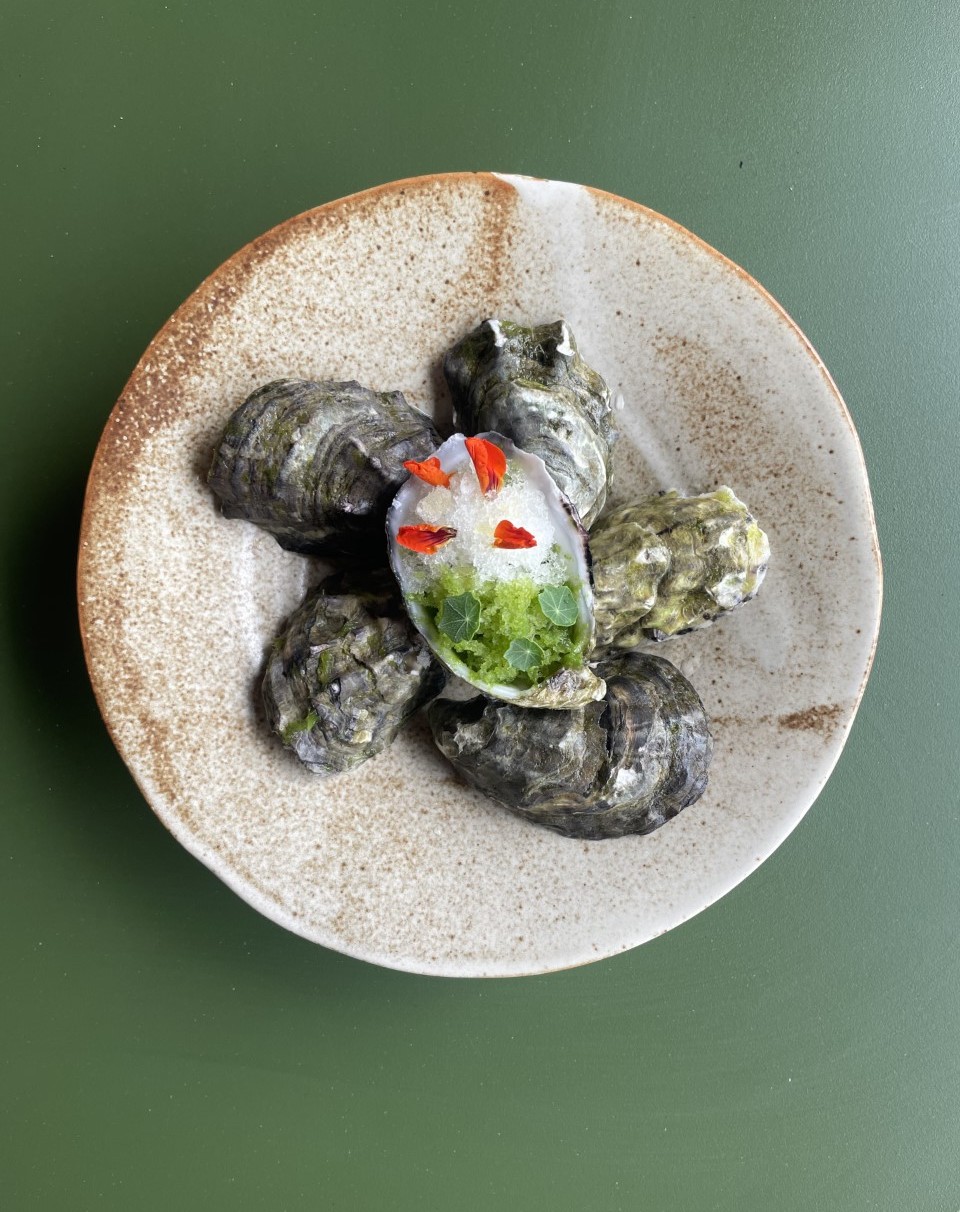 Marion Anchovy Toast by Andrew McConnell, chef and owner, Trader House (Marion)
Marion is McConnell's treasured Fitzroy wine bar, and the laidback neighbour to his flagship fine-diner, Cutler & Co. Inspired by McConnell's adventures in convivial bars and bistros across the world, Marion is a place to pause for a moment or to settle in for a relaxed session of eating and drinking.
This recipe for a simple anchovy toast is not overtly "cheffy" and perfect for recreating at home (makes 10).
Ingredients
1 x 50g tin Ortiz anchovies
1 White sourdough loaf
Salsa Verde
Pinch of espelette pepper
Pickled shallots
Lemon
Method
Slice the bread into small batons, about 2cm thick.
Brush with good olive oil, and char both sides over a hot grill. Rub each slice of grilled bread with a cut garlic clove.
Next, generously smear each slice of bread with salsa verde and top with fillet of anchovy.
To finish add a pinch of pickled shallots, a dusting of espelette pepper and a squeeze of lemon.
Oysters with green cucumber granita by Derek Boath, chef at Underbar
Underbar is an awarded, innovative and intimate restaurant that acts as chef Derek Boath's seasonal playground. Recently the restaurant moved into Hotel Vera, a boutique hotel in Ballarat from the team behind Hotel Ernest in Bendigo. Underbar has just 14 seats and produces dishes like Boath's "adult snow cone" – a bowl of first-of-the-season baby tomatoes with rainbow trout roe, shaved ice and nasturtium.
"I think the classic Australian summer canapé is oysters," Boath says. "Oysters need to be cold and I do mine with a salad of cucumber, tomato and nasturtium in the form or granita."
Green cucumber granita
6 Lebanese cucumbers
2 Granny Smith apples
20 large nasturtium leaves
Juice 1 lemon
Pinch salt
Pinch sugar
Method
Blend all ingredients.
Pass through chinoise pressing with ladle to get out all liquid.
Place liquid in 1/2 gastro tray and freeze overnight.
Next day scrape frozen granita to produce small shards of ice.
Reserve in freezer for later use.
Tomato water granita
10 large ripe tomatoes
20 nasturtium flowers
3 tablespoons red wine vinegar
Pinch salt
Pinch sugar
Method
Blend all ingredients.
Pass through a chinoise lined with cheesecloth Do not press this one as you want the tomato water to be clear as possible.
Place liquid in 1/2 gastro tray and freeze overnight.
Next day scrape frozen granita to produce small shards of ice. Reserve in freezer for later use.
Shuck fresh oysters and remove any broken shell or grit.
Place a teaspoon of each granita on each oyster and garnish with baby nasturtium leaves and a drop or 2 of agrumato lemon oil.
Eat quickly with a champagne, two.
Anchovy and tomato crostini by Nick Mahlook, Group Executive Chef at Public Hospitality Group
Public Hospitality Group's recently opened Oxford House (OH!) hotel in Paddington is Sydney's newest hotspot, featuring a Palm Springs aesthetic and pool parties soundtracked by local DJs. Executive Chef Nick Mahlook's go-to poolside snack is Oxford House's now-famous lobster roll with garlic butter, lemon mayo and chives on a toasted milk bun but he keeps things a little simpler when creating quick snacks for home entertaining.
"When I think of one-bite snacks, I think cold drink, feet up and relaxing, usually with friends so I like to make them simple, this is one I use regularly at home and it's easy!" he says. 
Ingredients
Sourdough baguette
Ortiz anchovies
Tomatoes (very ripe)
Butter
Extra virgin olive oil
Garlic
Parsley
Cracked black pepper
Lemon
Chilli (optional)
Method
Slice the baguette (anchovy size) and ½ cm thick, then thinly slice the tomato.
Lightly drizzle your bread with olive oil and in a hot griddle pan toast on both sides until you have a crunchy, slightly blackened crostini, while hot gently rub one side with a garlic clove.
Lightly butter each crostini, top with tomato, anchovy, parsley, then give them a small squeeze of lemon, a crack of pepper (chilli optional)
Pour a cold drink and enjoy.
Steak and oyster bite by Anton Eisenmenger and Tanya Bertino of Long Paddock
Eisenmenger and Bertino worked with top chefs in Melbourne and London including The Ledbury in London and The Botanical and Vue de Monde in Melbourne. A few years back, they left the frantic pace of fine dining in the city and returned to Bertino's hometown of Lindenow in Gippsland. The pair now use the incredible produce of the Gippsland region, the food bowl of Victoria, to produce hearty meals from an old shopfront right across from farm fields.
"The perfect snacks should be umami and salty balanced with sweetness and a wafer crisp bite," says Eisenmenger. "A snack that we love to make is a beer-battered oyster, on a little mound of steak tartare, on a crispy lettuce leaf wrap. The batter should be thin, shatteringly crisp and yeasty. The steak tartare should be fairly 'sloppy', with garlicky mayonnaise and plenty of hot sauce."
Method
Roughly chop some rump or fillet steak. Season with salt flakes and cracked pepper. Lube with olive oil.
Grate fresh horseradish as you desire. Grate lemon zest as you wish. Add some capers, fried or wet.
Finely chop some shallot and gherkin. Finely chop some chives. Mix all of this.
Shuck a few oysters. You can add some of the brine to your tartar mix if you wish.
Dry the oysters on a paper towel.
Blend some nori or laver bread with a small amount of mayonnaise or kewpie and put in a squeeze bottle.
Make a basic batter; spoon some tapioca flour and cornstarch together with a pinch of baking powder. Stir in soda water with a fork until sloppy and lumpy.
Prepare tiny cups or discs with lettuce of your choice with a teaspoon of the tartar mix in the middle. Squeeze a dot of the seaweed mayo on the tartar.
Lightly flour your oysters and dunk them in the batter. Lift them with the sharp end of a wooden skewer as you drop them into a shallow pan of hot oil.  (190 degrees C approx)
Fry until crispy. Remove with a sieve onto a paper towel. Season with salt and pepper.
Place on top of the steak and lettuce. Garnish with caviar or finger lime if you like and serve immediately.