Piero Lissoni is nothing if not precise. The 65-year-old Italian architect and designer micromanaged everything in his new Milan apartment, from the severe steel window frames to the irregular jigsaw pattern of the primary bathroom's Carrara marble floors. He is quick to point out that the walls of the apartment, located on a low floor of a 1950s high rise, are not merely white but something known as 9010, or pure white, according to a design-industry colour chart dating back to Weimar-era Germany. However, he equivocates when asked how he managed to make the two-bedroom, 230-square-metre home — marked by formal tableaus of austere objects and a palette that's best described as chilly — feel somehow cosy, before deferring, finally, to his wife, the 47-year-old Italian photographer Veronica Gaido.
Really, "she's the architect," he says, even though Lissoni works as the creative director of several Italian furniture brands, including B&B Italia and Living Divani, as well as Boffi, the kitchen and bathroom company, and runs his own multidisciplinary design studio with offices in Milan and New York. A tall, restrained native Milanese, he cites Italy's midcentury modern masters Achille Castiglioni and Vico Magistretti as mentors. But his latest home reveals a passion for the postmodernist work of his friend Ettore Sottsass, the Memphis Group founder whose 20th-century experiments — such as the multicoloured, circa-1986, Christmas tree-like Clesitera vase — look surprisingly discreet when sharing a space with Lissoni's collection of somber, ageless, centuries-old East Asian pottery. The designer also collects vintage Danish midcentury modern pieces, including the Poul Kjaerholm black leather daybed in the living room and the Hans Wegner Wishbone wooden chairs around the new glass dining table of his own design.
He and Gaido — whose oversize long-exposure photographs of a human torso and Chinese terra-cotta sculptures are the living room's main sources of colour — got married in December 2020, a few months before moving in. "We fought a lot about the floors," says Gaido, a lively brunette from Tuscany, where the couple have a summer house near Forte dei Marmi. "He wanted white concrete. But in the end, I won," she says, gesturing to the long-plank oak. Treated with a traditional combination of oil and wax, the floors have a "sculptural" quality, says Lissoni, who planned their pattern precisely.
But it's their softening, soothing hue that really distinguishes them. For his previous apartment, located in a 1950s building a kilometre away and finished before he met Gaido, Lissoni chose bright white poured resin floors. Many of the pieces in the new apartment are holdovers from that life, including the living room's Le Corbusier and Kjaerholm armchairs, pieces that might typically be seen in an office. But the oak floors, offset by a Moroccan area rug, give the sober furnishings a warm residential feel — "and they're comfortable to walk on without shoes," Gaido adds.
In a minimalist home marked by subtle combinations of distinct pieces, Lissoni aims above all for eye-catching repetition. "I don't like having an isolated object," he says. The living room's iconic armchairs each come in pairs, along with two nearly identical Donald Judd side chairs. Even the apartment itself is arguably two apartments: the one inside, divided between a bedroom wing and an open-plan common area that includes the living room, dining room and kitchen; and another space, out on the 280-square-metre terrace, which has two areas set off by a perimeter of star jasmine vines and allées lined in potted hornbeam. Modern Milanese apartment buildings, in homage to the city's historic fortresslike palaces, typically have garden-filled inner courtyards shared among the residents, while the apartments themselves often block the outdoors. A private green space like this, visible from much of the apartment, is a rare luxury.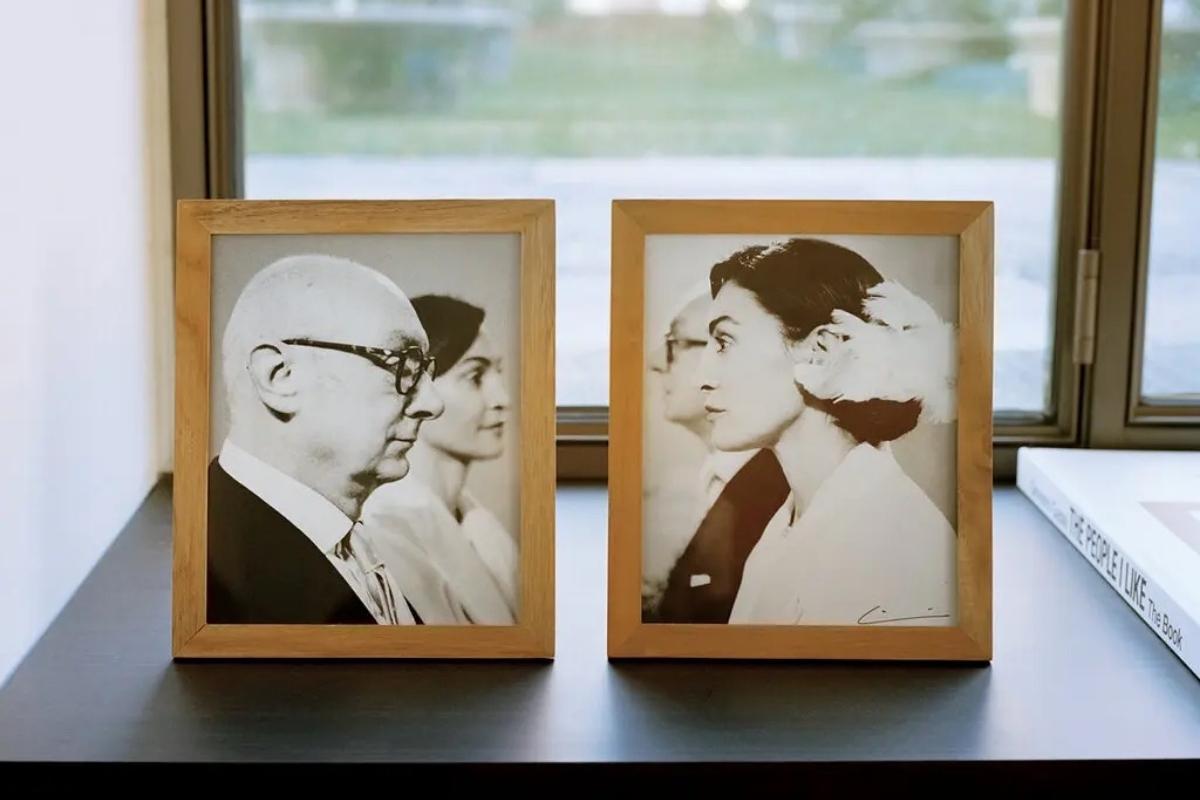 Both the apartment and the terrace needed gut renovations, says Lissoni, who knows little about the previous owners other than that they seemed to have abandoned it: The last incarnation of the terrace — which now resembles a small park, even on a rainy fall day — was a concrete ledge; the interior was divided into a warren of small rooms. Lissoni knocked down all the walls except the load-bearing ones, then added sliding glass screens between the kitchen and the dining room and a network of doors in the bedroom wing. The couple use the second bedroom as a home office, and the new doors allow them to open up the private areas to create a loftlike effect, or seal them off entirely.
The building itself is an oddity: an 18-storey brick-clad high rise designed in the early 1950s by Alessandro Pasquali, an Italian Modernist architect who flourished during Italy's fascist period. These days, with its massive masonry frontage and streamlined balconies, it vaguely suggests a Brutalist experiment from one or two decades later, but Orsina Simona Pierini, a professor of architecture at the Politecnico di Milano, Lissoni's alma mater, says it's rooted in the pre-World War II era, adding that the building's placement, set back from the street, creates a kind of island in what is actually the heart of the city. The building's unusual architecture reminds Lissoni of Le Corbusier's work from the 1940s and '50s; indeed, Modernism in all its forms has been a beacon for him since he started collecting high-Modernist design in the 1970s.
In the apartment's office, pride of place is given to Charles and Ray Eames's late 1940s La Chaise in white plastic. As elsewhere, surprising combinations abound. Just outside the main door, in the apartment's private entryway, there's a rare blue version of Sottsass's Ultrafragola mirror; beyond the threshold, there's a 300-year-old grey ceramic Chinese pot perched on a raw-steel stand designed by Lissoni. The primary bedroom's sitting area has a neo-Modernist 1980s armchair by the Japanese designer Shiro Kuramata and a marble-topped 1950s Eero Saarinen table, but the bed itself — for now just a mattress — is placed with precision on a rich blue Chinese rug made around 1900.
Such exactitude belies the fact that Lissoni likes to change his mind. The apartment has two anchor pieces — a monochromatic Japanese screen from the late 19th century, now in the hallway, and an 18th-century Japanese cabinet, currently in the living room — that the architect says he kept moving in his mind from room to room. Now, when asked what he'd change within the apartment, he says, "Everything."
However, he has unequivocal praise for one recent acquisition: a white ceramic pumo, an apple-esque ornament given to the couple as a housewarming gift. Considered good-luck charms in southern Italy, pumi usually come in pairs to be placed on either side of a home's front gate. Here there is only one, used as a centrepiece on the dining table. Though Lissoni had to give up on the idea of pure white floors, and even compromised with his wife on their new Living Divani sofa, which is off-white at best, he got his wish with the pumo, which is 9010, if it's anything.
Who knows how long it will remain on the table, though. One can imagine the homeowners continually re-evaluating and readjusting these artefacts, until the pristine apartment wears in a bit. Milan was hit hard by the pandemic, and that caused delays in finishing the home — which, in turn, gave Lissoni more time to experiment and redesign. "Luckily," he recalls, "someone said, 'Piero, basta!'" And so for now, at least, the home and its inhabitants stay still.