When the British designer Russell Pinch was 22, he spent a night at Sarabhai House, a Modernist villa designed by the Swiss French architect Le Corbusier and set within a 20-acre park in Ahmedabad, India. Completed in 1955, the otherwise severe brick, concrete and plaster building has a 46-foot-long concrete slide that leads from a first-floor terrace to the swimming pool below. Pinch, then on his first trip abroad and employed as an assistant to the British designer Terence Conran, a friend of the Sarabhai family, was enthralled. "The Indian textiles and carpets layered on top of a concrete masterpiece, with a jungle outside — I was blown away," he recalls. "I remember thinking, 'I want to live in a house like this one day.' "
Pinch, now 50, has as good as realised that dream with his latest project: a former ice cream factory in southwest England that he has reimagined with his wife and business partner, Oona Bannon, 50, as a richly textured, midcentury-inflected weekend house for their family. Set in a lush valley in Devon, a county known for both its untamed moors and its traditional afternoon teas, the home embodies the elegance and warmth of Pinch, the furniture and lighting firm the couple co-founded in 2004. Drawing on the minimalist shapes of Scandinavian and Georgian-era British design and using traditional, long-lasting materials, the company creates timeless, unpretentious pieces: a slim-legged black walnut version of an 18th-century English cricket table; a hand-sprung sofa with dainty oak feet and rolled arms.
The house in Devon similarly balances crisp forms, simple materials and the occasional more luxurious touch. Pinch discovered the listing for the property in 2013. The lot came with a dilapidated cob barn and the rights to build a house; it was one of three parcels of land being portioned off by an enterprising dairy farmer who had recently sold his ice cream business and engaged the British architect David Kohn to propose designs for converting several now-disused buildings into a residential community. Their interest piqued, Pinch and Bannon went to see the place, only to be told an offer had already been accepted. During the four-hour drive back to their terraced Victorian home in South London, which they share with their two daughters, Ada, 15, and Floris, 14, they convinced each other that it would have been too onerous an undertaking anyway — and in a location that was too far to travel to for weekends. But several days later they received a phone call: the farmer felt hopeful the couple would respect his vision and invited them to make a competing offer. "We looked at each other and said, 'Yes, please,'" recalls Pinch.
After two years of exchanging ideas with Kohn, what emerged was a plan for a 2,400-square-foot four-bedroom house arranged in a U shape around a central, Japanese-inspired courtyard. One side would incorporate the old barn — thought to date to around 1600 and the erstwhile home of the ice cream factory — and would accommodate two bedrooms. The new elements, containing an open-plan living area and two more bedrooms, would be clad with local red stone and inset with outsize concrete-framed windows providing uninterrupted views of the surrounding farmland. The roof and chimney would be outlined in reclaimed red bricks. For the floors, stairs, shelving and cabinetry, Pinch and Bannon chose honey-coloured planks of lightly bleached Douglas fir, which they ordered from the Danish manufacturer Dinesen and mostly installed themselves. "It was like the worst jigsaw puzzle of your life," says Pinch. "And it's actually a softwood, which I wouldn't recommend to a customer. But we like the patina and big knots, which give it such character."
By 2019, the couple had furnished a few rooms provisionally — with prototype furniture from their London shop, which had opened earlier that year, and secondhand pieces sourced from antiques stores in the nearby town of Ashburton. They began escaping there every other weekend, despite their initial concern about the distance from London. "We really needed to be in here to understand how we wanted it to feel," says Bannon. But one night in November, when the house was nearly finished, the couple were woken by a loud crack. Heavy rain had caused a flash flood, and not only was their kitchen under several feet of water but the poured concrete floor had risen up and buckled, leaving the dining table touching the ceiling light. Pinch and Bannon spent the next few weeks trying to drain the property. By the following March, Britain had entered the first of its Covid lockdowns, during which the project's original builders filed for bankruptcy.
In the aftermath of this upheaval, Pinch and Bannon returned, for reassurance, to a small balsa-wood maquette of the home that Pinch had made during the planning phase. "It was symbolic of our intention," says Bannon. "It was always about the promise of something in the future, not about instant gratification." And so even when a surveyor, assessing the wreckage, jokingly suggested that the couple turn the kitchen into a swimming pool, they were undeterred. They laid a complex new system of pumps beneath the kitchen, repoured the floor and slowly began to put their house back together. "We were so involved in it, we couldn't let it fail," says Pinch. "It was more than just a house."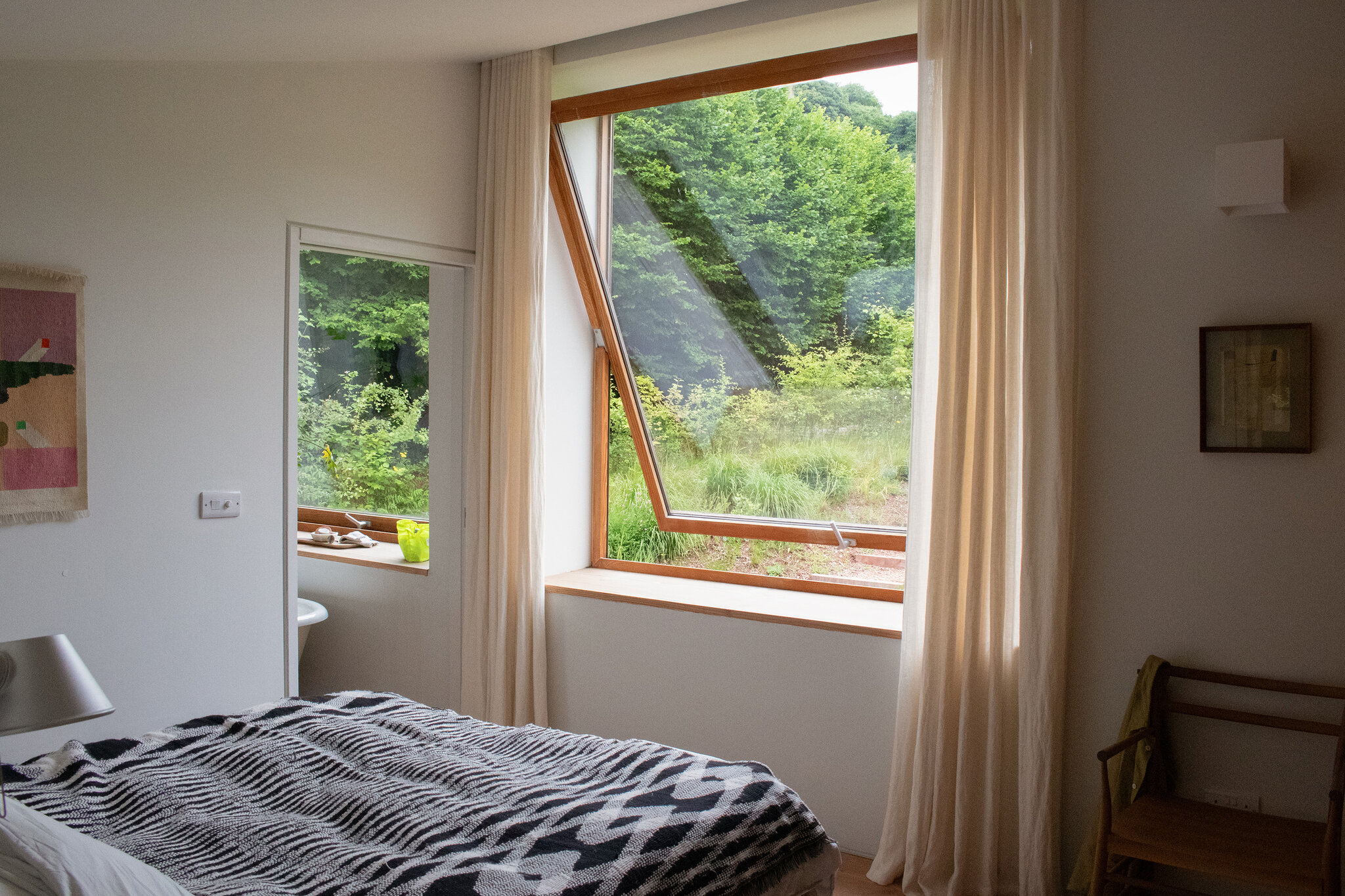 Today, visitors reach the home via a flagstone path that bisects the property's abundant kitchen garden — planted with cabbage, fennel and broccoli — and leads to its stainless-steel front door, a nod to the site's agricultural past. With expansive panels of glass connecting the various structures to each other and to the garden beyond, the building is a dramatic exploration of perspective. In addition to the Sarabhai House, which inspired the home's concrete floors and geometric forms, Pinch and Bannon took cues from Turn End, a 1960s modernist house in southeast England designed by the British architect Peter Aldington. Characterised by unadorned interior spaces and teeming exterior ones, that building convinced the couple to keep the cinder-block walls of their own home's new additions exposed, to install giant windows and to cultivate a riotous garden. "It's all about the views," says Oona. "From every room, you have a real experience of things growing."
The combination of concrete and glass could be austere, but the couple have softened the effect with sheepskin-strewn velvet sofas, rush matting and shelves filled with Japanese earthenware and potted Chinese money plants, creating a space that feels welcoming and deeply personal. The furniture is mostly of their own design, though there is the odd vintage piece, including a 1950s Rex chair by the Slovenian designer Niko Kralj, a French flea market find that now sits in the living room. Hanging from a kitchen wall are woven baskets from Greece, and above the dining table and in the upstairs bathroom are colorful abstract paintings by the Polish Swedish artist Agnieszka Barlow, a friend of the couple's, purchased from an exhibition of her work at the Pinch store in London.
From the old barn, whose bedrooms are occupied by the couple's daughters, a wide windowed corridor leads past the central courtyard to the main open-plan living space. Down a couple of steps, a library and seating area with a dramatic high ceiling and recessed fireplace give on to a sunken kitchen and dining room where, in late May, golden light streams through a continuous band of windows, offering views over a one-acre wildflower meadow that slopes upward from the back of the house. In the upstairs bedrooms and bathroom, picture windows frame the woodland and fruit orchard beyond. The couple worked with the British landscape architect James Hamilton on their plans for the grounds, establishing almost 3,000 plants and more than 500 trees, including sessile oaks, field maples, goat willows, walnuts and bird cherries.
Spending vacations and long weekends at the house has introduced a gentler, more freewheeling spirit to the couple's professional output. Their company's round yew Roden table, one of which anchors the home's Douglas fir-clad library, has a chunkier profile than most of Pinch's pieces and was designed with that room in mind, as was the large, globe-shaped, plant-fibre Soren lantern that hangs above it. Pinch and Bannon describe their house as "kind" and "gentle," and the slower pace of life it invites, with its intimate corners for reading and daydreaming, feels soothing. Days here begin with walks to a nearby cove for a swim, followed by a seafood lunch on the raised terrace, and end with drowsy evening soaks in the cast-iron roll-top bath. "Time," says Bannon, "takes on a funny quality here."