Porsche's track record with internal combustion engines is arguably the best in the industry. Since 1931 we've been blessed to listen, feel and smell a smorgasbord of powerplants that have propelled the iconic silhouettes from race tracks to restaurants with freakish reliability. But with the inevitable transition to electric vehicles (EV) well and truly underway, it was only a matter of time before the German marque unleashed its first EV: the Porsche Taycan.
While the "entry-level" Taycan was first unveiled in 2019, its demand has been so emphatic that three years on and many variations later, the 2022 version is still as popular as ever. The base Taycan differs from the other models in the range due to its single electric motor on the rear axle (rear-wheel drive), as opposed to its older sibling's sporting dual electric motors for all-wheel drive. It gets Porsche's 800-volt architecture (usually 400-volt on most EVs) powered by a 79.2 kWh battery capable of 369 km of range. Still, if you suffer from range anxiety and do a lot of long-distance travel, Porsche's performance battery plus (93.4 kWh) will extend your kilometres between charges all the way up to 434.
Driving the Taycan is absolute bliss. With such a low centre of gravity and Porsche's infamous chassis development, the sports sedan effortlessly slingshots from corner to corner with poise and predictability. Acceleration and overtaking are clinical, thanks to the 345 Nm of instant torque on tap, and while there are faster variations in the Taycan lineup, the 5.4 second 0-100 km/h from the younger sibling is still blisteringly fast.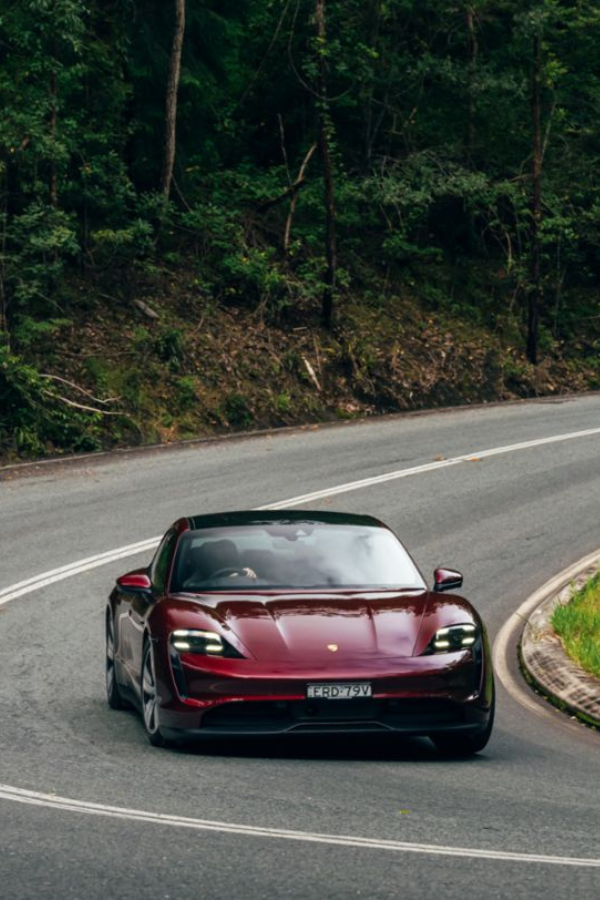 Charging the Taycan is intuitive, with a port in front of each side of the front doors. Using a regular wall-plug, the standard battery will go from flat to fully charged in eight hours (11kW), but if you want to go from 0 to 100 real quick, then we'd recommend the optional three-phase 22kW charger. Of course, rapid public charging is available in most Australian cities (and some towns), and Taycan owners receive a complimentary three-year subscription to Chargefox's Ultra-Rapid network.
It's quite rare in the motoring world that an entry-level variant performs so well, but in the case of the Taycan, Porsche may have done too good a job. It looks the part, handles beautifully, oozes build quality, and while all-wheel drive is desirable in some circumstances, with such a clever differential and crafty electronics on board, the rear-wheel drive Taycan is as sure-footed as they come. Of course, there are more affordable options out there from other manufacturers, but none of them can quite match Porsche's ability to "get" the driver. In terms of electric cars, the Porsche Taycan is a genuine ace of base.
Tasting Notes:
Exceptional build quality
Engaging driving dynamics for an EV
Intuitive interior
Cherry paint job pops
Ample front and rear legroom
Needs Ripening:
Rear headroom is tight for anyone over 190cm
Gear selector takes some getting used to
Size might cause parking issues in tight environments
Carpark credentials:
A plethora of sensors and cameras have you covered from above, below and everything in between; however, the sheer size of the car meant that we had some overhang when we attempted city parking.
The second glance:
We encountered a couple of "Porsche points" and a pragmatic "I like your car" from an eight-year-old tennis prodigy.
If this car was a person:
Ilse Knott-ter Meer in her Sunday best.
Fact Box
Price: $159,700 plus on-road costs
0-100 km/h: 5.4 seconds
Top speed: 230 km/h
Available: Now from dealerships