For the chef Ahana Dutt, a passion for cooking can be traced back to her mother. "My mum is a great cook, and a lot of my childhood was spent helping her in the kitchen and tagging along for market visits," she says. "Deciding to become a chef was a natural progression."
When Dutt, the head chef at the newly opened Raja restaurant in Sydney's Potts Point, decided to pursue cooking as a career, some around her wondered if she would come to resent preparing food for others. "It can happen. When you love something so much, you could end up hating it if you had to do it day in and day out," she says. "But I believe that the corollary is also true, that you can truly excel at something that you are so passionate about."
Here, Dutt sits down with T Australia to talk about her journey to Raja (the sister restaurant of next-door neighbour, Ezra), her current favourite flavours to cook with, and her recipe for ricotta jilipi with pistachio sabayon.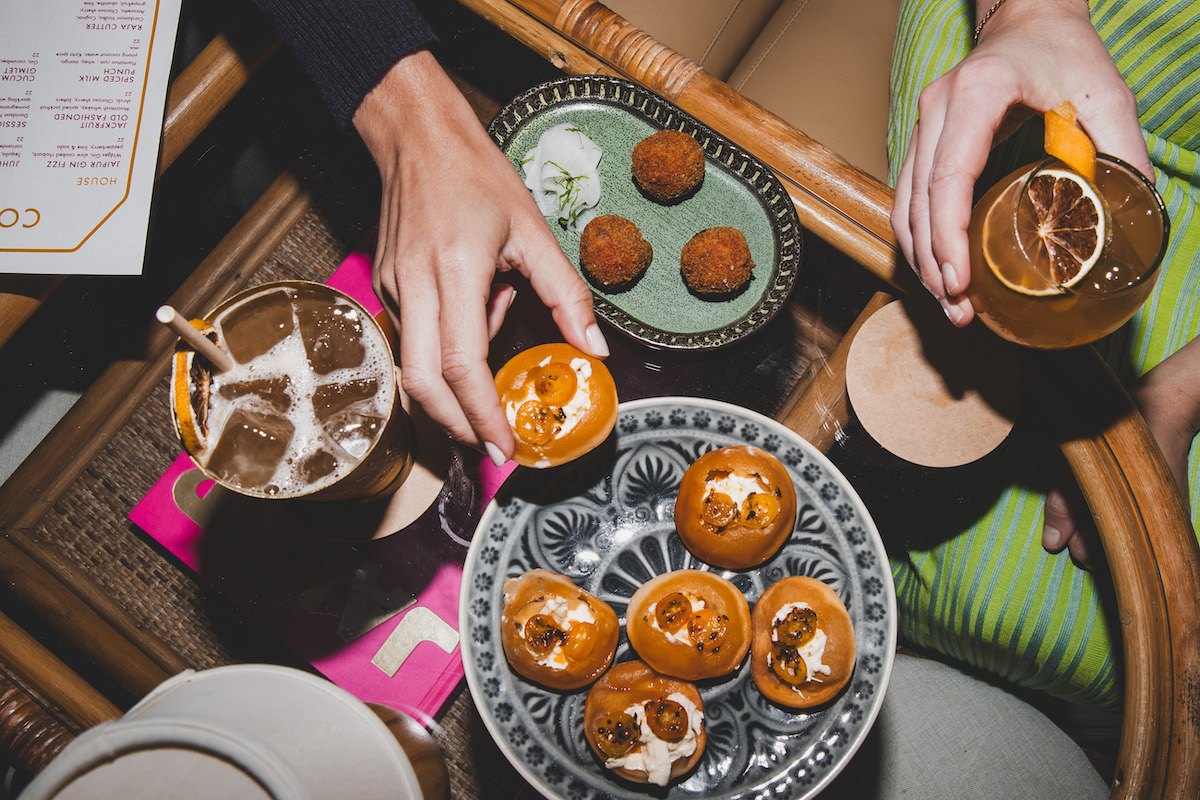 On her path to Raja…
Before Raja I was at Firedoor for 6 and half years. I joined there as a student and
worked my way up to sous chef. A lot of who I am as a chef and the way I cook is reflective of my time there.
On maintaining drive…
It's not easy, but for me, at the end of the day it is the people who I am cooking for
and the people who I am cooking with.
On unwinding after service…
Almost every other day I talk to my mum on my way back home. Music, definitely! A
glass of chilled red helps too.
On her current favourite ingredients…
So many things! Beautiful Romanesco from Moonacres, purple sprouting broccoli from Newcastle Greens, puntarella from Ramarro Farm, Queen scallops from South Australia. I could go on forever. We are very lucky to be working with some amazing producers. I am also really enjoying mixing traditional Indian flavours with native Australian ingredients (desert lime kasundi, native citrus pickle).
On cooking at home…
I cook a lot at home actually. It is such a big part of self care for me. My go to meals range from dal, rice and fried fish to congee to kimchi jjigae. As long as there is rice, I am sorted.
On what excites her about her work…
I feel an immense sense of pride and gratitude to be able to represent Indian cuisine in the way that Raja is. It is a job I take very seriously. I am cooking my food and there is nothing more exciting than that.
On the other venues on her radar…
I went to Longshore a couple of weeks ago (and then again the following week) and was absolutely floored. Everything was beautiful, well executed and just delicious. You could tell that they've put a lot of care in the quality of produce they use. Plus Jarrod and Dorothy do hospitality very well.
Raja's Recipe for Ricotta Jilipi with Pistachio Sabayon
Serves 2
Ingredients for Jilipi
22g semolina
30g milk
190g ricotta 
30g mawa or milk powder 
2.5g baking powder
4g powdered sugar 
26g flour 
Ingredients for Sabayon
6 Egg yolks
135g Sugar
90g pistachio butter 
150ml cream  
Ingredients for Cardamom Sugar Syrup
500g caster sugar
1L Water
4 cardamom pods
Grapeseed oil for deep frying
Flaky salt to taste
Toasted pistachio for garnish
Method
Jilipi
Soak the semolina in milk and set aside.
In a mixer add the remaining ingredients for the jilipi and beat together using a whisk attachment. Whisk in the soaked semolina.
Rest the mixture for half an hour minimum, before transferring to a piping bag.
Line a tray with baking paper.
Cut a 1 inch hole in the piping bag and make spirals, about 6 cm in diameter.
Rest in the freezer.
Bring any neutral oil to 180 degrees and drop in the frozen jilipis. Fry till dark golden.
Sabayon
Place the egg yolks in an electronic mixer bowl with a whisk attachment.
While the mixer is on 9 speed 4, rain in the sugar.
Keep going till the mixture becomes pale and fluffy. Add in the pistachio butter.
Once the butter is incorporated, add in the cream and whisk till soft peaks form.
Cardamom syrup
Bring the sugar, water and crushed cardamom pods to a boil and simmer for 10-12 minutes. Reserve.
To serve
Soak the fried jilipis in the sugar syrup.
Dollop some pistachio sabayon in the middle of a plate. Place a soaked jilipi on it.
Add toasted crushed pistachio on top and finish with salt.
More mouthwatering coverage from T Australia: