Zoom isn't kind to most of us; the computer screen does nothing for our skin tone, our eyes look dull, and our hair tends to blend into our background screensaver. Rosie Huntington-Whiteley, however, seems to have been made to be seen on screen. Her skin looks clear and smooth, her hair is perfect and her eyes are laser focused. Sure, she may have been doing interviews for hours already in three different time zones, but to look at her, you'd never guess.
That's part of the reason, of course, the 34-year-old English-born model and actress has graced international magazine covers, runways, and fashion shoots for the best part of a decade. So after playing such a pivotable role in the fashion and beauty industry for so long, it makes sense that Huntington-Whitely is now launching her own beauty range in collaboration with clean beauty advocate Caroline Hadfield (and Amyris, a leading synthetic biotechnology company).
Rose Inc. (available online and at MECCA) is a beautifully packaged, thoughtful, and sustainably focused clean beauty range consisting of nine products: a serum, a clarifying toner, a lip crayon, a brow gel, a concealer, a lip and cheek cream; two make-up brushes and a reusable cotton pad. "It's been really important to me that we're transparent [with Rose Inc] and that we define what clean beauty means to us as a brand," she explains. "So, if we're going to use certain terms, let's speak to them with authenticity and transparency."
Huntington-Whiteley, who is pregnant with her second child, first started thinking about clean beauty when she was in her early twenties. However, it wasn't until she was a new mum with her first child Jack that she really considered what products she used on her skin. "They're such pure little things; it starts to make you think 'what about my approach to my own beauty routine?'" she says. "I just want to be mindful and understand what I'm using. I really look at ingredients; I question what a brand's standards are, as well as the marketing terms they use. I'm a little shrewder than I used to be."
And if online behaviour is anything to go by, she isn't alone in wanting clarity from her skincare. A recent Nielsen survey found over 65% of people are looking for beauty products that are "clean", and 59% seek out products that are "natural and organic". Even that all-seeing marker of demand, Google, has registered 40% more searches relating to clean beauty than five years ago. "I think [clean beauty] is just going to be what the industry and consumers demand," says Huntington-Whiteley's business partner, Hadfield. "So, with Rose Inc. we focused on sourcing very high-quality ingredients from companies where we're able to see the whole custody of supply chain."
Hadfield brings with her years of experience in the beauty industry – she's held high profile positions with LVMH, Sephora, and The Body Shop, and founded clean skincare company Biossance. It's a background, she says, that matches Huntington-Whiteley's skill set perfectly. "Rosie is just so natural and quite humble, even though she doesn't think so. She is very modest," she says. "And from the first time we met there's just been an energy between us probably cause we're both English, but also an acknowledgement of what each other can bring to the table."
To understand the brand a little more, T Australia sat down via Zoom with Rosie Huntington-Whiteley to talk about the launch, building a brand during a pandemic and how she'd like people to feel when they wear her products.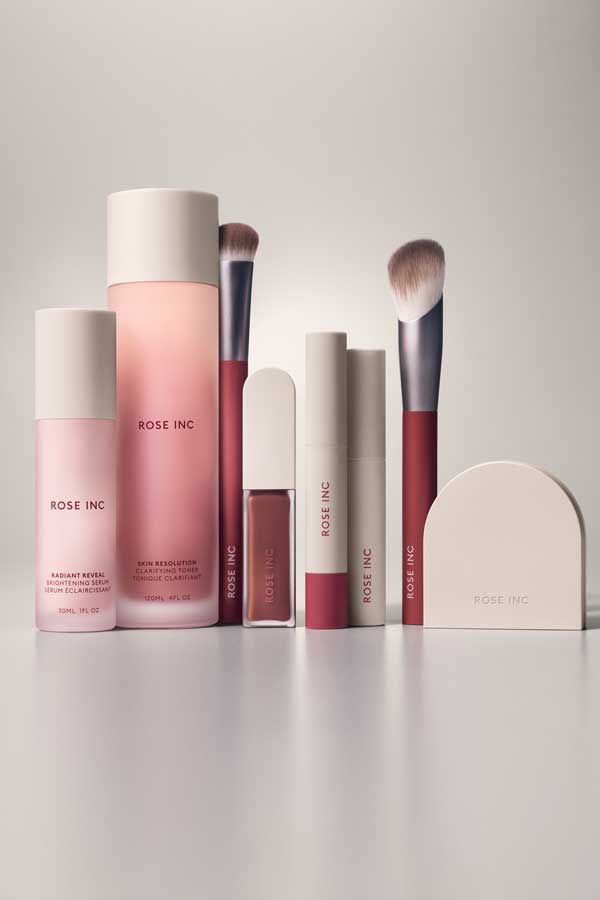 When did you first start getting interested in clean beauty?
"I've always been interested in clean beauty; I think it probably goes back 11 or 12 years ago. My boyfriend's mother was an real advocate for organic food and she grew her own vegetables and that's where I started to learn about conventional versus organic. And I had grown up on a farm as well, and it was very much 'grow your own' in terms of the food that was put on our plate as children. Then I made a shift over the last 10 years or so with the products that we use within our household. When I was pregnant with my son, I started to do a lot of research. It's interesting when you hold a new baby in your hands, you are so much more aware of not only the products that you have sitting on your skin, but the products that you're going to apply on them, including the SPF that you're going to apply."
Why did you choose to partner with Caroline and Amyris?
"Well, what was exciting about partnering with Amyris was the clean science, the bio-engineered technology and the bio-engineered ingredients that come from the Amyris labs. It's just about understanding what each ingredient does and how it's working for you (or perhaps against you).
And as for Caroline, she really encourages me to ask questions and is always there for me at the end of the phone line. She's just a great ally to have, because it becomes such a personal relationship building a brand. You get to know each other's families and movements so it's important to have someone that you can really trust, and who is really supportive to what's going on in your life."
And what is it like launching a brand in a pandemic?
"There's been many silver linings and there's been many complications. When Caroline and I first set out the work we were doing, we talked about sustainable packaging, formulations, and makeup products for skincare benefits. But then we saw the shift that took place; it was a move away from very dramatic makeup looks and more towards products that made you feel pulled together for a Zoom call. So, when COVID hit, it made us go back to those initial pillars and build more equity into them.
It's also been wonderful for us to really focus heavily on the digital aspect of our brand and the e-commerce sites, because we know that that's just going to be super important. Covid fast forwarded the way people consume and purchase [products]. Having said that, I still love to go out and buy products in stores and retail outlets, of course, and it was super important to me that Rose inc has retail partners, such as MECCA, where you can really go and feel and experience the brand. But the digital aspect has to be there across the board as well.
Some of the challenges have been supply chains and factories closing down; I mean, every road leads to COVID at this point. Whereas we might've had a big flashy launch event, we're now looking at putting that time and energy and expense into different aspects of the brand."
What do you feel is the most underrated Rose Inc. product?
"That's a good question. I think the brow product as people might want to initially go for something that they feel is going to give them instant results, like a blusher or bronzer. But brows are often overlooked as a feature on our face. We never really think about the health of our brows and our eyelashes, so it's important that the products we are using on them every day are replenishing and nourishing. For me, if I don't wear a scrap of makeup, which happens rarely, but when I head out to the gym in the morning and I don't wear any makeup, I always fix my eyebrows. It's just my pet peeve to have a scruffy undone eyebrows. So, I'll always wear a clear brow gel just to get me out the door."
How would you like people to feel when they wear your products?
"Hmmm… I want them to feel empowered and I want them to feel they can define their own beauty standards by using our products. I want them to feel nurtured and nourished; I want them to feel creative; to build their own unique looks with no rules attached. For me, there is beauty in just being yourself and being in the moment, and just taking that time to come back to yourself."