This year, Milan's Salone del Mobile design fair, which concluded on Sunday, returned to its prepandemic schedule. It was a welcome change for attendees, who were able to take in not only a vast array of furniture and décor but also the beauty of spring in Italy. (Last year's fair was postponed and happened during a particularly sweltering June.) Glimpsed from crowded sidewalks, the city's courtyards looked more verdant and welcoming than ever. And the week's events and exhibitions had a similar appeal, offering access to spaces that aren't always easy to see — T's annual Salone party, for example, gave guests the chance to wander the Villa Necchi Campiglio at night — as well as moments of unexpected enchantment. Here, a few things that left a lasting impression.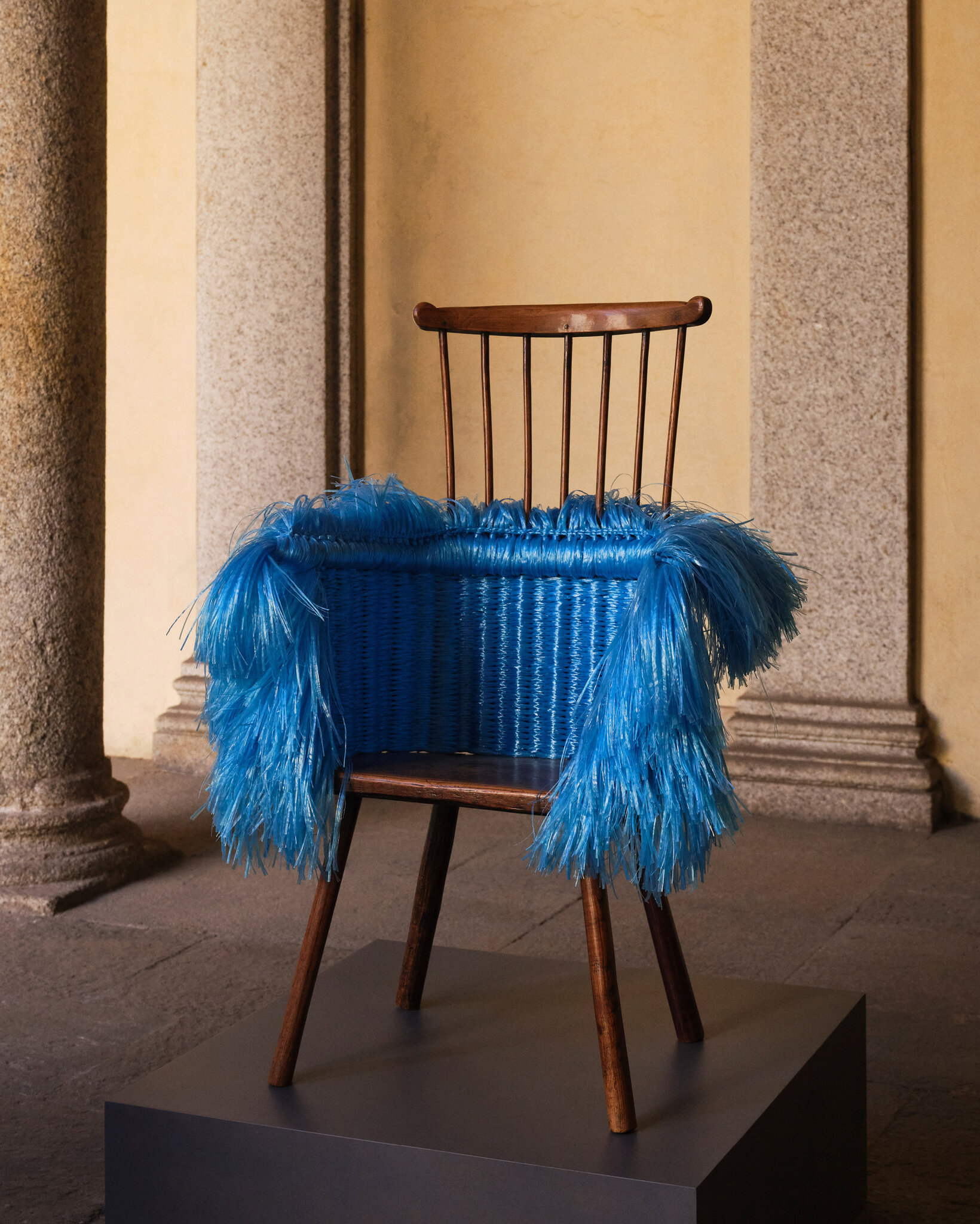 Festive, Textured Chairs by Loewe
In the neo-Classical courtyard of the 16th-century Palazzo Isimbardi, at the centre of which stood a crop of sculptures depicting oversize mushrooms, the Spanish fashion house Loewe displayed a collection of chairs on small navy, red and grey pedestals. Among them were 30 stick chairs — mostly antique, with jaunty splayed legs and spindle backs — that had been embellished by the brand's creative director, Jonathan Anderson, in collaboration with several artisans. One was covered in lilac and moss green felt, another with loops of raffia in the shades of Funfetti. There were also eight wicker-like chairs created by the Belgian furniture maker Vincent Sheppard using a technique, invented during World War I, in which paper is wound around metal wire and then machine woven, producing a material hardier than its closest aesthetic counterpart, rattan. On one of these, the mushroom theme arose again: The seat was painted to look like a Fly agaric, red with irregular white dots.
Atelier Luma's Material Experiments
The Arles, France-based design and research lab Atelier Luma brings together biologists, artists, farmers and engineers to explore sustainable materials. The stars of its presentation at Alcova — the sprawling contemporary design show that this year took place in the ruins of a former abattoir — were a series of brightly coloured cylindrical stools made of recycled bioplastic, microalgae and plant materials; lightweight but sturdy, they can be stacked to achieve a desired height and doubled at the fair as hand drums for several small children. The lab also displayed other experiments, including towering columnar floor lamps formed from compressed salt embedded with LEDs and a yurtlike pavilion covered in brown felted wool that was intended, according to the wall card, to showcase the material's "aesthetic and sound-absorbing properties."
Lucia Massari's Candy-Like Lights
The Italian designer Lucia Massari was born in Venice and, after some time in London, where she studied under the designers Martino Gamper and Jurgen Bey at the Royal College of Art, she established a studio in the city in 2013. For Salone, she collaborated with multiple Murano glassmakers on a few installations. Her bulbous Animalier vases, which call to mind melted fish bowls, with handles in bright primary and pastel shades, were on view as part of Dolce & Gabbana Casa's Gen D series. At Alcova, she presented a standing lamp with two faces, each with light bulb eyes and a wreath of glass flowers. But most mesmerising was Toppings, a collection of pastel coloured pendant lights shown at the gallery Nilufar Depot that are curved like caterpillars and decorated with glass curls that themselves are fringed with petals. Massari said she was inspired by candies and buttercream frosting when she dreamed up their design.
Dimore Studio's Cinematic Rooms
At their new Dimore Centrale headquarters and gallery, which opened during last year's fair, the Dimore Studio designers Britt Moran and Emiliano Salci presented a set of scenes that combined vintage furniture with their own pieces, each one with a distinct narrative and aesthetic. The first four spaces — including Ambulatorio a Chicago (Clinic in Chicago), meant to evoke a therapist's office, and Pied-à-Terre con Vista Napoli (Pied-à-Terre With a View of Naples), adorned with handmade teal tiles — could be viewed only through holes in their walls. There were windows into the fifth and largest room, which was inspired by the works of the Modernist architects Marcel Breuer and Ludwig Mies van der Rohe and included pieces by them: a wicker D52 armchair by Mies van der Rohe and a cane Breuer desk chair. The studio's new carpet designs, created in collaboration with the French interior design company Pierre Frey, were on view throughout (in the therapist's office, the leafy Iris Field pattern covered the walls as well as the floor) along with new lamps and fabrics, which in the final room were spread across antique beds sourced from a monastery.
Misha Kahn's Glossy and Squishy Book Covers
On Wednesday night, a crowd gathered at a pop-up bookstore organised by the interiors magazine Apartamento for a party to celebrate the designer Misha Kahn's monograph, "Casually Sauntering the Perimeter of Now." Ahead of Kahn's first solo gallery exhibition at Friedman Benda in Los Angeles later this month, the book looks at 10 years of his work with photographs of finished products — among them a bronze table aptly titled Tingle Tangle Mingle Mangle and a couch of interlocking earthen-coloured squiggles called Mole Eats Worm — alongside sketches and images of works in progress. The text, which includes conversations between Kahn (who is the partner of T editor at large Nick Haramis) and other creative people, including the fashion designer Dries Van Noten and the curator Su Wu, is overlaid with handwritten annotations from Kahn himself. For the Milan event, the designer made 50 otherworldly dust jackets, some in puffy cast foam, others embedded with extraterrestrial-looking glass globs; a pillowy version made of shiny red resin was heavier than it looked. But even those who can't get their hands on a dust jacket can enjoy his playful use of materials: The book itself is covered in pink velvet.
Mobile-Like Chandeliers by Lindsey Adelman
The New York-based lighting designer Lindsey Adelman took over a room at Alcova, transforming it into a tranquil, celestial corner by painting the walls black and installing a set of sparkling pieces for her exhibition "Soft Opening." Two glowing glass blobs (named Rock Lights) clung to chunks of minerals — white, fragmented selenite and dark green jasper — tucked into a former fireplace. On the other side of the space hung a group of Adelman's Illuminated Mobiles, their bronze arms adorned with bits of clear quartz, knitted chains or mottled turquoise malachite. Their light shone from more drooping glass orbs, upturned plates and ceramic balls. The pieces — part of the first collection from Adelman's LaLAB project, an experimental offshoot of her studio — called to mind one of the artist Alexander Calder's early mobiles, made from buttons and shards of glass hung from thick brass wire.
A Geometric Lighting System From Tobia Scarpa
Among the Italian architect Tobia Scarpa's many contributions to design are a variety of surreally shaped lamps, including a resin pendant light that resembles a cloud (the Nuvola, for Flos) and a sconce with a square fabric shade that could be mistaken for a kite (the Ariette, also for Flos). At Salone, he unveiled his newest lighting collection, Eitie, a simple yet striking set of pieces for Cassina composed of LED bars connected — with circular metal joints in black and silver or red and gold — in different formations. One pendant light takes the form of a triangle, another comprises a single line, and the table and floor lamps each consist of two bars, the angles of which can be adjusted by 30 degrees to create different visual effects. The palindromic name of the series is a nod to Scarpa's age, 88.
In an 11th-Century Church, a Show About What's Sacred
The venue for Galerie Philia's show "Desacralized" was, appropriately, a deconsecrated 11th-century church. (According to the gallery, it has previously been used as a playground and a basketball court.) The 25 participating designers were asked to reflect on the idea of desacralisation, or more specifically how a religious object might become a functional, everyday one. The sole requirement, decided on by the group, was that all the pieces should be white. They ranged from a set of furled shell lights by the Parisian designer Elsa Foulon — who drew on the shell as a symbol of baptism and pilgrimage in Christianity — to a looping chandelier conceived by the Italian design duo Morghen Studio, made using their modular Fabric Flexible Light with brass. The fashion designer Rick Owens also contributed a new piece, Tomb Chair, an elongated seat made of starkly cut white marble with a moose antler protruding from its back.
A Celebration of African Ingenuity by Dozie Kanu
Under the curved ceilings of a former garage (now part of the gallery Spazio Maiocchi), the Swedish fragrance brand Byredo hosted "Bal d'Afrique," an exhibition by the American designer Dozie Kanu that drew inspiration from the company's perfume of the same name. Visitors walked into the space through a hallway that contained vitrines filled with photographs curated by Adjoa Armah, who collects photographic negatives from Ghana as part of her project Saman Archive. Some images dated back to the 1960s, though the majority were from the '80s to the 2000s. Many showed scenes of celebration, from nights at clubs to more spiritual moments such as a baptism. At the end of the corridor was a pavilion whose walls were made of reddish-brown wicker bordered by strips of aluminium. Inside and around it, Kanu, who was born in Houston to Nigerian parents, displayed pieces of furniture as well as objects, including four found washing machine drums topped with coloured glass to suggest the musical instrument, and "Foremothers" (2019), a six-foot-tall pendulum made of drilling rods from which hung a West African statuette that scrawled into the sand below it.
Osanna Visconti's Forest of Bronze Bamboo
Years ago, the Milan-based furniture maker Osanna Visconti came across a bamboo forest in a Venetian garden that had been designed by the 20th-century English landscape architect Russell Page. She held that image in her mind as she created her latest bronze works, which were on view at the Nilufar Depot gallery. Against an aqua moiré fabric backdrop, Visconti presented a chandelier made of stacked bronze bamboo stalks, a thin table with leafy crosspieces, blue velvet cushioned stools with bamboo legs and rectangular mirrors surrounded by canes. Like many of Visconti's designs, these ones, with their asymmetric organic forms, proved that bronze can be as subtle and expressive as it is monumental.