When it came to appointing a culinary director for their grand, multi-level Sydney CBD venue Shell House, the Point Group only had eyes for Joel Bickford. The ex-Aria executive chef oversees the menus for the historic building's ground-floor bar and bistro, The Menzies Bar; its flagship restaurant Shell House Dining Room and Terrace on level nine; and the floor to ceiling glass panelled rooftop cocktail bar, Shell House Sky Bar.
"Being part of young dynamic company, there is lots of room to learn and grow. With an ever-expanding portfolio and a great vision for the future, it is really special being part of some amazing developments," says Bickford of his 2021 appointment. "We have opened three restaurants in less than a year and have some big plans moving forward. This role of culinary director is new to me so it has been a great challenge, and [I] can't wait to see what lies ahead."
T Australia sat down with Bickford to find out what ingredients we should be reaching for this season, his path to the Shell House kitchen and his recipe for tuna cotoletta.
On becoming a chef …

At the age of 14 I took an after-school job washing dishes in a Chinese restaurant. After some time, the chefs there started teaching me some of the dishes, and pretty soon I had my own section. I enjoyed the buzz of the kitchen and the fast-paced environment, so began thinking about a career in hospitality. At the end of year eleven I left school started my apprenticeship at Panthers Leagues Club. From there I moved into Sydney and [began] what would become a 30-year journey through some of the best kitchens in the country.
On what drives him …

A strong work ethic will take you a long way in hospitality. Skills can be taught, and will take you so far, but passion, dedication, drive and self-motivation are the traits of most successful people in any industry. Setting and upholding your own standards is a must, self-discipline and sacrifice.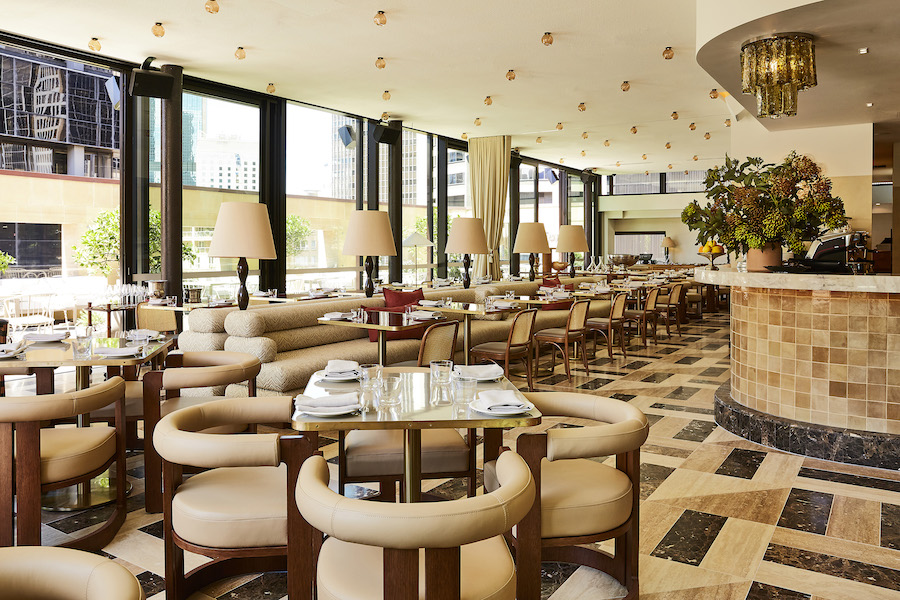 On unwinding after service …
I live two hours from Sydney on the NSW South Coast, so my drive home is a great way to unwind. Maybe a walk on the beach, and definitely some guitar before bed. [Then] doing it all over again tomorrow.
On the ingredients he's enjoying cooking with …
[It's] spring at the moment so there is an abundance of amazing ingredients. Spring is a time to let the ingredients do the talking: beautiful asparagus, heirloom tomatoes, some stunning tropical fish, coral trout cooks so simply, perfectly cooked over coals. We are using some brilliant meat in the dining room at the moment; dry aged pork, retired dairy cow Delmonico, to name a few.
On the other venues on his radar …
I spent a few day in Adelaide earlier this year and I really enjoyed my time at a few of the places I visited. Arkhe was really tasty, as was Fugazzi. Elska in Brisbane is also a great place, run by a young couple who are doing some amazing things, and are "ones to watch" over the next few years.
Shell House's Tuna Cotoletta
250gm yellowfin tuna fillet
60gm spigarello
For crumbing
2 egg
100ml milk
30gm plain flour
100gm sourdough or panko crumb
Peppercorn sauce
200ml reduced brown chicken stock
20gm green peppercorns
20gm diced eschallot
30ml brandy
40ml pouring cream
pinch black pepper
1 clove garlic crushed
Cream for spigarello
100ml pouring cream
10gm Dijon mustard
50gm Unsalted butter
Mix egg and flour thoroughly. Dust tuna in flour then place into egg and milk mix. From there, place tuna into crumb mix and cover patting the crumbs on all over.
In a saucepan, add pouring cream and Dijon mustard. Heat to a simmer then remove from heat – once cooled slightly, start adding the chilled butter, whisking until sauce is glossy and emulsified. Sauté spigarello in a pan and gently cook until softened. Add cream sauce and heat through.
To make peppercorn sauce, sauté garlic and eschalot, add peppercorns and deglaze the pan with brandy and flame. Cook out alcohol then add chicken stock and black pepper. Finish with cream.
To cook tuna, place fillet into a pot of oil heated to 185 deg, submerge in oil and fry for 90 seconds. Tuna should be golden on the outside but still very rare on the inside.
To serve place cooked spigarello in the centre of your plate , sauce the plate wit the peppercorn sauce , slice the tuna carefully into three even pieces with a very sharp knife and place on top of the spigarello , finish with some good quality sea salt and olive oil.