A side effect of the digital meeting and Zoom party era was a natural gravitation towards face-framing accessories (see: the chandelier earring). This year, however, brings another shift in geography, with the season's spotlight now falling directly on the décolletage. All-out opulence is the name of the game as haute joailliers blend tradition and imagination, creating party pieces for the post-isolation age.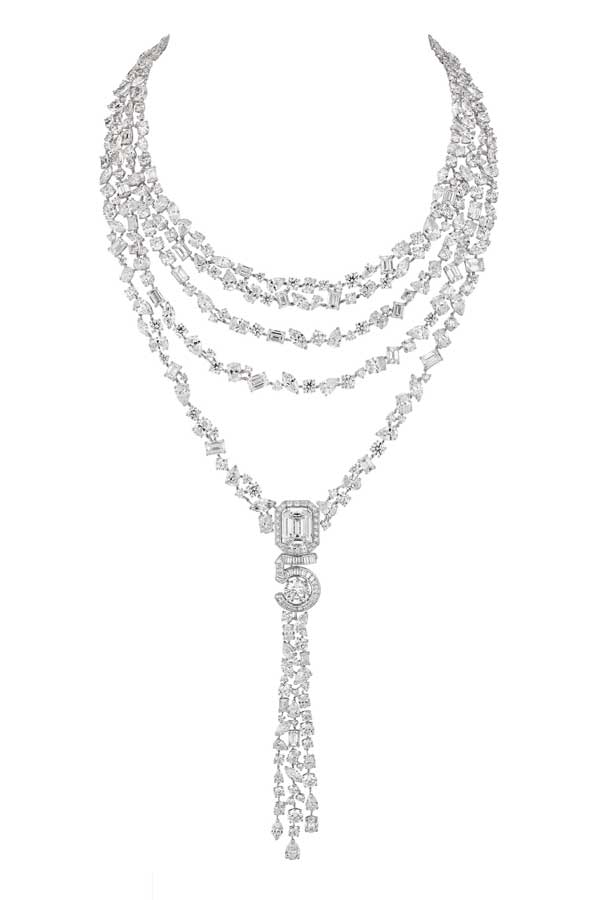 For its latest high jewellery release, Chanel reinterprets its iconic No. 5 scent, exploring the fantastical contrast between the bottle's graphic design and the sensuality of the fragrance. The first high jewellery collection dedicated to a perfume, it presents an opportunity to wear the scent across pulse points and the neck — because sometimes more really is more.
Colour proves another creative lure this season. Tiffany & Co.'s Colours of Nature collection brings to life the painterly palette of earth, land, sky and sea through unique gemstone combinations, and Bulgari's cinema-inspired Jeweller to the Stars harnesses 53 fancy- and oval-cut corals for an attention-grabbing throwback to the golden years of film.
Louis Vuitton's Pure V collection gives a sophisticated nod to its heritage. The hero piece features a slender silhouette set with brilliants that falls to a delicate V inspired by the brand's signature motif and finishes with a two-carat pear-shaped diamond.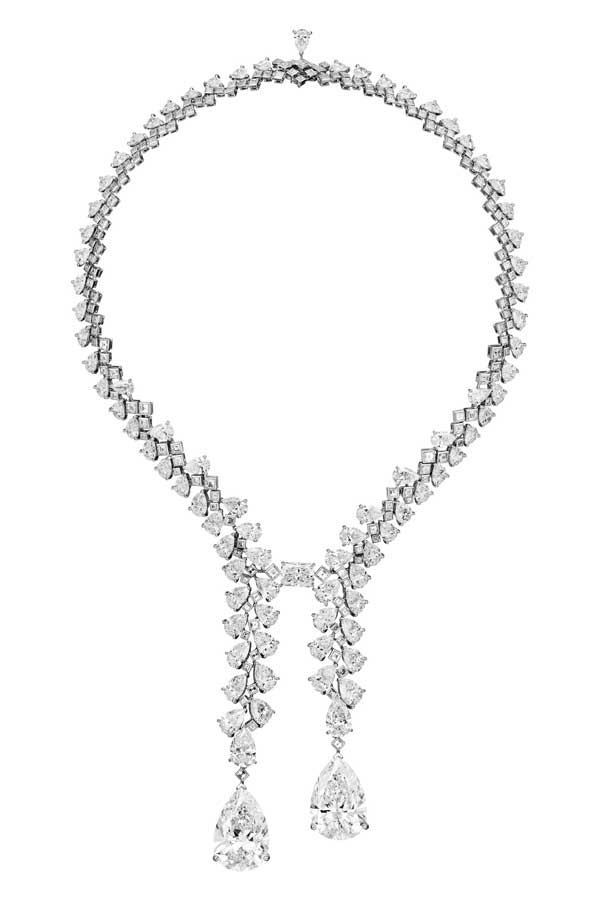 And who says majesty can't be modular? Cartier's Dioscures makes the case for neckwear that can work double time. Here, the maison's longstanding tradition of transformable creations appears as detachable twin pear-shaped diamonds that can be worn as pendant earrings (should you realise midway through the evening you've left your others at home). Van Cleef & Arpels' Zip necklace is equally changeable, converting seamlessly between neck and wrist in one simple motion. Inspired by a suggestion from the Duchess of Windsor (who was enamoured with the mechanics of the fastener), it's made for the utilitarian at heart. Brighter, bolder and ready for anything — up to our necks has never looked better.
A version of this article appears in print in our second edition, Page 3 of our Jewellery and Watch Special, with the headline:
"All That Glitters"
Order a copy | Subscribe