That Suzie de Rohan Willner finds herself living in Wallingford, a handsome market town that sits on England's river Thames in Oxfordshire, feels like fate. Some 30 years ago, de Rohan Willner, 60, who is the head of the British clothing and homewares brand Toast — known for its simple and hard-working offerings — acquired a print that depicted an idyllic cluster of long boats and riverside dwellings. At the time, she was living in Bagnols-en-Forêt in France (though she was born in Surrey, as a child she often visited her grandmother in Roquebrune Cap Martin and went on to study in Paris, later setting up home in Saint-Clément-de-la-Place), but the artwork came with her when she moved to Provence, to West London and, finally, during the lockdown of 2020, to Wallingford. Two months after arriving there with her husband, Stephen Green of the architecture, interiors and landscape design studio Holland Green, and her mother, Joy Mitchell, de Rohan Willner took the picture to be reframed and was informed that it is of the same stretch of river that passes some 300 meters from her new house.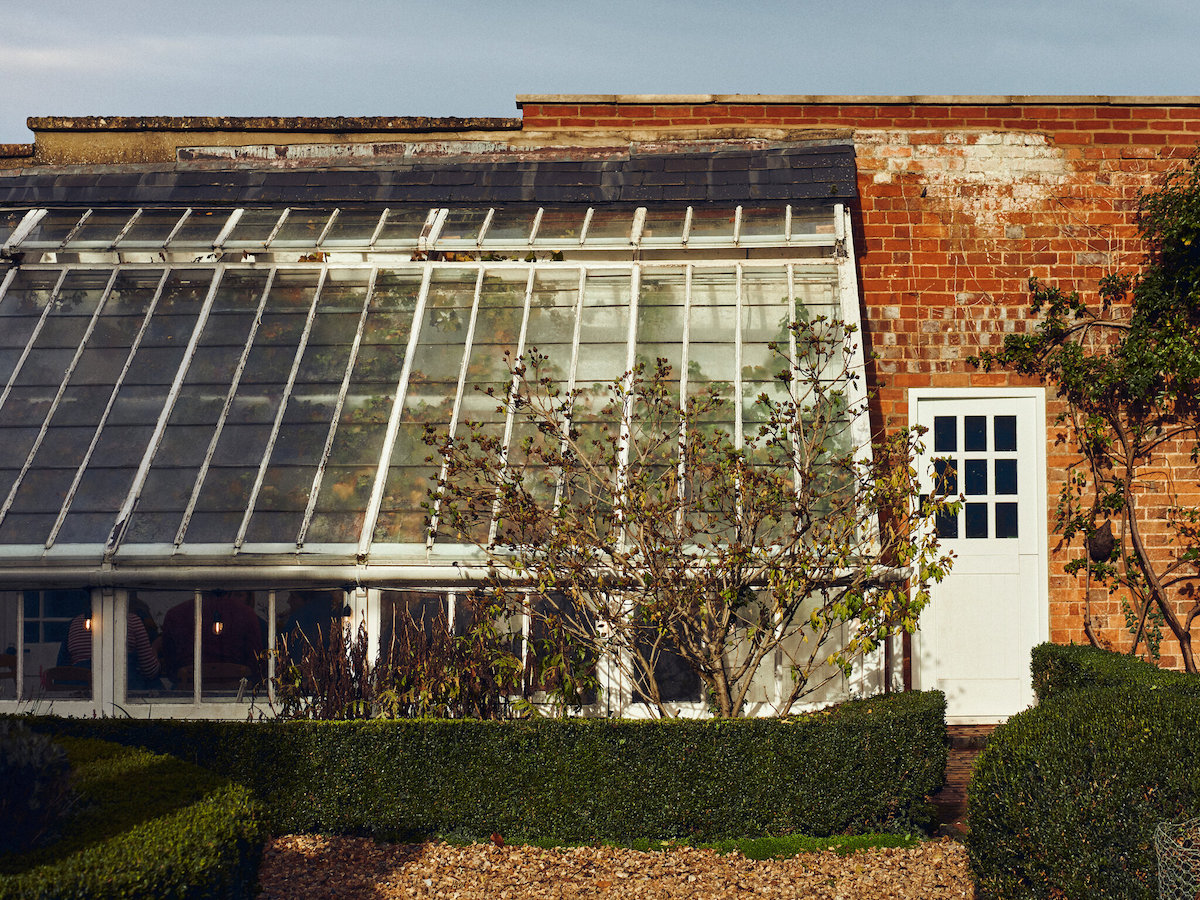 If she needed another sign that she was where she was meant to be, she found it in the fact that her house, an 1830s brick structure called Winterbrook Close, was built on a site that, in the 1500s, belonged to a local weaver. More recently, in the 1950s, Joanna Drew, an influential curator and champion of artists, especially those from the countryside, visited her parents there. It's possible to draw parallels between Drew's and de Rohan Willner's thinking as Toast, which founders James and Jessica Seaton started as a lounge and nightwear label in their Welsh farmhouse in 1997, partners with artisans from around the world, whether basket weavers in Bangladesh, ceramists in Romania or brush makers in Britain. The brand further showcases these makers and their skills through workshops at which everything from Swiss darning to block printing to ceramic repair is demonstrated for eager audiences. Last April, in the hopes of fostering a more circular retail economy, Toast launched a new initiative in Britain through which over 2,500 of its garments have been mended for free for customers by in-house seamstresses.
Naturally, there's also plenty of art, much of it created by de Rohan Willner's own relations, on display inside Winterbrook Close. On the mantelpiece in the airy living room is a small, unframed embroidered canvas by Mitchell and a vibrant collage that de Rohan Willner's daughter, Genevieve Gransden, a creative director in the advertising industry, made when she was a teenager, as well as an assortment of ceramic pots commissioned from Aude Arago and Viv Lee as part of Toast's annual New Makers program. Photographs charting the construction of the vast abstract concrete murals conceived by de Rohan Willner's late stepfather, the artist William George Mitchell, meanwhile, can be found on the staircase landing and in the kitchen. "Family is everything to me. The atoms of this house are warm and loving," says de Rohan Willner, who chose Wallingford so that she might spend more time with Gransden; her son, Max de Rohan Willner; and newly arrived grandchildren, who all live nearby.
Living at Winterbrook, as they typically call it, also allows for a more tranquil routine than de Rohan Willner has known in years past. Twice a week, she works from home, at an antique writing desk that looks out onto the house's gardens, which are filled with roses and Madeleine Des Deux Saisons fig trees. Come summertime, Green harvests everything from raspberries to rhubarb, though the garden's crowning glory may be the Victorian greenhouse, whose interior panes are covered with two Black Hamburg grape vines thought to have grown from cuttings taken from Hampton Court Palace, the former home of Henry VIII.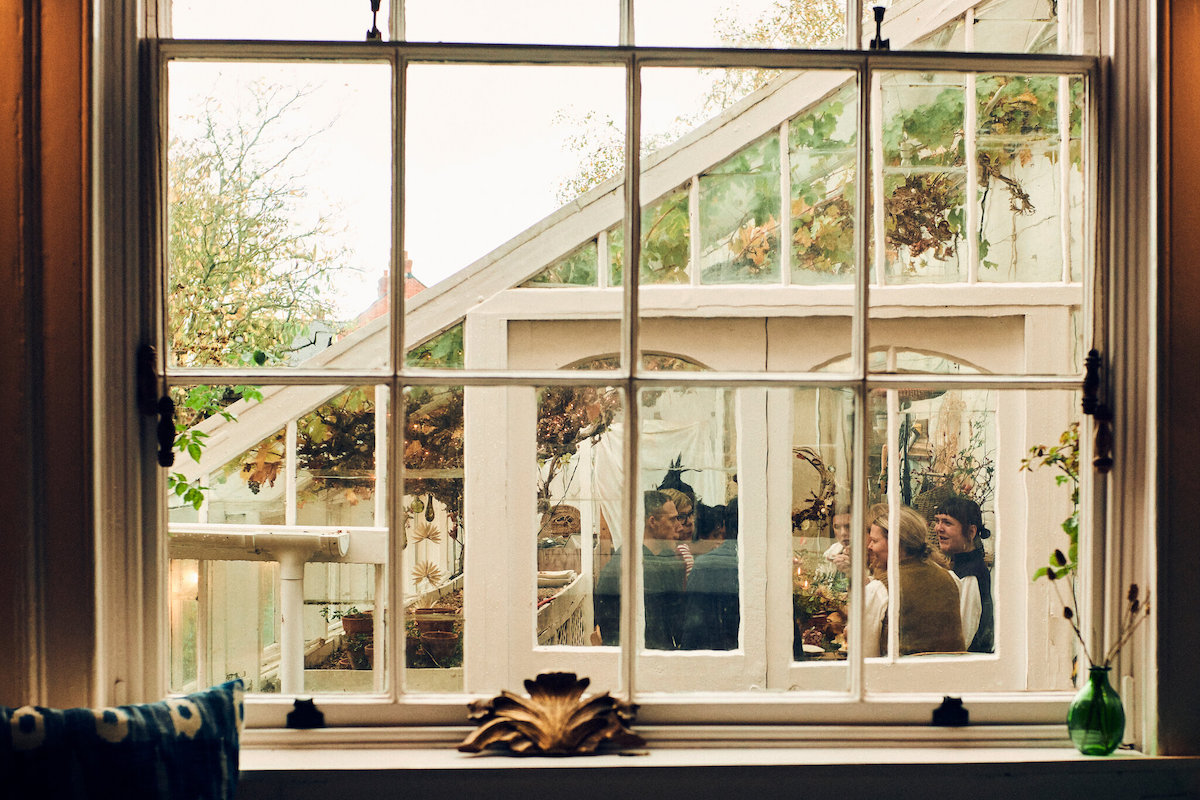 By midday, guests were sipping mulled wine and sampling sausage rolls in Winterbrook's kitchen. They then made their way to the greenhouse and took their seats at a long oak table, which came from Ardingly Antiques Fair in West Sussex, and was laid with off-white Wonki Ware plates and an array of rustic stoneware bowls and dishes. There were also handblown Syrian glass tumblers and Lucia Ocejo bud vases filled with seasonal flowers and foliage, including 'Tula' chrysanthemums, on its surface. What followed was a vegetarian feast featuring squash and chickpea stew with preserved lemons; kale with apples and walnut; and spiced cauliflower with lentils and pomegranate, all served family-style and prepared, like the sausage rolls, by the local deli, McQueen's. "I'm not a great cook and prefer to play to my strengths, which are bringing people together and preparing a beautiful environment," says de Rohan Willner, who typically sets the table the night before an event.
While those assembled helped themselves to second servings, they talked about their respective creative processes and evolving notions of craft, which is thankfully viewed as more relevant to and appreciated by modern consumers than ever. To round off the meal, guests enjoyed a mince pie frangipane tart — an alternative take on the custom English Christmas double-crust confection — served with clotted cream and black coffee. "Toast is all about encouraging a way of life that makes you slow down and appreciate the details — the colour, the texture, the feel — all of these things are joyous," says de Rohan Willner, and all of them were on full display. Here, together with Judith Harris, who leads the brand's House & Home division, she shares pointers for crafting your own thoughtful but low-impact seasonal party.
Give Your Guests Something to Talk About
"I love feeding off the positive energy that comes with being surrounded by creative people and intelligent conversation," says de Rohan Willner. With that in mind, she placed a small gift wrapped in fabric à la the Japanese practice of furoshiki atop each place setting. In addition to a decoration or art supplies, the gifts included the first line of a famous novel ("A Room with a View," 1908; "Rebecca," 1938) that the recipient was challenged to name. Literary chatter ensued, and the patterned cotton textiles, which were hand-screen-printed in Jaipur, were quickly repurposed as pocket squares or hair scarves.
Forgo the Tablecloth
"There's always a casualness to our settings, and a tablecloth can distract from that," says Harris. "An informal setting makes for more comfortable guests." In this case, not using one also made the most of the table's oak patina, a nice backdrop for a studio pottery jug by Jack Welbourne and the assortment of stoneware bowls, which were from Leach Pottery.
Be Seasonal With Your Blooms, Not Your Decorations
Clematis lay along the centre of the table and was foraged during a last-minute walk around the garden, while the 'Tula' chrysanthemum and eucalyptus parvi that were arranged in the bud vases were sourced with the help of the florist Rachel Siegfried of Green and Gorgeous from within a seven-mile radius of Winterbrook. On a chest of drawers set against the greenhouse wall were willow Hopewood baskets, handmade by Sarah Loughlin and Marcus Wootton and filled with rose hip and twisted branches of corkscrew hazel, and the vines snaking up the glasshouse panes were strung with pleated Nepalese paper decorations and colourful glass vessels that each held a little berry branch or sprig. "They work well without being too Christmasy," says Harris of the vitrines. "The idea is to buy decorations that can be adapted and used throughout the year to reduce your footprint."
Build a Layered Setting
Rather than adhere to a strict aesthetic code, Harris, who scours the globe to find and commission homeware suppliers for Toast, relies on a handmade ethos to create aesthetic unity. "All these pieces come together as a global edit of craft in all its many dimensions," she says. She recommends starting with dinnerware, then adding napkins — for this meal de Rohan Willner opted for Lithuanian washed-linen ones, but she also likes to make her own from the old French linen tablecloths and bedsheets she collects — and glassware. Aim, says Harris, for a mixed but muted palette.
Sweeten the Pot
"Making punch is one of the rituals that brings meaning to the holiday season for me," de Rohan Willner says of the mulled wine, which she served hot off the stove. A recipe shared by her German sister-in-law more than 30 years ago, it contains orange slices, peppercorns, cloves, cardamom pods, cinnamon sticks, ginger, nutmeg and about a cup of honey, never sugar. "It's simple to make and fills the kitchen with a wonderful fragrance," she says. As an alternative, guests were offered spiced lemon or blood orange cordial spritzers garnished with fresh mint.
More breathtaking interiors from T Australia: