Sustainability has been a buzzword in architectural circles for the last decade or so, but for many architects and designers it is still a work in progress – a theory, rather than a reality. The fear being that using only sustainable materials will result in aesthetics suffering, but that's an argument award-winning Sydney designer Matt Woods (of Killing Matt Woods) rejects. "There are so many options out there now; there isn't much of a compromise," he says.
Newtown-based Woods has been lauded for his beautiful and considered designs for commercial spaces, including restaurants and cafes – all with a sustainable and eco edge. It's an edge he takes seriously enough to commit to in a broader sense as well; recently, he switched his business to be carbon neutral, and in each of his new projects he considers the supply chain, uses 100% green power and sustainable materials. Sustainability is so inherent to his design process; he doesn't consider it a selling point.
"Sustainability is not something I necessarily try to ram down people's throats," he explains. "I just do it. I don't give people options. I'm just subtly trying to change people to my way of thinking."
Woods pays particular attention to the "chain of custody" associated with all the materials he uses in his work, as well as using reclaimed and repurposed materials when appropriate. Each substrate has different accreditation systems, such as FSE-accredited timber, and he works with relevant industry bodies to ensure that all materials are sourced sustainably and are carbon neutral.
Woods began his career over 10 years ago with his design for Newtown's iconic Bloodwood restaurant, which featured repurposed building materials, such as copper piping and old doors to create a rustic, aged look, while also providing an underlying sophistication far removed from other restaurants in the area at the time. It was a more considered, less haphazard use of repurposed materials than previously seen in hospitality.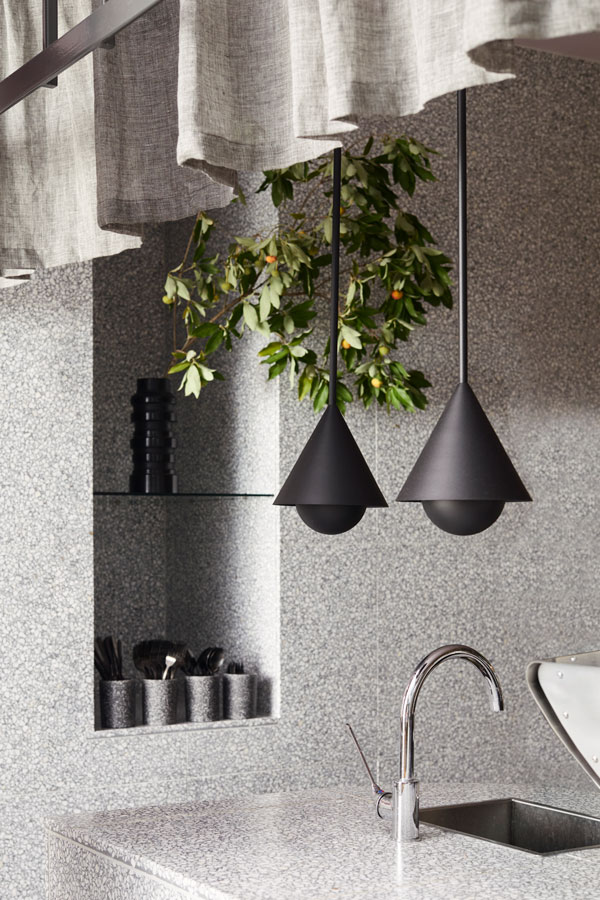 For his project redesigning the Rooftop at the Quarrymans hotel in Pyrmont, he focused on optimising sheet sizes of all the materials to minimise waste, and included a lime-based mortar that would allow the fitout to be pulled apart and reused at the end of its lifespan. A similar strategy was employed with his fitout of the Messenger Café in Pyrmont, where the terrazzo tiles were used in their entirety instead of being trimmed and having excess waste.
Most recently his first residential project, Perfect Storm, a Brutalist-style concrete bunker in inner Sydney, won numerous awards, including Best Residential Project in the 2020 Dulux Colour Awards.  Featuring dramatic concrete curves throughout, it won accolades from the judging panel "for its simplicity and singularity" and "minimalism and clean, clutter-free aesthetic".
While the success of Perfect Storm has generated more residential work, most of Woods' projects remain commercial fitouts; he has no plans to specialise in either market, instead using his eco-conscious designs as the key driver. "My business isn't focused on anything other than sustainability," he says.
His latest passion is creating what he calls "design for deconstruction" in his projects, which involves addressing the issue of waste within the world of hospitality, in particular.
"The problem I have with hospitality projects is that they are at the whim of trends," he says. "I can do a great job, win a design award or get lots of media and it can still only be there for six months, because something else more exciting opened up down the road. So, something I'm becoming more and more focused on is putting things in [the design] that can be taken apart, removed and repurposed at the end of the project's life."
However, with 2020 being an annus horribilis for hospitality, he says he was prepared for sustainability to fall off the radar as the sector focused on surviving the year rather than worrying about the long-term environment issues. Instead, he says he has been surprised that it has remained a key driver in new projects.
"The new clients who are coming to me at the moment are very much sustainably focused," he says. "It's a conversation that I probably had more in the last 12 months than I had in the 10 years leading up to it."