From the beginning, Brooklyn-based interior designer Loren Daye appreciated the invisible. "I love anonymity and seeing without being seen," she says. "The door you don't notice until it's open, the building you never realised was there, the quiet person at the party." Growing up in Bowling Green, Ohio, she often hung out in her parents' closets. After her father, a professor of Buddhist philosophy, was hired by the University of East Anglia, the family moved to its concrete campus in Norwich, England, where, in the attic of their new home, Daye transformed a giant cupboard into a reading room. From there, she taught herself about Denys Lasdun, the Brutalist English architect who in the 1960s designed the iconic, tiered postwar structures that surrounded their apartment.
Back then, Daye was mesmerised by the legend of "Brigadoon," a 1947 Broadway musical and 1954 Gene Kelly movie about a mythical village in the Scottish Highlands that could only be glimpsed and visited by outsiders once every hundred years. So it's fitting that, today, the 46-year-old designer's studio is hidden in plain sight on a quiet street in Clinton Hill, Brooklyn, which until the mid-1940s had been the borough's shoe-manufacturing district. More recently, the ivy-covered, two-story, six-unit brick building where Daye has a 50-square-metre live-work space has welcomed a rotating cast of furniture builders, decorators and artisans, including the owner of the Callidus Guild, which installs bespoke wallpaper and other surface finishes for some of the world's top architects.
The building conjures a certain nostalgia for a New York when craftspeople worked side by side in loftlike environments with few finishes and faulty heating. Since the mid-1980s, it's been owned by the local artist Tom Clancy, who fixed up the studios and recruited makers for them, then set up a shared garden in the back, decorated with leveled-off milk crates and wisteria, where the residents can socialise.
This sense of community, with its rules and structure — Clancy only allows specific shades of brown and white paint throughout the building — is what drew Daye to the space in 2009, a few years after she'd graduated from the interior design master's program at nearby Pratt Institute. Her career took off: first with the Manhattan-based firm Roman and Williams, where she learned to create cafes, lobbies and other public spaces both sumptuous and pragmatic, and then with the Ace Hotel Group, where she became the company's creative director and head of interiors. For much of the past decade she travelled nonstop, and was thus always searching for ways to restore order to her life: Every day, for instance, she wore a uniform, one of 13 cotton poplin dresses in black, navy or white, sewn by the London patternmaker Sophie McGinn. But by 2018, not long before Pratt asked her to teach in its graduate programme, Daye had decided to forgo "the extreme austerity of that era," broadening her wardrobe and reclaiming the studio that she had relinquished in 2011 (by coincidence, it had recently been vacated) — as well as relaunching her own firm, LoveIsEnough, which she'd put on hiatus.
Today, she collaborates with a small group of like-minded designers and artisans on restaurants, residences and other projects that are united both by their efficiency — all spare furnishings, hand-brushed plaster walls, original stone masonry and an almost complete disavowal of painted, flat drywall — and their understated beauty: Brooklyn's Bar Bête, which seems to glow like a lantern on a corner in Cobble Hill, is clad in forest green-coloured wood that contrasts against the oak dining chairs and marble tables; the Ducie Street Warehouse in Manchester, England, combines a cosy bar, lounge, restaurant, cinema and hotel under one massive roof, with exposed galvanised ductwork and imposing steel columns that remind visitors of the building's industrial history. Her firm's name is taken from the title of William Morris's 1872 poem and morality play, but can double as a reference to "Brigadoon," where the only thing keeping the villagers in their mirage of a town is their affection for it. "Love is enough" is also a guiding mandate for the firm's work: "It's this idea of being the glue that holds this space in the world that you can't see," Daye explains. She says the biggest compliment one might give her and her colleagues' work is "not noticing the design, or feeling like it was left over or always like that."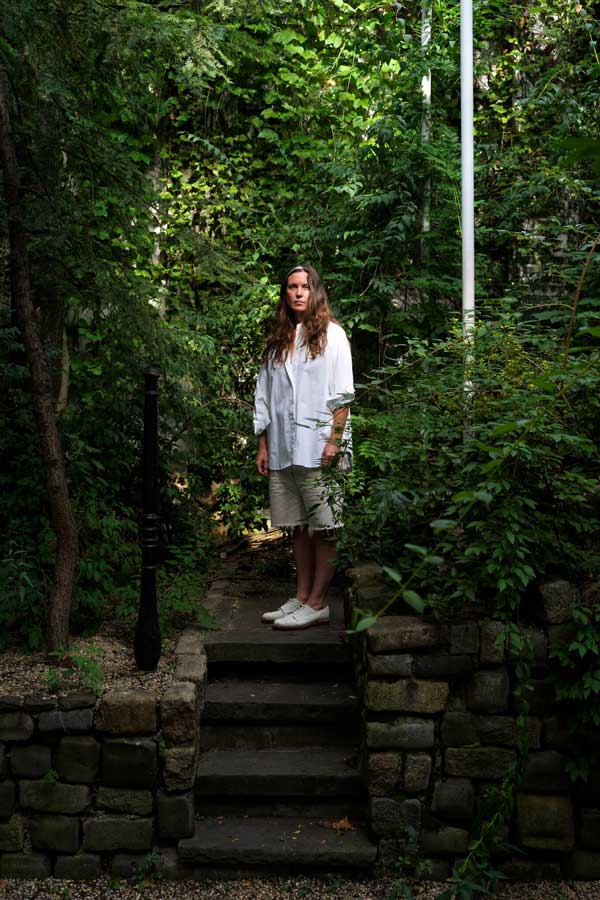 That said, her recently reconfigured Brooklyn space is perhaps the best manifestation of Daye's subtle touch. Situated half underground, in the middle of the building's first floor, it's a home reduced to its barest elements: a bed with a lace coverlet; a corner kitchenette with a shop sink; a closet area with a few sweaters and a pair of free weights; a big oval table with mismatched vintage chairs and an oversized lamp; two windows through which afternoon shadows filter onto the eight-and-a-half-foot-high whitewashed brick, rock and plaster walls, their overlapping ridges combed in collaboration with Yolande Milan Batteau, principal of the Callidus Guild. Within the space, one feels a certain fuzziness (which Daye calls, alternatively, "blurriness" or "fogginess") caused as much by the ghostly palette and layered textured finishes — from the mud-colored terry-cloth upholstery on the Karl Springer armchair to the rug made of woven scrap leather to the pair of side tables in rough concrete that she commissioned from her friend Tshidi Matale, a New York-based artist — as by the crepuscular light, which glints off the aluminum-leaf front door and rounded edges of the resin-and-goatskin table. "When a space is quiet like this, with no starkness or intensity, only the rhythm of its repetition, I feel it's camouflaged in some way," Daye says. "The composition of the elements creates a paradox for me of incredible discipline and tenderheartedness."
What some might see as severity or inhospitality is to its occupant a reminder to live and design deliberately. Not only does everything in the room necessarily have its place but so, too, does every action, due to the inherent challenges presented by, say, a crooked plastic sink or the communal bathroom. "OK, so what are the most essential components of cooking?" Daye asks, glancing at her painted plywood shelving above the dripping faucet. "What are the most essential components of sleeping? What are the comforts I need? And then let's strip away everything else." Just like "Brigadoon," as well as the rooms she creates for herself and for clients, it's about disappearing — here today, gone tomorrow. Who among us can't find comfort in that?
A version of this article appears in print in our third edition, Page 40 of T Australia with the headline:
'The Disappearing Place'
Order a copy | Subscribe