"Sharing a home-cooked meal is about more than just cooking; it's about reconnecting to our culture, communities, traditions, and each other."
Like many students, Shiza Shahid learned to cook out of necessity while studying at Stanford University, having relocated from her home in Pakistan. Craving her family's food, Shahid sought out kitchenware and was suggested a 16-piece cooking set, which she found overwhelming. Surely, there was a less intimidating entry point?
Drawing on her experience with mission-driven initiatives, the 24-year-old co-founder of the Malala Fund (along with Nobel Prize winner Malala Yousafzai) launched Our Place in 2019. A kitchenware brand caters to the modern, multiethnic, global kitchen, rooted in cultural celebration and the use of recycled materials.
Here, T Australia sat down with Shahid to discuss the brand's launch and the creation of new traditions.
Our Place is known for its mission-driven approach to kitchenware. Can you tell us more, in your own words, about the mission of the company and the personal or commercial values that drive you and your brand?
The Our Place mission is very personal – My partner and I are both immigrants, I am Pakistani and my partner is Persian. When we came to the US, cooking food together and sharing stories over our dinner table was literally how we found our place in our new communities. We both come from strong food cultures that we had never seen represented by mainstream brands so we wanted to create a brand that honours and celebrates culture as a core tenet and where everyone could feel represented. We also saw an opportunity to tackle significant issues in the industry by innovating to create products that fill people with joy, as well as being more sustainable, and healthier alternatives to what existed.
You have a strong focus on bringing people together through home cooking. How has this belief shaped the products of Our Place?
If we want to get more people cooking and sharing meals at dinner tables – we know we need to make cooking easier by designing better cookware. We start with the pain points we see in the market, and then spend over a year engineering, prototyping, refining, innovating and testing to create true advancements in functions, materials and designs. While other cookware companies sell 18 piece sets, Our Place designed the Always Pan and Perfect Pot to replace an entire 18 piece set. We know you don't have room for clutter, so we wanted to create products that allow you to do more with less, that are also so beautiful you'll never put them away. They will inspire you to cook, and create more memories around the dinner table.
Can you share some insights into the unique features of your products that make cooking more accessible and enjoyable for home cooks?
There are so many! All of our cookware is designed by our wonderful team in Los Angeles, and I'm so proud of all the thoughtful details they bring to life. For example, the Always Pan has our market-leading, non-toxic coating: Thermakind® so that you know you are cooking with products that are better for you and your family. The non-stick coating inspires confidence in the kitchen for home chefs and makes cleanup a breeze! There's also a nesting spatula which rests perfectly on the handle so you have no drips on the counter; pourspouts on both sides of the pan so it works easily for both left and right handed cooks; And our perfectly domed lid with circular grooves make it large enough to fit a whole chicken. Every single one of our products is made with so much thought and attention to detail, which really sets us apart.  
You co-founded the Malala Fund with Nobel Prize winner Malala Yousafzai and led it as the founding CEO, as well as launching NOW Ventures, an angel fund focused on mission-driven startups with a focus on female founders. How do these experiences as an investor inform the products and initiatives at Our Place?
Coming from the impact world, we built Our Place as a mission-driven brand, geared towards kinder decisions for people and the planet. That means we package our products in 100% recycled materials, without plastics.  We use recycled materials in our products – our Always Pan 2.0 is the first of its kind made from 100% post-consumer recycled aluminium. We are also committed to creating PFAS-free products, leading the industry in fighting one of the largest pollutants on the planet which is very prevalent in our category. We've also donated over a millions meals globally and in Australia we are supporting OzHarvest so for each purchase in Australia, we'll donate a meal to a fellow Aussie in need. In short, we try to make better decisions in everything we do.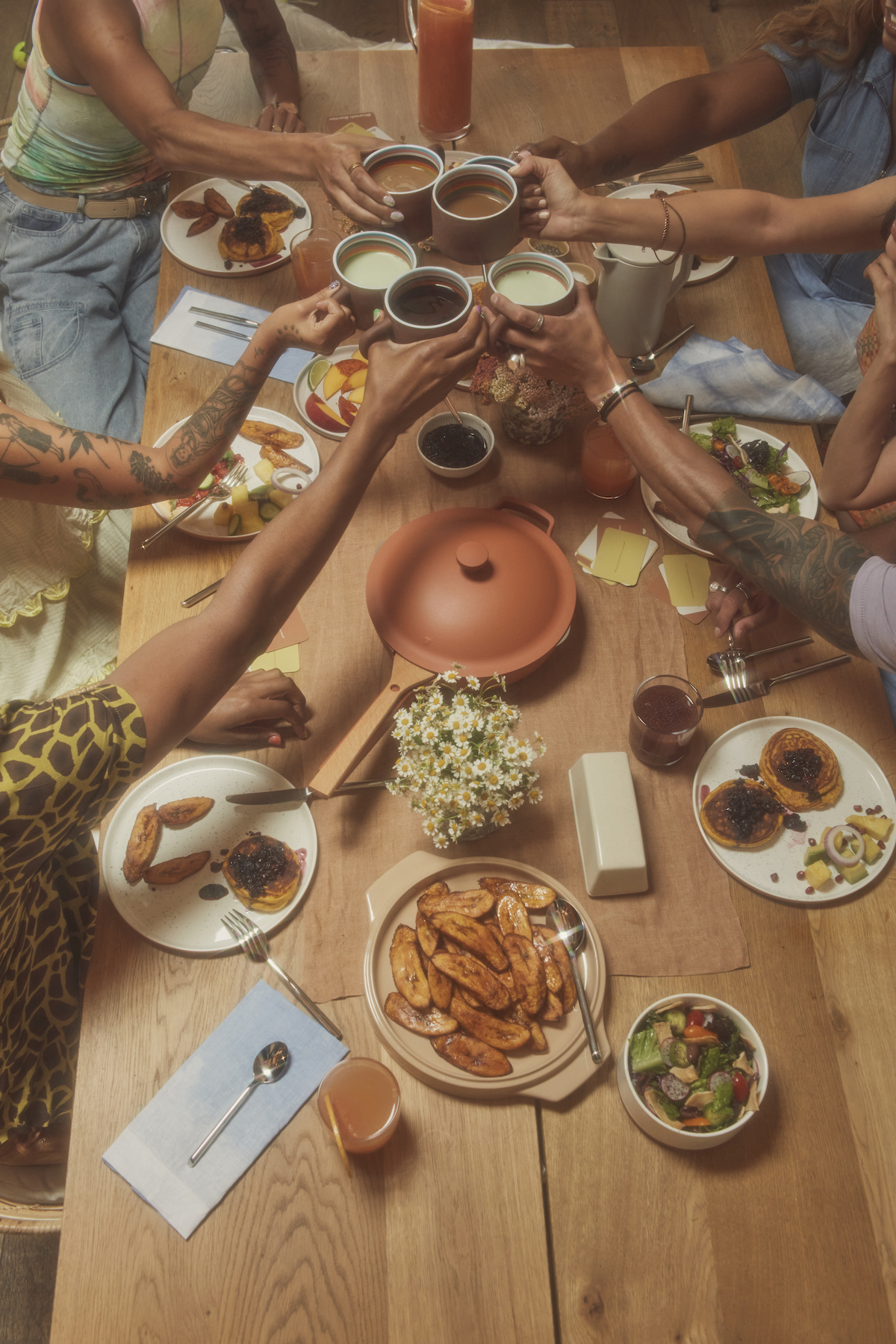 Can you elaborate on the concept of Traditionware and how it's used to celebrate and honour various cultural traditions?
Traditionware collections are a celebration of the traditions we hold close and share around the dinner table. We've partnered with communities and artisans to create collections for Shabbat, Lunar New Year, Nowruz, Diwali, Nochebuena, and even a gorgeous Tagine hand-made by Moroccan makers. Traditionware comes from a deeply personal place – I had never seen my culture represented by mainstream brands, and wanted to create a brand where all of us could see our cultures represented loudly and proudly. 
For those who may not have many traditions from their upbringing, how can they start their own traditions, and how does Our Place support and encourage this process?
The great thing about traditions is it's never too late to start new ones! You can simply start a chosen family dinner tradition – gather some of your closest friends, cook a meal together, and commit to making it a habit. It's something I'm exploring myself, I grew up celebrating Eid, my partner celebrates Nowruz (Persian New Year)  and my closest friends celebrate Lunar New Year, Diwali, and Shabbat. I get to participate in so many beautiful traditions, and I cherish each one.