A historic town in the rolling New England region on the border of New South Wales and Queensland, Tenterfield is home to superb wilderness and a growing foodie focus. Known as the "birthplace of Australia", it's the town where Sir Henry Parkes made his famous 1889 speech calling for Australia's federation, but has continued to gain popularity as a tree change destination, thanks to the influence of locals such as Annabelle Hickson and Mandy Reid.
To start our new long weekend itinerary series, we wanted to take you away from the usual hotspots and introduce you to a new part of the world, full of heritage-listed buildings, local produce and extraordinary national parks. Tenterfield is known for snow-capped mountains in winter, the most stunning display of colours in both autumn and spring, and mild summers. A perfect destination all year round.
Getting There
Tenterfield is an eight-hour drive north of Sydney and around three-and-a-half hours south of Brisbane. The closest regional airports are in Lismore and Clarence Valley, where you can hire a car.
Friday
10.00AM
Start your long weekend with the spectacular Mount Mackenzie Scenic Drive and a Thermos of coffee. Taking only an hour, it's a beautiful showcase of the town's surroundings. Follow the signs for the Tourist Drive Number 9, and travel through granite country where you can see the Doctor's Nose, Small Bald Rock (a tiny version of Bald Rock, the largest exposed granite monolith in the southern hemisphere) and Draining Rock, the second largest exposed granite rock in the region.
The drive culminates at the Mount Mackenzie Scenic Lookout, almost 1,300 metres above sea level, providing some of the best views in the Northern Tablelands. It's the perfect place for a summer picnic, or some winter snow-spotting. To the north, you can see Girraween National Park in Queensland. The rock on top of a mountain, just before the edge of the tableland drops into the Cataract River to the right, marks the Woollool Woolloolni Aboriginal Place, a sacred site in Basket Swamp National Park.
12.00PM
Soak up the superb countryside views on a self-guided tour of Tenterfield's wineries, heading about an hour out towards Reedy Creek Estate's cellar door where you can taste your way through its wines and digestifs, or grab a bottle of the Prosecco to enjoy later. With prior notice, they also offer Italian pasta lunches, which is perfect considering it's already lunch time.
After lunch, make a detour off the New England Highway to visit 2 Wild Souls in Torrington, which makes sparkling honey mead, using a traditional natural fermentation process that helps retain the qualities of the honey blossom. Head back to Tenterfield via Cherrydale Orchards, where you can buy some cherries, apricots, nectarines, peaches and plums through the farm gate during harvest season (early November through to late February).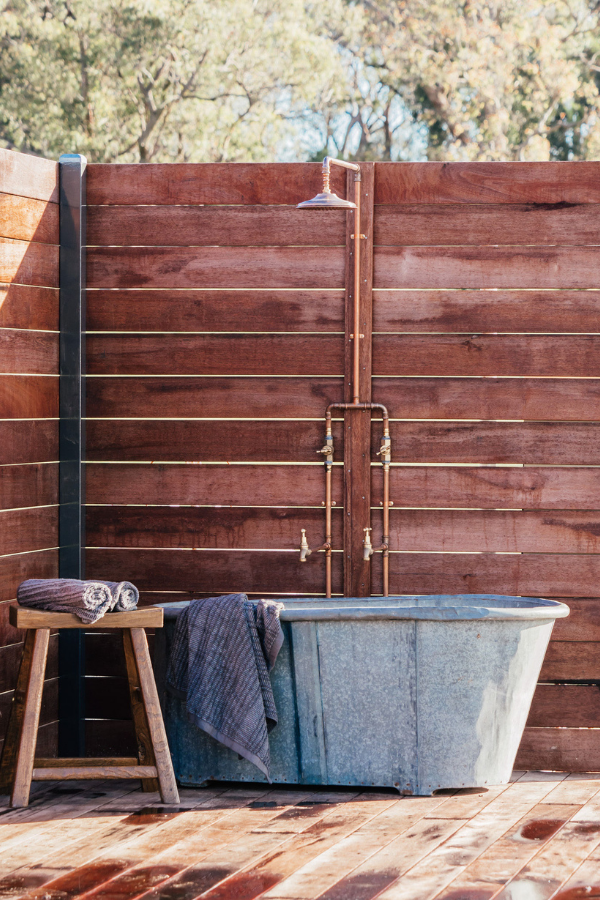 3.30PM
Check into your accommodation. Nestled in acres of farmland, Mirumiru Bubbletent provides a magical place to unwind and recharge. Soak away the everyday in an outdoor bubble bath, take a serene stroll among the gumtrees or enjoy a glass of bubbles at sunset. Each glamping tent has a transparent roof, providing a full night-time star gazing experience from the comfort of your bed.
6.00PM
Family-owned and -operated Deepwater Brewing hosts a weekly pizza night at their brewery door on Fridays only. Pizza is available between 5.00pm – 8.00pm and the menu changes each week – keep an eye on their social media for updates.
9.00PM
Run yourself a bubble bath back at Mirumiru Bubbletent and take in the view.
Saturday
6.00AM
Now you're familiar with the area by land, it's time to see it by air. Take a breathtaking tour of Tenterfield and surrounding villages with Rosenhof Hot Air Balloon. Tenterfield is located in a natural amphitheatre, one of only a few in Australia. This means it's actually quite warm up there, and worth the early morning wake up.
8.00AM
After the balloon ride, you can have breakfast at the Rosenhof German Heritage Café for breakfast – or a schnapps! Whatever mood takes you.
9.30AM
The Tenterfield Soundtrail was put together by world-class radio producers in collaboration with a local school. Hear stories of the ghosts in the jailhouse, German brass bands and Peter Allen's manna from heaven in this audio guided heritage walk. You can also visit the Sir Henry Parkes Memorial School of Arts, now a National Trust museum, where the speech that propelled the Australian colonies towards federation in 1901 was delivered. The fascinating Tenterfield Railway Museum is in the 1886-built Tenterfield Station. And of course, no trip to Tenterfield is complete without a visit to the Tenterfield Saddler, home and business of George Woolnough, Peter Allen's grandfather and inspiration for his famous song.
11.30AM
If you visit on the third Saturday of the month, ensure you visit The Farmers & Producers Market at the Presbyterian Church between 8.00am – 12.00pm. With everything from freshly baked bread and croissants to organic produce to handmade crafts, the markets provide a unique lens of the town. Choose something delicious and local for lunch, and enjoy on the front steps.
Alternatively, The Courtyard Cafe is located within the historic Sir Henry Parkes School of Arts Building and serves breakfast through to lunch until 3.00pm. Enjoy lunch outside in the leafy courtyard when the weather is good.
1.00PM
Spend the afternoon indulging in some retail therapy. The Corner Life & Style Store and Café offers fashion, jewellery and homewares, as well as a café to ensure lunch by the fire. Find antiques, homewares and Allpress coffee at The Potting Shed.
At Manual Arts Dept Studio, David and Carol design sustainably-sourced timber wares, using hardwood from family-owned sawmills and independent suppliers. Pick up a handcrafted vase or monogrammed cheese board, which should live as long as you do. At Peak Vue Studio, Kylie Heidrich combines traditional techniques of pottery so every ceramic piece is slightly different. From her beautiful studio she crafts tableware, vases and bottles, jewellery and a range of soy candles. She also crafts a legendary Christmas ornament collection each year.
4.00PM
Just out of town is the Bald Rock Summit Walking Track, a 3.2 kilometre loop that takes between one and two hours. It's the largest exposed granite monolith in the southern hemisphere, and you can climb it the easy way or the hard way; The Bungoona Walk is the slower, more gradual route and includes walking through huge boulders and up staircases made of stone. The Rockface Walk involves a steep climb from the base to the summit, and is best for confident walkers.
Either way, aim to see the sunset from here – you won't regret it.
6.00PM
A short drive back to Tenterfield and you can sample more wines and craft beers from the New England region at the Commercial Boutique Hotel. If the weather is good, pull up a seat on the alfresco deck, and if it's not, cosy up in front of one of the four Art Deco fireplaces. The Commercial also offers eight boutique rooms, restored from the 1940s, for the perfect in-town bolthole.
Sunday
8.00AM
A precinct of likeminded businesses, Manners & Co is a local family-friendly, dog-friendly co-op in town. As well as gluten-free Bad Manners Donuts, it is home to an artisan bakery and a community stall with locally grown honey, flowers, fruit, vegetables, nuts and flowers. You can sit around the fire with a coffee and a pastry from The Little Bread Shed and watch as the locals ride up on their horse for morning tea.
9.30AM
Filled up on carbs and coffee, it's time to make your way to Boonoo Boonoo National Park where famed poet Banjo Paterson proposed to his sweetheart Alice Walker back in 1903. He popped the question at the Falls Lookout, where you can still see the mighty, 210-metre tall waterfall cascade down into the rainforest gorge below. Surrounding the waterfall are easy to reach walking tracks, swimming holes and picnic spots. Pack your swimsuit and tackle the 6.1 kilometre River Walk, which takes you through eucalypt forest and past the river, where you may see wallabies and kangaroos grazing. Allow for between three and four hours each way.
3.00PM
On your way out, ensure you visit Captain Thunderbolt's rock hideout to see where Australia's longest roaming bushranger, Thunderbolt, hid from the police and held up Cobb & Co Coaches as they travelled the ranges. Marvel at the fact that we Australians are still so enamoured with thieves.
On your way home, if time and direction allows, head south through Walcha. Just 51 kilometres off the New England Highway the free open-air gallery of more than 50 sculptures, ranging from wooden figures to abstract metal creations, is well worth the detour.