For Emma Watkins, staying still for any length of time is near impossible. Even in the momentary pause of a photographer's shutter, you can see the tension in her body. There's a hint of muscles straining, feet ever-so lightly tapping, fingers twitching. Then, between shots, she breathes and instantly starts moving, like a statue brought to life. The relief is palpable. This shoot at the legendary Seidler House in the Southern Highlands, New South Wales, isn't within Watkins's comfort zone. After all, she spends most of her week in a tutu and bow dressed as Emma Wiggle, the only female member of the hugely successful children's group, The Wiggles. It's a character whose personality is so entwined with her own that she sometimes mistakenly signs her name as Emma Wiggle. "It feels natural!" she says.
Today she's being tested in all kinds of ways. First there's the expectation she'll pose like a fashion model. For someone paid to be animated, that's a big ask. Then there's the designer wardrobe — "I'm very aware I'm not in a yellow skivvy," she says — and, finally, she's without her three male co-stars (and talking dinosaur). "I've never been trendy or fashionable, which is why this is hilarious to me," she says. Fashion shoots are the domain of her sister, Hayley Watkins. "She's a model, stunning and really into fashion, whereas I just don't see myself in that world," she says. And even though Watkins, 31, regularly performs in front of thousands of people — most of them dressed like her — she's still a little anxious on the set. "Hi, I'm Emma," she says, outstretching her hand to each person when there is, of course, no need for introductions.
It has been nine years since Watkins was cast as the new Yellow Wiggle and three decades since the group was founded by the original Wiggles, Anthony Field, Murray Cook, Greg Page and Jeff Fatt. As soon as Watkins pulled on that tutu and skivvy in 2012, she essentially married into Australian entertainment royalty. So far, it's been a long and enduring relationship. When she joined, the original Wiggles had been going strong for 20-odd years. They'd sold out the Theater at Madison Square Garden 12 times, performed with everyone from Kylie Minogue to Shaquille O'Neal and made fans of Robert De Niro, Sarah Jessica Parker and even Jerry Seinfeld, the man famously unimpressed by nearly everything.
They were a well-oiled machine; they could finish one another's sentences and their shows were famous for their spectacle. It was so overwhelming that Watkins remembers when she saw a live show for the first time, she cried. She was 21 years old. "I was so excited," she says. "I got into the arena and I saw them rehearsing and I was overcome. At that time, the show was a whole circus rig with a trapeze that spun in the air. It was a whole other level."
Despite the spectacle, the middle-aged Wiggles were slowing down, filling out their skivvies and looking to retire (except Field, who famously stayed on). So, they decided to bring in a new generation of Wiggles to carry on the name, attract more fans and keep the profits coming. Each of the original members, other than Page, own part of the company and, according to the Financial Review, Watkins and Lachlan "Purple Wiggle" Gillespie also appear to be part owners. It was risky and it was bold. And it could easily have gone all wrong. But it didn't. Watkins had been performing character roles with the group when she heard of the plan. "Anto [Field] pulled me aside and he told me they were doing a new Wiggles line-up and they'd like me to be in it," she says.
Though excited, Watkins had her misgivings. "It wasn't a new band where we could grow together," she says. "You're having to replace somebody that already has a massive reputation. So, for me, I thought, 'What am I doing?' " Having graduated from a performing arts high school, Watkins was studying film on a scholarship at Sydney Film School while auditioning for shows. In the lead-up to The Wiggles gig, Watkins, an accomplished dancer, performed alongside Jessica Mauboy, Marcia Hines and John Paul Young, and in India with Bollywood star Bipasha Basu. "I auditioned for everything — 'Wicked', 'Cats', 'The Sound of Music'. Anything," she says. "Then I just happened to audition for The Wiggles, for the role of a dancing fairy." While on set, Watkins created a behind-the-scenes video that impressed Field so much he asked her to come on the road and film the group. And the rest is well-documented history.
With all the dancing fairies and ridiculously catchy songs, it would be easy to write off Watkins as "just" another children's entertainer. However, by doing so you'd be missing the real story here. Having been in one of world's most famous music groups for nearly a decade, she ranks as one of Australia's most successful female entertainers. And she's rumoured to be worth $12 million. In addition to playing the drums (which she only learned because Field asked her to, along with dyeing her blonde hair the signature red she sports today), she does ballet, hip-hop, tap, jazz, Irish and Scottish dancing. She also sings, though not as well as Gillespie or Simon "Red Wiggle" Pryce, and is fluent in Auslan and French. On top of that, Watkins is a professional filmmaker and is completing a PhD in sign language, dance and film.
She's also an integral part of The Wiggles' production team. From a business point of view, Emma Wiggle is the not-so- secret weapon that keeps the brand growing, both in popularity and monetarily. Whether by accident or design, it's clear that the current Yellow Wiggle is the cast member children around the world gravitate to. "Emma is number one," Field told the ABC's "Australian Story" back in 2018. "She's the Elvis of The Wiggles. You look into the audience, 60, 80 per cent of the children are dressed like Emma." Gillespie agrees, saying it's become a bit of a running joke. "There's so much yellow at the shows it's actually funny," he says. "The boys and I laugh because if you're lucky you get to see a purple, red or blue shirt thrown in there somewhere."
For Alex Ishchenko, head of licensing and merchandise for The Wiggles, Emma is an easy sell. "Right now, anything with a yellow-and-black bow is pretty popular," he says. "It ebbs and flows by product category, but I think it would be fair to say 50 per cent of all Wiggles merchandise at the moment is Emma specific." That includes, he says, about 50 publishing titles, more than a million units of apparel and accessories — including Yellow Wiggle underpants — and "many, many" toys. Last year, Irish multinational toy store Smyths even included Emma Wiggle on the front of its Christmas catalogue, a 300-page publication that reaches six million people.
Her influence is so great that when The Wiggles recently brought out an Emma costume that was marketed at boys, featuring pants rather than a tutu, it ignited gender politics debates in newspapers, women's magazines and countless Facebook groups. Watkins was perplexed and even, perhaps, a little frustrated. "We encourage children to dress in any way they feel comfortable," she says pointedly. "Let's just embrace everybody's dress-up. We love how children express themselves."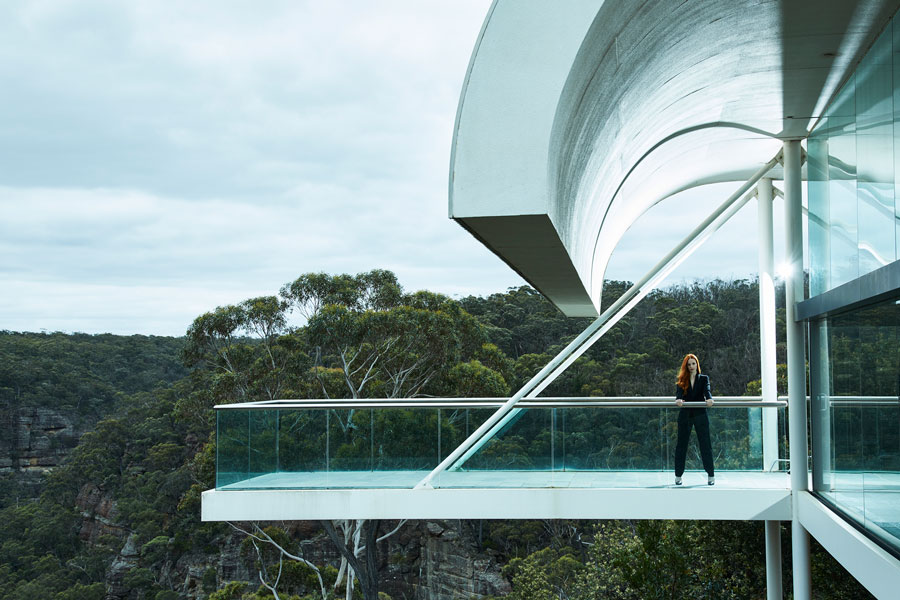 It's not the first time Watkins has made headlines, of course. There's been a constant stream of articles about the Yellow Wiggle, the great majority focused on her 2016 marriage to Gillespie, a relationship that fuelled millions of  mother's groups conversations around the world. When asked about the romance — miraculously kept secret for two years — and their fairytale wedding ceremony, marriage and subsequent divorce, Watkins is both philosophical and a little weary-sounding. "We actually started as the best of friends. And now we are still the best of friends," she says, a line that seems rehearsed. "My life is not normal unless Lachy is in it in some fashion." Gillespie is equally sanguine about the break-up that captivated the parenting nation. "Obviously it was an incredibly hard time for both of us and it was something we've learnt from," he says. "But the fact is we were able [to] stay connected and be friends. We see so much of each other that it would have just been impossible otherwise, but that's not why we're still close. We're still close because we have chosen to be still close."
Being the best of friends is one thing, but it wasn't going to stop the gossip when the next instalment of the Emma and Lachy show aired. In 2019, Gillespie announced his relationship with ballet dancer Dana Stephensen (the two welcomed twin girls in December 2020) and Watkins started seeing Wiggles musician Oliver Brian. "We're such a close-knit group, we end up having to live together so everybody's in each other's pockets," says Watkins. "It's like being part of a circus, truly. You spend more time with these people than you do [with] your own family. And that's what people didn't understand when Lachy and I separated. I was like, 'By the way, we still see each other every day… and we are happy about that.' " The two do seem to genuinely care for each other. When I tell Watkins that Gillespie told me she's "impressive" and "hard-working" and he can't quite believe how much she has achieved in her career, she smiles. "He's too good to me," she says quietly.
But it's not just her love life that makes the evening news. In 2018, when Watkins had to take time off for surgery, her endometriosis diagnosis was covered by major news outlets and TV stations. "I became the endo poster girl!" she says. It's part of the constant interrogation she deals with — even now — about falling pregnant. "By the time I was diagnosed we were about to do a tour, so we had to tell the public and tell the children," she says. "I knew that if I said, 'I'm just not going to be on the show,' people would think I was pregnant. And yes, we were having issues with something related to female fertility, but it's so not what everyone was thinking."
Even though she has never really spoken of her fertility issues in public, Watkins receives a torrent of social media messages with unsolicited advice on the matter. Well-meaning parents often approach her at concerts and in public, offering suggestions for falling pregnant and being a mother. "There's a familiarity there," she says, "and because our characters use our names, I think, all the borders have just gone, so people feel like they know you."
When I talk to Watkins, she seems to be straddling that fraught line between saying the right thing and being completely honest. I suspect the latter is her true nature but, of course, she's had media training — she was told she's too positive, which makes her laugh — and being part of The Wiggles family comes with the expectation she'll live a "Wiggly" kind of life. That means a life that's PG-rated. Asked if there's a Wiggles code-of-conduct manual hidden away somewhere, Watkins denies it with a diplomatic smile. Yet, impressively, over the past 30 years there have been no drunken stumbles, no late-night inappropriateness, no lewd voicemail messages — not even a swear word or a regrettable tattoo. (Well, actually, there may have been one unexpectedly delightful F-bomb during the photoshoot but what happens on a cantilevered balcony stays on a cantilevered balcony, and mere mortals would have said far worse under the circumstances.) Watkins says it's just not who they are. "Simon, Lachy and I are very joyous, happy, positive people," she says. "I don't think that you could be hired as a Wiggle if you didn't have that kind of general vibe."
That vibe was undoubtedly tested in 2020, though, when the group wasn't able to tour — a staple of The Wiggles' business model. It had a very real effect on the brand financially, leading to a downsizing of staff, not least managing director Paul Field (Anthony's brother), who left last March after 24 years with the group. "There's so many people that we just haven't seen in such a long time, people that sold our merch for us, our crew, our riggers," says Watkins. "It's just a different dynamic."
That's not to say Watkins and the rest of The Wiggles family have been bingeing Netflix like the rest of us. The group has been filming a new TV series, working on partnerships with everyone from Google Nest to Big W and, in a show of civic duty, recording songs about social distancing and handwashing. Meanwhile, their songs have been dominating music platforms such as YouTube, where their videos have now racked up more than 1.6 billion views. Yes, billion. Last year alone, their songs were streamed on Spotify more than 180 million times by 3.9 million listeners in 92 countries.
Watkins admits that, to a certain extent, she actually welcomed the break from the often-relentless touring schedule. "It feels overdue," she says. "Even though we didn't stop working, it's been a great time to step back, in a sense."  Last year's event gave Watkins and Brian a chance to settle into the home they share with their 11 animals. Watkins bought the $1.3 million house in Sydney's Ryde, where she grew up, back in 2019. "It's like a suburban farm," she says. "We have two dogs, two cats, two bunnies, two goats and three chickens." For Watkins it's an essential haven, offering respite from intense filming in the studio. The group recently shot for 14 days straight, leaving her with a heat rash from her yellow polyester skivvy. But, arguably, heat rash is worth dealing with when you consider the money the group brings in.
The Wiggles empire is big business. It's estimated that the group generates about $30 million a year and since Watkins became a board director in 2018, her role has become even more important — even if she sometimes attends meetings dressed as a Wiggle due to her filming schedule. It's not hard to imagine that when Field, who is nearing 60, retires (which apparently, he has no intention of doing just yet), Watkins might step into his large shoes and become the driving force of the group — a role that would fit her like a pair of well-worn ballet shoes. "For me, this [job] is perfect because I get to do everything," she says. "I get to do my filming, I get to edit, I get to dance. I get to try singing, record albums, film TV series. Every single day is something different. I can see why the originals did it for so long." And with that, she leans over to see the results of our photoshoot, pushing her styled, Jessica Rabbit-esque red hair out of the way. "Is that me?" she says, laughing nervously in disbelief at the beautiful images. And for a moment, it's difficult to tell if I'm talking to Emma Wiggle or Emma Watkins.
Photographs by Pierre Toussaint. Styled by Virginia van Heythuysen. Hair by Keiren Street at HM Division. Makeup by Charlie Kielty. Pierre Toussaint is represented by Vivien's Creative. Shot on location at The Seidler House Joadja, NSW. Lips: Yves Saint Laurent Tatouage Couture Velvet Cream in Nude Sedition; foundation: NARS Natural Radiant Longwear Foundation in Oslo; powder: By Terry Hyaluronic Pressed Hydra-Powder Face Setting Powder; luminiser: RMS Beauty Living Luminizer; concealer: Laura Mercier Flawless Fusion Ultra- Longwear Concealer in 1C, all from mecca.com.au.
A version of this article appears in print in our launch edition, Page 76 of T Australia with the headline:
View from the Top
Order a copy | Subscribe