A decade in the making, the "Aboriginal Australian Culinary Journey" combines ancient stories with the best of contemporary design, with 100% of Breville's profits going to the National Indigenous Culinary Institute's work to three causes: to create employment opportunities for aspiring Aboriginal and Torres Strait Islander chefs, to support childhood nutrition and sharing of indigenous food culture the "Indi-Kidi Program" by the Moriarty Foundation, and for Indigenous scholarships and initiatives at the University of Technology Sydney to create pathways for employment in engineering, technology and design.
The inaugural limited series of six Breville products feature works by esteemed Western Desert artists, and members of the original Pintupi Nine, Yalti Napangati, Yukultji Napangati, Warlimpirrnga Tjapaltjarri and Sydney- based artist and Yuwaalaraay woman, Lucy Simpson.
"An Aboriginal Culinary Journey is an ambitious initiative to tell stories of our country using products as canvas. The artists had the brief of combining ancient artistic techniques with current design acumen and an eye toward the future. Our artists, Yalti, Yukultji, Warlimpirrnga and Lucy embraced this project so effortlessly and intuitively and imbued so much story and meaning to each piece. I am so proud to be part of this rich and important chapter in Australian design and culinary history," said the project's curator, Alison Page.
To ensure the project had the highest cultural and legal integrity, Breville partnered with Dr Terri Janke, a Wuthathi/Meriam woman and an international authority on Indigenous Cultural and Intellectual Property, known for innovating pathways between the non-Indigenous business sector and Indigenous people in business.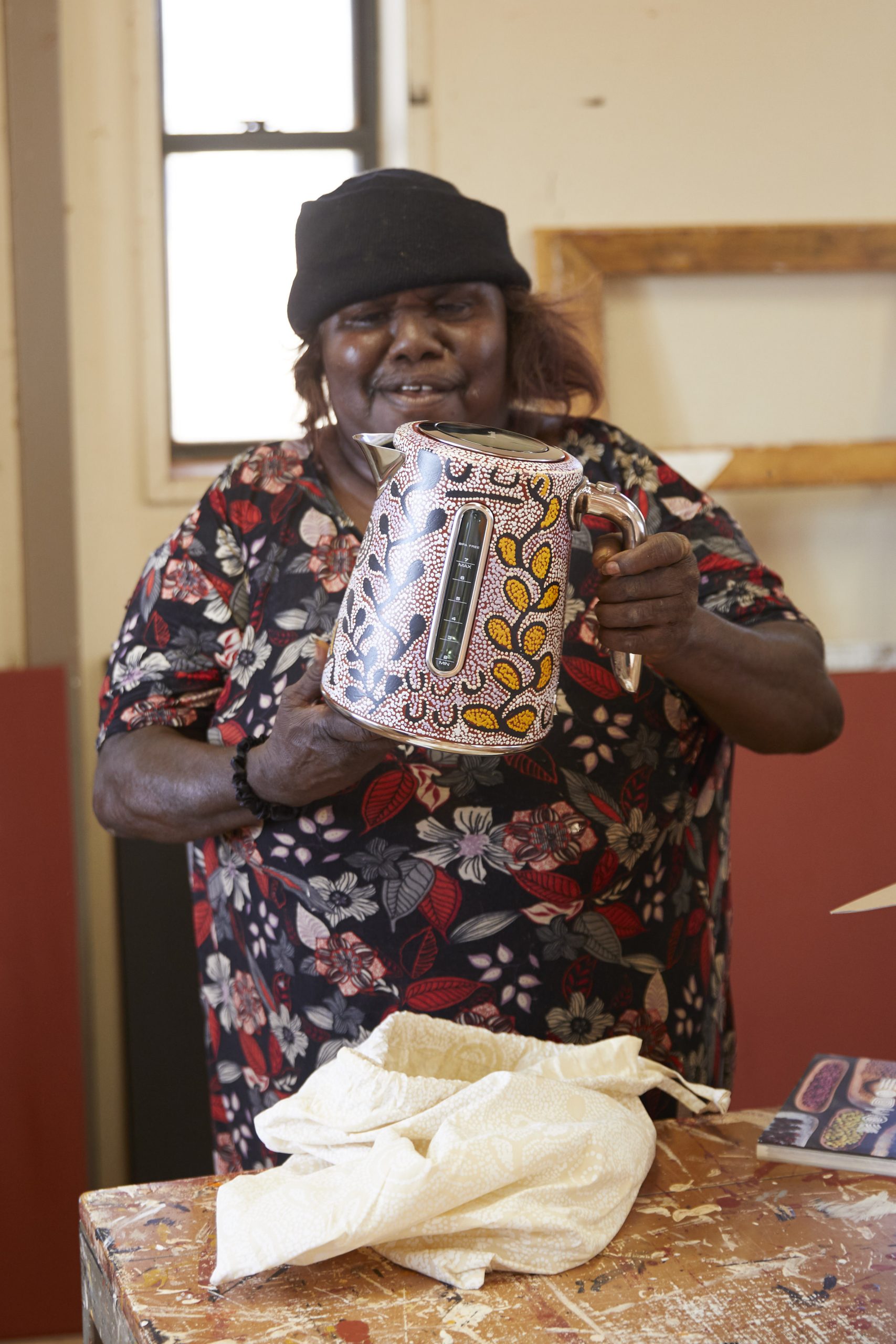 "As an Australian company, we are proud to share these stories belonging to the world's oldest living culture and to weave them together with our own 90-year history of innovation," said Jim Clayton, CEO of Breville Group. "An Aboriginal Culinary Journey is more than just a collection of products; it's an invitation to immerse yourself in a deep and vibrant culture, and we're honoured to provide this unique opportunity to bring these art objects into your home."
An exhibition, "An Aboriginal Culinary Journey: Designed for Living" runs from May 27 to August 7 at the National Museum of Australia before a global exhibition tour to London, Paris, Berlin, Brussels, Toronto and Los Angeles.