For Sean Fennessy and Jessica Lillico, the trade-off for moving out of the city – where they had essentially been pushed out of the housing market – was a unique home. Extending their search northeast of Melbourne to the bushland-heavy outer suburb of Warrandyte, the couple looked at a number of mid-century homes but were dissuaded by poor attempts at past renovations. "We saw so many homes where timbers had been covered up and kitchens were made all shiny. It felt like the soul had been ripped out," recalls Fennessy. "That's exactly what we didn't want." So when this 1969 post-and-beam house came up for sale, it's lack of intervention was a huge drawcard. The couple weren't motivated by the opportunities a "blank slate" could offer, but rather, the chance to renovate with restraint. The location also appealed, with the Yarra River at one end of the street and the State Park at the other, knitted with trails that weave through abandoned mine shafts.
While Fennessy, a photographer known for his architectural imagery and Lillico, a stylist, had an appreciation of design and visual environments, they wanted the added confidence of a professional, so brought on architect and interior designer Adriana Hanna. "We knew what we liked but it was very comforting to have someone like Adriana to make the final decisions," says Fennessy. "Otherwise, we would have been second guessing ourselves the whole time. It was nice to be able to defer to her, she knew 'what's what.'"
The house, dating back to 1969, is attributed to builder, designer and landscaper Alistair Knox. While less prolific than Australia's most widely recognised modernists such as Robin Boyd and Roy Grounds, Knox's alternative philosophies are, thanks to the benefit of hindsight, now considered pioneering. "Because Knox wasn't a formally trained architect and largely self-taught [he] had a thoughtful and coherent approach to his residential work that synthesised a connection to landscape and the surrounding environment. He is arguably one of the very few in this era who practiced sustainable design without labelling it, working with robust local building materials, indigenous plants [and] using passive design principles," says Hanna, referencing his implementation of north-facing clerestory windows for warmth and natural light.
Fennessy and Lillico wanted to ease into the process by renovating one bathroom and adding another. "It was daunting at first, but the bathroom basically turned the house into a construction site so we decided to make all the necessary changes at the one time," says Fennessy, who proudly attempted some sanding and staining himself. While not part of Knox's original plan, the addition of the new master ensuite was for practical purposes (there was only one bathroom to serve all the bedrooms and the couple has two toddlers) only, and when it came to any changes, upholding his vision was at the forefront of all design decisions. "I felt that my personal responsibility as an architect was to restore and preserve the heritage and the design intent. I wanted the house to appear as though it was untouched," says Hanna who used terracotta tiles in the bathroom which references the basket weave brick in the living space.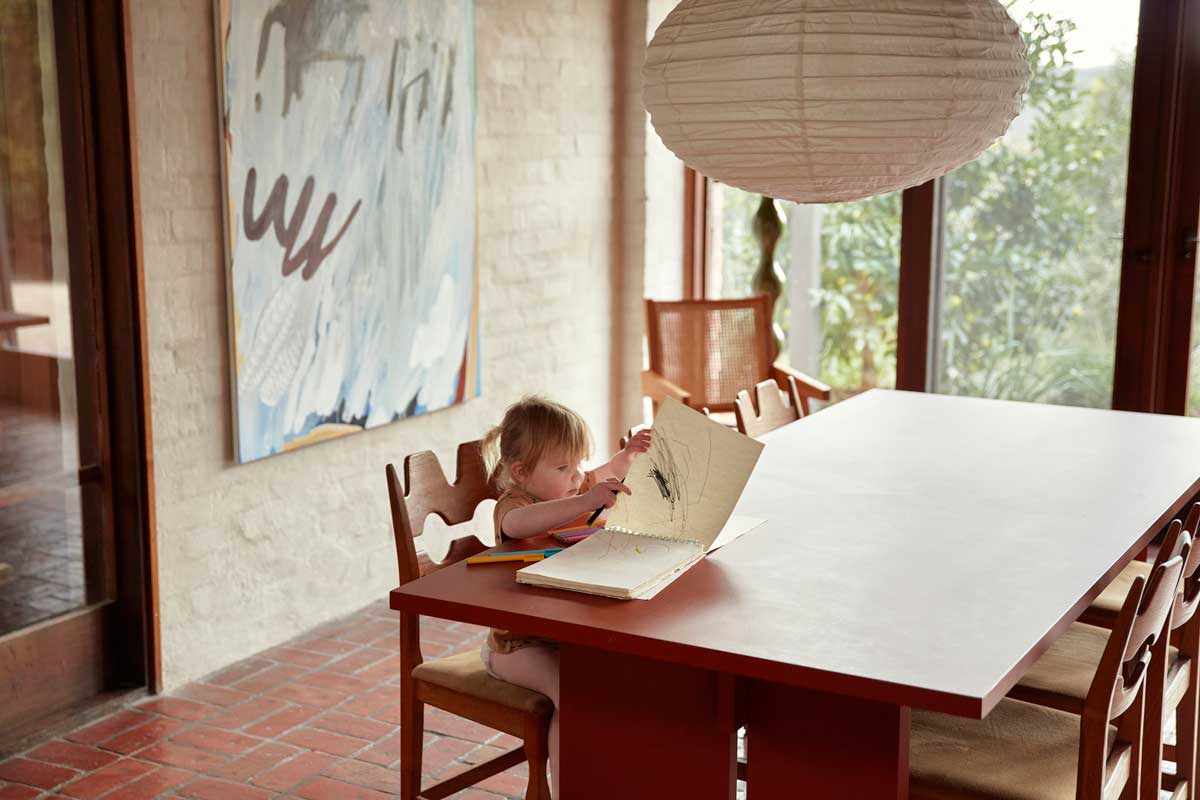 For Fennessy, inspiration for the communal area came by way of modernist masterpieces such as Heide II by David McGlashan in Melbourne and the Neutra VDL House in Los Angeles, both of which feature built-in sofas, an element essential to Fennessy and Lillico's brief too.  While an existing wall was perfectly suited for upholstered bench seating, Hanna designed a full-height shelving unit at right angles so another built-in sofa could run against that too.
Overall, the combination of cedar, blackbutt and terracotta made for a very brown and insular environment so to provide some "visual relief" from the heaviness, Hanna suggested treating the  internal Hawthorn brick walls with a raw render, also a nod to Knox's signature earthy mud brick houses. "The intention was never to modernise this house," says Fennessy. "We wanted to make it a better version of itself."
The sensitive treatment given to the kitchen involved integrating amenities (to avoid looking too contemporary) and installing a spotted gum central island (in the same position) with white glazed tiles inspired Frank Lloyd Wright's glazed ceramics. "People walk in and ask whether the kitchen is new. It does feel very 1970s," admits Fennessy. "But then again, that was the idea."