Vivid Sydney is once again igniting the city with creative brilliance throughout June. Now in its 12th year, the festival of lights and ideas fuses art, innovation and technology in collaboration with some of the most boundary-pushing artists, thinkers and musicians of our time.
For those coming in from out of town, we recommend staying at Kimpton Margot, one of Sydney's most exquisite Art Deco buildings. Perfectly situated in the CBD, it's a stone's throw to the majority of the Vivid events as well as great restaurants, shops and bars. In between inspiring talks, stop for lunch at Fred's Paddington on bustling Oxford Street. Their signature farm-to-table cooking features seasonal locally-sourced produce and a sense of occasion, making it the perfect destination restaurant for out-of-towners.
After an evening of spectacular light shows, plan for a late dinner at Hinchcliffe House, four levels of dining and drinking experiences within a heritage wool store. Choose from one of four venues in the precinct. Lana is the fine diner with beautiful lighting and sophisticated service, whereas the moody subterranean Apollonia bar is perfect for tiramisu and negronis. Grana specialises in hand-milled grains, so you should absolutely order the pasta, and Bar Mammoni is tucked down a laneway and probably either your first or last stop – maybe both.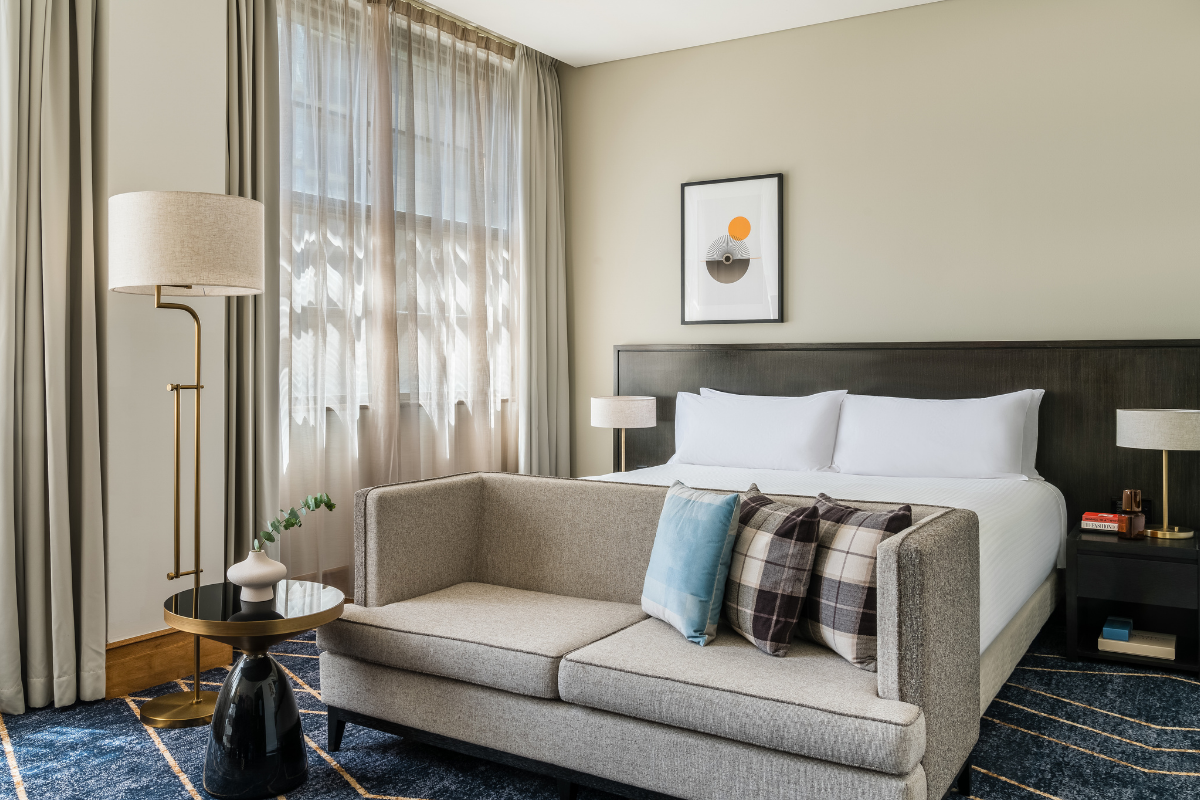 FREE | from 2 June | Powerhouse Museum | 6.30-7.30pm
Join a live recording session of the STAGES podcast hosted by Peter Eyers. Come and hear from some of Sydney's leading creatives on what it takes to shape wildly successful performances. You'll meet musicals super-producer Carmen Pavlovic, costume designers Jennifer Irwin and Julie Lynch, and artistic director Declan Greene over three nights at the Powerhouse Museum as part of Vivid Ideas Up Late series. Stay after each session for more fun that traverses the fashion, queer and ballroom scenes. Find the full roster of speakers here.
5 June | State Theatre | 3.00-4.00pm
Baz Luhrmann is a master storyteller, award-winning filmmaker and a pioneer of pop culture who delights audiences with his signature blend of fantasy, romance and theatrics. Come and hear from this creative visionary about his latest, the hugely ambitious film, "Elvis". In his chat with Marc Fennell, Baz takes you back to his small town NSW childhood where the off-kilter dynamic between a Navy diver father and ballroom dance instructor mother seeded a boy with a rare combination of a vivid imagination, supreme confidence, and the leadership qualities to muster anyone who'd listen to his latest flight of fancy. Get your tickets here.
FREE | 7 June | UTS | 3.30-4.45pm
The 'Future of Work' promises freedom, flexibility, fun, and inclusivity. Too good to be true? Come and hear from three divergent thinkers about changes we can make now to improve work (and society) for the many – not just the few. The panel includes T Australia columnist, author and activist Bri Lee, former journalist turned academic Dr Emma A Jane and best-selling author and journalist, Jamila Rizvi. Get your free tickets here.
$45 | 8 June | UTS | 11.30am-1.30pm
Is creative genius something you're born with? Or something you can cultivate? Discover powerful creative thinking techniques that have worked for the likes of Google, Nike, LEGO and eBay in this stimulating and highly interactive workshop led by creativity expert Nicole Velik. Learn new strategies to help you approach problems differently and find ways to unleash your creativity – especially under pressure. With a wealth of experience and anecdotes that will inspire and entertain, Velik will have you ready to apply new-found tactics right away. Get your tickets here.
$45 | 11 June | UTS | 7.30-10pm
Reconciliation NSW's signature anti-racism event exposes white privilege and colour blindness by asking hard questions. This fun session is part game show and part comedic debate with music and poetry mixed in for good measure. Get comfortable with being uncomfortable. Get your tickets here.
FREE | 15 June | Australian Museum | 6.30-7.45pm
Come and hear from cultural connectors Stephen Page (Artistic Director Bangarra Dance Theatre), Sara Mansour (Co-Founder of Bankstown Poetry Slam) and Ramesh Mario Nithiyendran (Visual Artist) about the stories that define us, bring us together, and sometimes tell uncomfortable truths. Our own Katarina Kroslakova, Publisher & Editor in Chief at T Australia: The New York Times Style Magazine will moderate the session.
Top off this jam-packed night with drinks, free live music, and a wander through the exhibitions. Book your free tickets here.
$45 | 18 June | Australian Museum | 6.30-10.00pm
The Australian Museum's iconic after-hours party will be crawling with DJs, artists, scientists and dancers. There'll be performances by some of Sydney's most fabulous drag queens, a mutant barnyard, and an autopsy of a T. rex conducted by leading scientists from Improv Theatre Sydney. There'll be face-painting, dancing, side-show antics, immersive experiences, performances, a pop-up bar and the chance to explore our blockbuster exhibition, Jurassic World by Brickman®. Book your tickets here.
18 June | Tumbalong Park | 5.00-6.00pm
Make tracks to Tumbalong Park for 5.00pm each Saturday during the festival to the kids' fun zone. See the stage light up with fab fresh free acts loved by children of all ages. On 18 June, Justine Clarke, Playschool host and Queen of the Kids, will pump up the fun factor with her playful and lighthearted show full of sing-along, dance-along songs.
–
Vivid Sydney will be on from Friday, 27 May 2020 until Saturday, 18 June 2020. The light shows will be on every evening from 6.00-11.00pm.