Tucked away amid the high-powered machinery at the 2009 Frankfurt motor show was one modest display that garnered outsize attention: the Trabant nT. It was a modern revival of the Trabant, a long-running model that would have been familiar to every visitor as the default wheels of former East Germany. Cramped, poorly built and belching smoke from a tiny two-stroke engine, the Trabant was notorious for being one of the worst cars ever made. In the case for reunification, the "Trabi" was Exhibit A. But the Trabant nT was a hit: two-thirds of showgoers gave it a thumbs-up. Yes, it was cute. But even better than that, it was clean. Underneath, it was all-electric.
Back in 2009 the automotive industry was taking its tentative first steps towards a future powered by batteries. Tesla was just getting started. Australians bought a few thousand hybrids a year, but pure electric vehicles didn't register at all. Now there's a globe-straddling stampede into EVs and such a profusion of Tesla-like startups — with unfamiliar names such as Lucid and Nio — that it's hard to keep track. The anxiety of traditional automakers is almost palpable, as they make increasingly desperate-sounding pledges to go electric. Few need reminding that consumers are more fickle than ever.
So to stand out from the crowd — and summon whatever fond memories they can muster — some carmakers are adopting Hollywood's favourite strategy: the sequel. It's a simple process: find or acquire a dormant badge and exhume it for an electric renaissance. The e-Trabi proved the old adage that a bad reputation is better than none at all, while its reception was early proof of the incredible redemptive power of the battery.
A defunct model has a distinct advantage here in that it can be born again utterly cleansed of its internal-combustion sins. One carmaker that needs it more than most is Volkswagen. The Dieselgate scandal in 2015, when it was exposed as an emissions cheat, punished it financially. But it also rocked the company ethos and sullied the brand. Dieselgate changed the mood around emissions, especially in Europe. To that point, "clean diesel" was the way to limbo under carbon emissions regulations and battery-run vehicles — despite protestations to the contrary — were compliance projects. Suddenly, diesel was a dirty word and every carmaker realised it was time to get serious about plug-ins.
It was a damascene moment for Volkswagen, which redefined itself around an electric mission. It plans to launch scores of EVs, built in sustainable factories, and has approached the task with the zeal of a convert — and a budget of €35 billion ($AU54 billion).
In Zwickau, ironically once home to Trabant, a carbon-neutral factory is now building the first members of Volkswagen's electric line-up, the ID.3 and ID.4. But the first EV it revealed, back in 2017, was dubbed ID. Buzz. Volkswagen knew this re-creation of the Kombi would summon warm, fuzzy feelings everywhere. Of course, producing the Buzz was a very long way down the company's to-do list, but never mind, it was instant PR gold.
Next year, it finally goes into production and, if it matches the concept, it will have eight seats, two electric motors good for 275kW, all-wheel drive and a 600-kilometre range. Perhaps it will inspire the next generation to embark on a surf trip of self-discovery. But the company's vision is actually the antithesis of that. The Buzz will be the first Veedub capable of autonomous driving and, by 2025, will be the workhorse of a ride-hailing scheme. It's an urban taxi, not the endless summer.
Another brand on the road to rehabilitation is Hummer, after it was killed off by General Motors during its bankruptcy in the global financial crisis. The Hummer began life as the Humvee, a military vehicle that came to public attention during the 1991 Gulf War. The actor and former California governor Arnold Schwarzenegger was reputedly behind the push to make a civilian version and the result, dubbed H1, was enormous even by US standards. Naturally, fuel economy wasn't a strong point and it quickly became a focus of early noughties eco-outrage against SUVs. Over a few weeks in California, hundreds were vandalised. That didn't stop GM developing two more versions, H2 and H3 (which was briefly imported into Australia from 2007).
Schwarzenegger assuaged his environmental concerns by converting his Hummer to run on vegetable oil. He also became the public face of alternative driveline experiments, with vehicles ranging from a hydrogen-powered H2 in 2004 to an electric H1 engineered four years ago by the Austrian company Kreisel.
That H1 was a one-off, never intended for production, but a reborn Hummer badge, sold by GM's truck and utility division, GMC, will begin rolling out of a Detroit factory later this year. The claims for the Hummer EV are as supersized as the 5.5 metre-long vehicle itself, with GM describing it as the world's first all-electric super-truck, adding: "It will leave everything you thought possible in a cloud of dust."
Hummer EV Edition 1 has impressive on-paper credentials: three electric motors with 746kW of power and enough torque for a locomotive. There's launch control (called Watts to Freedom), which gets the vehicle off the line in supercar fashion — 97 kilometres per hour in "about three seconds". With two Ultium battery drive units and an 800-volt electrical system, range is 563 kilometres and it can fast-charge for 160 kilometres of driving in 10 minutes.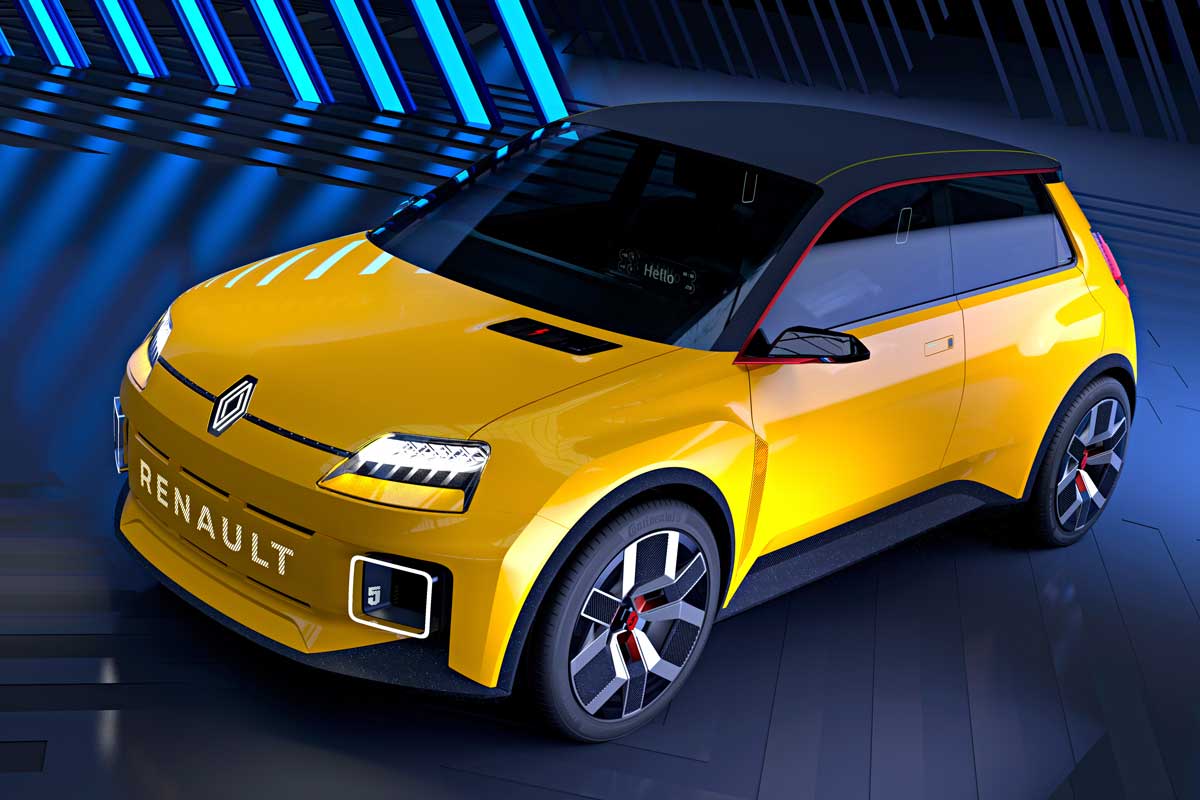 Some crucial information is still MIA, including payload and towing capability — and whether it will come to Australia. But its bush credentials include adaptive suspension with an Extract mode (instant extra ground clearance) and four-wheel steering for tighter turns. Its party trick is "crab- walking" — diagonal driving using all four wheels angled the same way. Edition 1, at US$112,595 ($AU147,946), features a suitably rich interior as well as removable transparent roof panels. Lower- spec versions follow.
The electric ute will soon be one the most hotly contested segments, with rivals due from Ford, startup Rivian and — of course — Tesla. Big rigs have big margins, so the high cost of batteries can be concealed in the price. It works even more effectively at the super-luxury end of the market. Glamorous brands, resurrected, can trade on their collectability.
Aston Martin declared its hand three years ago with a plan to revive Lagonda as a pure electric luxury rival to Rolls-Royce. The Vision Concept limousine experimented with unusual materials such as ceramics and cashmere in a spacious, futuristic interior, and assumed a high level of autonomy. Its follow-up, the All-Terrain Concept from two years ago, set a production date of 2022, or seven years since the Lagonda badge last graced a car (the $1.3 million Taraf sedan). However, Aston Martin ran into financial trouble and the Lagonda project has been shelved until at least 2025.
Almost as venerable is Hispano Suiza, a Spanish brand which earned a reputation as a purveyor of vehicles to royalty for four decades until World War II. A great-grandson of the company founder is behind the Hispano Suiza Carmen, a hyper- luxury fully electric grand tourer. The design finds inspiration in the 1938 Dubonnet Xenia, a one-off made for the French racer André Dubonnet with unique aeroplane- themed bodywork, an 8.0-litre straight-six engine and innovative suspension.
The Carmen is made with carbon fibre and borrows technology from the Formula E motorsport series. With two motors at the rear and 750kW of power, it races to 100 kilometres per hour in 2.9 seconds. But it's shaded by the Carmen Boulogne performance model, with four motors and 820kW. It hits 100 kilometres per hour in 2.6 seconds and achieves a top speed of 290 kilometres per hour.
Each custom-made cabin features a mix of old and new while remaining faithful to the design and craftsmanship of the original Hispano Suiza cars. The Barcelona factory will build just 19 examples and deliveries begin next year. The starting price is a majestic €1.5 million ($AU2.3 million), plus taxes.
So the Hispano Suiza Carmen is not one for the masses. Instead, the masses will have to rely on republican France, where Renault is fomenting revolution. Or, as its January strategic outline clumsily titled it, "Renaulution". It sets out a five-year plan for seven new electric vehicles centred on a revival of its Renault 5 runabout, which was one of the planet's most popular vehicles for two decades, starting in the early 1970s.
In particular, the Renault 5 Prototype cherry-picks design cues from a cult turbo version, the R5. The company says the model will "show that Renault will democratise the electric car in Europe with a modern approach to the popular and essential car". The proposal is long on rhetoric but short on details such as power and range. However, sans-culottes-in-chief Luca de Meo does say that the pin-size battery hatch will come "at a price many can afford".
It's a laudable aspiration — an accessible plug-in for the hoi polloi is the electric holy grail. And there are plenty of brands, from Fiat to Honda, that have embarked on a similar mission, albeit without a handy badge to revive. One competitor that they won't need to worry about, however, is the Trabant nT. Ahead of its time, perhaps, but even favourable sentiment could not propel it into showrooms.