As a girl, the furniture designer and artist Elizabeth Garouste had a profound fear of the furnishings and objects in her home, in Paris's Montparnasse neighborhood. "I always thought that things around the house would furtively move themselves, that they had their own souls," she says in her native French. Garouste was born into a Jewish family in 1946, just after World War II ended, and had a grandmother who didn't mince words when it came to describing the recent atrocities. "I transferred a kind of terror onto everything," Garouste reflects, "and, really, I may have decided to make furniture as a means of taming those items that I grew up with." Her primary aim for the pieces she now creates is to endow each with a buoyant personality.
Walking through Garouste's latest collection at Ralph Pucci's Manhattan gallery feels like making the rounds at the best kind of party. Her furniture, distinctive and indeed animated, is arranged into intimate vignettes: A floor lamp made from gilded wrought iron, its milky blue glass globe supported by three bent legs, mingles with a patinated iron armoire enclosed in a gilded iron exoskeleton with more than two dozen oversize turquoise and navy blue ceramic disks appended to its doors. A rounded burgundy sofa and teal, egg-shaped armchair — finished with plaid cushions and rough, triangular bronze legs — sit in conversation with an oval coffee table cut from patinated iron and hoisted by trapezoidal legs, its surface inlaid with black and beige mosaic tiles that fall into concentric circles and wavy lines. Against a wall hangs a pair of bronze sconces shaped like ancient Greek theatre masks. The centrepiece, though, is a lone and exaggeratedly curved, almost Seussian chair swing — its back and seat upholstered in black-and-azure striped fabric, its sides in red-orange and cyan stripes — suspended from the ceiling by wrought-iron chains.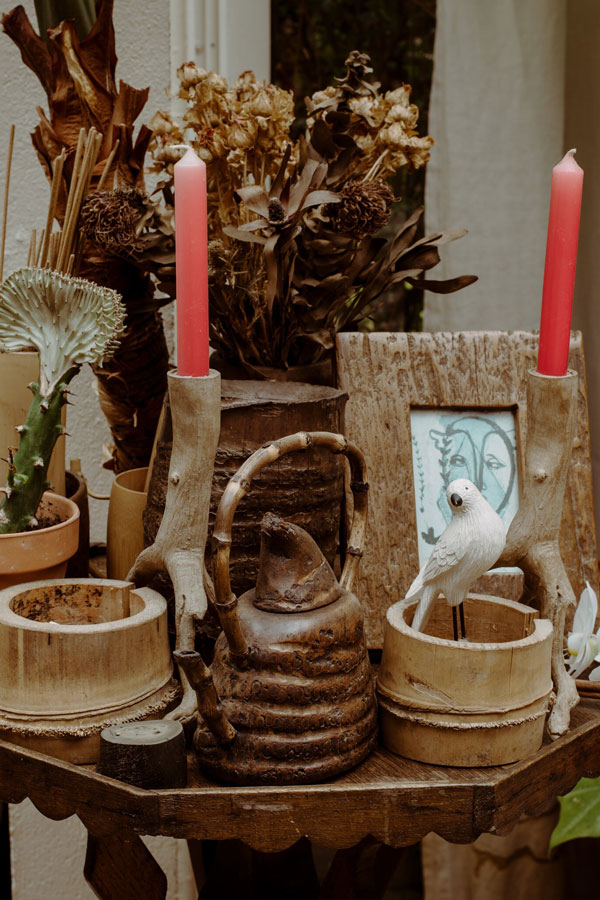 She may be known for combining dissimilar materials and techniques, often within a single work, but Garouste thinks about more than contrast. Every item has its own story: The plaid-accented sofa and armchair, for example, are meant to evoke a buttoned-up British sensibility, while the swing conjures the playfulness of childhood; the floor lamp hints at weightlessness, its globe resembling a floating soap bubble or balloon. As Pucci says, "This work is her own world."
From birth, Garouste has been surrounded by creative people. Her parents, Salomon and Blima Rochline, owned a fashionable shoe store called Tilbury in Saint-Germain-des-Prés; her younger brother, David, went on to become a multifaceted artist, known in particular as an actor and set designer, after gaining recognition in the Parisian underground scene of the 1970s and '80s. (In a 2015 obituary, his longtime friend, the playwright and director Jean-Michel Ribes, described him somewhere in between Jean Cocteau and Andy Warhol.) In high school, she met Gérard Garouste, whom she would marry in 1970 and who later became a noted painter and sculptor; for university, she studied interior design at the École Camondo, where she cultivated a group of companions that included the architect and designer Philippe Starck and the fashion journalist François Baudot. "I'm happy that I came of age when I did," Garouste says, "because it was an interesting and complex period. In France, the postwar era was called Les Trente Glorieuses, the 30 years of rebuilding economically and finally achieving peace. And then, of course, there was May '68, which called into question all of the traditional values."
After college, she spent nearly a decade designing footwear at Tilbury and also created costumes for Ribes's early productions. But she didn't try her hand at interiors until 1980, when Gérard asked her and Mattia Bonetti, a Swiss-born photographer and stylist, to help him with the décor for Le Privilège, the smaller club in the basement of Le Palace, often referred to as the Studio 54 of Paris. Gérard had been working on these kinds of projects "to make a living," she says. "He enjoyed it, of course, but this was really what I'd dreamed of doing." She and Bonetti hung primitive terra-cotta masks on the walls, dipped fabric in plaster and wrapped it around columns and lined the tables with Moorish-inspired velvet and gilded-wood chairs. Reporting for Le Monde on the opening of Le Privilège four decades ago, Frédéric Edelmann wrote, "One either loves or hates the Palace. One talks about it, in any case" — and so Garouste and Bonetti, too, became subjects of conversation.
The collaboration sparked a lengthy partnership, and Garouste and Bonetti developed a sought-after aesthetic defined by their pieces' rebelliousness, use of unexpected (and unrefined) materials and delicate surrealist twists. The duo's 1981 Barbare chair — which comprises a foal's hide stretched across a rustic, throne-like, wrought-iron frame — earned them the nickname "the New Barbarians." They made rounded metallic dressers with irregularly placed drawers and handles, sofas that ran the gamut from shapely and inviting to pared-back and studded and gilded candlesticks that looked like ancient artifacts. In 1987, Garouste and Bonetti brought their touch to Christian Lacroix's new couture salon (they also designed all of his boutiques), a commission for which they created graphic curtains from off-white linen and black velour and stately chairs with spindly black wrought-iron frames that culminated in insect-like antennae. "The shapes and the colours were luxurious, but the materials themselves weren't," Garouste says. "It was quite atypical for a couture salon."
In 2002, Garouste split from Bonetti; after half a lifetime defining herself, or being defined, in relationship to her brother, her husband or her design partner, "I had to exist on my own terms," she says, which, she's found, comes with a lot of freedom. She keeps a home in Paris's 11th Arrondissement and spends long weekends at her and Gérard's country house, a 17th-century chateau in Marcilly-sur-Eure, in Normandy (Gérard lives there full time). She has studios in both places, where she works on limited-edition pieces — like those at Ralph Pucci — or commissions for private clients. She likes to garden and read (she finishes a book per week and recently devoured "The Notebook," "The Proof" and "The Third Lie," a trilogy by the Hungarian writer Agota Kristof) and has four grandchildren; she is dedicated to La Source, the organization founded by Gérard in 1991 that brings art programs to children across France who otherwise wouldn't have access to them.
Garouste has also used the last two decades to further develop her more personal artistic practice. She makes intricate line drawings of fanciful creatures — many of which appear to riff on mythological figures — and surrealist papier-mâché sculptures, covered in detailed faces, abstract shapes and forms found in nature. At Gérard's urging, she has started to exhibit some of these works. Part of the appeal of these projects is, she says, that she can accomplish them on her own, whereas her furniture relies on a certain number of craftsmen. "I don't have to think about whether these things are functional, or usable," she adds. "I don't need to worry about where in a space they'll go. It's imagination for imagination's sake."