It all started about 10 years ago with a book of naughty French songs and a meet-cute in Paris. The Australian singer Abby Dobson (of the platinum- selling band Leonardo's Bride) had been living in the French capital for six months when she ran into a fellow Australian, the violinist and singer Lara Goodridge (of FourPlay String Quartet), outside a cafe one sunny morning. Goodridge had released Dobson's first solo album on her label, Craving Records, but until that point, they never realised they shared a love of all things French.
"We just met for a coffee and I was holding a book of slightly risqué early French songs I'd just bought, which we laughed over," says Goodridge. "I'd always been a huge fan of Abby's voice and music, but we had a relationship that was much more about the machinations of putting an album out rather than performing together in any capacity." However, by the end of that coffee, the two agreed to meet up and sing a few French songs, purely for the joy of it. "It was absolutely a passion project at that point," says Goodridge. "But we got together for one rehearsal and I remember Abby saying, 'Oh my God, this is what I want to do when I grow up.'"
In the decade since, their group, Baby et Lulu, has not only been nominated for an ARIA Award, it has become a staple of radio playlists and the festival circuit, and has sold out music venues around Australia. In September, Baby et Lulu will release "Album Trois", followed by an Australian tour, starting in October — pandemic-pending, of course.
You sing in French, when did you first fall in love with the French language?
Abby Dobson: "When I was young, French seemed to be this magical portal language that opened up worlds and deliciousness. When I got older, I liked to get drunk and speak French. I used to travel to Paris whenever I could — that was the place I would go whenever I had any coins in my pocket."
Lara Goodridge: "I fell in love with French as a kid, watching black-and- white movies on TV, like the old Yves Montand, Leslie Caron, Édith Piaf and Jeanne Moreau films. That was the beginning of it for me."
How did Baby et Lulu become the success it is today?
LG: "It grew so organically in the beginning. The very first show we did was at The Vanguard in Sydney's Newtown, which we only advertised on Facebook. It sold out, so then we thought, 'Oh, well, let's do a second show.' "
AD: "It wasn't that viable at the start; I was living in Melbourne and Lara was in Sydney. But people loved it. We didn't realise there were so many Francophiles in Sydney — we thought it was this silly thing that was just our personal joy. We had no idea if anyone else would be interested."
What is it like to sing in a language that the majority of the Australian audience doesn't speak or understand?
LG: "I think there's something beautiful about the fact that most people who don't understand French are really just connecting to some dream and some romantic feeling they have. We usually tell people what the song is about and people can connect to that, but as singers, we also have a different connection to the songs. I find that I'm a bit more open, a bit more confident in French, because I'm stepping through this portal and I don't feel quite as vulnerable as I do in English."
AD: "It's funny because we both write songs in English as well as French, and I labour over the lyrics quite a bit. But once I perform them, it really is just about the vibration of the sounds and words, and the intention behind it all, even in English."
Your latest album features classic songs that were written up to 80 years ago. Is there a period of history you're particularly drawn to?
LG: "We always choose songs that span different time periods and we carefully curate those we perform for what feels right for us as a duo. There are songs we love that didn't work for us and others that really came to life when we sang them as a duo."
AD: "From the beginning, Lara and I tended to have a very innate understanding of what was a Baby et Lulu song and what wasn't."
Some of the songs on this latest album were written during the darkest days of World War II. How do you connect with those?
LG: "I always feel the era that a song comes from. So, the Maurice Chevalier song, "Paris sera toujours Paris", which is the next single, I definitely feel that it's a war song. And when we're singing a Françoise Hardy song or a Brigitte Bardot song, the music without a doubt inhabits the time in which it was written."
AD: "I also feel like I'm entering an era when we dress up. Before a gig, we step into, not so much an alter ego, but an "old version" of ourselves. Lots of things we do are evocative of an era, but at the same time, I like that we can turn it on its head. We're not locked into any kind of paradigm and that's kind of fun for the audience as well."
How has the pandemic and the restrictions affected both your creativity and mental health?
AD: "We had a huge tour booked. We'd put a lot of work into the schedule and then it all just fell over like dominoes. My creativity was really quite affected by it."
LG: "We were going to put out "Album Trois" last year, too, so that was disappointing. But as far as creativity, we've been designing merchandise."
You have never toured in France. Why is that?
AD: "We would love to do it. Lots of French people come to our shows, which initially terrified us no end. But they keep coming back and they often say, 'You should take this to France, no-one is doing this there anymore.' However, it's really expensive. Even touring Australia with a six-piece band is expensive."
LG: "I think the only way we could do it is to pick up musicians over there. It's still in our sights — we haven't given up the dream yet."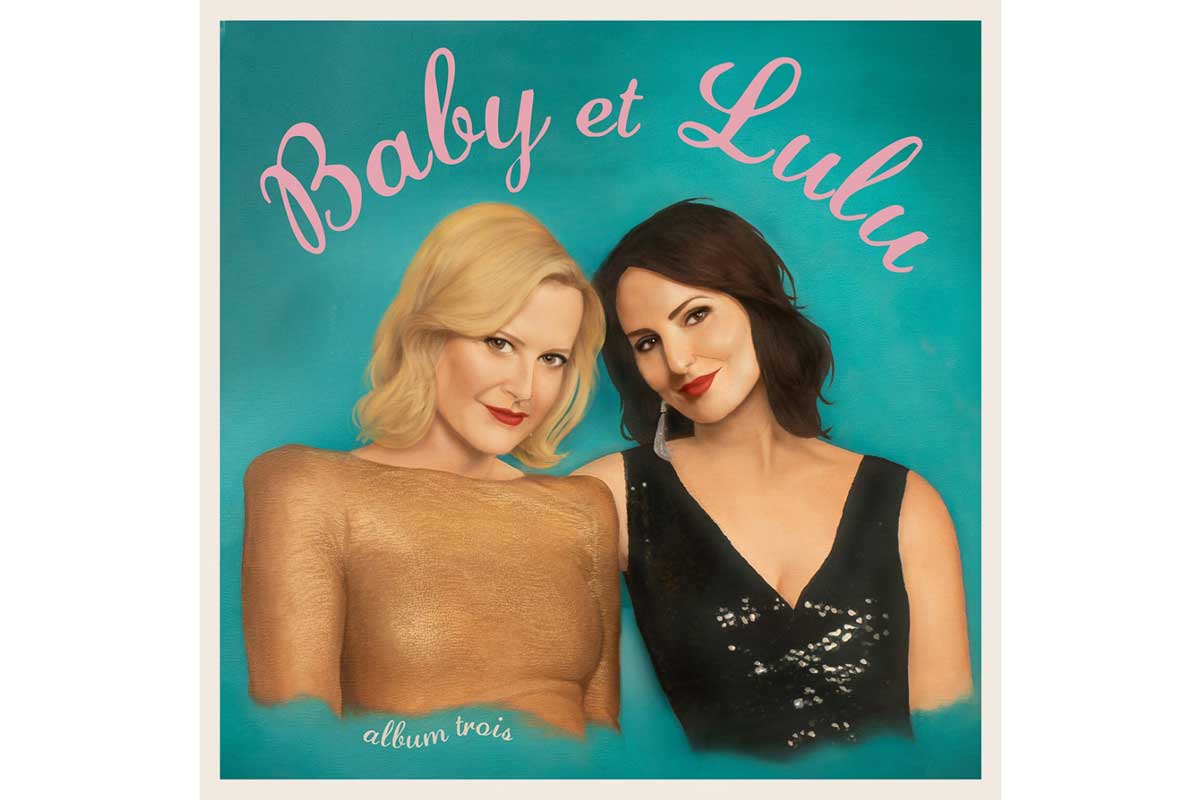 Baby et Lulu's Fast French Favourites
Favourite French Food:
LG: "A freshly baked quiche épinards chèvre (spinach and goat cheese quiche)"
AD: "Tarte Tropézienne. It's the local gateau from St Tropez. I spent an incredible couple of weeks near there in 2010. Created by Polish confectioner Alexandre Micka in 1955, it was named by actress Brigitte Bardot while she was there filming 'And God Created Woman'."
Favourite French City:
LG: "Arles (south of France). It is so pretty with ancient ruins (albeit Roman), little alleyways. It is like a petit Paris."
AD: "Paris! because Paris! Everything about it is delicious and beautiful and has been art directed! And now, even the subways don't smell like piss!"
Favourite Parisian Café:
LG: "Any cafe around Saint-Germain-des-Prés. It's a bustling, pretty area with little alleys and cobblestone streets, lined with great cafes and 'resto's'. Try a fresh baguette with some fromage, and a salad with heart of palm and artichoke."
AD: "Diggity in the 11th arrondissement. Their menu changes all the time. It is all delicious!"
Favourite Fashion Designer:
LG: "There's a lovely label called Sessun, which you can buy in Australia in some small shops. It's classic and simple, yet pretty and feminine. There's also a very classic Breton label called Armor Lux selling a lot of stripey clothing, like the Bretons wear. J'adore!"
AD: "Isabel Marant"
Favourite French Word:
LG: "A great little word for kiss is 'bisou', and it's pretty sweet to say… and do."
AD: "Je t'aime (I love you)."
Favourite Band/ Singer:
LG: "Camille. She is a stunning singer, a beautiful songwriter and an original voice in the global music world. Using layers and loops and body percussion, she is electric to watch and absolutely captivating."
AD: "Daft Punk"
Favourite French Song:
LG: "Dis, quand reviendras-tu? by Barbara."
AD: "Playground Love, by Air."
"Album Trois" is out 3rd of September, and Baby et Lulu's Australian tour starts on the 1st of October. For more information, visit www.babyetlulu.com.au