Ceramics, both as art form and craft, has enjoyed a renaissance in recent years, as people yearn for an antidote to the digital age. After all, there's no medium more down-to-earth than mud. When the pandemic struck, ceramics soared in popularity as people enduring lockdowns turned to the craft, seeking out the grounding properties of clay. Slow, repetitive and mindful, ceramics is a perfect practice for troubled times.  
While both women and men made pottery vessels in ancient cultures, the British Depression-era ceramist Clarice Cliff was the first woman to produce and market a line of crockery under her own name. In the following decades, the domestic and utilitarian nature of cups, plates and vases meant handmade ceramics were generally filed under "hobby" and "women's work" and, as with embroidery and knitting, relegated to the shelves of knick-knack shops rather than shown in galleries.
The genteel notion of female ceramists as "lady potters", working at the wheel to fashion conventional crockery, has been shaken up as more women artists find self-expression in ceramics and push the boundaries between art and craft. Using clay as their chosen medium, they pull and pummel and stretch the limits of convention, producing objects that challenge traditional forms and concepts, and are sometimes intentionally imperfect.
Here, T Australia meets four women who create the most sublime art out of the most fundamental of materials.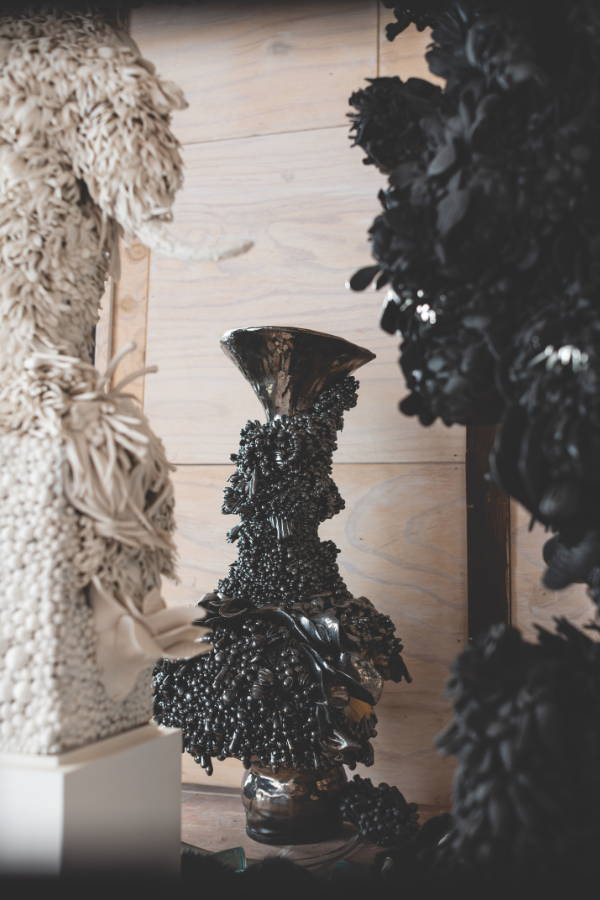 "I have always had what I would see as a healthy curiosity for the darker side," says Juz Kitson, whose meticulous porcelain sculptures, both magical and monstrous, sometimes resemble ominous "shadow characters", as she calls them. 
Many of those creatures — bone white, viscera pink and saturated black — take form at her studio in Milton, New South Wales, which sits in a garden planted with spiky succulents. Kitson makes use of bones, pelts, antlers, glass, knitted fabrics and threads to build her pieces, which range from sombre black funerary urns to fleshy and grotesque cascades of pink, resembling udders, tumours and genitalia. "For me, all life exists in an opening up and oozing out," she says.
Kitson's works are intentionally repulsive and exquisite, often at the same time. "Personally, I want to look at a work of art and have a guttural response. I want it to be physical," she says. "I'm playing with and teasing the darker side of the human consciousness and condition. Fear and anxiety are certainly motives behind some works and motivate my reasons for making. Fear of death and wanting to understand what happens after we pass through this world."
A tall redhead with mermaid tresses and a penchant for bright clothing, Kitson is far from gloomy in person. Indeed, there's a playfulness to much of her work. Even the funerary urns, a response to the 2019-20 bushfires that razed much of the South Coast where she lives, are "a sort of celebration of nature and the resilience of nature". Kitson considers herself a deeply spiritual person and is fascinated by Buddhism, Taoism and black magic, as well as the Eros and Thanatos (life and death instincts) of ancient Greek philosophy (her mother is Greek). 
She was raised in Sydney's eastern suburbs and Northern Beaches, and in Wagga Wagga, in regional New South Wales. As a child, she spent time on her uncle's sheep station in Tibooburra in the state's far northwest and often visited Hill End, north of Bathurst, to gather materials and inspiration. "Out in the country, I saw animals being skinned," she says. "I remember wedge-tailed eagles, really beautiful eagles, stuck in fence lines and almost petrified on the electric fence." That strong imagery has had a significant influence on her work.
Kitson was a creative child from a family in which art school was an unusual aspiration. She would often sit under the table to draw when guests came for dinner. "I have really early memories of foraging in the backyard and collecting all the dry leaves and wrapping vine around them and setting them out on my mailbox, displaying them like little scientific experiments and selling them," she says.  
Kitson thinks she was about 14 when she realised she wanted to be an artist. "I knew that I had to create every day," she says. "It was deep in my veins." Early on, she came across Patricia Piccinini's hyperrealist work. "It resonated with me," Kitson says. "I saw it was possible: you can pursue what you want in the art world. The absurd things I could see in my mind, I could actually translate into material form. I just wanted to create nonstop. And I knew if I invested everything into my practice — financially, spiritually, emotionally, all of it — then something would prevail."
She enrolled in a photography degree at the National Art School in Sydney, but soon got "sidetracked" by ceramics. The medium offered more freedom, she says, to bring in other materials and to "cross-contaminate". From the start, she experimented: stitching latex, heating plastic and dipping porcelain into melted paraffin wax. "The teachers would often come into the studio and think, 'What is she doing? This is completely mad,' and then leave me to my own devices," says Kitson. "On reflection, this was the greatest gift I could have received — the space and time to create, experiment, make mistakes and find the materials that represented my visual language." 
After Kitson finished her honours degree, she sold her first major piece to David Walsh at MONA in Hobart. She followed this with travel — residencies in India and, in 2012, Beijing, where she took up an internship with the prominent artist Lin Tianmiao, a period that proved profoundly influential. "She had a team of 35 women working for her on her large-scale installations," says Kitson. "They clocked in and clocked out every day. A bus would go in and pick them all up and bring them to the factory. She lived in this beautiful Bauhaus mansion on the outskirts of Beijing and I lived in the attic. She was my Bob Dylan." The experience was rewarding but, she says, "I can't look at the work now. As they say, kill your idols."
Kitson spent the next nine years, up until the pandemic, working between Australia and a studio in Jingdezhen, the ancient Chinese city where fine porcelain has been made for more than a thousand years. "It's a Disneyland of porcelain," says Kitson. "The mounds on the side of the street are ceramic shards; the telegraph poles are made out of porcelain." She learnt from masters, who pass down the knowledge through the generations, unwritten. 
At her "bush studio" at the family farm on the Central Coast, just north of Sydney, she'd bring home roadkill that she'd collected on drives into the desert and leave the remains atop an ants' nest for the ants to strip. She would then clean and bleach the bones, replicating them in plaster and duplicating them in slip-cast porcelain. Porcelain is difficult to work with, she says. "It's highly vitrified. You're firing at 1,300 degrees, so it has a mind of its own. It's incredibly unforgiving to work with. All sorts of technical problems can happen. For me, it's the exquisite nature of it and how difficult it is to work with which is why I love it so much." 
Kitson now teaches masterclasses in Milton, and finds she has to explain to people that she's not a potter in the traditional sense. "I see the wheel as a tool," she says. "If I need to make a large vessel form or a large cylindrical form purely for the structural foundation of a piece, then I will use that. I'm not interested in jumping in there and making a thousand plates, but I am respectful to those who do want to do that." 
What does she love most about ceramics? "It's the tactile nature of the handmade and the almost therapeutic, meditative nature of something, where it becomes almost a mantra as you're making it," she replies. "It's the alchemy of it, so you're playing with the elements," continues Kitson. "There's just so much the artist can push to a certain extent and all the rest is left up to the magic — to the kiln gods. Are they on your side or not? Often it is almost this karmic thing. If you're not doing the right things, then watch out."
An allergy to oil paint and solvents set Lynda Draper on the path of working with clay, back when she was an art student. That turned out to be a fortunate moment for one of Australia's finest ceramists and the legion of students she has mentored in her more than 30 years of teaching, currently as head of ceramics at the National Art School.
In her studio on a hilltop property overlooking Thirroul, the oceanside community near Wollongong, New South Wales, that has become a haven for artists and sea changers in recent years, she's working on a series of wall pieces and large tubular woven forms that she refers to as "3D clay drawings". Each piece is far removed from functional earthenware pottery. Whimsical and skeletal, they sometimes become anthropomorphic with the collaging of small coloured pieces that suggest eyes and mouths. 
Draper will sometimes sketch an idea for a piece, but mostly she lets it take its own shape through tactile play. "I always just think ceramics is full of so many possibilities, which is why I like to push it in different directions," she says. "You might have something in your mind you want to do, but the nature of the material will turn it into something else. And sometimes it's better if you're not too in control of it. You just let it grow." She says she's a "huge advocate" of daydreaming. "I'm interested in the relationship between the mind and the material world and the related phenomenon of the metaphysical." 
She and her husband, Mark, also an artist, and their son, Noah, who is embarking on a career as a painter, live in an 1880 weatherboard cottage on the property, which was planted with orchards long before coalmines dotted the area in the early 20th century. Pit ponies (horses used in underground mines) were once stabled across the road. Draper apologises for the "mess" in the house and its two outbuildings (one a studio, the other a kiln shed in what was once a bath house), but with all the clutter — paintings, sculptures, art tools, vintage utensils and collected objects — it is the picture of an artists' home. 
Draper grew up in Cronulla in southern Sydney and attended Woolooware High School, which was one of the settings for the recent TV adaptation of "Puberty Blues", Kathy Lette and Gabrielle Carey's 1979 novel about the sexist surf culture of adolescent tribes on the southern beaches. The artist never hung with the surfing crowd, but she would sneak out of school some lunchtimes to go to the beach. She still catches a wave whenever she can. 
She met her husband at art school. Like Draper, Mark is the product of a strict religious upbringing. "We were like Brad and Janet from 'The Rocky Horror Show'," he says. "We were so naive and sheltered." But, says Draper: "I'm actually really grateful for the upbringing I had. It gives you some sort of moral grounding, doesn't it?" 
She channelled her mixed feelings about Australian suburban domesticity into her early work. From 2007 to 2010 Draper explored themes of Australiana and nostalgia in a series of white press-moulded objects that paid homage to the contents of china cabinets, which were common in homes of the 1950s and '60s, and the profound effect they have on the experience of memory and personal narrative. 
A visit to her childhood home in 2007 shortly before her parents sold it unearthed the tchotchkes she'd collected as a child. The resulting work, "Home Altar", was the basis of her master of fine arts thesis and included installations of hand-built domestic artefacts and souvenirs collected from her family home — birds, bunnies, ponies, Madonnas and kangaroos in little garden settings. Looking back, she says, "I actually think that reflected that whole period of my life. I found it all a bit uptight."
The looser, more fanciful, organic shapes that she is known for today are partly inspired by a three-month residency in Versailles, sponsored by Paris's Galerie Lefebvre & Fils, where she lived and worked in the former music pavilion of Madame Élisabeth, a sister of Louis XVI. It was "a surreal, strangely familiar, haunting landscape", a romantic fairyland of topiaries, bare trees, decorative ironwork and garden statues covered by ghostly drop cloths over winter.  
Draper says she entered a productive, meditative "zone" there. "I'd work in complete silence. I didn't speak to anyone," she explains. "I couldn't speak French. I'd just go to the markets and point at what food I wanted. Honestly, it was so unreal; there was a time I didn't speak to anyone for two weeks. It was such an amazing thing to do." She plans to return to Versailles next year. On her previous visit, she was interested in the structures and objects outside the palace; this time the work might be inspired by what's inside, she says.  
The pearly white and pastel pieces from her time in France were exhibited in a 2019 Paris show called "Sleepwalking". This influenced her "Somnambulism" series, shown at Shepparton Art Museum in regional Victoria, which won Draper the prestigious Sidney Myer Fund Australian Ceramic Award in 2019. While those exhibitions referenced wandering the gardens at Versailles, Draper's 2021 show "Flowers of the Night" at her Sydney gallery, Sullivan+Strumpf, was about her own garden and its surrounds. 
Draper routinely takes pre-dawn walks before a surf or ocean swim at first light. "Everything's so different in the dark, it's just, wow," she says of the "dreamlike" atmosphere at that hour. "That quiet is just special. It's a time of contemplation and resolution that sets me up for the day ahead."
She tries to ignore commentary about where ceramics fits within the hierarchy of art. "I came from this background where ceramics was not really an art form, it was a craft form," she says. "And I still have a bit of an inferiority complex that you're working in clay and it's not really fine art." Fortunately the scene is changing. "A lot of people who make ceramic vessels, quite traditional-looking things, are in good galleries now," Draper says. 
She admires "minimal" Japanese ceramics and would like to make some. "I really love the tradition of ceramics and a well-thrown brown pot," she says. Draper is adept at what she describes as "the full throwing-on-the-wheel kind of thing", describing this element of her craft as "a mind-body connection you have to develop".
"I'm drawn to clay's tactile qualities," she continues, "its ability to be adapted in so many different ways, the alchemy of the process and the surprises it can bring." The lyrical fragility of her work belies its toughness. "It will probably outlive everyone," she says, "unless you drop it on the floor."
With large, torso-like vessels and small towers that evoke squished breasts and genitalia, Donna Green explores the beauty and strangeness of the human body with all its flaws and deformities. She began working with clay 35 years ago, learning to make perfect plates and cups on the wheel, but these days she's more interested in imperfection.
It's partly a response to getting older and being intrigued by the folds of bodies as they age. "What some might say is ugly I find beautiful," says Green. And it's partly due to spending much of the pandemic in semirural Water Mill, New York, where she has a home and studio, watching the decay of nature. "It just seems very profound to me and it comes out in the work. It's not intentional, it's just this meandering of ideas," she says. There's also the sheer joy of experimentation that clay offers. "I'm just reacting to the material, really," she says. "I'm seeing where the material can take me in space and where I can take the material in space, too, pushing it and pulling to its extremes before it collapses." 
Green's recent work "Bacchanalia", which formed the basis of her first Australian solo exhibition, at Utopia Art Sydney earlier this year, comes from a happy accident. "I was initially making these perfect spheres and carefully joining them to another sphere, and they just looked so contrived," she says. "So, one day, feeling frustrated, I just threw one of the spheres on top of another. They just kind of squished into a weird shape, a very breastlike shape, and then I threw another one on top and another one on top. I thought it was fantastic. It was very spontaneous. Some of them would explode just with the impact and so this wild, crazy thing started to emerge. It was incredibly sexual and I didn't know where that was coming from." 
Born in Sydney, Green grew up surrounded by art and conversations about art. Her grandmother, who escaped Poland on the eve of World War II and immigrated with her mother, was an art collector, as is her mother. Despite her family background, it wasn't inevitable that Green would become an artist. "When I left high school, I didn't think about pursuing art as a career," she says. "I studied industrial design, where I learned about working in three dimensions. I was fabricating models out of wood and plaster, which was a new experience." 
In 1984, Green moved to New York, where she now has two sons and a granddaughter. She took a job at Industrial Design magazine, but also started taking night classes in ceramics at Greenwich House, a pioneering cultural centre in Greenwich Village that has been holding pottery classes since the beginning of the 20th century. "I totally fell in love with the material and it became kind of an addiction," she says. "One of the teachers talked about scale and I started to make bigger and bigger things. It became an obsession to make these things that were human scale and about the body."
Green's favourite part of the process is getting her hands into the clay. "The touch of the clay — it's really a visceral, distinctive activity," she says. The artist builds her large pieces by coiling strands of clay and pushing, pulling and pinching them into shape. "It's gravity as well and it kind of grows into these forms," she says. There's a lot of trial and error. "You think it's just mud, it's primeval and it has existed forever, but actually there are a lot of technical aspects to working the clay," she says. "It's also the type of firing you do. Whether it's reduction firing or oxidation, or you put ash or salt or other elements into the firing, it all reacts in different ways. It's been years and years of trying and experimenting."
Recently, Green has exhibited large-scale brush-and-oil-stick drawings and collages alongside her sculptural pieces. They began as the sketches she often makes to work out the form of the ceramics. "The collages became something else — an exploration of the two-dimensional surface," she says. "I'd start with just a line and I sort of love just to meander, just expand onto that rectangular surface of the page, kind of what I do with the ceramics and the rectangular space of the kiln. I'm trying to reach out to all the corners of the space that I can. Drawing helps me realise that. It just helps me to remember to go further than I think I can." 
Because the clay needs to dry gradually, Green works on two or three pieces at a time, "so the first one is getting to a state where the bottom part is strong enough, dry enough, but not too dry — it still has to be a little bit malleable so it can hold the weight of the next section". 
And calamity is never far away. "Clay cracks if you dry it at a certain pace, so it can get too heavy and it completely collapses. It has a mind of its own," she says. These days, Green is sanguine about accidents. "If it collapses, that's good. I just kind of work on from there. I've got to an age now where it doesn't matter anymore. In fact, it becomes more interesting when the work is failing." 
Despite her acclaim, people still complement Green on her "nice craft" and "nice pottery". "But it's a very serious thing," she says, "and it gives meaning to my life." And there are still those who ask her if they can put flowers in her creations. To them, Green says: "If you want to, I guess."
Watching her deftly pipe curlicues onto a plate-size turntable, it seems as though Ebony Russell has had years of training as a cake decorator. As she builds up layer upon layer of swirls and scrolls, the structure seems to miraculously hold its shape under the weight of flounces.
In fact, Russell is not a baker. She's working in the medium of porcelain, not icing. And her art, inspired by the 17th-century trionfi (sugar sculptures) that were popular in European courts, often coloured pastel pink or baby blue, is not as saccharine as it may seem. Rather, it's a feminist response to the affectionate names given to girls in childhood, from "sweetie pie" to "princess" and "sweetheart", and the process by which girls are taught to be sweet, submissive and "pretty in pink". It is also a reaction to Russell's childhood in Colac, Victoria, where her bedroom "glowed pink".
Russell's small Sydney studio is full of mementos that inspire her: a ballerina figurine from a birthday cake, the bride and groom from a wedding cake and a plastic nun in a grotto. "To me, they were the icons or role models of my childhood — are you going to be a bride, a ballerina or a nun?" she says. 
On one shelf sits a faded Lustreware cup that belonged to a grandmother. Both of Russell's grandmothers were immigrants, one from Malta, the other from Holland, and they brought suitcases full of trinkets, many of them pottery. Russell says a lot of her work is connected with these objects. Her pink sculptures show an influence from the Maltese side and the blue ones, the Delft pottery of the Netherlands. Both grandmothers had cake decorating books in their pantries, which the young Russell loved to flip through. 
The studio is like a fairy grotto, full of small, intricate pieces. A canyon of layered pink and white porcelain resembling towers of Mr Whippy ice-cream sits on a plinth. A mirror underneath reflects hidden cursive script applied to the bottom: "Pretty Little Thing". Nearby stands a large blue and white filigreed urn, which took three months to make and was created for Sydney's Powerhouse museum as a response to a Wedgwood urn in the collection. It looks like it's melting. "For me, it has connections to Miss Havisham's wedding banquet," says Russell. "It starts off so beautiful, but over the years the icing started to fall apart." 
The urn isn't, in fact, an urn at all. Completely constructed from flourishes, it's riddled with holes. "If you look inside some of these pieces there is nothing but decoration," says Russell. "There's no architecture, there's no framework holding it up." The decoration is the architecture. "The pots I make aren't actually pots because there's no pot there," she adds. "You'd spring quite a few leaks."
Russell says she has never had any desire to make functional work. She notes that while her pieces look frivolous, they are quite complicated. The process of piping porcelain and constructing these aerated forms is difficult, she stresses. The work is often as fragile as meringue before it's dry and she's applying wet porcelain on top of dry, which is unforgiving. "I'm led by the way the work evolves," she says. "So, when I'm making them, sometimes it droops or drips and I just go with it." The disasters are usually happy ones.
A high school art teacher for many years, Russell has lived in Melbourne and Townsville, in northeast Queensland, with her husband, Sean, and two daughters, Josie and Darcy. She studied ceramics at Monash University, but it wasn't until the family's move to Sydney in 2017 that she enrolled in a two-year master's program at the National Art School. She was 37 and calls it "a midlife awakening, not a midlife crisis". Russell now teaches at the school. "Teaching complements my practice," she says. "I know it's made me a better artist." 
Russell has always seen ceramics as a sculptural medium, "but it seems the art world hasn't really accepted that so much," she says. She is influenced by artists such as Margaret Dodd, who created funky little Holden cars out of clay in the 1970s. "She was making work about how she felt as a woman, so that always connected with me," says Russell. Her own pieces celebrate old-fashioned notions of "women's work", which she believes has been devalued in recent times. She grew up among women who poured their creativity into crafts such as knitting and crochet. Her mother, who was a piano teacher (hence the artist's first name), would knit Jenny Kee jumpers from patterns and they looked so good people would offer to buy them off her back. "My grandmother crocheted blankets all her life," says Russell, "and she's gone, but we still have these items she made which are full of love. Hours of work and skill and love."  
Russell says the painstaking nature of fine needlework is similar to her approach to sculpture, which includes using icing bags and nibs to create intricate decoration. "You're working mindlessly in a very meaningful way," she says. "[It's] mindless work where its repetition allows for that very meditative way of thinking."
In October, Russell will hold a solo exhibition at Sydney's Artereal, which will feature a series of urns inspired by Cinderella's "ugly" stepsisters (after that, her work will appear at Wollongong Art Gallery's "Thinking Through Pink" show, slated for later this year). "The woman as a vessel is an idea I'm interested in," says Russell. "The way a form is spoken about as a feminine shape and it holds something, it has a use. I want to add something to that language or expose some of the negatives that can also apply to women: the way women are written about or the way we are seen." The urns are like frilly dresses, she suggests. "I liken a lot of the vases to ball gowns. It's something that is placed upon you; it's a decorative facade, in a way." 
For Russell, working with porcelain is a cathartic process, requiring her to look "at who I am psychologically, who I feel I need to be and who I want to be." She adds: "I think that's connected to being an artist as equally as it is connected to trying to find a way to be the woman you want to be in this world when you are a wife and a mother and a daughter. We all have to figure out who we are." 
This is an extract from an article that appears in print in our eighth edition, Page 84 of T Australia with the headline: "A Woman's Work"