For pro-surfer turned painter Otis Hope Carey, life has taken place in and around the ocean since the very beginning. The Gumbaynggirr Bundjalung man originally from Grafton, now based on Country in Coffs Harbour, is connected to the ocean – "gaagal", in his language – through his ancestors; it's one of his family's totems. His parents first took him to the beach as a baby, and he later became known for his expressive, lithely style of surfing on the pro circuit, winning two Australian Indigenous Surfing Titles. But it's his art that's taken him viral. Since holding his first solo exhibition at China Heights Gallery in 2016, Carey's career as an artist has hit stride: in 2019, an enormous mural he painted for Chris Hemsworth's Byron Bay mansion was seen by the famous actor's 1.6 million Instagram followers, and last year, one of his works was shortlisted for the Art Gallery of New South Wales' Wynne Prize.
That work, titled Ngalunggirr Miinggi (Healing Spirit), forms part of his current China Heights exhibition of the same name, works for which Carey started making after his grandmother's passing – the original catalyst for his art. It's Carey's fifth solo exhibition in the six years he's been painting, and it contains some fifty canvas works as well as a collection of wooden sculptures. In his work, Carey, who is  a father of three, re-contextualises the traditional symbolism and stories of his people within his own contemporary expression, reflecting on intergenerational trauma and the healing power of the ocean. Having struggled with depression connected to that trauma for much of his life, Carey sees his painting as a circuit breaker – a way of putting the pain down and not passing it onto his children, while sharing his culture with the wider public at the same time.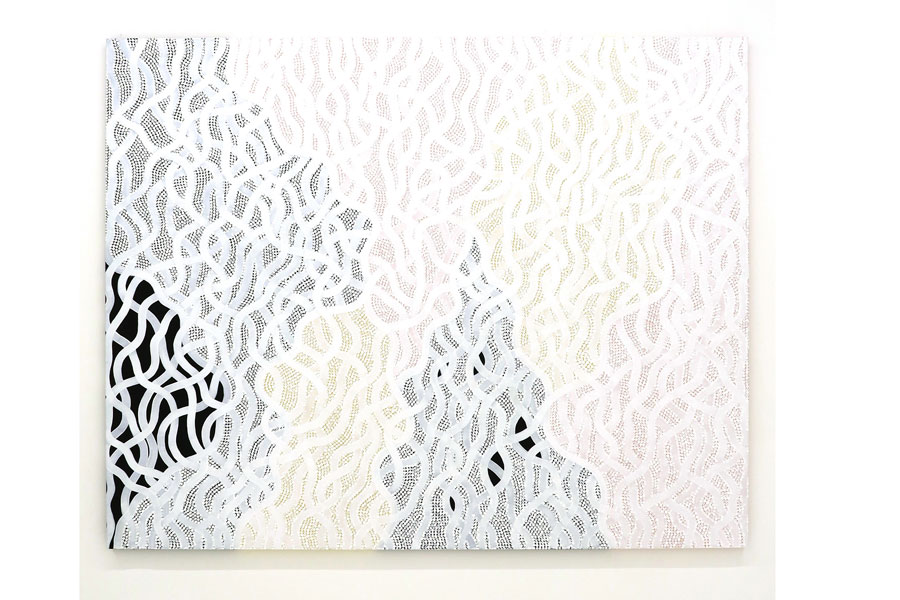 How important is your home – and where you produce your artworks – to you and your culture?
"I live on Country, on Gumbaynggirr Bundjalung Country up at Coffs Harbour; there's a lot of mountains and a lot of rainforests, plenty of ocean. And I just paint at home in my garage. I don't need much of a space to paint, so it's nice that I'm able to paint here because the kids, they come and watch me paint."
You only began painting in 2015, what inspired those early works?

"My grandmother passing and going back to Country, going back into the dreaming. We were all pretty close to her and she passed away a year after I started painting. I've got a really different way of thinking – school was never my strong point – but I figured out that I'm a creative human and I need to constantly create things. Otherwise, I get unhappy and sad. Painting is kind of like my healing mechanism."
Were you looking for a wider audience or did you consider painting as a hobby?
"No, no one really saw my work, and then as I started to experiment with the cultural aspect of art, one of my mates said, 'Dude, you should have a show at my brother's gallery.' [China Heights Gallery in  Sydney's Surry Hills]; so I showed them my work and they're said they had space in a year's time, if I wanted to have a show. And I was just like, 'Cool'. They've never really done that [before]; met someone and then just ask them to have a show."
What were you hoping for with that first show?
"I just wanted to share my culture. That was just the main thing for me; to be able to have a platform, to be able to share my people's stories. All the family came; dad still tries to wrap his head around it. He still doesn't understand the art world. I mean, I don't understand that either; I feel like I'm neither here nor there. I just stay in my lane and I just keep to myself."
You're an avid surfer, how do you incorporate surfing into your creative process?
"I live probably three throws of a stone [from the beach]. I surf every week. Just to be wrapped by the ocean and all the elements that it gives… The ocean is actually one of our Gumbaynggirr Bundjalung totems, so it's one of my totems. I just feel very at home when I'm there. I'm very calm. I feel better. I feel recharged. I always thought surfing and making art were separate things, but I feel a lot of the movements that I make with a brush reflect the way that I move on a wave when I'm surfing."
Do you find it different surfing in Sydney, than surfing on Country?
"It's so different. Even the feeling of the water feels different. When I go surfing here, I feel like the water's stuck to me. And when I'm somewhere else off Country surfing, I feel like the water bounces off me."
What is it you hope people walk away with from your current exhibition?
"A lot. I'm aware that a lot of non-Indigenous people don't have much access to Indigenous art or Indigenous people. I just want to break [down] those barriers and make it easier for non-Indigenous people to understand Indigenous people through the arts. I feel like a lot of people can find it easier to relate and understand through the window of an art. I think, for me, if someone was to tell me something with words and it made me feel uncomfortable, I wouldn't take it in. Whereas if it's in an art form, it's gently placed in front of you."
Do you see the discussions about changing the date of Australia Day as progressive in the way that Australia needs to grow and mature?
"I don't want to call it a movement because it shouldn't be a movement, but it's getting so much more positive. I think you got to think, the referendum was only in 1967 where Indigenous people were still classed as flora and fauna. My grandmother was classed as flora and fauna for half her life, and that generation is still around. So, I believe when that generation [passes], then change will happen a lot quicker.And I think you've got to give props to the next generation because they're so involved with multiculturalism in Australia now. They're really promoting culture."
And is that related into your current show, what is the context of your most recent works?
"This solo show is about a few things; it's about the knowledge of knowing that a loved one has passed and has made it home into the dreaming. It's about [the fact] that the healing process can also be a beautiful process. I struggled with depression and a lot of that depression was based around intergenerational trauma. And so, for me, it was really beautiful to break that down and understand it all and to not have to pass that trauma onto my children. And I thought that was a really beautiful journey, even though delving into it all was quite hard work at times."
Ngalunggirr Miinggi (Healing spirit), Otis Hope Carey, is on now until 13 March. China Heights Galley, Sydney.